Play

Play Next

Add to queue
Label
: MANIMAL VINYL RECORDS, LLC
Play

Play Next

Add to queue

67 plays

Play

Play Next

Add to queue

11,327 plays

Play

Play Next

Add to queue

27 plays

Play

Play Next

Add to queue

1,793 plays

Play

Play Next

Add to queue

3,469 plays
Genre: Alternative / Lyrical / Visual

Location Los Angeles, California, US

Profile Views: 64344

Last Login: 8/8/2011

Member Since 4/18/2008

Website alexandrahopemusic.com

Record Label Manimal Vinyl

Type of Label Indie

Bio

.. ............Myspace Layouts.. - ..Image Hosting.. - ..Comments.... .. .. .. ............Generate your own contact table!.... .. ...... .. Minnesota-born and ex Paris-dwelling chanteuse Alexandra Hope's debut album "Invisible Sunday" finally sees the light of day after years of honing her craft on the stage. She got her start in Minneapolis opening for acts diverse as Don Cabellero, Elliot Smith, Beachwood Sparks and Idlewild. After entering the French music scene as a complete unknown, Alexandra's brand of breathtaking guitar/piano based gothic folk-rock quickly found success attracting a local following and getting airplay on French radio. Alexandra then moved to New York City and enlisted the help of David Muller (Fiery Furnaces) to help record her first LP. Recorded in just 3 days, "Invisible Sunday" is 9 tracks of sheer bliss recalling glorious "girl group" Phil Spector-isms, Francoise Hardy, PJ Harvey, early Liz Phair, and even the 90s drone rock of Sonic Youth or Helium. Taking a minimal approach to recording, this bass-less collection of song features Alexandra on guitar and vocals, while Muller plays drums and piano throughout. Currently she resides in Los Angeles where she is writing the follow up to "Invisible Sunday". .. "Stripped back indie at it's best. Alexandra's talent lies in utilising minimal noise to maximum effect" --Wears the Trousers .. "There are a lot of singer-songwriters with beautiful voices, and some of them even write memorable songs, but what makes Alexandra Hope different is how her singing blends with her unusual guitar playing... the New York singer's real eloquence comes from the way she winds the clear and lovely beacon of her voice around the serpentine guitar angles of 'Liar' and the shadowy stomp of 'The Mirror'"--LA Weekly .. "Alexandra Hope sounds clean and affectionate, like a good friend, but with a note of uncertainty to her voice and lyrics that makes her music sincere"--Radiofree Chicago .. "It's essentially the quivering duality of each track that leaves a cathartic mark here. With Invisible Sunday, it's the brooding and the stomp, the dreamy and the soar, the intricate and delicate balance weaved perfectly together"--Citizen Dick .. .. .. .. .. .. .. .. .. INVISIBLE SUNDAY music video directed by ALIA RAZA .. ..

Members

Alexandra Hope** guitar, vocals, piano .. People I've played with: .. David Muller** drums, piano, moog, production on Invisible Sunday .. David McFarland** current drummer ..

Influences

.. .. .. KCRW/LA Record Presents: The 2nd Annual MANIMAL FESTIVAL ............ with: .... EDWARD SHARPE & THE MAGNETIC ZEROS, RAINBOW ARABIA, WARPAINT, HECUBA, VOICESVOICES, POLYAMOROUS AFFAIR, FOOL'S GOLD, ALEXANDRA HOPE, CORRIDOR, OTHER LIVES, JULIETTE COMMAGERE, MOONRATS, LACO$TE, AMANDA JO WILLIAMS, HE'S MY BROTHER, SHE'S MY SISTER, ARIANA DELAWARI, WEAVE!, PIZZA! & JONESIN' .... Only 300 pairs will be sold and then this event will be closed. ......GO HERE FOR TICKETS!!!...... .. .. LIMITED TICKETS AVAILABLE ON DAY OF SHOWS AT THE DOOR!....

Sounds Like

.. .. .. PR:.. Tim Jones at Terrorbird Media.. timjones@terrorbird.com .. MANAGEMENT: .. Dick O'Dell .. dickodell@hotmail.com .. BOOKING: .. Paul Beahan .. manimalvinyl@gmail.com .. BAND CONTACT: .. alexandrahopefully@gmail.com
No recent updates in this category.
Why not...
Bio:
..

Myspace Layouts - Image Hosting - Comments
.. .. .. ..
Generate your own contact table!
Minnesota-born and ex Paris-dwelling chanteuse Alexandra Hope's debut album "Invisible Sunday" finally sees the light of day after years of honing her craft on the stage. She got her start in Minneapolis opening for acts diverse as Don Cabellero, Elliot Smith, Beachwood Sparks and Idlewild. After entering the French music scene as a complete unknown, Alexandra's brand of breathtaking guitar/piano based gothic folk-rock quickly found success attracting a local following and getting airplay on French radio. Alexandra then moved to New York City and enlisted the help of David Muller (Fiery Furnaces) to help record her first LP. Recorded in just 3 days, "Invisible Sunday" is 9 tracks of sheer bliss recalling glorious "girl group" Phil Spector-isms, Francoise Hardy, PJ Harvey, early Liz Phair, and even the 90s drone rock of Sonic Youth or Helium. Taking a minimal approach to recording, this bass-less collection of song features Alexandra on guitar and vocals, while Muller plays drums and piano throughout. Currently she resides in Los Angeles where she is writing the follow up to "Invisible Sunday".
"Stripped back indie at it's best. Alexandra's talent lies in utilising minimal noise to maximum effect" --Wears the Trousers
"There are a lot of singer-songwriters with beautiful voices, and some of them even write memorable songs, but what makes Alexandra Hope different is how her singing blends with her unusual guitar playing... the New York singer's real eloquence comes from the way she winds the clear and lovely beacon of her voice around the serpentine guitar angles of 'Liar' and the shadowy stomp of 'The Mirror'"--LA Weekly
"Alexandra Hope sounds clean and affectionate, like a good friend, but with a note of uncertainty to her voice and lyrics that makes her music sincere"--Radiofree Chicago
"It's essentially the quivering duality of each track that leaves a cathartic mark here. With Invisible Sunday, it's the brooding and the stomp, the dreamy and the soar, the intricate and delicate balance weaved perfectly together"--Citizen Dick
INVISIBLE SUNDAY music video directed by ALIA RAZA
Member Since:
April 18, 2008
Members:
Alexandra Hope** guitar, vocals, piano
People I've played with:
David Muller** drums, piano, moog, production on Invisible Sunday
David McFarland** current drummer
Influences: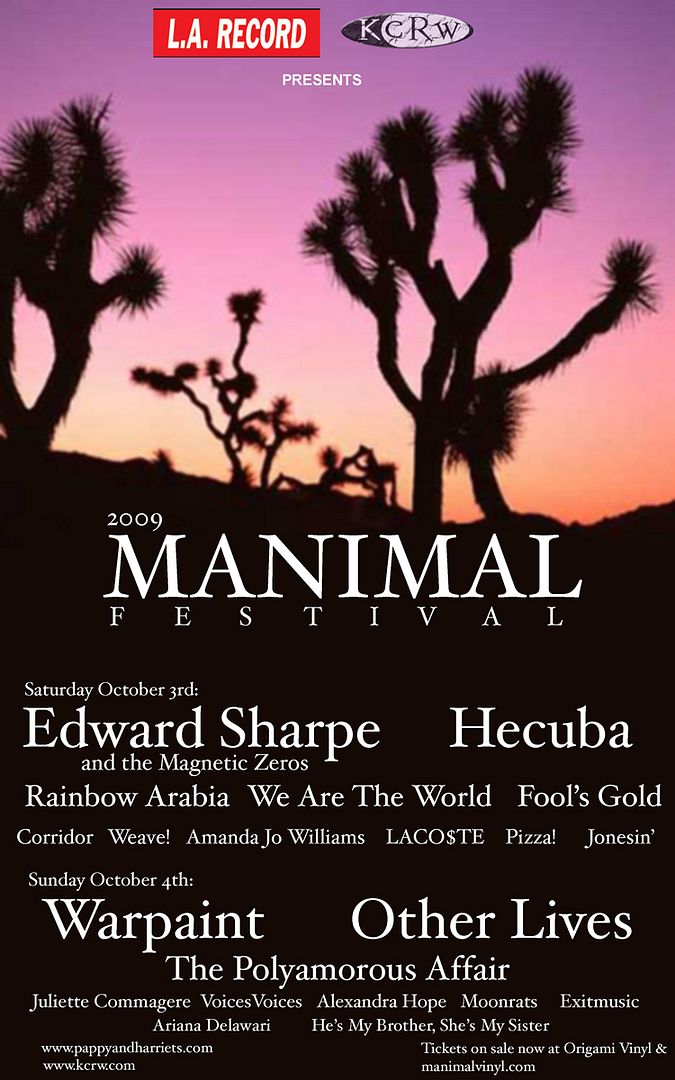 KCRW/LA Record Presents: The 2nd Annual MANIMAL FESTIVAL
with:
EDWARD SHARPE & THE MAGNETIC ZEROS, RAINBOW ARABIA, WARPAINT, HECUBA, VOICESVOICES, POLYAMOROUS AFFAIR, FOOL'S GOLD, ALEXANDRA HOPE, CORRIDOR, OTHER LIVES, JULIETTE COMMAGERE, MOONRATS, LACO$TE, AMANDA JO WILLIAMS, HE'S MY BROTHER, SHE'S MY SISTER, ARIANA DELAWARI, WEAVE!, PIZZA! & JONESIN'
Only 300 pairs will be sold and then this event will be closed.
LIMITED TICKETS AVAILABLE ON DAY OF SHOWS AT THE DOOR!
Sounds Like:
PR:
Tim Jones at Terrorbird Media
timjones@terrorbird.com
MANAGEMENT:
Dick O'Dell
dickodell@hotmail.com
BOOKING:
Paul Beahan
manimalvinyl@gmail.com
BAND CONTACT:
alexandrahopefully@gmail.com
Record Label:
Manimal Vinyl