Play

Play Next

Add to queue
Genre: Alternative / Indie / Rock

Location SAN DIEGO, CALIFORNIA, US

Profile Views: 44428

Last Login: 10/15/2012

Member Since 4/30/2005

Website http://www.aliciachampion.com

Record Label Champ Records

Type of Label Indie

Bio

Endorsed by ..Steven Tyler.. of Aerosmith and WINNER of ..VH1's.. nationally televised reality talent competition, ..You Rock With Melissa Etheridge,.. Alicia Champion is also co-founder and producer of ..The San Diego Indie Music Fest (SDIMF).., the nation's first and only exclusively independent music festival. .... A performer/ composer/ arranger/ record producer, and avid workaholic since the age of 15, Alicia founded her independent record label, ..Champ Records,.. at the age of 17 under which she released her debut album, ..Stories of My Soul... She has since released two other records of her own ..(Cold Wars in 2002 and Annamosity in 2003),.. as well as produced and signed other Artists to her label including touring RENT star, ..Kevin Wood,.. and San Diego singer-songwriter, ..Elena... As a performer, Alicia shared the stage and has worked with Artists such as ..Melissa Etheridge, Pink, Me'shell N'degeocello, The Indigo Girls, Jonatha Brooke, Michelle Shocked,.. plus many more. .... In November 2005 onstage at San Diego Indie Music Fest II, Alicia collapsed into a grand mal seizure which doctors claimed was stress induced. After a deep re-evaluation of priorities, Alicia chose to take a hiatus from the stage while focusing her energies on her recording studio and production company, ..Durga Sound.., which she co-owns with fellow SDIMF producer, ..Danielle LoPresti... .... Now a full-time record producer, Alicia produces and develops talent from all over the country, while also composing music for television, film and commercials. Alicia is currently producing the debut album for San Diego rock sensations, ..Runhoney.., the debut album of LA-based Hip Hop artist, ..Kontious.., the sophomore EP of San Diego-based gospel artist, ..Eric Lige.., Pop/R&B artist, ..Alisha Zalkin.., from LA, and the fourth album release from San Diego favorites, ..Danielle LoPresti & The Masses.., a band of which Alicia is also Musical Director..... ___________________________________________________________________________ .. .... .. Alicia Champion and Danielle LoPresti on the cover of the nation's largest news alternative weekly, The San Diego Reader. Read the whole story at http://www.SDReader.com.. .. .... ........ .. ..........

Members

..Alicia Champion.. vocals, rhythm guitars, keyboards, songwriting, production and engineering ..Megan Carchman.. drums, percussion, and misc. guitars ..Maria Naccari.. bass guitar ..Angela Johnson-Swan.. lead guitar

Influences

Soundgarden, U2, Sarah McLachlan, Mozart, Tori Amos, Alice In Chains, Joni Mitchell, Ani Difranco, Heart, Danielle LoPresti & The Masses, Nine Inch Nails,

Sounds Like

Alice In Chains meets Heart
No recent updates in this category.
Why not...
Bio:
Endorsed by
Steven Tyler
of Aerosmith and WINNER of
VH1's
nationally televised reality talent competition,
You Rock With Melissa Etheridge,
Alicia Champion is also co-founder and producer of
The San Diego Indie Music Fest (SDIMF)
, the nation's first and only exclusively independent music festival.
A performer/ composer/ arranger/ record producer, and avid workaholic since the age of 15, Alicia founded her independent record label,
Champ Records,
at the age of 17 under which she released her debut album,
Stories of My Soul.
She has since released two other records of her own
(Cold Wars in 2002 and Annamosity in 2003),
as well as produced and signed other Artists to her label including touring RENT star,
Kevin Wood,
and San Diego singer-songwriter,
Elena
. As a performer, Alicia shared the stage and has worked with Artists such as
Melissa Etheridge, Pink, Me'shell N'degeocello, The Indigo Girls, Jonatha Brooke, Michelle Shocked,
plus many more.
In November 2005 onstage at San Diego Indie Music Fest II, Alicia collapsed into a grand mal seizure which doctors claimed was stress induced. After a deep re-evaluation of priorities, Alicia chose to take a hiatus from the stage while focusing her energies on her recording studio and production company,
Durga Sound
, which she co-owns with fellow SDIMF producer,
Danielle LoPresti
.
Now a full-time record producer, Alicia produces and develops talent from all over the country, while also composing music for television, film and commercials. Alicia is currently producing the debut album for San Diego rock sensations,
Runhoney
, the debut album of LA-based Hip Hop artist,
Kontious
, the sophomore EP of San Diego-based gospel artist,
Eric Lige
, Pop/R&B artist,
Alisha Zalkin
, from LA, and the fourth album release from San Diego favorites,
Danielle LoPresti & The Masses
, a band of which Alicia is also Musical Director.
___________________________________________________________________________
Alicia Champion and Danielle LoPresti on the cover of the nation's largest news alternative weekly, The San Diego Reader. Read the whole story at http://www.SDReader.com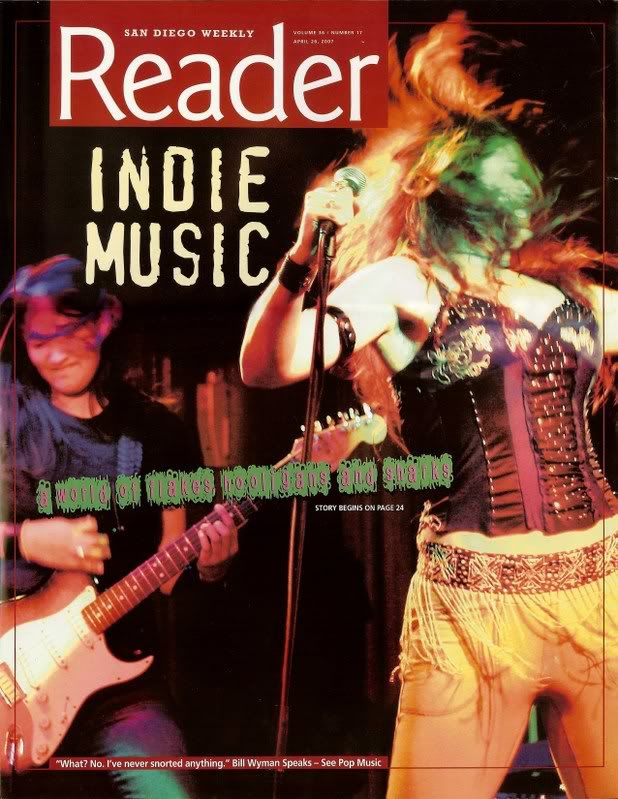 ..
Member Since:
April 30, 2005
Members:
Alicia Champion vocals, rhythm guitars, keyboards, songwriting, production and engineering Megan Carchman drums, percussion, and misc. guitars Maria Naccari bass guitar Angela Johnson-Swan lead guitar
Influences:
Soundgarden, U2, Sarah McLachlan, Mozart, Tori Amos, Alice In Chains, Joni Mitchell, Ani Difranco, Heart, Danielle LoPresti & The Masses, Nine Inch Nails,
Sounds Like:
Alice In Chains meets Heart
Record Label:
Champ Records