Play

Play Next

Add to queue
Play

Play Next

Add to queue

1,203 plays

Play

Play Next

Add to queue

12,795 plays

Play

Play Next

Add to queue

7,323 plays

Play

Play Next

Add to queue

3,800 plays

Play

Play Next

Add to queue

691 plays
Genre: Club / Freestyle / Pop

Location New York, New York, US

Profile Views: 121288

Last Login: 11/26/2011

Member Since 7/22/2006

Website alishafans.com is under construction

Record Label Unknown Major

Type of Label Major

Bio

...... With confidence, maturity and an incredibly powerful voice, Alisha stands out as one of musics most dynamic artists. She became a pioneer in the music industry by achieving a successful music career by the age of fifteen and has inspired and paved the way for many of todays young female artists. Alisha began her career in 1985 with her self titled debut album "ALISHA" (Vanguard) which featured the international chart topping hits, "All Night Passion", "Baby Talk", and "Too Turned On". The single "Baby Talk" reached number one on the hot dance charts and the album's success was achieved with sales in the multi-millions and still growing today. Since her debut album, Alisha has recorded two additional albums. Her sophomore album "NightWalkin"(RCA) was released in 1987 and featured the well known music montage song "Do You Dream About Me" from the motion picture "Mannequin". It also produced the single "Into My Secret" which reached number 9 on the hot dance charts. Her third album titled "Bounce Back" (MCA) was released in 1990 and featured the single "Wrong Number" and the title song "Bounce Back" which reached to number 10 on the dance charts and played on radio and in dance clubs internationally. The album has been described as Alisha's best album vocally and includes the backup vocal talents of the singers, Martika and Donna Delory (Madonna's backup singer). In 1996 Alisha released a dance single titled "Wherever The Rythm Takes Me" by (CRITIQUE/FEVER RECORDS) and in 1999 she was chosen to sing the theme song to the Will Ferrell/Molly Shannon movie, "Superstar" with the track "You Wanna Be A Star" (JELLY BEAN RECORDS). Most recently Alisha re-recorded her first single "All Night Passion" and released a new high energy dance remix. After taking some time off to have a family, Alisha has returned to recording and performing. She looks and sounds better then ever and is currently working on some new projects to be released in the near future. Please be advised that this MySpace page is maintained by Alisha's Management. For booking inquiries please leave a message. .. .. .. .. .. .. .. .......... | ..View.. | ..Add Favorite.. .. .. .. .. .. .. .. .. .. .. .. .. .. .. .. .. .. .......... | ..View Show.. | ..Create Your Own.. .. .. .. .. .. .. .. .... ..You should create your own ..MySpace Layouts.. like me by using ..nUCLEArcENTURy...COM's ..MySpace Profile Editor..!.. .... .. .. .. .. .. .. .. .. .. .. .. .. .. .. .. .. .. .. .. .. .. .. .. .. .. .. .. .. .. .. .. .. .. .. .. .. .. .. .. .. .. .. .. .. .. .. .. .. .. .. .. .. .. .. .. .. .. .. .. .. .. .. .. .. .. .. .. .. .. .. .. .. .. .. .. .. .. .. .. .. .. .. .. .. .. .. .. .. .. .. .. .. .. .. .. .. .. .. .. .. .. .. .. .. .. .. .. .. .. .. .. .. .. .. .. .. .. .. .. .. .. .. .. .. .. .. http://www.youtube.com/watch?v=qF1Sq28hKY4

Members

Join the Alisha Yahoo Group to speak to other Alisha fans and receive perodic news and announcements. .. .. ....Click to join ALISHA_FANS.. .. ...... ........ .. .. .. .. .. .. .. .. .................. Get this widget ......|...... Track details ......|...... eSnips ------------ BEGIN BEATPORT PLAYER -----------------------.. ................ .. .. .. .. .. .. .. .. .. .. .. .... Social DNA .............. .... .. .. .. .. .. .. ........Get your own playlist at snapdrive.net!...... ...... .................... .. .. .. .. .. .. .. .. ........ALISHA lyrics.......... .................... .. .. .. .. .. .. .. .. ........ALISHA lyrics.......... ..............................

Influences

Sounds Like
Bio: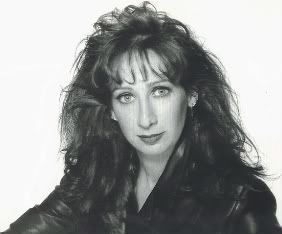 _________________________With confidence, maturity and an incredibly powerful voice, Alisha stands out as one of musics most dynamic artists. She became a pioneer in the music industry by achieving a successful music career by the age of fifteen and has inspired and paved the way for many of todays young female artists. Alisha began her career in 1985 with her self titled debut album "ALISHA" (Vanguard) which featured the international chart topping hits, "All Night Passion", "Baby Talk", and "Too Turned On". The single "Baby Talk" reached number one on the hot dance charts and the album's success was achieved with sales in the multi-millions and still growing today. Since her debut album, Alisha has recorded two additional albums. Her sophomore album "NightWalkin"(RCA) was released in 1987 and featured the well known music montage song "Do You Dream About Me" from the motion picture "Mannequin". It also produced the single "Into My Secret" which reached number 9 on the hot dance charts. Her third album titled "Bounce Back" (MCA) was released in 1990 and featured the single "Wrong Number" and the title song "Bounce Back" which reached to number 10 on the dance charts and played on radio and in dance clubs internationally. The album has been described as Alisha's best album vocally and includes the backup vocal talents of the singers, Martika and Donna Delory (Madonna's backup singer). In 1996 Alisha released a dance single titled "Wherever The Rythm Takes Me" by (CRITIQUE/FEVER RECORDS) and in 1999 she was chosen to sing the theme song to the Will Ferrell/Molly Shannon movie, "Superstar" with the track "You Wanna Be A Star" (JELLY BEAN RECORDS). Most recently Alisha re-recorded her first single "All Night Passion" and released a new high energy dance remix. After taking some time off to have a family, Alisha has returned to recording and performing. She looks and sounds better then ever and is currently working on some new projects to be released in the near future. Please be advised that this MySpace page is maintained by Alisha's Management. For booking inquiries please leave a message.
|
View
|
Add Favorite
.. .. .. .. .. .. .. .. ..
|
View Show
|
Create Your Own
..You should create your own
MySpace Layouts
like me by using
nUCLEArcENTURy
.COM's
MySpace Profile Editor
!..
http://www.youtube.com/watch?v=qF1Sq28hKY4
Member Since:
July 22, 2006
Members:
Join the Alisha Yahoo Group to speak to other Alisha fans and receive perodic news and announcements.

Click to join ALISHA_FANS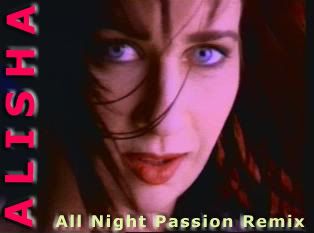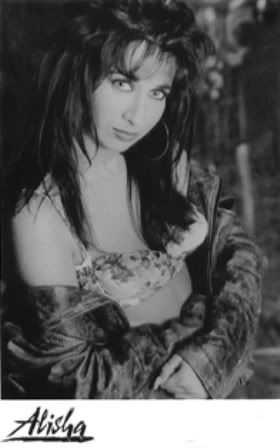 Record Label:
Unknown Major