Play

Play Next

Add to queue
Play

Play Next

Add to queue

920 plays

Play

Play Next

Add to queue

460 plays

Play

Play Next

Add to queue

311 plays

Play

Play Next

Add to queue

273 plays

Play

Play Next

Add to queue

299 plays
Genre: Experimental / Garage / Rock

Location Glasgow, Scotland, UK

Profile Views: 26366

Last Login: 3/30/2012

Member Since 8/2/2008

Record Label Unsigned

Bio

.."Alkotron" are Paul on Bass , Gilbert on Guitar and Gerry on drums. Our main aim is to play the tunes the more discernable among us would view as food for the ears. After years of trying to conform to a sound which was viewed as either cool or contemporary , we decided enough is enough of this shit....and formed Alkotron. We decided from the off that only our opinion counts about what we play and in what style and believe whoever wants or indeed cares to have a listen will find something most agreeable within. Doing it now purely for the music , check out a gig , drop us a message ,give us a chance and you may just get one titanic dirty surprise!!!.. ..ALKOTRON LIVE + MESSRS.. .. ........ ..NEW MYSPACE LAYOUTS!........ ....**click here** for new layouts!.... ..

Members

....GILBERT SCOTT.... .. .. plays the Guitar , Harmonica , percussion and sometimes sings backing vocals. .. .. ....PAUL CAMPBELL.... .. .. plays the bass, percussion, sings vocals and toasts. .. .. ....GERRY MILLER.... .. .. plays the drums and sings lead vocals.

Influences

..Jacques Brel .. Donovan .. The Beach Boys .. Scheme .. The Who .. Syd Barrett .. The Band .. Simon & Garfunkel .. Genesis"Gabriel era" .. Neil Young .. The Specials .. Lee Scratch Perry .. Frank Zappa .. The Kinks .. Caravan .. Small Faces .. Cream .. Cat Stevens .. The Clash .. Neil Diamond .. The Stranglers .. Buzzcocks .. Magazine .. Roger Whittakar .. The Selector .. Junior Brown .. Funkadelic .. Grand master flash and the furious five .. Public Enemy .. Beastie Boys .. Marvin Gaye (Jumz) .. The Temptations .. Santana .. Credence Clearwater Revival .. Jethro Tull .. Bob Marley .. Glen Michaels Cavalcade .. CSNY .. Pentangle .. Alan Price .. Gil Scott Heron .. (..the end..)....

Sounds Like

garage goofballs
No recent updates in this category.
Why not...
Bio:
"Alkotron" are Paul on Bass , Gilbert on Guitar and Gerry on drums. Our main aim is to play the tunes the more discernable among us would view as food for the ears. After years of trying to conform to a sound which was viewed as either cool or contemporary , we decided enough is enough of this shit....and formed Alkotron. We decided from the off that only our opinion counts about what we play and in what style and believe whoever wants or indeed cares to have a listen will find something most agreeable within. Doing it now purely for the music , check out a gig , drop us a message ,give us a chance and you may just get one titanic dirty surprise!!!
ALKOTRON LIVE + MESSRS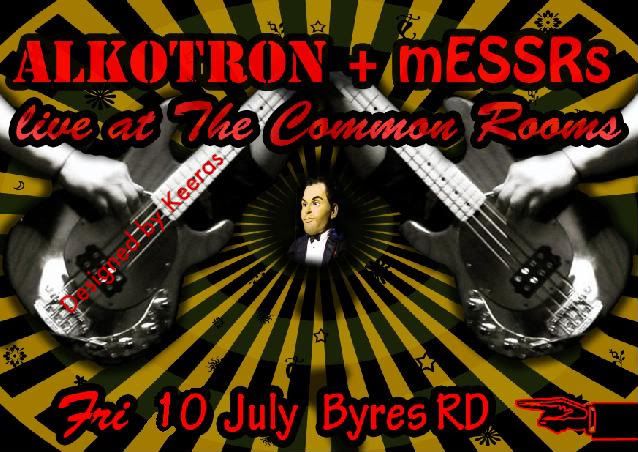 NEW MYSPACE LAYOUTS!
Member Since:
August 02, 2008
Members:
....GILBERT SCOTT....

plays the Guitar , Harmonica , percussion and sometimes sings backing vocals.

....PAUL CAMPBELL....

plays the bass, percussion, sings vocals and toasts.

....GERRY MILLER....

plays the drums and sings lead vocals.
Influences:
Jacques Brel
Donovan
The Beach Boys
Scheme
The Who
Syd Barrett
The Band
Simon & Garfunkel
Genesis"Gabriel era"
Neil Young
The Specials
Lee Scratch Perry
Frank Zappa
The Kinks
Caravan
Small Faces
Cream
Cat Stevens
The Clash
Neil Diamond
The Stranglers
Buzzcocks
Magazine
Roger Whittakar
The Selector
Junior Brown
Funkadelic
Grand master flash and the furious five
Public Enemy
Beastie Boys
Marvin Gaye (Jumz)
The Temptations
Santana
Credence Clearwater Revival
Jethro Tull
Bob Marley
Glen Michaels Cavalcade
CSNY
Pentangle
Alan Price
Gil Scott Heron
(..the end..)
Sounds Like:
garage goofballs
Record Label:
Unsigned