Genre: Hardcore / Indie / Punk

Location Taunton, Massachusetts, Un

Profile Views: 759968

Last Login: 11/21/2012

Member Since 10/31/2003

Website allaboutrecords.org , new site coming soon

Record Label All About Records

Type of Label Indie

Bio

..All About Records is a small D.I.Y. Punk/Indie/Hardcore label out of Southeastern, Massachusetts. We are dedicated to showcasing and distributing the best bands in the Southeastern, MA area and beyond. All About Records has been independtly owned and operated since 1997 and has been releasing bands we have believed in ever since. .. ......Contact Information:...... ..allaboutrecords@aol.com.... .... ...... ..BANDS WE HAVE MADE BUTTONS FOR:.... A Loss For Words.. Lions Lions.. Orchestrate The Incident.. Auburn.. Another Option.. The Miles Between.. Brookside.. NBrock.net.. Fighting Orion.. Taunton Skate Park Committee.. Riot Control.. Out of Habit.. 1369 Coffee House.. Armor for the Broken.. Wizard in Black.. A lucky Day Later.. Burning Daylight.. Bad Endorsement.. The Moving Front.. SCS.. Ioneye.. Shoreway.. Big Empty Box.. With The Punches.. In The Shit.. Meet My Phantoms.. Go For Broke.. Discover and Uncover!.. Hasten My Demise.. Dirty Looks.. Dispatched Endorphins.. Sam Terror.. Hero Among Us.. The Vitamin Hoax.. HYEO.. Killherscene Clothing.. The Secret Stache.. Sins of The Father.. New Eyes New Ears.. Skies of Sharon.. Shy for Shy.. Mr. Slugg.. The Tin Thistles.. Subculture Stereo.. Throughout The End.. What Lies Between Us.. Cardboard Fort.. Mars.. Panic..

Members

....Past AAR Bands:.... Jeff Caudill (formerly of Gameface) .. select start .. Smackin' Isaiah (n.k.a. A Wilhelm Scream).. Drive til' Morning.. Tokyo Rose.. Another Option.. end it all .. All Chrome.. Run Like Hell.. Farwell Hope (feat. members of Ruiner) .. Lanemeyer (feat. members of A Day at the Fair drive-thru records) .. Orange Island.. The Action Taken (feat. members of Have Heart).. Garrison.. run like hell The Cheat!.. The Passing Moment .. Blackletter .. Arcade Academy .. The Chase Scene.. The Forever Endeavor.. Jericho.. Adams Shore .. Dyingforit .. Damaged Goods .. Sometimes She Burns.. Kobe.. Windmill.. Calumet-Hecla.. Eighty-Six.. Do it for Johnny .. .... .. ..

Influences

Sounds Like
we still make buttons if you need any badges/pins/buttons get in touch asap http://lnk.ms/cCZPN
02:09 | 282 plays | Jan 26 2009
Bio:
All About Records is a small D.I.Y. Punk/Indie/Hardcore label out of Southeastern, Massachusetts. We are dedicated to showcasing and distributing the best bands in the Southeastern, MA area and beyond. All About Records has been independtly owned and operated since 1997 and has been releasing bands we have believed in ever since.
Contact Information:
allaboutrecords@aol.com..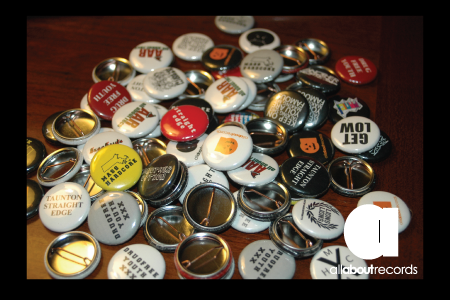 BANDS WE HAVE MADE BUTTONS FOR:
A Loss For Words
Lions Lions
Orchestrate The Incident
Auburn
Another Option
The Miles Between
Brookside
NBrock.net
Fighting Orion
Taunton Skate Park Committee
Riot Control
Out of Habit
1369 Coffee House
Armor for the Broken
Wizard in Black
A lucky Day Later
Burning Daylight
Bad Endorsement
The Moving Front
SCS
Ioneye
Shoreway
Big Empty Box
With The Punches
In The Shit
Meet My Phantoms
Go For Broke
Discover and Uncover!
Hasten My Demise
Dirty Looks
Dispatched Endorphins
Sam Terror
Hero Among Us
The Vitamin Hoax
HYEO
Killherscene Clothing
The Secret Stache
Sins of The Father
New Eyes New Ears
Skies of Sharon
Shy for Shy
Mr. Slugg
The Tin Thistles
Subculture Stereo
Throughout The End
What Lies Between Us
Cardboard Fort
Mars
Panic
Member Since:
October 31, 2003
Members:
Current Bands :


CHASE THE MOMENT

..

BROOKSIDE




NOTHING NEW



SHE RIDES




WAR CLOUD




THE DEPARTED




PUSH THE GHOST



Past AAR Bands:
Jeff Caudill (formerly of Gameface)
select start
Smackin' Isaiah (n.k.a. A Wilhelm Scream)
Drive til' Morning
Tokyo Rose
Another Option
end it all
All Chrome
Run Like Hell
Farwell Hope (feat. members of Ruiner)
Lanemeyer (feat. members of A Day at the Fair drive-thru records)
Orange Island
The Action Taken (feat. members of Have Heart)
Garrison
run like hell The Cheat!
The Passing Moment
Blackletter
Arcade Academy
The Chase Scene
The Forever Endeavor
Jericho
Adams Shore
Dyingforit
Damaged Goods
Sometimes She Burns
Kobe
Windmill
Calumet-Hecla
Eighty-Six
Do it for Johnny
Record Label:
All About Records
Label Type:
Indie
All About Records has 113795 friends.