Play

Play Next

Add to queue
Play

Play Next

Add to queue

17,785 plays
Genre: Alternative / Metal / Rock

Location Rancho Cascades, California, US

Profile Views: 133604

Last Login: 7/21/2011

Member Since 7/23/2004

Website www.ALLACCESSMAGAZINE.COM

Record Label Unknown Indie

Type of Label Unsigned

Bio

To Link to AllAccessMagazine.com, download the banner below and link it to: http://allaccessmagazine.com/ Or copy and paste the following code into your website: ........ All Access Magazine, was started in Nov. 2002. It was created with the idea of offering talented artists/groups a place to get their music out there, and hopefully secure an interest from the majors... .. .. .. .. .. .. .. .. .. ............ ..The world, especially the music world, has changed from how a lot of us remember it. We can buy and sell CDs, download a song, catch a new video being released, watch a TV show or even a movie—all on the INTERNET!.. .. ADAM LAMBERT.. .... .. .. .. .. .. .. .. .. .. .... ..We have come a long way, and with the help of new technologies, You can even READ www.ALLACCESSmagazine.com online, the FULL ISSUE, from cover to cover!.. .. .. ...... AAM is read by ALL ages, and has a worldwide readership of over 75,000 daily readers! Our staff is dedicated to bringing YOU, our readers and most important fans, the best interviews, reviews, CD reviews, columns, and photos of celebrities. We have everything from the cutting edge of the music scene to that hot national touring act coming your way... .. 2009 Interviews.. .. ............ .. Metallica, Carbon 9, NAMM 2009, Ron Keel, Lamb Of God, Marillion/Mark Kelly, No Fear Enery Drink Tour featuring Lamb Of God, As I Lay Dying, Children Of Bodom, God Forbid, Municipal Waste, Matt Costa, Middle Finger Mob, FeelGood, Adam Lambert, Napalm Death, ......Debra Stocker..............Create Your Badge...... .. 2008 Interviews so far .. ..Josh Todd/BUCKCHERRY, Terry Ilous/ XYZ, LIPSTICK MAGAZINE, 3 DOORS DOWN, VIVIAN CAMPBELL/ Def Leppard, Jamie St. James/ BLACK N BLUE, ACCOMPLICE, BILLY CHILDS, IRK, REGAN BROWNE, BRET MICHAELS, ALTAMONTE, JOURNEY, Tarsha, CLARENCE CLEMONS, EDDIE MONEY, STEVE LUKATHER, Fred Coury/CINDERELLA, RICHIE KOTZEN, LYNAM, The Mile High Music Festival, TESLA- Frank Hannon, Zak Stevens, Kenneth Nixon, JUDAS PRIEST, JONAS BROTHERS, ROCKLAHOMA, BREAKIN BENEJAMIN, SWEET, TOM PETTY, BILLY IDOL, Derek Sherinian, Curtis Salgado, Sebastian Bach, POISON, Bret Michaels, Lance King/Nightmare Records, Neil Turbin, Gretchen Bonaduce, Pearl Aday, Megan Bobo, Lita Ford, Eric Bloom- BLUE OYSTER CULT, Armor For Sleep, Saving Abel, Tesla, Foo Fighters, ZZ Top, Vinny Appice/Heaven & Hell, DIO, 3 Legged Dogg and Black Sabbath, Ty Smith/GODHEAD, John Payne/ASIA, NICKELBACK, Hanson, AC/DC, Dragon Force, LAMB OF GOD, Five Finger Death Punch, .. ..2007 Interviews.. .... .. .... .. VINNY APPICE/Heaven & Hell tour, The EXIES, MACHINE HEAD, THE WILDHEARTS, RED HOT CHILI PEPPERS, TESTAMENT, FU MANCHU, GUNNAR NELSON/SCRAP METAL, TELSA, BOBBY KIMBALL/TOTO, STEVE BLAZE/LILLIAN AXE, ERIC MARTIN, LILLIAN AX, SILVERCHAIR, NIKI SIXX, NAMM 2007, STEVE MOORE, Dan Lorenzo/The CURSED, POISON, RATT, THE SCROPIONS, JUAN CROUCIER, Jonny Cofin/COFIN CASE, SLASH, KOTTON MOUTH KINGS, GREAT WHITE, BILLY DUFF, DENISE AMES, STUART SMITH, .. ..2006 Interviews.. .. KELLY HANSEN, PAUL SOUSSAN, ANTHRAX, DISTRUBTED, SLAVE TO THE SYSTEM, TODD GRIFFEN, POET & PORNSTARS, WINGER, SHINEDOWN, HALSTEAD, SEETHER, KORN, AVENGED SEVENFOLD, GLEN TIPTON, OPETH, HED.PE, GEOFF TATE, CARMINE APPICE, Y&T, EXODUS, UNEARTH, ULI JON ROTH, LACUNA COIL, VENDERA, GOO,GOO DOLLS, STATIC X,ROB ZOMBIE, ARMORED SAINTS, JOE LYNN TURNER, PAUL GILBERT, EVANESCENCE, BLONDIE, STU SIMONE, ASIA, QUIET RIOT, KAMELOT, OTEP, MY CHEMICAL ROMANCE, RUDY SARZO, STATIC LULABY, MOTLEY CRUE.. ..2005 and BEFORE......... .. .... .. KID ROCK, BLACK LABEL SOCIETY, HEAVEN AND EARTH, SOUL CIRCUS, CRASH KELLY, WHITESTARR, Geoff Tate/QUEENSRYCHE, ZAKK WYLDE, BEAUTIFUL CREATURES, TONY CORROSION, SCARLETT POMERS, SUPAGROUP, WHITE SNAKE, Bill Ward/BLACK SABBATH, BILLY SHERWOOD, Jerry Scott/MOLLEY HACHET, WHITE STRIPES, GREEN DAY, JUDGE D, KINGS X, THE IRON MAIDENS, SWITCHFOOT, JOE LYNN TURNER, NICKELBACK, THORNBIRDS, JUDITH PRIEST, SKIDROW, STATIC X, GLENN HUGHES, ARCH ENEMY, JOHN SYKES, NAMM 2005, BREAKING BENJAMIN, STARWOOD, CARDBOARD VAMPYRES, GEORGE LYNCH, DEE SNIDER, JESSE DAMON/UDORA, TWISTED SISTER, JETLINER, FREAKHOUSE, MINISTRY, RONNIE JAMES DIO, SILVERTIDE, YELLOWCARD, JEFF SCOTT SOTO, LAMB OF GOD, VELVET REVOLVER, DON DOKKEN, ROBIN MCAULEY, OPM, CHUCK WRIGHT, DAVE MENIKETTI/Y&T, CHRIS THOMPSON, NO DOUBT, SLIPKNOT, COSMOSQUAD, FEAR FACTORY, THE DARKNESS, TRACII GUNS/LA GUNS, LINKIN PARK, JOSH TODD, NAMM 2003, TESLA, DICK DALE, NIGHT RANGER, SWITCHFOOT, WALTER TROUT, SLAYER, HATEBREED, HOOBASTANK, BRUCE KULICK, JERRY CANTRAL, RICKY WARWICK, DISHWALLA, TRIUMPH'S MIKE LEVINE, FIREBALL MINISTRY, JOE ELLIOTT/DEF LEPPARD, AEROSMITH, COLDPLAY, COLD, MARK SLAUGHTER, ENDO, SKID ROW, CRADLE OF FILTH, OZZY OSBOURNE, JOEY BELLADONNA, DEATH ANGEL, MARILN MANSON, GODSMACK, SUPERJOINT RITUAL, SALIVA, THE CALLING, MURDERDOLLS, TY LONGLEY, JIMMY EAT WORLD, SHADOWS FALL, BON JOVI, FOO FIGHTERS .. .. .... .. .. .. .. .. .. .. .. .. .......... ...... .......... .. .. Check out our NEW AAM BLOG at www.ALLACCESSMAGAZINE.COM .. Live Reviews~~Calendar Girls~~Interviews~~Reviews~~Editorial~~Columns~~CD Reviews~~DVD Reviews... It's "ALL" and MORE in www.ALLACCESSMAGAZINE.COM.. All Access Magazine, "It's All About The Music" and bringing YOU the latest and greatest of what's happening in the music world national and International.. NEW AAM BLOG!!....RADIO/MEDIA http://www.allaccessmagazine.com/radio_media.html.. ..CONCERTS/CASINOS http://www.allaccessmagazine.com/concerts.html.. And in every issue, don't miss the "EDITOR'S PICK OF THE MONTH.".. .... .. .. .. .. .. .. .. .. .. .......... ...... ............ ..If you've seen a show, gone to an event, heard a new CD or ANYTHING you want to shout bout and tell our readers! Let us know by writing about it at.. http://www.allaccessmagazine.com/reviews.html... ..Thank you ALL for your continuous support. Keep Rockin' and remember to support Independent Music, Go see a live show!!.. .."It's All About The Music" Debrä Stocker- Editor/Publisher 15981 Yarnell St. Ste. 122 Rancho Cascades, Ca. 91342 (818) 833-8852 www.allaccessmagazine.. ..Got To Believe...... .. .. .. .. .. .. .. ...... GreenStock Productions known for their involvement in the community with the All Access Magazine Music Awards Show, Summer Concert Series, Rock The ToyBox, an Annual Toys For Tots benefit and fundraiser's like Unleash the Fury, Linda Blair's Worldheart Foundation, "The Bunny Hop" a benefit for the LA Childrens Hospital. The All Access Rocks CD release party that helped raise money for the American Red Cross Hurricane Katrina Relief, and a PROUD supporter of the 25TH ANNIVERSARY OF THE LOVE RUN ... ..GreenStock productions is commitment to supporting the local talent in and around the Southern CA area. And "thank" our fans, readers and every artist that has every voluntered their time for one of these great causes. There's more to come and we'll see you soon!.. ..The ALL ACCESS Magazine Music Awards Show was hosted By Sheena Metal, a Los Angeles entertainment Icon, lighting up Radio, Television and Film. Sheena Metal has truly earned the title Queen of Your Nighttime World... .. Co-host is J.J. Garcia whom has been performing and recording professionally for over a decade. Currently with the band Judge Jackson. While off the road, he works as an Associate Editor for HITS Magazine and the business consultant and annual Music Awards host for Los Angeles-based music trade All Access Magazine.com. J.J. has been profiled in several national and international magazines, newspapers and webzines and many others have praised his playing and his work within the music community. At the end of the day, music comes first for J.J. "because that is really what this is all about!".. .... .. .. .. .. .. .. .. .. .. .......... .......... Thank You to all that have attended our All Access magazine Music Awards Shows! Each one a HUGE succes and we couldn't have done it without YOUR support!.. A Big thanks you to our sponsors Sound Street Studio's and Coffin Case, welcome aboard! Joined by our yearly sponsors PIRANHA MUSIC, ROCKET DRUM WORKS, SOUND STREET STUDIOS, FREEDOM STUDIOS, ONLINE GIGS, STYLUS WRITING & EDITING, DOUUG DEUTSCH PR SERVICES, CD BABY, MARIQUE PHOTOS, ONLINE GIGS, MUSIC HIGHWAY, PROFFESIONAL PRINTING, NEWARTIST ONLINE and MIKE CAVANAUGH PHOTOGRAPHY For More Information Call Debra Stocker (818) 833-8852 or Email ALLACCESSMGZN@AOL.COM ~~~~~~'It's All About The Music" .... .. .. .. .. .. .. .. .. .. .......... ...... ............ GreenSock Productions produces the ONLY "OFFICIAL" Rock the ToyBox a yearly charity event in conjection with the US Marines.. This year will be the X annual event, to be held in December 2008 details to be annouced, BUT you can drop off or mail any "NEW" toy valued at $10.00 YEAR ROUND at AAM located at 15981 Yarnell Street Sylmar, CA 91342, .. I would like to thank "Everyone" for showing their support at our Annual 'Rock The ToyBox charity event year after year! We've had a blast, and many children will wake up Christmas morning STILL believing in Santa Claus because of YOUR generosity! A special thanks to all our performing artist through the years! We've made a ton of friends along the way... .. GREAT WHITE .. ...... .. .. .. .. .. .. .. .. .. .......... ...... ............ ..We did in fact "ROCK THE TOYBOX" And US MARINE LANCE CORPAL RENE FLOREZ with backup man Stacey Qunealty -C9 for his amazing performance of the Star-spangled banner! See you again this year.. ..Be sure to watch "Focus in the Mix TV Show with Denise Ames". Thanks again for your continous support and all you do for supporting an All Access Magazine event especially Rock The Toy Box, it's a wonderful cause! Because we believe "Every Child Deserves A Little Christmas".. ..If you know a band or have a CD and want to tell our readers about it. Log on www.ALLACCESSMAGAZINE.COM AND WRITE ABOUT IT!! http://www.allaccessmagazine.com/reviews.html.. ....Buy merch from All Access Magazine at www.zazzle.com/allaccessmagazine...... .. .. .. .. .. .. ....[..Copy this widget to your profile..] [..Create your own merch booth..].... .. ....

Members

.... .. .. .. .. .. .. .. .. .. .......... ...... ............ ..Our Staff Publisher/Editor-In-Chief DEBRÄ STOCKER.. ..General Manager JOHN C GREEN.. ..Business Consultant J.J. GARCIA.. ..Web Master ROB DOMINGUEZ.. ..Art Director GRAY SPACE DESIGN.. ..Editorial Asst. COLLEEN SPEARS.. ..Publicist Doug Deutsch.. ..Street Team Brendan Tiernan.. ..Add Our Banner to YOUR MySpace ...... .. Copy and paste the following code into your website:.. .... ..***COLUMNS By ***.. LETTER FROM THE EDITOR - Debrä Stocker.. ..BETWEEN THE LINES - Calliope.. ..Search For The Hidden Gem By Mike Cavanaugh.. ..BackStage at MySpace By Christi Broekemeier.. ..Sound Bites By Rob Swick.. .. ...... .. .. ........ ..CONTRIBUTING WRITERS, PHOTOGRAPHERS & STAFF.. .. Calliope, Angel, Jasper, Sharon, Erin O'Neill, Scott Montiel, Tania Cabrera, Kerr Seth Lordygan, Bernard Baur, Meijin Bruttomesso, Jim Martyka, Laurie Phillips, Doug Deutsch, Natalie Perez, Mark Buirge,Scott Stratton, Susan Salva, Silke Rathert, Maya Dawn Henderson, Geoff Melton, Jesse Lopez,Noele Shannon, Francisco H. Ciriza, Yolanda Cota, Scott Montiel, Rob Swick, Caitlin McGuire, Juan Ibarra, Jamie Sackett, The Dude (Guitar Gods), Brooke Mason, Jesse Lopez, Kenny Love (Texas), Raymond Ahner, Mike Cavanaugh- photographer, Dave Oppenheimer, Brian Walker (Kansas), Christian W. Cipollini, Jim Obos, David Svendsen, Stephen Gibson, Lisa Knapp, Max Wallis, Kim Thore, Jaro Photoman, Teee O'Neill, Heidi Horvath, Bill Rowan, Alison aka Metalbabe, Charlie Richelle, Tony Sison, Robert Paul LeGrand, Alison (Cohen - AKA Metal Babe), Jennifer Diggs, Charlie Diggs, Melissa Gibson, Dawn Greer, Roxy Starr, Patricia Morales, Charlie Richelle, Lisa Knapp, Tania Cabrera Aguilera, Solance Cavanaugh, Merrissa (Revolution Records), Keith "MuzikMan" Hannaleck, Chuck Murphy- Murphy Photography and the never forgotten Jeff Lenhart (RIP).. .. .. .. .. Ernie Manrique, Shannon Moore, Mike Cavanaugh. Catlin McGuire, Francisco H. Ciriza, Autumn Shimer and Allyson B. Crawford, Kim Thore and David Svendsen.. ........ .. AAM accepts unsolicated material.. ........ .. .. If you would like a CD review, please mail 2 CD"s to All Access Magazine 15981 Yarnell Street Ste. 122 Rancho Cascades, CA 91342 Attn: CD review .. .. .. .. .. .. .. .. .. .. .. ...... ...... ...... .. .. ALL ACCESS MAGAZINE.COM "It's All About The Music".. ............ ..If your an artist, band, A&R rep, record company or a music lover, you'll love reading All Access Magazine.com. Packed full of information on the latest and greatest. Concert reviews, CD reviews, Interviews, columns and features, on both National and Indie artist... .. Our staff works hard to keep you up to date on the latest CD releases and cutting-edge NEW music! .. .. .. ....

Influences

AAM features all music, everything from Rock, Blues, Metal, Pop, Alternative, Hard Rock, Melodic, Country, Classic Rock, cover and tribute bands... .... .... .. .. Endoursements/Sponsors of AAM include; Taye Drums, Rocket Drums Works, Sam Ash Music, Focus In The Mix TV Show with Denise Ames, Pasite Cymbals, Manrique Photos, Coffin Case, Proffesional Printing, Sound Street Studios, Sam Ash Music, Pirahan Music, New Artist online, CD Baby, Manrique Photos, Sabian, Freedom Studios, Mike Cavanaugh Photography, Claudia dePrezz (Dreamcatcher Marketing), Noctunel Movements, Online Gigs, Tropical Media, Stylus Writing & Editing and YOU our most valuable, our reader!.. For advertising Information visit www.ALLACCESSMAGAZINE.COM .. "click" on advertising, or Or call Debra Stocker (818) 833-8852.. .. ........ ALLACCESSMGZN@AOL.COM .. .. .. .. I edited my profile with Thomas Myspace Editor V4.4 (www.strikefile.com/myspace)

Sounds Like
No recent updates in this category.
Why not...
Bio:
To Link to
AllAccessMagazine.com
, download the banner below and link it to:
http://allaccessmagazine.com/
Or copy and paste the following code into your website:
All Access Magazine, was started in Nov. 2002. It was created with the idea of offering talented artists/groups a place to get their music out there, and hopefully secure an interest from the majors.
..
The world, especially the music world, has changed from how a lot of us remember it. We can buy and sell CDs, download a song, catch a new video being released, watch a TV show or even a movie—all on the INTERNET!
ADAM LAMBERT
We have come a long way, and with the help of new technologies, You can even READ
www.ALLACCESSmagazine.com
online, the FULL ISSUE, from cover to cover!
AAM is read by ALL ages, and has a worldwide readership of over 75,000 daily readers! Our staff is dedicated to bringing YOU, our readers and most important fans, the best interviews, reviews, CD reviews, columns, and photos of celebrities. We have everything from the cutting edge of the music scene to that hot national touring act coming your way.
2009 Interviews
Metallica, Carbon 9, NAMM 2009, Ron Keel, Lamb Of God, Marillion/Mark Kelly, No Fear Enery Drink Tour featuring Lamb Of God, As I Lay Dying, Children Of Bodom, God Forbid, Municipal Waste, Matt Costa, Middle Finger Mob, FeelGood, Adam Lambert, Napalm Death,
..
Debra Stocker
Create Your Badge
..
2008 Interviews so far
Josh Todd/BUCKCHERRY, Terry Ilous/ XYZ, LIPSTICK MAGAZINE, 3 DOORS DOWN, VIVIAN CAMPBELL/ Def Leppard, Jamie St. James/ BLACK N BLUE, ACCOMPLICE, BILLY CHILDS, IRK, REGAN BROWNE, BRET MICHAELS, ALTAMONTE, JOURNEY, Tarsha, CLARENCE CLEMONS, EDDIE MONEY, STEVE LUKATHER, Fred Coury/CINDERELLA, RICHIE KOTZEN, LYNAM, The Mile High Music Festival, TESLA- Frank Hannon, Zak Stevens, Kenneth Nixon, JUDAS PRIEST, JONAS BROTHERS, ROCKLAHOMA, BREAKIN BENEJAMIN, SWEET, TOM PETTY, BILLY IDOL, Derek Sherinian, Curtis Salgado, Sebastian Bach, POISON, Bret Michaels, Lance King/Nightmare Records, Neil Turbin, Gretchen Bonaduce, Pearl Aday, Megan Bobo, Lita Ford, Eric Bloom- BLUE OYSTER CULT, Armor For Sleep, Saving Abel, Tesla, Foo Fighters, ZZ Top, Vinny Appice/Heaven & Hell, DIO, 3 Legged Dogg and Black Sabbath, Ty Smith/GODHEAD, John Payne/ASIA, NICKELBACK, Hanson, AC/DC, Dragon Force, LAMB OF GOD, Five Finger Death Punch,
2007 Interviews
VINNY APPICE/Heaven & Hell tour, The EXIES, MACHINE HEAD, THE WILDHEARTS, RED HOT CHILI PEPPERS, TESTAMENT, FU MANCHU, GUNNAR NELSON/SCRAP METAL, TELSA, BOBBY KIMBALL/TOTO, STEVE BLAZE/LILLIAN AXE, ERIC MARTIN, LILLIAN AX, SILVERCHAIR, NIKI SIXX, NAMM 2007, STEVE MOORE, Dan Lorenzo/The CURSED, POISON, RATT, THE SCROPIONS, JUAN CROUCIER, Jonny Cofin/COFIN CASE, SLASH, KOTTON MOUTH KINGS, GREAT WHITE, BILLY DUFF, DENISE AMES, STUART SMITH,
2006 Interviews
KELLY HANSEN, PAUL SOUSSAN, ANTHRAX, DISTRUBTED, SLAVE TO THE SYSTEM, TODD GRIFFEN, POET & PORNSTARS, WINGER, SHINEDOWN, HALSTEAD, SEETHER, KORN, AVENGED SEVENFOLD, GLEN TIPTON, OPETH,
HED.PE
, GEOFF TATE, CARMINE APPICE, Y&T, EXODUS, UNEARTH, ULI JON ROTH, LACUNA COIL, VENDERA, GOO,GOO DOLLS, STATIC X,ROB ZOMBIE, ARMORED SAINTS, JOE LYNN TURNER, PAUL GILBERT, EVANESCENCE, BLONDIE, STU SIMONE, ASIA, QUIET RIOT, KAMELOT, OTEP, MY CHEMICAL ROMANCE, RUDY SARZO, STATIC LULABY, MOTLEY CRUE
2005 and BEFORE...
KID ROCK, BLACK LABEL SOCIETY, HEAVEN AND EARTH, SOUL CIRCUS, CRASH KELLY, WHITESTARR, Geoff Tate/QUEENSRYCHE, ZAKK WYLDE, BEAUTIFUL CREATURES, TONY CORROSION, SCARLETT POMERS, SUPAGROUP, WHITE SNAKE, Bill Ward/BLACK SABBATH, BILLY SHERWOOD, Jerry Scott/MOLLEY HACHET, WHITE STRIPES, GREEN DAY, JUDGE D, KINGS X, THE IRON MAIDENS, SWITCHFOOT, JOE LYNN TURNER, NICKELBACK, THORNBIRDS, JUDITH PRIEST, SKIDROW, STATIC X, GLENN HUGHES, ARCH ENEMY, JOHN SYKES, NAMM 2005, BREAKING BENJAMIN, STARWOOD, CARDBOARD VAMPYRES, GEORGE LYNCH, DEE SNIDER, JESSE DAMON/UDORA, TWISTED SISTER, JETLINER, FREAKHOUSE, MINISTRY, RONNIE JAMES DIO, SILVERTIDE, YELLOWCARD, JEFF SCOTT SOTO, LAMB OF GOD, VELVET REVOLVER, DON DOKKEN, ROBIN MCAULEY, OPM, CHUCK WRIGHT, DAVE MENIKETTI/Y&T, CHRIS THOMPSON, NO DOUBT, SLIPKNOT, COSMOSQUAD, FEAR FACTORY, THE DARKNESS, TRACII GUNS/LA GUNS, LINKIN PARK, JOSH TODD, NAMM 2003, TESLA, DICK DALE, NIGHT RANGER, SWITCHFOOT, WALTER TROUT, SLAYER, HATEBREED, HOOBASTANK, BRUCE KULICK, JERRY CANTRAL, RICKY WARWICK, DISHWALLA, TRIUMPH'S MIKE LEVINE, FIREBALL MINISTRY, JOE ELLIOTT/DEF LEPPARD, AEROSMITH, COLDPLAY, COLD, MARK SLAUGHTER, ENDO, SKID ROW, CRADLE OF FILTH, OZZY OSBOURNE, JOEY BELLADONNA, DEATH ANGEL, MARILN MANSON, GODSMACK, SUPERJOINT RITUAL, SALIVA, THE CALLING, MURDERDOLLS, TY LONGLEY, JIMMY EAT WORLD, SHADOWS FALL, BON JOVI, FOO FIGHTERS
Check out our NEW AAM BLOG at
www.ALLACCESSMAGAZINE.COM
Live Reviews~~Calendar Girls~~Interviews~~Reviews~~Editorial~~Columns~~CD Reviews~~DVD Reviews... It's "ALL" and MORE in
www.ALLACCESSMAGAZINE.COM
All Access Magazine, "It's All About The Music" and bringing YOU the latest and greatest of what's happening in the music world national and International
NEW AAM BLOG!!
RADIO/MEDIA
http://www.allaccessmagazine.com/radio_media.html
CONCERTS/CASINOS
http://www.allaccessmagazine.com/concerts.html
And in every issue, don't miss the "EDITOR'S PICK OF THE MONTH."
If you've seen a show, gone to an event, heard a new CD or ANYTHING you want to shout bout and tell our readers! Let us know by writing about it at
http://www.allaccessmagazine.com/reviews.html
.
Thank you ALL for your continuous support. Keep Rockin' and remember to support Independent Music, Go see a live show!!
"It's All About The Music" Debrä Stocker- Editor/Publisher 15981 Yarnell St. Ste. 122 Rancho Cascades, Ca. 91342 (818) 833-8852 www.allaccessmagazine
Got To Believe
..
GreenStock Productions known for their involvement in the community with the All Access Magazine Music Awards Show, Summer Concert Series, Rock The ToyBox, an Annual Toys For Tots benefit and fundraiser's like Unleash the Fury, Linda Blair's Worldheart Foundation, "The Bunny Hop" a benefit for the LA Childrens Hospital. The All Access Rocks CD release party that helped raise money for the American Red Cross Hurricane Katrina Relief, and a PROUD supporter of the 25TH ANNIVERSARY OF THE LOVE RUN .
GreenStock productions is commitment to supporting the local talent in and around the Southern CA area. And "thank" our fans, readers and every artist that has every voluntered their time for one of these great causes. There's more to come and we'll see you soon!
The ALL ACCESS Magazine Music Awards Show was hosted By Sheena Metal, a Los Angeles entertainment Icon, lighting up Radio, Television and Film. Sheena Metal has truly earned the title Queen of Your Nighttime World.
Co-host is J.J. Garcia whom has been performing and recording professionally for over a decade. Currently with the band Judge Jackson. While off the road, he works as an Associate Editor for HITS Magazine and the business consultant and annual Music Awards host for Los Angeles-based music trade All Access
Magazine.com
. J.J. has been profiled in several national and international magazines, newspapers and webzines and many others have praised his playing and his work within the music community. At the end of the day, music comes first for J.J. "because that is really what this is all about!"
A Big thanks you to our sponsors Sound Street Studio's and Coffin Case, welcome aboard! Joined by our yearly sponsors PIRANHA MUSIC, ROCKET DRUM WORKS, SOUND STREET STUDIOS, FREEDOM STUDIOS, ONLINE GIGS, STYLUS WRITING & EDITING, DOUUG DEUTSCH PR SERVICES, CD BABY, MARIQUE PHOTOS, ONLINE GIGS, MUSIC HIGHWAY, PROFFESIONAL PRINTING, NEWARTIST ONLINE and MIKE CAVANAUGH PHOTOGRAPHY For More Information Call Debra Stocker (818) 833-8852 or Email ALLACCESSMGZN@AOL.COM ~~~~~~'It's All About The Music"
GreenSock Productions produces the ONLY "OFFICIAL" Rock the ToyBox a yearly charity event in conjection with the US Marines.. This year will be the X annual event, to be held in December 2008 details to be annouced, BUT you can drop off or mail any "NEW" toy valued at $10.00 YEAR ROUND at AAM located at 15981 Yarnell Street Sylmar, CA 91342,
I would like to thank "Everyone" for showing their support at our Annual 'Rock The ToyBox charity event year after year! We've had a blast, and many children will wake up Christmas morning STILL believing in Santa Claus because of YOUR generosity! A special thanks to all our performing artist through the years! We've made a ton of friends along the way.
GREAT WHITE
We did in fact "ROCK THE TOYBOX" And US MARINE LANCE CORPAL RENE FLOREZ with backup man Stacey Qunealty -C9 for his amazing performance of the Star-spangled banner! See you again this year
Be sure to watch "Focus in the Mix TV Show with Denise Ames". Thanks again for your continous support and all you do for supporting an All Access Magazine event especially Rock The Toy Box, it's a wonderful cause! Because we believe "Every Child Deserves A Little Christmas"
If you know a band or have a CD and want to tell our readers about it. Log on
www.ALLACCESSMAGAZINE.COM
AND WRITE ABOUT IT!!
http://www.allaccessmagazine.com/reviews.html
..
Member Since:
July 23, 2004
Members:
Our Staff Publisher/Editor-In-Chief DEBRÄ STOCKER
General Manager JOHN C GREEN
Business Consultant J.J. GARCIA
Web Master ROB DOMINGUEZ
Art Director GRAY SPACE DESIGN
Editorial Asst. COLLEEN SPEARS
Publicist Doug Deutsch
Street Team Brendan Tiernan
Add Our Banner to YOUR MySpace
Copy and paste the following code into your website:

***COLUMNS By ***
LETTER FROM THE EDITOR - Debrä Stocker
BETWEEN THE LINES - Calliope
Search For The Hidden Gem By Mike Cavanaugh
BackStage at MySpace By Christi Broekemeier
Sound Bites By Rob Swick
CONTRIBUTING WRITERS, PHOTOGRAPHERS & STAFF
Calliope, Angel, Jasper, Sharon, Erin O'Neill, Scott Montiel, Tania Cabrera, Kerr Seth Lordygan, Bernard Baur, Meijin Bruttomesso, Jim Martyka, Laurie Phillips, Doug Deutsch, Natalie Perez, Mark Buirge,Scott Stratton, Susan Salva, Silke Rathert, Maya Dawn Henderson, Geoff Melton, Jesse Lopez,Noele Shannon, Francisco H. Ciriza, Yolanda Cota, Scott Montiel, Rob Swick, Caitlin McGuire, Juan Ibarra, Jamie Sackett, The Dude (Guitar Gods), Brooke Mason, Jesse Lopez, Kenny Love (Texas), Raymond Ahner, Mike Cavanaugh- photographer, Dave Oppenheimer, Brian Walker (Kansas), Christian W. Cipollini, Jim Obos, David Svendsen, Stephen Gibson, Lisa Knapp, Max Wallis, Kim Thore, Jaro Photoman, Teee O'Neill, Heidi Horvath, Bill Rowan, Alison aka Metalbabe, Charlie Richelle, Tony Sison, Robert Paul LeGrand, Alison (Cohen - AKA Metal Babe), Jennifer Diggs, Charlie Diggs, Melissa Gibson, Dawn Greer, Roxy Starr, Patricia Morales, Charlie Richelle, Lisa Knapp, Tania Cabrera Aguilera, Solance Cavanaugh, Merrissa (Revolution Records), Keith "MuzikMan" Hannaleck, Chuck Murphy- Murphy Photography and the never forgotten Jeff Lenhart (RIP)
Ernie Manrique, Shannon Moore, Mike Cavanaugh. Catlin McGuire, Francisco H. Ciriza, Autumn Shimer and Allyson B. Crawford, Kim Thore and David Svendsen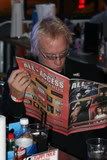 AAM accepts unsolicated material
If you would like a CD review, please mail 2 CD"s to All Access Magazine 15981 Yarnell Street Ste. 122 Rancho Cascades, CA 91342 Attn: CD review
ALL ACCESS
MAGAZINE.COM
"It's All About The Music"
..


If your an artist, band, A&R rep, record company or a music lover, you'll love reading All Access Magazine.com. Packed full of information on the latest and greatest. Concert reviews, CD reviews, Interviews, columns and features, on both National and Indie artist.

Our staff works hard to keep you up to date on the latest CD releases and cutting-edge NEW music!

Influences:
AAM features all music, everything from Rock, Blues, Metal, Pop, Alternative, Hard Rock, Melodic, Country, Classic Rock, cover and tribute bands.
Endoursements/Sponsors of AAM include; Taye Drums, Rocket Drums Works, Sam Ash Music, Focus In The Mix TV Show with Denise Ames, Pasite Cymbals, Manrique Photos, Coffin Case, Proffesional Printing, Sound Street Studios, Sam Ash Music, Pirahan Music, New Artist online, CD Baby, Manrique Photos, Sabian, Freedom Studios, Mike Cavanaugh Photography, Claudia dePrezz (Dreamcatcher Marketing), Noctunel Movements, Online Gigs, Tropical Media, Stylus Writing & Editing and YOU our most valuable, our reader!
For advertising Information visit
www.ALLACCESSMAGAZINE.COM
"click" on advertising, or Or call Debra Stocker (818) 833-8852

ALLACCESSMGZN@AOL.COM
..
I edited my profile with Thomas Myspace Editor V4.4 (
www.strikefile.com/myspace
)
Record Label:
Unknown Indie
All Access Music & Entertainment Magazine has 20554 friends.