Play

Play Next

Add to queue
Play

Play Next

Add to queue

19,044 plays

Play

Play Next

Add to queue

5,959 plays

Play

Play Next

Add to queue

5,153 plays

Play

Play Next

Add to queue

5,400 plays
Genre: Hawaiian

Location KAUNAKAKAI, Hawaii, US

Profile Views: 71724

Last Login: 7/19/2011

Member Since 8/3/2008

Website amyhanaialiigilliom.com

Record Label Unknown Indie

Type of Label Indie

Bio

Amy Hanaiali'i is known worldwide for her wide vocal range, polished performances, classic charm, and infectious smile. She's traveled the world and back, received formal training in European classical music, jazz, blues, American standards and pop, and holds a Bachelor of Fine Arts in Musical Theater. Combining these artistic styles and training makes her a fluently diverse entertainer and creates an immediate and profound connection with her audiences. ..Amy has opened for such legends as Carlos Santana in Germany, Willie Nelson, Joe Cocker, Wayne Newton, Arlo Guthrie, The Beach Boys, Ernie Watts, Boz Scaggs, Earth, Wind and Fire, Sergio Mendes and many more mainstream artists. She has toured extensively in, Germany, Japan, China and Tahiti, captivating and collecting new fans along the way. ....Press and Media Inquiries/Public Relations:.... Adrian Kamali'i.. Pae 'Āina Communications, LLC.. 1188 Bishop Street, STE 2011.. Honolulu, HI 96813.. P: 808.529.9580.. F: 808.356.3565.. E: adrian@paeaina.com.. .."Amy has grown as an artist....and shows on this album that she is able to stretch across pop and soul musical lines.....but still holds on to her hawaii roots and culture.... the world is blessed by her as an artist.".. ..Jamie Foxx.. ......Click here.. to purchase 'Aumakua.... .. .... .. .. .. .. .. .. .. .. .. .. .. ..

Members

..IN STORES AUGUST 25, 2009! .. ...... 16 DUETS WITH: Willie Nelson, Keali'i Reichel, Robert Cazimero, Palani Vaughn, Martin Pahinu, Aaron Mahi, George Ku'o, FIJI, Rebel Souljahz, John Cruz, Eric Gilliom, Kaumaka'iwa Kanaka'ole, Sean Na'auao, Nathan Aweau, Rev. Dennis Kamakahi, David Kawika Kahiapo, Henry Kapono and Darren Benitez. ......Click here.. to purchase 'Aumakua.... Performing the National Anthem at the UH vs. Washington State game, November 29, 2009.. ...... ......Have You Ever Seen The Rain?...... .. .. .. .. .. .. .... .. ..A Hawaiian Christmas.. Available where all Hawaiian Music is sold......

Influences

Sounds Like
No recent updates in this category.
Why not...
04:50 | 4656 plays | Sep 4 2008
Bio:
Amy Hanaiali'i is known worldwide for her wide vocal range, polished performances, classic charm, and infectious smile. She's traveled the world and back, received formal training in European classical music, jazz, blues, American standards and pop, and holds a Bachelor of Fine Arts in Musical Theater. Combining these artistic styles and training makes her a fluently diverse entertainer and creates an immediate and profound connection with her audiences.
Amy has opened for such legends as Carlos Santana in Germany, Willie Nelson, Joe Cocker, Wayne Newton, Arlo Guthrie, The Beach Boys, Ernie Watts, Boz Scaggs, Earth, Wind and Fire, Sergio Mendes and many more mainstream artists. She has toured extensively in, Germany, Japan, China and Tahiti, captivating and collecting new fans along the way.
Press and Media Inquiries/Public Relations:
Adrian Kamali'i
Pae 'Āina Communications, LLC
1188 Bishop Street, STE 2011
Honolulu, HI 96813
P: 808.529.9580
F: 808.356.3565
E: adrian@paeaina.com
"Amy has grown as an artist....and shows on this album that she is able to stretch across pop and soul musical lines.....but still holds on to her hawaii roots and culture.... the world is blessed by her as an artist."
Jamie Foxx
Click here to purchase 'Aumakua
..
..
Member Since:
August 03, 2008
Members:
IN STORES AUGUST 25, 2009!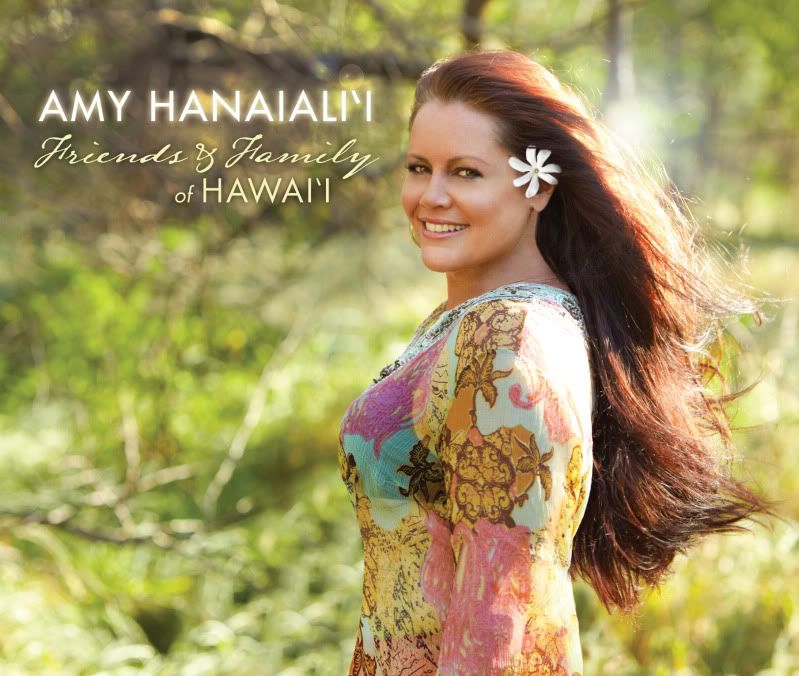 16 DUETS WITH: Willie Nelson, Keali'i Reichel, Robert Cazimero, Palani Vaughn, Martin Pahinu, Aaron Mahi, George Ku'o, FIJI, Rebel Souljahz, John Cruz, Eric Gilliom, Kaumaka'iwa Kanaka'ole, Sean Na'auao, Nathan Aweau, Rev. Dennis Kamakahi, David Kawika Kahiapo, Henry Kapono and Darren Benitez.
Click here to purchase 'Aumakua
Performing the National Anthem at the UH vs. Washington State game, November 29, 2009
Have You Ever Seen The Rain?
A Hawaiian Christmas
Available where all Hawaiian Music is sold
Record Label:
Unknown Indie