Play

Play Next

Add to queue
Play

Play Next

Add to queue

2,003 plays

Play

Play Next

Add to queue

4,556 plays

Play

Play Next

Add to queue

219 plays

Play

Play Next

Add to queue

1,240 plays

Play

Play Next

Add to queue

355 plays
Genre: Alternative / Rock

Location London, London and South East, UK

Profile Views: 71291

Last Login: 5/10/2013

Member Since 10/13/2008

Website amylawson.com

Type of Label Unsigned

Bio

.. .. .. .. .. .. .. ........ .. .. .. .. .. .. .................. .... ........ ........ ...... .. "Hi there! Than ks for stopping by! =o) Here's a little bit about me... I'm Amy - originally from Thetford in Norfolk, England. I've been singing, playing guitar and writing songs from an early age. I'm warm, bubbly and outgoing. I love meeting new people, making new friends and living life on a natural high. I have lived and worked in London and Norfolk and I've met some amazing people along the way." .... .."My music is by far the most important thing to me. It is as essential to me as the air I breathe. I enjoy working with other musicians as well as performing and writing my own music. I sometimes dabble in media, hospitality, promotional, acting and modelling work as it is a great way of meeting people and making friends." .... .."I'm always open to new musical collaborations, photoshoots or other media events. So drop me a line if you'd like to work with me. If any bands/musicians would like me to check them out - get in touch too! .... .. ............VC & Angel Network...... .. ......"I am a firm believer that life is a journey and not a destination." ........ ......"Life is what you make it - life is now!"........ ......Here's a video clip of myself and my gorgeous friend ..LOZ of Jagermeister.., hanging out with some of the Machine Head guys and singing along to 'Living On A Prayer' by Bon Jovi... as you do!.... .. .. .. .. .. .. ...... ...................................... .. .. ...... ...... ....Send Message.... ....Add to friends.... ....Amy Lawson.. ..Alternative / Rock / Metal.... ..Amy is based in London and South East England. Her influences are mainly 80's to present melodic rock & metal. 'Catchy guitar riffs and powerful vocals have the ability to blow me away.' Amy is also a volunteer radio producer at Future Radio 96.9 FM.. ..Singer / Songwriter / Guitarist / Model / Radio Producer.. ..Amy modelling for Pageant Paintwork - like the bike?.. .. ....

Members

.. .. .. .. .. .. ..........'Because we don't know when we will die. We get to think of life as an inexhaustible well. Yet everything happens a certain numbers of times, and a very small number really. .... How many times will you remember a certain afternoon of your childhood, some afternoon that's so deeply a part of your being that you can't even conceive of your life without it?.. Perhaps four or five times more. Perhaps not even that. .... How many more times will you watch the full moon rise? Perhaps twenty....... ... and yet it all seems limitless.' .. ..Brandon Bruce Lee....~*~R.I.P~*~ .... ......

Influences

Sounds Like
Woohoo - just reached 50 likes! Welcome everyone, thank you for joining me. :) YOU ROCK!

via Twitter

Woohoo! Just reached 50 likes. Welcome everyone, thank you for joining me ;) You rock! (y)

via Twitter

Vicky is still going strong and looking great. Measurements will be taken pre party on Sunday to see how well she... http://t.co/g9r7NVLEBp

via Twitter
Bio:

"Hi there! Than ks for stopping by! =o) Here's a little bit about me... I'm Amy - originally from Thetford in Norfolk, England. I've been singing, playing guitar and writing songs from an early age. I'm warm, bubbly and outgoing. I love meeting new people, making new friends and living life on a natural high. I have lived and worked in London and Norfolk and I've met some amazing people along the way."
"My music is by far the most important thing to me. It is as essential to me as the air I breathe. I enjoy working with other musicians as well as performing and writing my own music. I sometimes dabble in media, hospitality, promotional, acting and modelling work as it is a great way of meeting people and making friends."
"I'm always open to new musical collaborations, photoshoots or other media events. So drop me a line if you'd like to work with me. If any bands/musicians would like me to check them out - get in touch too!
"I am a firm believer that life is a journey and not a destination."
"Life is what you make it - life is now!"
Here's a video clip of myself and my gorgeous friend LOZ of Jagermeister, hanging out with some of the Machine Head guys and singing along to 'Living On A Prayer' by Bon Jovi... as you do!
..
.. ..
..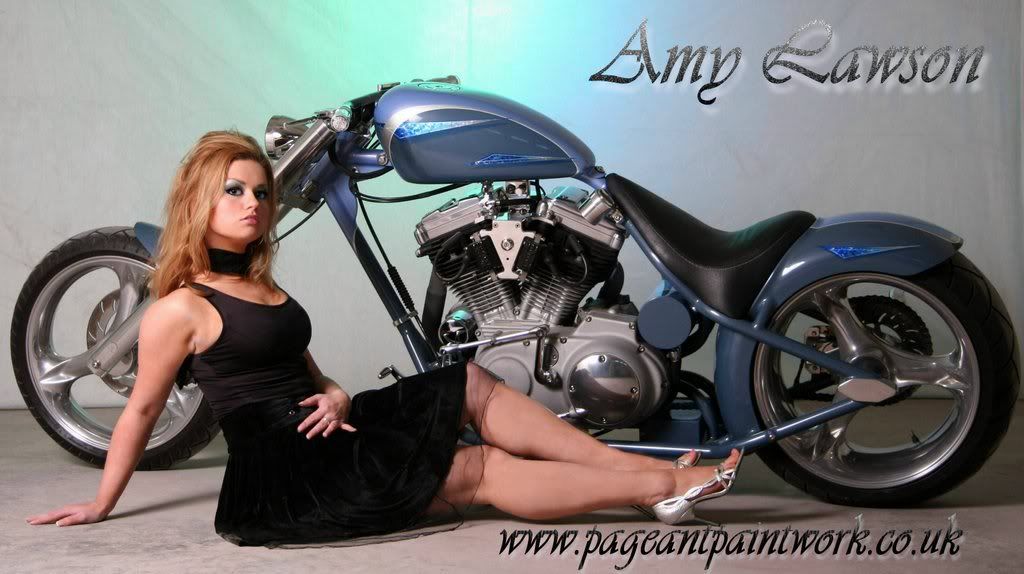 ..
Send Message
Add to friends
Amy Lawson
Alternative / Rock / Metal
Amy is based in London and South East England. Her influences are mainly 80's to present melodic rock & metal. 'Catchy guitar riffs and powerful vocals have the ability to blow me away.' Amy is also a volunteer radio producer at Future Radio 96.9 FM
Singer / Songwriter / Guitarist / Model / Radio Producer
Amy modelling for Pageant Paintwork - like the bike?
..
Member Since:
October 13, 2008
Members: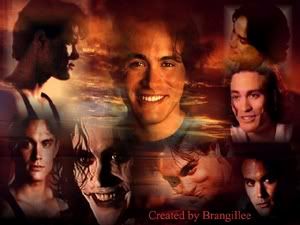 'Because we don't know when we will die. We get to think of life as an inexhaustible well. Yet everything happens a certain numbers of times, and a very small number really.

How many times will you remember a certain afternoon of your childhood, some afternoon that's so deeply a part of your being that you can't even conceive of your life without it? Perhaps four or five times more. Perhaps not even that.

How many more times will you watch the full moon rise? Perhaps twenty...

... and yet it all seems limitless.'

Brandon Bruce Lee

~*~R.I.P~*~

..