Play

Play Next

Add to queue
Play

Play Next

Add to queue

7,122 plays

Play

Play Next

Add to queue

4,567 plays

Play

Play Next

Add to queue

5,711 plays

Play

Play Next

Add to queue

36,761 plays
Genre: Alternative / Folk / Pop

Location Melbourne, Victoria, Au

Profile Views: 233665

Last Login: 3/13/2012

Member Since 4/11/2005

Website ihartangie.net

Record Label ABC Music / Universal Music Australia

Type of Label Indie

Bio

Singer-songwriter Angie Hart rose to fame with the Melbourne-based alt-pop band 'Frente!' which formed in 1991, selling more than a million records worldwide and changing the face of pop music in Australia. Post-Frente, Angie formed the duo 'Splendid' and later teamed up with Dean Manning as 'Holidays on Ice'. .. ..More recently Angie Hart has become her own entity, releasing solo album 'Grounded Bird' in late 2007. Her forthcoming album 'Eat My Shadow', due for release in October 2009, was recorded with ARIA-Award winning producer Shane Nicholson, and again features her celebrated winsome yet playful vocals that pack a lyrical punch. .. ..Angie Hart reveals the first fruits of her sophomore album, by way of the first single, 'I'm Afraid of Fridays'. Written with Hunters and Collectors front man Mark Seymour, and produced by ARIA and APRA award winning producer Shane Nicholson, 'Fridays' is Angie's antidote to the trials and tribulations of all that the weekend may bring. .. ..'I'm Afraid of Fridays' portends to the forthcoming album, full of skillfully written songs with Angie's much-imitated, never-bettered vocals as cornerstone to all the musical proceedings. The album contains collaborations with some of Australia's (and indeed international) finest writers and musicians. Shows being announced soon! .. ..Management: Will Larnach-Jones will@parallelmanagement.com.au.. Bookings: Luke Morton at The Harbour Agency lukem@theharbouragency.com.. Label enquiries: Peta Chew ABC Music chew.peta@abc.net.au.. Publishing enquiries: Linda Bosidis lindab@mushroommusic.com.au.. ..

Members

..Angie Hart.. .. .. .. .. ...... .. .... .. .. ...... .. .... .. ........ .. .... .. .. ...... .. ..

Influences

Click on the following link to join the Angie Hart Mailing List and get a free download!! http://www.universalmusic.net.au/freedownloads/angiehart.. .. ..Eat My Shadow.. - the stunning new album, produced by Shane Nicholson, mixed by Nash Chambers. Available now on i-Tunes (worldwide) and on CD from JB Hi-Fi (ships internationally)..... .."Angie Hart's second solo album has got it all." ★★★★★ ......The Mercury..... .."It's a delicate thing she's made. And a triumph" ★★★★ ......The Mag..... .."Her writing has evolved into a seamless expression of wisdom and craft." ★★★★ ......EG, The Age..... .."Hart's voice has never sounded so effortless." ★★★★ ......The West Australian..... .."She's just fine when flying solo." ★★★ 1/2 ......HIT, Herald Sun..... .."This record guarantees her place among Australia's well-respected singer-songwriters." ★★★ 1/2 ......Time Off..... .."Her freshest sounding album yet." ......Metro, Sydney Morning Herald..... .."A lovely slice of acoustic whimsy (and witty too!)" ......Frankie Magazine..... .."Surprise. Our tender indie pop ingénue is a voice of rare and poetic wisdom." ......Rolling Stone....... ...... Buy the remix EP from ..iTunes...... ...... Buy the album from ..JB HiFi...... Buy the album from ...... (Worldwide).... ....Simple.. Buy the single from ...... (Australia / New Zealand).... .. ..I'm Afraid of Fridays.. Buy the single from ........ (Australia / New Zealand) .. .. ..Pictures of You.. Buy the single from ......(Australia / New Zealand) ..Check out ..Angie Hart's Blog.... .. ......

Sounds Like

Praise for Grounded Bird .. .. Intimate and effortlessly charming, clever in letting Hart's often enchanting voice shine. - Rolling Stone .. .. The childlike voice of Frente-era Hart has acquired a more mature, worldly patina, but it's still a honey-dipped delight perfectly suited to her kind of soulful pop - even the album's most melancholy ballads are etched in shimmery light - The Sunday Age .. .. Grounded Bird is filled with warm and wired pop, penned with diverse co-writers. - Cameron Adams, Herald Sun
..

New Angie Hart video: I'm Afraid of Fridays

Management: Will Larnach-Jones will@parallelmanagement.com.au
Bookings: Luke Morton at The Harbour Agency lukem@theharbouragency.com
Label enquiries: Peta Chew ABC Music chew.peta@abc.net.au
Publishing enquiries: Linda Bosidis lindab@mushroommusic.com.au

..........
Member Since:
April 11, 2005
Influences:
Click on the following link to join the Angie Hart Mailing List and get a free download!!
http://www.universalmusic.net.au/freedownloads/angiehart
Eat My Shadow
- the stunning new album, produced by Shane Nicholson, mixed by Nash Chambers. Available now on i-Tunes (worldwide) and on CD from JB Hi-Fi (ships internationally).
"Angie Hart's second solo album has got it all." ★★★★★
The Mercury
.
"It's a delicate thing she's made. And a triumph" ★★★★
The Mag
.
"Her writing has evolved into a seamless expression of wisdom and craft." ★★★★
EG, The Age
.
"Hart's voice has never sounded so effortless." ★★★★
The West Australian
.
"She's just fine when flying solo." ★★★ 1/2
HIT, Herald Sun
.
"This record guarantees her place among Australia's well-respected singer-songwriters." ★★★ 1/2
Time Off
.
"Her freshest sounding album yet."
Metro, Sydney Morning Herald
.
"A lovely slice of acoustic whimsy (and witty too!)"
Frankie Magazine
.
"Surprise. Our tender indie pop ingénue is a voice of rare and poetic wisdom."
Rolling Stone
.
Buy the remix EP from
iTunes
Buy the album from
JB HiFi
Buy the album from

(Worldwide)
Simple
Buy the single from

(Australia / New Zealand)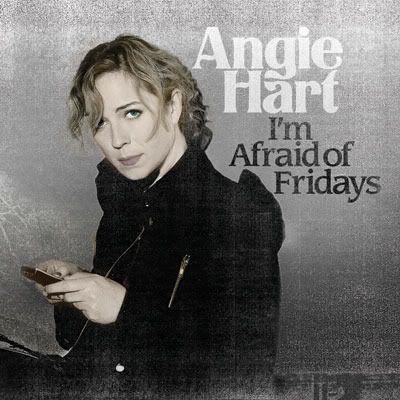 I'm Afraid of Fridays
Buy the single from ..

(Australia / New Zealand)
Pictures of You
Buy the single from
(Australia / New Zealand)
Check out Angie Hart's Blog
Sounds Like:
Praise for Grounded Bird

Intimate and effortlessly charming, clever in letting Hart's often enchanting voice shine. - Rolling Stone

The childlike voice of Frente-era Hart has acquired a more mature, worldly patina, but it's still a honey-dipped delight perfectly suited to her kind of soulful pop - even the album's most melancholy ballads are etched in shimmery light - The Sunday Age

Grounded Bird is filled with warm and wired pop, penned with diverse co-writers. - Cameron Adams, Herald Sun
Record Label:
ABC Music / Universal Music Australia
No recent updates in this category.
Why not...
00:00 | 7647 plays | Sep 23 2009