Apollonia Kotero hasn't earned any badges yet... have you?
General

Music

PURPLISH RAIN

SPIN presents a tribute to Prince's Purple Rain! CLICK PHOTO!

Get Your FREE Copy of SPIN's Prince Tribute! Find out how to download SPIN's Purplish Rain,

featuring Greg Dulli & Apollonia

,

Of Montreal

,

Chairlift

, and more!

CLICK PHOTO! SPIN Exclusive: Greg Dulli & Apollonia Cover Prince's "When Doves Cry" Hear the first monster track from SPIN's upcoming tribute album honoring the 25th anniversary of Purple Rain.

Movies

CLICK PHOTO! The July issue of SPIN will be your key to downloading the album,

so pick up your copy today! Then

, check

spin.com/prince

for details.
About me:
Born on August 2nd, Patricia Kotero who later became known to the world as Apollonia was born in Santa Monica, California.
Patricia Kotero initially pursued fame and fortune via work as an actress, singer and a model. After winning the Miss San Pedro beauty competition and a stint cheerleading for the Los Angeles Rams in the 1980's, Kotero began acting in roles both in film and television such as CHiPs, Tales of the Gold Monkey, Fantasy Island, Matt Houston and Knight Rider.
Later Apollonia would land the role of a lifetime while auditioning for Prince for his first ever feature film. Winning the starring role opposite Prince in the blockbuster musical Purple Rain (1984), which, received an Oscar. Apollonia 6, also featured supporting singers Brenda Bennett and Susan Moonsie. Apollonia 6 went on a world wide tour to promote the blockbuster single Sex Shooter.
Still retaining the "Apollonia" moniker, she returned her focus to acting and landed a supporting role in the TV movie The Mystic Warrior, (1984); this was followed by a ten-week recurring role on the soap opera Falcon's Crest, (1985-86).
In 1989 Apollonia released her solo album debut through Warner Brothers, titled Since I Fell For You. Aimed at the dance music crowd, the album and its two singles Mismatch and Since I Fell For You, were upbeat hot dance tracks that kept fans wanting more. Kotero then released the 1997's bilingual balled Stay With Me.
Apollonia went on to star in roles such as Ministry of Vengeance (1989), Back to Back (1990), Black Magic Woman (1991) and a couple of Italian productions La Donna di una Sera, (1991), Cattive Ragazze, (1992) and returned to television on shows such as Sliders, Air America, and hosting The Jazz Channel's Latin Beat, program. During this period an exercise video (encouragingly titled Go For It) was also released. Apollonia can be seen on E Channels Celebrity Homes and MTVs Cribs, with friend Carmen Electra, The Test and Rendezview.
In 2005, Apollonia formed a multi-media entertainment company, Kotero Entertainment. Currently, Kotero Entertainment is partnering with a number of producers to produce a children animated television series, featured films, and television. Kotero Entertainment also manages young talent such as television and film star Sascha Andres and young pop singer Nikki Barreras, also known as Nikki B.
In spring of 2008, Apollonia will launch her new skin care and perfume line worldwide.
Apollonia continues to study carefully nurturing the natural abilities that made her a household name and established her as one of the most sought after entertainer in the business.
Community activities: Nosotros, Women in Film, Los Angeles Mission, LULAC, The Violence Intervention Program Los Angeles and The Wall of Las Memorias.
Who I'd like to meet: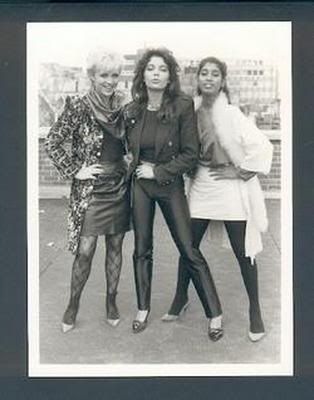 Status:

Single

Here for:

Networking, Friends

Hometown:

California

Orientation:

Straight

Body type:

5' 3" / Slim / Slender

Ethnicity:

Latino / Hispanic

Zodiac Sign:

Leo

Education:

Grad / professional school

Occupation:

Producer/Executive
Kotero Entertainment

Beverly Hills, CA US

C.E.O