..
/>
Genre: Hardcore / Punk / Rock

Location Aquitaine, Be

Profile Views: 30085

Last Login: 5/7/2012

Member Since 1/3/2008

Website www.aranadelrockes.jimdo.com

Record Label unsigned

Type of Label Indie

Bio

<a href="http://s847.photobucket.com/albums/ab35/aranadelrock/?action=view¤t=arana.jpg" target="_blank"><img src="http://i847.photobucket.com/albums/ab35/aranadelrock/arana.jpg" border="0" alt="Photobucket"></a> ...... Telle une araign�e qui tisse sa toile, l'association Ara�a del Rock tisse son r�seau d'�changes culturels entre la France et l'Espagne. .... L'association Ara�a del Rock est une association loi 1901, bas�e � PAU (Pyr�n�es Atlantiques), ayant pour but la cr�ation d'un r�seau d'�changes culturels transfrontalier entre la France et l'Espagne... .. Cette association, v�ritable alternative cr�atrice de diffusion et de valeurs culturelles, contribue � faire d�couvrir de nouveaux talents de part et d'autres de la fronti�re issus de la sc�ne Alternative et met en connexion les partenaires � la fois, homologues et voisins pour rompre les barri�res naturelles qui les s�parent... .. Ainsi les grandes familles des sc�nes alternatives fran�aises et espagnoles sont motiv�es par la prise de conscience et l'int�r�t � s'int�grer au r�seau pour s'unir, collaborer, mutualiser leurs comp�tences, et par cons�quent dynamiser leur secteur... .. Les activit�s s'organisent autour de 4 p�les et se situent dans une configuration de relations transfrontali�res:.. .. - l'accompagnement de groupes musicaux (musiques actuelles) ayant d�j� une certaine exp�rience... .. - les �changes entre groupes.. .. - la pr�vention auditive... .. - la coordination des coop�rations transfrontali�res, avec le souci d'enrichir les �changes dans les domaines culturels et de connaissance mutuelle... .......... Como tal una ara�a teje su tela, Ara�a del Rock teje su red de intercambios culturales entre el estado espa�ol y Francia. .. .. Ara�a del Rock tiene su sede social en PAU (los Pirineos Atl�nticos, Aquitania), la estructura fuera creada el 24 de octubre de 2007, su misi�n principal es: La creaci�n de una red de intercambios culturales transfronteriza entre Francia y Espa�a dirigido al sector de las M�sicas Actuales, es el objetivo fundamental de Ara�a del Rock... .. Ara�a del Rock representa una alternativa real que favorece la difusi�n de valores culturales. Sus acciones en el sector musical ayudan en descubrir nuevos talentos por ambos lados de la frontera poni�ndose en relaci�n con ambos socios, colegas y vecinos para romper las barreras f�sicas que los separan... As�, las grandes familias de las escenas alternativas de esos territorios se ven impulsadas por la toma en conciencia y el inter�s com�n, en cooperar, compartir sus habilidades, unirse y por lo tanto incrementar su sector... .. Las actividades se organizan en torno a cuatro polos y se encuentran en un patr�n de relaciones transfronterizas:.. - Acompa�amiento de grupos musicales (m�sica alternativa) con alguna experiencia... - Los intercambios entre grupos.. - Prevenci�n auditiva.. - La coordinaci�n de las cooperaciones transfronterizas, con el objetivo de ..enriquecer los intercambios en el entendimiento cultural y mutuo... .. SUR MYSPACE C'EST LE BORDEL.....MYSPACE IT'S FUCKING OFF ...GO TO www.aranadelrockes.jimdo.com http://araadelrock.blogspot.com.es/ https://www.facebook.com/AranadelRock-Producciones .... ........ ...... ...... ...... ...... ...... ...... ...... ...... ...... ...... ...... ...... ...... ...... ............ .... ...... .. VIOLENT GROOVY.... .. .. .. .. .. .. .. ...... HABEAS CORPUS.... .. .. .. .. .. .. .. ...... 13 BATS www.myspace.com/13batspsychobilly FOURSCORE www.myspace.com/fourscorefgh LAS CULEBRAS.. .. .. .. .. .. .. .. ...... LOFOFORA.. .. .. .. .. .. .. .. ...... OKPLOIDE.. .. .. .. .. .. .. .. ...... RANDY MANDYS.. .. .. .. .. .. .. .. ...... TAGADA JONES.. .. .. .. .. .. .. .. ...... .. .lightbluetext8 {display:none;}

Members

...... .... - la prévention auditive ...... .... .. .... ...... - merchandising.... http://nukore.bandcamp.com/ www.myspace.com/nukore VIOLENT GROOVY RANDY MANDYS NUKORE INSIDE PROJECT ...... ....

Influences

http://araadelrock.blogspot.com.es/

Sounds Like

BOOKING TO SPAIN <a href="http://s847.photobucket.com/albums/ab35/aranadelrock/?action=view¤t=GroupesFrpourSpain.jpg" target="_blank"><img src="http://i847.photobucket.com/albums/ab35/aranadelrock/GroupesFrpourSpain.jpg" border="0" alt="Photobucket"></a>
..
..
Telle une araignée qui tisse sa toile, l'association Araña del Rock tisse son réseau d'échanges culturels entre la France et l'Espagne.
L'association Araña del Rock est une association loi 1901, basée à PAU (Pyrénées Atlantiques), ayant pour but la création d'un réseau d'échanges culturels transfrontalier entre la France et l'Espagne.
Cette association, véritable alternative créatrice de diffusion et de valeurs culturelles, contribue à faire découvrir de nouveaux talents de part et d'autres de la frontière issus de la scène Alternative et met en connexion les partenaires à la fois, homologues et voisins pour rompre les barrières naturelles qui les séparent.
Ainsi les grandes familles des scènes alternatives françaises et espagnoles sont motivées par la prise de conscience et l'intérêt à s'intégrer au réseau pour s'unir, collaborer, mutualiser leurs compétences, et par conséquent dynamiser leur secteur.
Les activités s'organisent autour de 4 pôles et se situent dans une configuration de relations transfrontalières:
- l'accompagnement de groupes musicaux (musiques actuelles) ayant déjà une certaine expérience.
- les échanges entre groupes
- la prévention auditive.
- la coordination des coopérations transfrontalières, avec le souci d'enrichir les échanges dans les domaines culturels et de connaissance mutuelle.
Como tal una araña teje su tela, Araña del Rock teje su red de intercambios culturales entre el estado español y Francia.
Araña del Rock tiene su sede social en PAU (los Pirineos Atlánticos, Aquitania), la estructura fuera creada el 24 de octubre de 2007, su misión principal es: La creación de una red de intercambios culturales transfronteriza entre Francia y España dirigido al sector de las Músicas Actuales, es el objetivo fundamental de Araña del Rock.
Araña del Rock representa una alternativa real que favorece la difusión de valores culturales. Sus acciones en el sector musical ayudan en descubrir nuevos talentos por ambos lados de la frontera poniéndose en relación con ambos socios, colegas y vecinos para romper las barreras físicas que los separan.
Así, las grandes familias de las escenas alternativas de esos territorios se ven impulsadas por la toma en conciencia y el interés común, en cooperar, compartir sus habilidades, unirse y por lo tanto incrementar su sector.
Las actividades se organizan en torno a cuatro polos y se encuentran en un patrón de relaciones transfronterizas:
- Acompañamiento de grupos musicales (música alternativa) con alguna experiencia.
- Los intercambios entre grupos
- Prevención auditiva
- La coordinación de las cooperaciones transfronterizas, con el objetivo de
enriquecer los intercambios en el entendimiento cultural y mutuo.
..
..

BOOKING TO FRANCE

VIOLENT GROOVY




FOURSCORE




..
Member Since:
janvier 03, 2008
Members:





HABEAS CORPUS




LAS CULEBRAS






BOOKING TO SPAIN


LOFOFORA



OKPLOIDE



RANDY MANDYS



TAGADA JONES





.. .... .. - la prévention auditive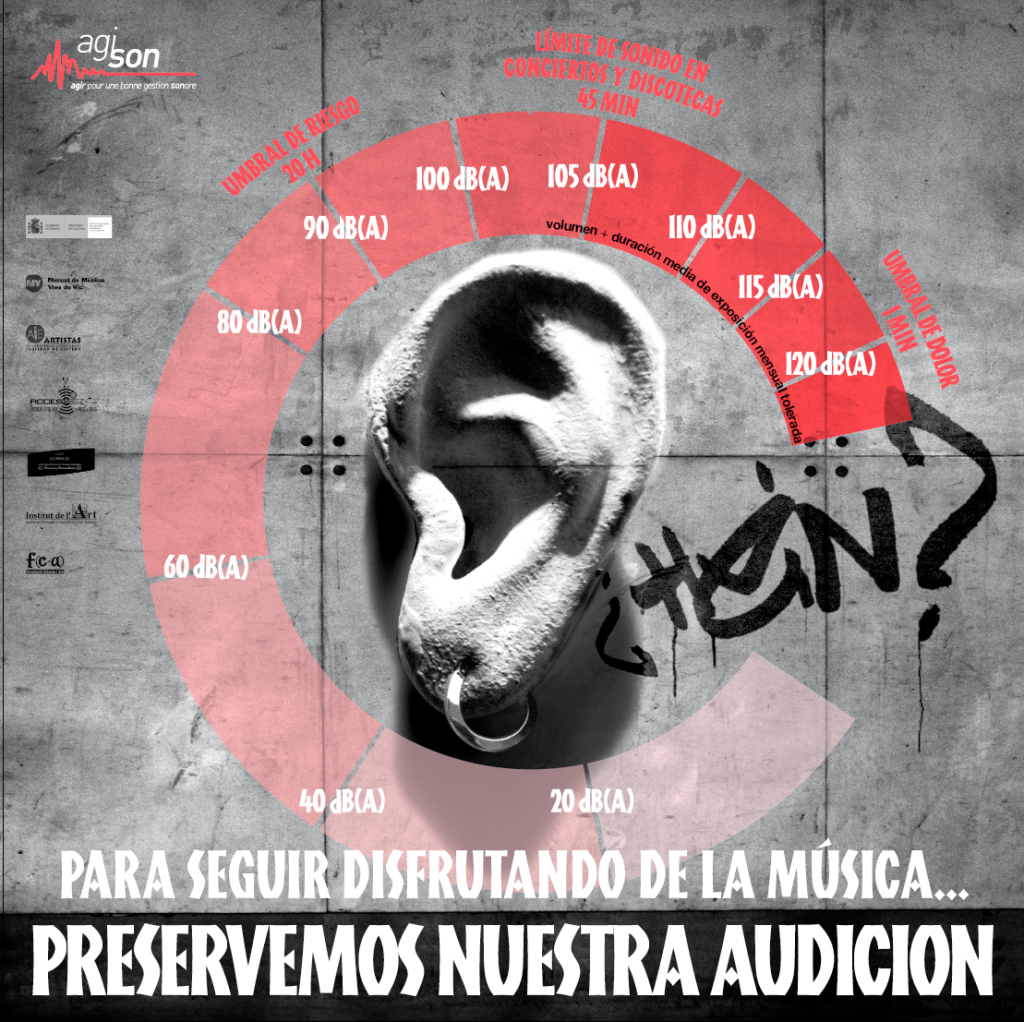 ..


- merchandising


..

..

..