Play

Play Next

Add to queue
Play

Play Next

Add to queue

46,380 plays

Play

Play Next

Add to queue

20,494 plays

Play

Play Next

Add to queue

12,336 plays

Play

Play Next

Add to queue

8,404 plays
Genre: Ambient / Celtic / Folk

Location Portland, Oregon / Atlanta, Georgia, Georgia, Un

Profile Views: 129437

Last Login: 3/5/2012

Member Since 3/31/2005

Website www.arielrosemusic.com

Record Label Ariel Rose Music

Type of Label Unsigned

Bio

Ariel Rose is a gifted vocalist and songwriter who accompanies her lovely singing on Celtic harp, piano and guitar. Her style ranges from traditional Irish and Scottish folk music, ethereal new age, classical, melodic rock and her own original songs, making her an amazingly versatile performer. Ariel's live shows enchant audiences and recieve wonderful reviews. Fans of Enya, Loreena McKennit and Sarah McLachlan will feel right at home with Ariel's beautiful, inspired music. She has recorded four independent albums on her Arielrosemusic label. Her first album, 'Flower Story' was produced by Nick Pagan of the reknowned Atlanta-based, World music group 'The Changelings'. 'Crown of Stars', Ariel's first production in Portland, Oregon with the talented Lara Michell as producer. Her Celtic Christmas collection 'Wintersong', includes rare and intriguing Mid-Winter, Yule and Christmas music from around the world. Her latest album 'Verticordia' was inspired by Pre-Raphaelite art, the poetic works of WB Yeats and many of the old songs she has loved for years, and is a gorgeous collection of sweet simple melodies, haunting lyrics and amazing new material. Ariel's recordings and performances have been featured in films, television and radio broadcasts. She has been a star of the cast on the Comcast NW series 'Synergy' and local show 'Love Portland' featuring artists and places of interest in the beautiful Northwest. .. .......... .. .. .... <style type="text/css"> .commentlinks a { font-weight:normal; font-size:9px; } td.columnsWidening img, td.columnsWidening object { max-width:260px; } </style> <style type="txt/css"> .loc2 a small { font-size:12px; } div.srchButton div input#submit { padding:5px 0 5px 0; } div#shortcuts {margin: 4px 0px 0px 5px !important; padding: 7px 0 0 7px !important;} </style> <style type="text/css"> #headerWrap #header #topnav { background: none !important; } </style> <style> .mygen { Created using MyGen 2.5 - www.mygen.co.uk } .mygen { Background Properties } table, tr, td { background-color:transparent; border:none; border-width:0;} body { background-image:url('http://ly.fdots.com/cc/c3/4c666e57618544bb6fb8b32052b53c48.gif'); scrollbar-face-color:22AA88; scrollbar-highlight-color:22AA88; scrollbar-3dlight-color:22AA88; scrollbar-shadow-color:22AA88; scrollbar-darkshadow-color:22AA88; scrollbar-arrow-color:FFFFFF; scrollbar-track-color:FFFFFF; } .mygen { Table Properties } table table { border: 0px } table table table table{border:0px} table table table { border-style:solid; border-width:1px; border-color:22AA88; background-color:FFFFFF; } .mygen { Text Properties } table, tr, td, li, p, div { font-family:georgia; color:22AA88; } .btext { font-family:georgia; color:22AA88; } .blacktext10 { font-family:georgia; color:22AA88; } .blacktext12 { font-family:georgia; color:22AA88; font-size:16px; } .lightbluetext8 { font-family:georgia; color:BB9999; } .orangetext15 { font-family:georgia; color:BB9999; font-size:12px; } .redtext { font-family:georgia; color:22AA88; } .redbtext { font-family:georgia; color:BB9999; } .text { font-family:georgia; color:BB9999; } .whitetext12 { font-family:georgia; color:22AA88; } a:active, a:visited, a:link { font-family:georgia; color:22AA88; } a:hover { font-family:georgia; color:BB9999; } a.navbar:active, a.navbar:visited, a.navbar:link { font-family:georgia; color:22AA88; } a.navbar:hover { font-family:georgia; color:BB9999; } a.redlink:active, a.redlink:visited, a.redlink:link { font-family:georgia; color:22AA88; } a.redlink:hover { font-family:georgia; color:BB9999; } .nametext { font-family:georgia; color:22AA88; font-size:16px; } </style> <style> div#googleLogo_Footer{ height:24px !important; } </style> <style>a .text { font-weight: bold; font-family: Arial, Helvetica, sans-serif; }</style> <style type="text/css"> body, html {visibility:visible !important; display:block !important} </style> <style type="text/css">div table td { visibility: visible }; div table { visibility: visible };</style> <b><a href="http://www.hotfreelayouts.com/layouts/67612">flowers layout</a></b> powered by <a href="http://www.hotfreelayouts.com/"><b><span style="color:white;background-color:red">HOT</span>FreeLayouts.com</b></a> / <a href="http://www.myhotcomments.com/graphics/popular">MyHotComments</a> My Original Music Video 'Willow Garden', Produced by Reid Iford ..Willow Garden...... .. .. .. .. .. .. --> CDBABY LINK for ARIEL: Verticordia --> .............. ...... .. --> --> --> CDBABY LINK for ARIEL: Wintersong --> .............. .. --> --> --> CDBABY LINK for ARIEL: Crown of Stars --> .............. .. --> --> --> CDBABY LINK for ARIEL: Flower Story --> .............. Ariel's Newest Album 'Verticordia' Now Available On iTunes! ......

Members

Ariel Rose - Vocals, Celtic Harp, Piano/Synth, Guitar, Bodhran

Influences

Enya, Clannad, Maire Brennan, Dead Can Dance, Smashing Pumpkins, Loreena McKennitt, Altan, Silly Wizard, Johnny and Phil Cunningham, Dick Gaughan, Pat Kilbride, Battlefield Band, Capercaillie, RunRig, Susan McKeown, Celtic Woman, AfroCelt Sound System, Mediaeval Babes, Michael Card, Deep Forest, RunRig, Relativity, Music from Cirque Du Soleil, Peter, Paul and Mary, Joan Baez, Simon & Garfunkel, Judy Collins, Robbie Robertson and many more!

Sounds Like

Enya, Loreena McKennit, Clannad, Maire Brennan, Sarah McLachlan, Joan Baez, Charlotte Church, Celtic Woman
No recent updates in this category.
Why not...
00:00 | 6781 plays | Apr 1 2006
4 Songs | Sep 21, 2008

15 Songs | Jan 24, 2012
Bio:
Ariel Tebben is a gifted vocalist and songwriter who accompanies her lovely singing on Celtic harp, piano and guitar. Her style ranges from traditional Irish and Scottish folk music, ethereal new age, melodic rock and her own original songs, making her an amazingly versatile performer. Ariel's live shows enchant audiences and recieve wonderful reviews. Fans of Enya, Loreena McKennit and Sarah McLachlan will feel right at home with Ariel's beautiful, inspired music. Originally from Atlanta, Georgia, she currently lives and plays her music in Portland, Oregon. She has recorded four independent albums on her Arielrosemusic label. Her first album, 'Flower Story' was produced by Nick Pagan of the reknowned Atlanta-based, World music group 'The Changelings'. 'Crown of Stars', Ariel's first production in Portland with the talented Lara Michell as producer. Her Celtic Christmas collection 'Wintersong', includes rare and intriguing Mid-Winter, Yule and Christmas music from around the world. Her latest album 'Verticordia' was inspired by Pre-Raphaelite art, the poetic works of WB Yeats and many of the old songs she has loved for years, and is a gorgeous collection of sweet simple melodies, haunting lyrics and amazing new material. Ariel's recordings and performances have been featured in films, television and radio broadcasts. She has been a star of the cast on the Comcast NW series 'Synergy' and local show 'Love Portland' featuring artists and places of interest in the beautiful Northwest. .. ..........
.. My Original Music Video 'Willow Garden', Produced by Reid Iford
Willow Garden
.. --> CDBABY LINK for ARIEL: Verticordia -->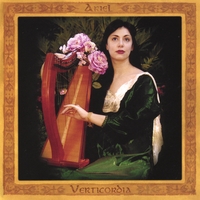 .. --> --> --> CDBABY LINK for ARIEL: Wintersong -->

.. --> --> --> CDBABY LINK for ARIEL: Crown of Stars -->

.. --> --> --> CDBABY LINK for ARIEL: Flower Story -->

Ariel's Newest Album 'Verticordia' Now Available On iTunes!
Member Since:
March 31, 2005
Members:
Ariel Tebben - Vocals, Celtic Harp, Piano/Synth, Guitar, Bodhran
Influences:
Enya, Clannad, Maire Brennan, Dead Can Dance, Smashing Pumpkins, Loreena McKennitt, Altan, Silly Wizard, Johnny and Phil Cunningham, Dick Gaughan, Pat Kilbride, Battlefield Band, Capercaillie, RunRig, Susan McKeown, Celtic Woman, AfroCelt Sound System, Mediaeval Babes, Michael Card, Deep Forest, RunRig, Relativity, Music from Cirque Du Soleil, Peter, Paul and Mary, Joan Baez, Simon & Garfunkel, Judy Collins, Robbie Robertson and many more!
Sounds Like:
Enya, Loreena McKennit, Clannad, Maire Brennan, Sarah McLachlan, Joan Baez, Charlotte Church, Celtic Woman
Record Label:
Ariel Rose Music
Ariel Rose Music has 9025 friends.