ORGANIZER OF ELECTRONIC MUSIC EVENTS // FRANCE
Genre: Electronica / Minimalist / Techno

Location NANCY, Lorraine, Fr

Profile Views: 20274

Last Login: 1/25/2013

Member Since 4/20/2008

Website www.meltingsound.com

Type of Label Unsigned

Bio

"Melting Sound" est une association Nancéienne de 1901, à but non lucratif. Cette association a pour but de promouvoir la musique électronique et artistes à travers l'organisation d'évènements musicaux.

Members

Influences

HOUSE / ELECTRO / TECHNO / MINIMAL

Sounds Like

Nous sommes toujours à la recherche de nouveaux lieux en Lorraine (bars, clubs, salles privées) pouvant nous accueillir afin d'organiser soirées et évènements. Nous pouvons travailler en collaboration avec d'autres collectifs et associations. N'hésitez pas à nous contacter par mail et de nous faire part de vos projets artistiques.
INTERNATIONAL ARTISTS & LOCAL Dj's INVITED BY MELTING SOUND
L.B.S : ( Laurent Garnier, Scan X, Benjamin Rippert ) Max Cooper, Popof, Agoria, Paul Nazca, Oxia, Kiko, Mowree, Antony Adam, Electric Rescue, Nicolas Masseyeff, Elisa Do Brasil, Chloé, Tonio, The Driver, Citizen Kain, Nicolas Chenard, Samuel Brunel, The Badgers, John Lord Fonda, Seb Turkey, Tuttle, Ohmdriver, Mehdi Kown, Loran Valdek, Veronika Nikolic, Mykrosyon, Enola, Imecka, Tess Wassila, Andreas Tome, Steeven B., Loan Minelli, Florine Garreau, Miss Teka, Miss Fika, Toxic, Etienne C, Binda, Pascou, Eric Desty, Pykup, Dillou, Dacom@, Tall, Faust, The Dreamer, Roland Gann, Nepal, Kevin Wilson, Luxuriant dj Crew...
▶ IMECKA
▶ ANTONY ADAM
▶ MOWREE
▶ VERONIKA NIKOLIC
▶ FUMI DESIGN
▶ INFO BOOKIING Artists MELTING SOUND : ms.booking@meltingsound.com
▶ CONTACT MELTING SOUND : info@meltingsound.com
▶ SEND Promos : promo@meltingsound.com
▶VERONIKA NIKOLIC (Helvet Underground / Melting Sound / FRANCE)

NEXT MELTING SOUND EVENTS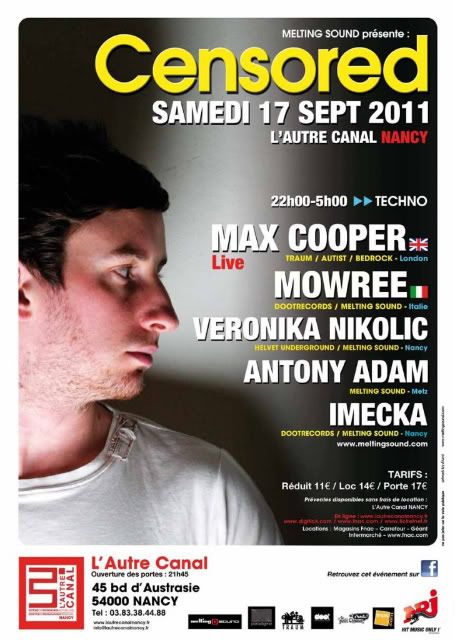 ..