Play

Play Next

Add to queue
Play

Play Next

Add to queue

2,591 plays

Play

Play Next

Add to queue

4,320 plays

Play

Play Next

Add to queue

1,241 plays

Play

Play Next

Add to queue

516 plays

Play

Play Next

Add to queue

564 plays
Genre: Acoustic / Folk / Roots Music

Location San Francisco, California, US

Profile Views: 74545

Last Login: 1/28/2011

Member Since 8/3/2004

Website www.avivinocur.com

Record Label None at all on purpose!

Bio

..PWolf and Myself on a Rooftop in San Francisco singing "Walt Whitman":...... .. .. .. .. .. .. .. .... ..Live Singing with The Stone Foxes "Sweep A Road":...... .. .. .. .. .. .. .. .... .... .... ........ .... ........

Members

Avi Live and Unplugged at The Bazaar Cafe in San Francisco: .... .. .. .. .. .. .. ...... From Beer Aficionado's Beer Blog: Affligem Dubbel... .. .. .. .. .. .. .. .. .. ..Avi Vinocur's "New York" EP (2006):...... .. ................ .. ..A Bio for Avi..... .... Avi's folk music draws comparisons to a young Bob Dylan or Paul Simon: maintaining elegant melodies and poetic lyrics with messages ranging from love to politics. His live performances have earned him regular positions in coffeehouses in San Francisco's Haight-Ashbury, South of Market and Mission districts and a strong following of young and old. His poetry has been published and received acclaim and approval from poets, authors and survivors of Hurricane Katrina at benefit poetry reading in New Orleans. He began as a session blues electric guitarist in the Los Angeles area until he fell in love with folk music in 2004. .... Avi has toured the United States five times with Sebastian Clark (LA), and Jason Reischel (NY) and has performed in the United Kingdom, France, Spain, Canada and South Korea. Doing so has earned a mailing list of 500+ devout fans. .. .. His debut record "Forty Years Too Late" was released on February 9th, 2004 and his sophomore EP "New York" was released on May 30th, 2006. His third release is in the works and will be released when gas prices go down. .. .. .. "We stare at the ending before it's begun.. and it only makes the middle lose all its fun.. because we both did the race.. and though neither of us won.. we ran.".. -Avi Vinocur .. .. .._____________________________........ "Simple format: Dude and a guitar. Yet the balance of intimacy and complexity that Avi Vinocur brings to his music is masterful." - HearTheUnheard.com 4/27/10 .... "The No.1 album (of 10) of 2004 that you most likely didn't hear" - Rave! Magazine (On 'Forty Years Too Late') .. .. "A promising artist to look out for" - Music Connection Magazine .. .. "Vinocur's gentile rhythms are hard to forget...sweet, cherubic tunes like Van Gogh painted starry nights." - Band in a Box .. .. "It's hard to pick the appropriate reaction - delight, disappointment or dismay - when a better album is recorded by a 19-year-old in his Manhattan Beach apartment than by all the artists on Atlantic Records in an entire year." - The Daily Breeze - Los Angeles .. .. "I like the energy of the tunes... somehow both pro sounding and totally casual at the same time... not easy to do... " .. -Cary Brothers, singer/songwriter/cool dude - The Garden State Soundtrack .. .. "Awesome Pin, Buddy." -Stephen Stills on Avi's 'Kerry/Edwards'04' Pin ..

Influences

Devendra Banhart, Casey Shea, Big Bill Broonzy

Sounds Like

Dan Auerbach assaulted Paul Simon
No recent updates in this category.
Why not...
03:38 | 45 plays | Jan 23 2011
Bio:
PWolf and Myself on a Rooftop in San Francisco singing "Walt Whitman":
Live Singing with The Stone Foxes "Sweep A Road":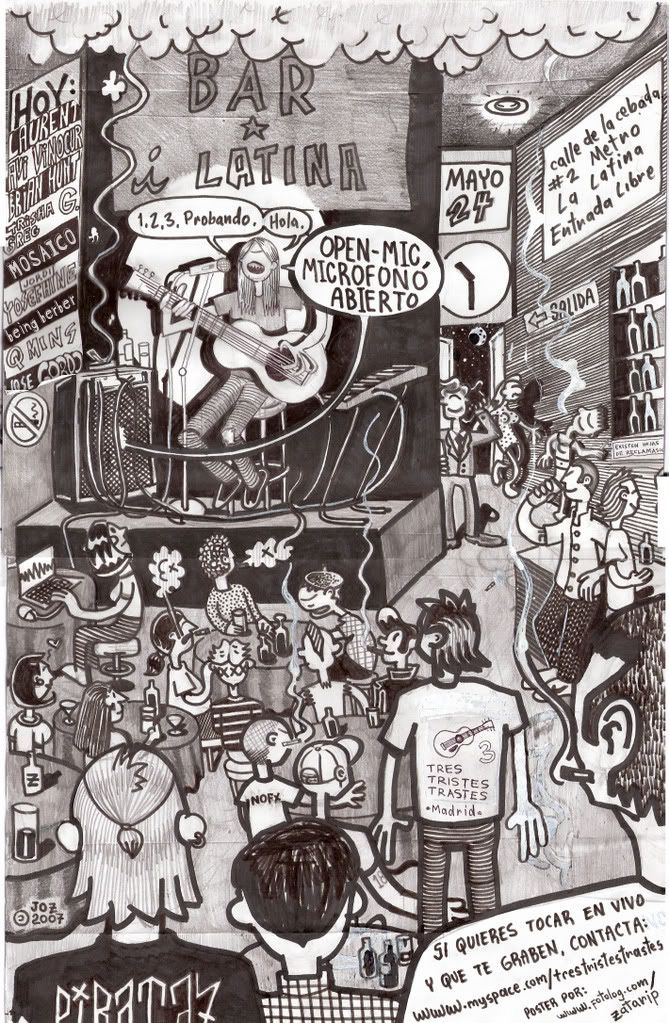 ..
.. ..
..
Member Since:
August 03, 2004
Members:
Avi Live and Unplugged at The Bazaar Cafe in San Francisco:
From Beer Aficionado's Beer Blog: Affligem Dubbel.
Avi Vinocur's "New York" EP (2006):
..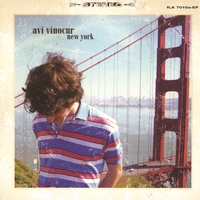 A Bio for Avi...
Avi's folk music draws comparisons to a young Bob Dylan or Paul Simon: maintaining elegant melodies and poetic lyrics with messages ranging from love to politics. His live performances have earned him regular positions in coffeehouses in San Francisco's Haight-Ashbury, South of Market and Mission districts and a strong following of young and old. His poetry has been published and received acclaim and approval from poets, authors and survivors of Hurricane Katrina at benefit poetry reading in New Orleans. He began as a session blues electric guitarist in the Los Angeles area until he fell in love with folk music in 2004.
Avi has toured the United States five times with Sebastian Clark (LA), and Jason Reischel (NY) and has performed in the United Kingdom, France, Spain, Canada and South Korea. Doing so has earned a mailing list of 500+ devout fans.
His debut record "Forty Years Too Late" was released on February 9th, 2004 and his sophomore EP "New York" was released on May 30th, 2006. His third release is in the works and will be released when gas prices go down.
"We stare at the ending before it's begun
and it only makes the middle lose all its fun
because we both did the race
and though neither of us won
we ran."
-Avi Vinocur
_____________________________


"Simple format: Dude and a guitar. Yet the balance of intimacy and complexity that Avi Vinocur brings to his music is masterful." - HearTheUnheard.com 4/27/10

"The No.1 album (of 10) of 2004 that you most likely didn't hear" - Rave! Magazine (On 'Forty Years Too Late')

"A promising artist to look out for" - Music Connection Magazine

"Vinocur's gentile rhythms are hard to forget...sweet, cherubic tunes like Van Gogh painted starry nights." - Band in a Box

"It's hard to pick the appropriate reaction - delight, disappointment or dismay - when a better album is recorded by a 19-year-old in his Manhattan Beach apartment than by all the artists on Atlantic Records in an entire year." - The Daily Breeze - Los Angeles

"I like the energy of the tunes... somehow both pro sounding and totally casual at the same time... not easy to do... "
-Cary Brothers, singer/songwriter/cool dude - The Garden State Soundtrack

"Awesome Pin, Buddy." -Stephen Stills on Avi's 'Kerry/Edwards'04' Pin
Influences:
Devendra Banhart, Casey Shea, Big Bill Broonzy
Sounds Like:
Dan Auerbach assaulted Paul Simon
Record Label:
None at all on purpose!