Play

Play Next

Add to queue
Play

Play Next

Add to queue

55 plays

Play

Play Next

Add to queue

28 plays

Play

Play Next

Add to queue

25 plays

Play

Play Next

Add to queue

17 plays

Play

Play Next

Add to queue

8 plays
Bad Precedent

Two words, carried on the winds of time, that are now synonymous with turmoil, greatness, pain and Big Fat Guitar Riffs...

Light.

And Shade.

The Mighty Precedent will rise.

There is No Surrender. Join the revolution now.

And let your whispered cries of Lucidity call out and beat a mantra to the very heart of all.





**Reviews**

"Metallica meets Sabbath-style classic rock from Liverpool four-piece..."

"Bad Precedent: Lucidity Local lads Bad Precedent are the kind of testosterone heavy rock-pushing chaps who make me wish I had a cock. Having a cock is the first step to liking cock-rock, after all. Penis envy aside, Lucidity is well produced and also features a high five worthy guitar solo, which is always worth celebrating."

Peter Guy, The Echo



**Reviews**

"It's not that often that I get excited about a gig these days, I mean, there's so much mediocrity around, right? But tonight, it's so far removed from that. Tonight, I'm gonna witness the re-birth of true rock n roll!

Frontman/Guitarist James Suffield and Lead Guitarist, Ian 'Jono' Johnson completely own that stage and they work it like a pair of Times Square hookers….."

Chris Rockson, SugarBuzz Magazine, Hollywood



**Reviews**

"Bad Precedent should, I thought, have been introduced by whispering Bob Harris so as we could all have got into true 'Whistle Test' mode and rock along to some raving riffage...The long haired guy at the front played his guitar with zeal and seemed lost in the bands self created world of heavy sonica. The drummer certainly got stuck into the skins and banged out a delicious beat, the bassist kept composed and caressed the neck with attentive skill and the second guitar maestro played solid enough and added extra ingredients into an already bubbling mix.

FungalPunk review of Pyratz Album Launch at Star And Garter gig, 30th April 2010

**Reviews**

The latest offering by the Northern Based Rockers, 'Bringing Down The Rain' follows on where their last EP finished. It delivers on all fronts, musical ability, song-writing, tight rhythm's, solid bass and blistering guitars, all capped off nicely by Jamie Suffield's awesome vocal range. This boy can sing!

Chris Rockson, Soundcheck Magazine, 25th December 2010



....
Member Since:
March 16, 2006
Members:
James Suffield
- Vocals/ Guitar
Ian Johnson - Guitar/Backing Vocals
Lee Jones - Bass/Backing Vocals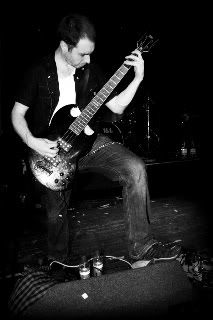 Mike Pilat- Drums/Backing Vocals
Influences:
Bad Precedent:

Foo Fighters, Led Zeppelin, GnR, Iron Maiden, The Who, Pearl Jam, Muse, Spinal Tap, Lenny Kravitz, Nirvana, Queens of the Stone Age, Smashing Pumpkins, Motorhead, AC/DC, Black Stone Cherry, Alice In Chains, Pearl Jam, Soundgarden,
Sounds Like:
Bad Precedent

James:

Guitars - Epiphone Firebird Ebony Ltd Edition, Ibanez ART120 (Black), Wesley Jasper Acrylic (Transparent)

Amps - Peavey Valveking 100 Head, Marshall 1960 Cab

Effects - Behringer DYNAMICS COMPRESSOR DC9, Behringer PHASER PH9, Boss TU-3 Chromatic Tuner, Sennheiser Freeport Wireless Instrument System

Ian:

Guitars - Dean, Washburn, ESP, gibson, epiphone

Amps - Marshall JCM 800 Head, Marshall 1960 Cab

Effects - POD x3 Live

Lee:

Bass - Epiphone Thunderbird Pro, ESP Viper 304

Amps - Peavey Firebass 700 Head, Peavey 4x10 TVX Cab

Effects - Ashdown Wireless System