Play

Play Next

Add to queue
Play

Play Next

Add to queue

9,144 plays

Play

Play Next

Add to queue

1,198 plays

Play

Play Next

Add to queue

1,286 plays
Genre: Electro / Experimental / Indie

Location Bay Area, California, Un

Profile Views: 95432

Last Login: 3/3/2012

Member Since 10/21/2004

Website SOUNDCLOUD.COM/DJBASURA

Record Label none yet

Type of Label Unsigned

Bio

Been DJing for over 15 years. Some Bands/Musicians/Etc. I've Opened Up For Or Played Alongside: AC Slater, Airborne Toxic Event, Blow Up DJz, The Bravery, Chris Clark, Daedelus, Dan Oh!, Dirty Sanchez, Dusty Brown, Exillon, Experimental Dental School, Flying Corpses, Flying Lotus, Free The Robots, Futuristic Prince, Glasvegas, Gold Chains, The Great Northern, The Heavy, Hella, Hottub, Ida Maria, Kat Von D., Kill The Noise, Kraddy (Glitch Mob), LA Riots, Le Castlevania, The Lovemakers, Low vs. Diamond, L'usine, Luxxury, The Mae Shi, Mira Calix, Mochipet, Nicky Click, Nite Jewel, Park Avenue Music, Passion Pit, The Plastiscines, The Rapture, Safety Scissors, The Shudders, The Sixteens, Sote, Tenderlions, Tipper, Todd Schorr, Treasure Fingers, Tycho, Villains, The Von Bondies, Von Iva, Wallpaper RESIDENCIES: *ATOMIC every Thursday @ The Blank Club, SJ [Indie/80s New Wave Dance Party] *THE WORKOUT every first Friday@ The Cellar, SJ [Electro/Indie Dance Party] I've got all sorts of mixes in my blog section available for free, check 'em out!

Members

me. FOR BOOKING CONTACT: ELEKTRO_TRASH@YAHOO.COM TWITTER: DJBASURA . FACEBOOK: DJBASURA . SOUNDCLOUD: DJBASURA

Influences

___musically?___: adult., aphex twin, throbbing gristle, anthony rother, andrea parker, dopplereffekt, autechre, junior boys, funkstorung, richard devine, boards of canada, jdilla, solvent, lowfish, les georges leningrad, ladytron, the chromatics, tamion 12 inch, the vanishing, glass candy, panico, wolf eyes, depeche mode, warp records, ersatz audio, skam, merck [r.i.p.], schematic, touchin' bass, suction, kitsune, ? ...... ......

Sounds Like

www.soundcloud.com/djbasura <object height="81" width="100%"> <param name="movie" value="http://player.soundcloud.com/player.swf?url=http%3A%2F%2Fapi.soundcloud.com%2Ftracks%2F4988588&show_comments=true&auto_play=true&color=000000"></param> <param name="allowscriptaccess" value="always"></param> <embed allowscriptaccess="always" height="81" src="http://player.soundcloud.com/player.swf?url=http%3A%2F%2Fapi.soundcloud.com%2Ftracks%2F4988588&show_comments=true&auto_play=true&color=000000" type="application/x-shockwave-flash" width="100%"></embed> </object> <span><a href="http://soundcloud.com/djbasura/more-sweat-on-the-dancefloor-mix">MORE Sweat On The Dancefloor Mix</a> by <a href="http://soundcloud.com/djbasura">dj basura</a></span>
Bio:
Been DJing for over 15 years. Some Bands/Musicians/Etc. I've Opened Up For Or Played Alongside: AC Slater, Airborne Toxic Event, Blow Up DJz, The Bravery, Chris Clark, Daedelus, Dan Oh!, Dirty Sanchez, Dusty Brown, Exillon, Experimental Dental School, Flying Corpses, Flying Lotus, Free The Robots, Futuristic Prince, Glasvegas, Gold Chains, The Great Northern, The Heavy, Hella, Hottub, Ida Maria, Kat Von D., Kill The Noise, Kraddy (Glitch Mob), LA Riots, The Lovemakers, Low vs. Diamond, L'usine, Luxxury, The Mae Shi, Mira Calix, Mochipet, Nicky Click, Nite Jewel, Park Avenue Music, Passion Pit, The Plastiscines, The Rapture, Safety Scissors, The Shudders, The Sixteens, Sote, Tenderlions, Tipper, Todd Schorr, Treasure Fingers, Tycho, Villains, The Von Bondies, Von Iva, Wallpaper RESIDENCIES: *ATOMIC every Thursday @ The Blank Club, SJ [Indie/80s New Wave Dance Party] *THE WORKOUT every first Friday@ The Cellar, SJ [Electro/Indie Dance Party] I've got all sorts of mixes in my blog section available for free, check 'em out!
Member Since:
October 21, 2004
Members:
me. FOR BOOKING CONTACT: ELEKTRO_TRASH@YAHOO.COM TWITTER: BASURADJ . FACEBOOK: DJBASURA . SOUNDCLOUD: DJBASURA
Influences:
___musically?___: adult., aphex twin, throbbing gristle, anthony rother, andrea parker, dopplereffekt, autechre, junior boys, funkstorung, richard devine, boards of canada, jdilla, solvent, lowfish, les georges leningrad, ladytron, the chromatics, tamion 12 inch, the vanishing, glass candy, panico, wolf eyes, depeche mode, warp records, ersatz audio, skam, merck [r.i.p.], schematic, touchin' bass, suction, kitsune, ?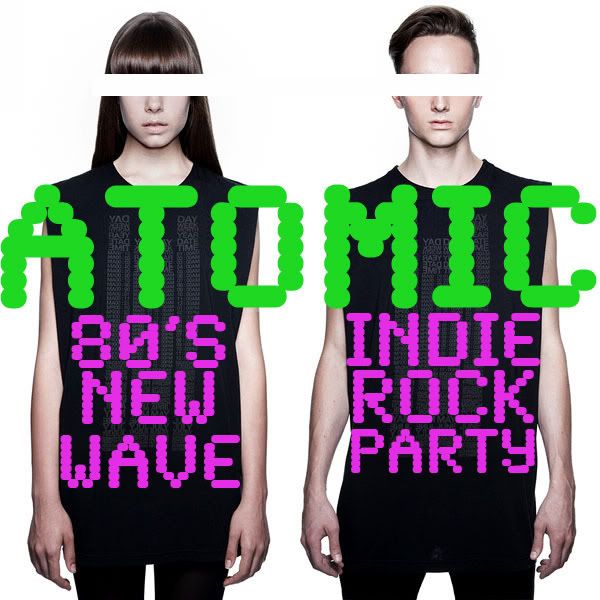 Record Label:
none yet