Role:

FilmmakerRoles(_FilmMakerRoleID = 1, _FilmMakerRole = Director) / FilmmakerRoles(_FilmMakerRoleID = 2, _FilmMakerRole = Producer) / FilmmakerRoles(_FilmMakerRoleID = 4, _FilmMakerRole = Screenwriter)

Website

myspace.com/beparanoid

Influences

"Creepers" was heavily influenced by John Carpenter's "Thing" and "They Live", ABC's "Lost".

The concept of the alien creatures known as the "Creepers" was created by the director of the film, Nick Thiel. CJ Johnson created the characters and plot of the story.

Directors

Nick Thiel

Awards

Conestoga International Film Festival: Best In Show, 1st Place: Horror
Terror Film Festival: Best Sci-Fi Short & Best Editing Nominee
World Horror Con (Canada): Best of Screening
So Cal Independent Film Festival: Best Cinematography Nominee
2008 Tabloid Witch Awards: Honorable Mention

Festivals

Professional Affiliations

IP Films
About me:
Los Angeles, California has become ground zero for mysterious attacks, destroying the city. The mystery of the attacks is quickly overshadowed when death and destruction surrounds everyone. A question in humanity is then asked...when the world ends... who can you trust?
Two strangers, Thompson (CJ Johnson) and Bridget (Sarah Ashley), are forced into a small house, trying to escape the terror that surrounds them. Amid the human screams, Thompson and Bridget must survive in a world that has changed, overtaken by something otherworldly. As chaos reigns amongst them, a sinister truth is revealed… Thompson or Bridget may not be who they seem at all...
Be paranoid.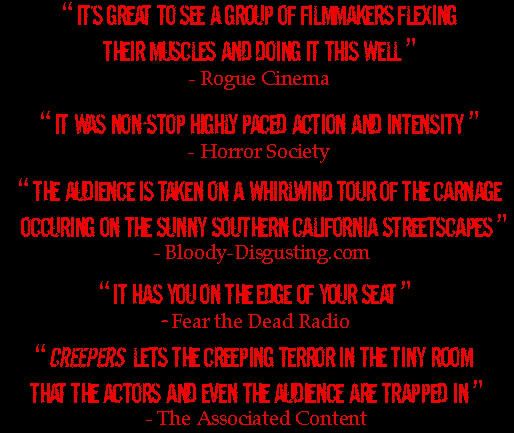 Who I'd like to meet:
Fans of horror and innovative story telling. We'd also like to meet other filmmakers to introduce this new chapter in filmmaking.
Status:

Single

Zodiac Sign:

Virgo

Occupation:

Director

Income:

$250,000 and Higher