Play

Play Next

Add to queue
Play

Play Next

Add to queue

367 plays

Play

Play Next

Add to queue

1,571 plays

Play

Play Next

Add to queue

2,430 plays

Play

Play Next

Add to queue

2,378 plays
Genre: R&B / Rap / Soul

Location HENDERSON, Nevada, US

Profile Views: 96901

Last Login: 12/28/2011

Member Since 6/15/2006

Record Label 4LBS Entertainment

Type of Label Indie

Bio

..Urban Hustle Soul Music...... .. .. .. .. .. .. .. I'm releasing another solo joint this year but I'm really focusing on song placement with established artists. I'm finding I like to perform for me but not really for profit because I've really taken to the A&R side of things now, songwriter, producer, and founder of 4LBS Productions & Entertainment so I want to grow this company from the ground up and surround myself with artistic and unique people to stay in the mold of "Urban Hustle Soul Music" aka "Grown Folks Hip Hop" music. Sort of a modern day Curtis Mayfield, mixing relationships, love, Vegas nightlife (good and not-so-good), and hustling to make a dollar just to stay afloat. "Everybody has hustle game about themselves, Real Estate agents, brokers, consultants, developers, the self employed……teachers have to work side jobs to keep it pushing, so I know my music translates across the board." The lyrical content is definitely adult oriented and is not meant for kids, but is true to its title with mid tempo grooves all over, a little rap mixed in with Ishh's smooth solos and background vocals. .. ........................CORPORATE MOB CITY HUSTLERS & ENTREPRENEURS: Vegas Livin'......Grown folks HIP HOP/Soul, straight out of SIN CITY aka Las Vegas, NV. Explicit music about Vegas night life, everything from straght up hard core hip hop,Latino rap, to sultry Soul street ballads. From the family of artists on the 4LBS Entertainment lab.......................... ......: Born In The Game --> .............. .. ..Get Your Smooth On - Live 2008...... .. .. .. .. .. .. .. .. .. .. .. .. .. .. .. .. .. .. .. ....&nbsp.... .. ...... .. .. .. .. .. .. .. ......

Members

..Just Me...... .. .. .. .. .. ..........

Influences

Too many to name, but music genre's include Jazz, Soul, old school R&B, Blues, and the ever influential to me HIP HOP!!!!

Sounds Like
No recent updates in this category.
Why not...
00:22 | 194 plays | Jul 14 2008
Bio:
Urban Hustle Soul Music
I'm releasing another solo joint this year but I'm really focusing on song placement with established artists. I'm finding I like to perform for me but not really for profit because I've really taken to the A&R side of things now, songwriter, producer, and founder of 4LBS Productions & Entertainment so I want to grow this company from the ground up and surround myself with artistic and unique people to stay in the mold of "Urban Hustle Soul Music" aka "Grown Folks Hip Hop" music. Sort of a modern day Curtis Mayfield, mixing relationships, love, Vegas nightlife (good and not-so-good), and hustling to make a dollar just to stay afloat. "Everybody has hustle game about themselves, Real Estate agents, brokers, consultants, developers, the self employed……teachers have to work side jobs to keep it pushing, so I know my music translates across the board." The lyrical content is definitely adult oriented and is not meant for kids, but is true to its title with mid tempo grooves all over, a little rap mixed in with Ishh's smooth solos and background vocals.
CORPORATE MOB CITY HUSTLERS & ENTREPRENEURS: Vegas Livin'

Grown folks HIP HOP/Soul, straight out of SIN CITY aka Las Vegas, NV. Explicit music about Vegas night life, everything from straght up hard core hip hop,Latino rap, to sultry Soul street ballads. From the family of artists on the 4LBS Entertainment lab


: Born In The Game -->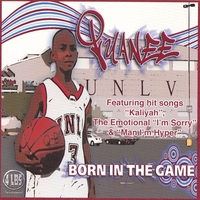 Get Your Smooth On - Live 2008

.. .. ....
Member Since:
June 15, 2006
Members:
Just Me

Influences:
Too many to name, but music genre's include Jazz, Soul, old school R&B, Blues, and the ever influential to me HIP HOP!!!!
Record Label:
4LBS Entertainment