Play

Play Next

Add to queue
Play

Play Next

Add to queue

1,066 plays

Play

Play Next

Add to queue

563 plays

Play

Play Next

Add to queue

618 plays

Play

Play Next

Add to queue

512 plays

Play

Play Next

Add to queue

533 plays
Genre: Hip Hop / Indie / Rap

Location Chicago, Illinois, US

Profile Views: 19533

Last Login: 11/3/2010

Member Since 1/19/2007

Type of Label Indie

Bio

Bilithic is composed of two elements: Matt Milkowski and Ollie Hobson. After beginning to freestyle for fun on the mean streets of Venice, Italy in 2006, these two Illinesians came up with the "unique" idea to start writing their own songs. Beginning with a very playful song about an Owl and a Mouse entitled simply, "Owlannamouse" they were able to win over a handful of their friends who then became known as "the only people who knew who Bilithic is". Matt and Ollie quickly but carefully put together two more songs and self-released a three song EP. Using mostly live instrumentation and some sampling, Bilithic produces songs that incorporate the eclectic mix of music that has twiddled their doodles over the years. Matt and Ollie like to refer to themselves in the 3rd person, especially when they are writing myspace profiles. They are excited to become part of the Chicago music scene, spreading their tales of nostalgia, space travel, and overcoming the mundane. to learn more check out our interview with the cool dudes from the Booom!box cast http://www.booomboxcast.blogspot.com/ .. .. .. .. .. .. .. ram name="movie" value="http://www.youtube.com/v/iHyy3_b5IVk&hl=en&fs=1&">............ .. .. .. .. .. ...... .. .. .. .. .. .. .. .. .. .. .. .. .. ..

Members

Matt Milkowski - vocals/producer Ollie Hobson - vocals/producer

Influences

Bilithic "empire" debut 7 song EP... CD: $5.99 Digital: $6.99 ...... TO PURCHASE CLICK IMAGE ABOVE

Sounds Like
No recent updates in this category.
Why not...
Bio:
Bilithic is composed of two elements: Matt Milkowski and Ollie Hobson. After beginning to freestyle for fun on the mean streets of Venice, Italy in 2006, these two Illinesians came up with the "unique" idea to start writing their own songs. Beginning with a very playful song about an Owl and a Mouse entitled simply, "Owlannamouse" they were able to win over a handful of their friends who then became known as "the only people who knew who Bilithic is". Matt and Ollie quickly but carefully put together two more songs and self-released a three song EP. Using mostly live instrumentation and some sampling, Bilithic produces songs that incorporate the eclectic mix of music that has twiddled their doodles over the years. Matt and Ollie like to refer to themselves in the 3rd person, especially when they are writing myspace profiles. They are excited to become part of the Chicago music scene, spreading their tales of nostalgia, space travel, and overcoming the mundane. to learn more check out our interview with the cool dudes from the Booom!box cast
http://www.booomboxcast.blogspot.com/
ram name="movie" value="
http://www.youtube.com/v/iHyy3_b5IVk&hl=en&fs=1&
">....
Member Since:
January 19, 2007
Members:
Matt Milkowski - vocals/producer Ollie Hobson - vocals/producer
Influences:
Bilithic "empire" debut 7 song EP... CD: $5.99 Digital: $6.99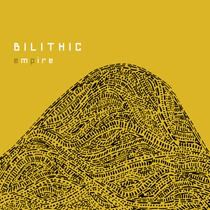 TO PURCHASE CLICK IMAGE ABOVE