No recent updates in this category.
Why not...
Billy Smolinski hasn't earned any badges yet... have you?
Play

Play Next

Add to queue
About me:
you raise me up :0)
.. LOVE AND MISS YOU Prayer for the Missing ******* O, Blessed Mother and St Joseph, you searched when your Son Jesus disappeared when he was twelve. You would not give up until he was found. You know the pain of having someone missing, and the joy of finding them, as you found your son. Help those who are searching now, to find the answers to their questions, and an end to their searching. Inspire people to be vigilant, so that their eyes and ears may see and hear news that will bring hope. Comfort those who feel lonely and sad because the one they love has vanished. Be with them in the storm and guide them in their efforts. We ask this through Christ our Lord. Amen
src="
http://i144.photobucket.com/albums/r170/BringBransonHome/13b2f187.gif
" />





AMEN



I know the plans I have for you, Plans for good and not for evil, plans to bring you hope and a future. If you ask anything in my Name I will do it. If God be for you, Who can be against you...God is on your side. Never give up. What is impossible for man is possible with God. You are standing on the brink of a miracle...The unfolding of your life with Christ!
....
MANDATORY TRAINING FOR EVERY LAW ENFORCEMENT OFFICER IN CONNECTICUT
In June 2007 Connecticut Governor Jodi Rell signed a bill that addressed the dysfunctional process that law enforcement officers use in responding to the report of a missing person. As of January 1, 2008 A law was passed in the state of Connecticut to better train law enforcement on how to treat missing persons. We have 700 Missing People and 600 Unsolved Homicides in Connecticut. There is no central clearinghouse to track the cases. Police have little or no training in how to process a missing person case, and LACK basic DNA expertise.
FOR THE SAFETY OF EVERY CITIZEN IN CONNECTICUT, WE THE UNDERSIGNED, DEMAND THAT EVERY LAW ENFORCEMENT OFFICER IN THE STATE RECEIVE MANDATORY TRAINING ON HOW TO PROPERLY RESPOND TO A REPORT OF A MISSING PERSON. THERE ARE CRIMINALS RUNNING LOOSE MANY MISSING PERSONS ARE HOMICIDES.
 CONNECTICUT MISSING PERSONS PETITION
Get a scroller sign at http://www.AceLayouts.com!
Endangered Missing)
Missing since: Aug 24th, 2004 | Age: 32
Location: Waterbury, Connecticut,
Height: 6'0",
Weight: approx. 200lbs
Gender: M
Race: White/Caucasian
Hair Color: Brown
Eye Color: Blue
Distinguishing Features: Billy has a tattoo of a blue "cross" with the name "Pruitt"in the cross on left forearm, , tattoo of a blue "cross" with an orange outline on right shoulder, His left ear is pierced with a small diamond. He is also bowlegged.
Case Status: Missing
Police/Missing Case Contact Info:
If you have information concerning this case, please contact: If anyone knows anything please call: THE OFFICE OF THE FBI NEW HAVEN, CONNECTICUT 203 777-6311 or
newhaven.fbi.gov
Reward Info & Contact Information: $60,000
Case Details: The neighbor said Billy never returned with the keys to his house so they could feed the dog & he has not been heard from since. The police in conjuntion with the FBI have been treating this as an open working case in which Billy is listed as an "Endangered Missing Person". Smolinski's family says there are just a lot of things that don't add up, like the fact that he left his keys and his wallet in his truck. Billy also hasn't made any withdrawals from his bank account. He also does not have a cell phone. The day before he had cashed a check from his full time job and deposited most of it.
If anyone knows anything please call: THE OFFICE OF THE FBI NEW HAVEN, CONNECTICUT 203 777-6311 or
newhaven.fbi.gov
Your information will remain confidential
Click Here to watch Billy's story on the Early Show
src="
http://www.childseeknetwork.com/my/nbutton.jpg
">
.. ..
< Please pass this on to all your contacts. Thank you from the Smolinski Family http://www.justice4billy.com/
..
..
Layout Created at MyProfilePimp.com
..
PEACE4 THE MISSING Member Badge
http://peace4missing.ning.com
Who I'd like to meet:
"There may be times when we are powerless to prevent injustice, but there must never be a time when we fail to protest." ~Elie Wiesel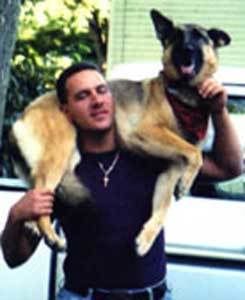 official website for Billy
WWW.JUSTICE4BILLY.COM
On August 24, 2004, 31 year old William(Billy) Smolinski disappeared.
Since that time his family and friends have worked hard to continue their search for Billy.


We can light the way home for Billy through the "Candle of Hope" we will all be lighting online for him.

 
..

">..

Status:

Single

Hometown:

Waterbury

Orientation:

Straight

Height:

6' 0"

Zodiac Sign:

Capricorn