No recent updates in this category.
Why not...
Black Cat Burlesque hasn't earned any badges yet... have you?
General

"Fantasy, abandoned by reason, produces impossible monsters; united with it, she is the mother of the arts and the origin of marvels."
Goya
BCB's cauldron bubbles over with influences that include: Famous Monsters of Filmland, Edgar Allen Poe, Russ Meyer, Hammer studios, animation, comic books, the Misfits,Phantom of the Paradise, theatre of cruelty, LuchaLibre, Santo movies, Monster movies, Maxfield Parrish, Alice Cooper, German expressionism, Grimm fairy tales, Weimer Era cabaret, italian zombie flicks, European folklore, giant Japanese monsters, Edward Gorey, Monty Python, Grand Guignol, Lucha Libre, Joshi Puroresu, musical theater, Scooby Doo, the cartoon network, the candy aisle, and of course, mortuary science.

Music

Beat Cirus

,

Groovy Ghoulies

,

Los Straightjackets

,

Dresden Dolls

,

the Misfits

,

Thee Monkey Butlers

,

the Itchies

,

Electrolux

,

Gogol Bordello

,

Reverend Glasseye

,

Stereo Lab

,

Goblin

,

Theivery Corporation

,

Iggy and The Stooges

,

MC5

,

Baptist Generals

,

Scud Mountain Boys

,

Lightning Bolt

,

CRASS

,

Beat Happening

,

The Black Keys

,

The Mountain Goats

,

Godspeed You Black Emperor

,

Screamin' Jay Hawkins

,

The White Stripes

,

Old Time Relijun

,

The Meteors

,

gypsy flamenco

,

garage/rockabilly

,

"noise"

,

opera

,

old sabbath

,

old metallica

,

misfits

,

slayer

,

ministry

,

godflesh and j.b.'s side projects

,

aphex twin

,

neurosis

,

unwound

,

karma to burn

,

pixies

,

gossip

,

air

,

man...or astroman?

,

fugazi

,

the fucking champs

,

cocteau twins

,

my bloody valentine

,

lush

,

bjork

,

old cure

,

belle and sebastian

,

herb alpert

,

the living marimbas

,

vic mizzy

,

henry mancini

,

apocalyptica

,

no-shadow kick

,

massive attack

,

louis armstrong

,

dan blakeslee

,

impala

,

satan's pilgrims

,

mr. airplaneman

,

elastica

,

tom waits

,

scissorfight

,

hoover

,

old iron maiden

,

john carpenter's halloween and the fog soundtracks

,

old halloween sound effect albums

,

Classic Soul

,

Ride

,

DJ Shadow

,

Brit Invasion

,

Eurotica

,

Small Faces

,

The Monkees

,

Stereo Totale

,

Paula Kelley

,

VU

,

Ennio Morricone

,

Dresden Dolls

,

The Guess Who

,

Guitar Wolf

,

Sleep

,

Beat Science

,

Thee Monkey Butlers

,

Air

,

Bollywood soundtracks

,

Zepplin

,

Godzilla soundtracks

,

Bobby Fuller Four

,

Vintage radio shows

,

NPR

,

Massive Attack

,

Salt-N-Peppa

,

Public Enemy

,

Soul Coughing

,

Imperial Teen

,

Aphex Twin

,

LL Cool J

,

60's garage and psychedelic

,

new wave

,

tom jones

,

german cabaret songs

,

andrew bird

,

Arthur Lee and Love

,

MC5 and much much more!

Movies

Harold and Maude

,

The Black Cat (1934)

,

Creature from the Black Lagoon and most of Universal Horror Movies from the thirties to the sixties

,

Hammer Films

,

Nosferatu

,

Martin

,

The Eye

,

Venom Warrior

,

Dario Argento

,

Mario Bava

,

Todd Browning

,

The Naked Kiss

,

Shock Corridor

,

Kill Bills

,

Barbarella

,

The Exorcist

,

The Russ Meyer Bosommania collection

,

White Zombie

,

Resevoir Dogs

,

Wild in the Streets

,

Zoolander

,

Best in Show

,

Sergio Leone Westerns

,

The Big Heat

,

28 Days Later

,

Devil Fetus

,

Peter Jackson

,

the Something Weird collections

,

Blood Feast

,

Cabinet of Dr. Caligari

,

True Romance

,

Parents

,

The Women

,

Jackie Chan before Hollywood got to him

,

Ginger Snaps

,

Lone Wolf and Cub

,

Santo and Blue Demon vs. Anything

,

Doomed Megapolis

,

TOHO!!!!!!!!!!!!!!!!!!!!!!!

Television

"The two things that matter the most to me: emotional resonance and rocket launchers. Party of Five, a brilliant show, and often made me cry uncontrollably, suffered ultimately from a lack of rocket launchers."

"[After being asked what he thinks about people saying the 6th season of Buffy got a little too dark]
Um....oops?...oh come on...I thought it was funny!"
Joss Whedon quotes

Books

"

We are each our own devil, and we make this world our hell.."

 Oscar Wilde ..

"We make up horrors to help us cope with the real ones."
"If I cannot horrify, I'll go for the gross-out. I'm not proud."
 Stephen King

"Farewell happy fields
Where joy for ever dwells: Hail horrors, hail!"
John Milton

"Art consists of limitation. The most beautiful part of every picture is the frame."
"The function of the imagination is not to make strange things settled, so much as to make settled things strange."
 G. K. Chesterton

Heroes

"The monster was the best friend I ever had."
Boris Karloff
About me:
Dedicated to putting the BUMP back into the night, Black Cat Burlesque has been raising pulses, the dead and whole lot of hell since 2003. The bad seeds of Boston Burlesque, this scream team mines the depths of their twisted psyches—blending striptease thrills and spookshow chills to push the boundaries of the art form and explore the dark, cobwebbed corners of neo-cabaret!
Subscribe to our blog to get all the latest news, gigs and gore
Get Your Spook On at these upcoming events:
The whole ghoulish gang will be on hand for another legendary J. Cannibal Feast of Flesh!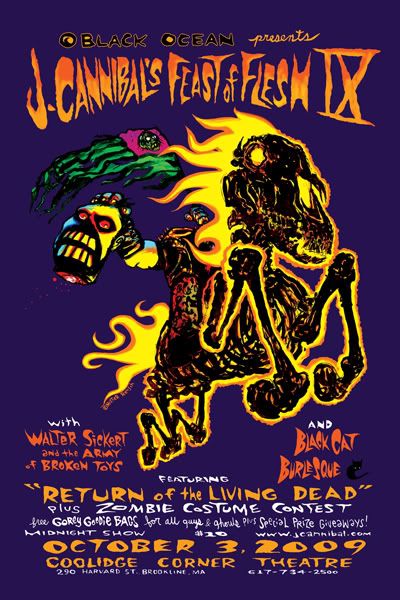 Troupe History: Conceived in the back of a hearse by veteran burlesque performer, tassel-twirling dynamo (not to mention former mortician), Miss Firecracker and monster man-at-large, illustrator Mister Reusch, BCB is quite possibly the only burlesque troupe to build its ranks in a funeral home . . . Then, during a particularly portentous embalming, our devilicious Miss F met fellow undertaker J. Cannibal. Over blood and formaldehyde, he revealed his nasty little secret: namely, a penchant for voodoo and one Miss Mary Widow — horror movie obsessed choreographer and gore-gore girl extraordinaire! Thus, our creepy coven was nearly complete and what ensued has left a trail of broken hearts and resurrected corpses across the Eastern seaboard. In 2006, we welcomed our newest succubus into the fold . . . the hot & deadly Yellow Fever!
Performance Resume:
Our own Famous Monsters have appeared at such events as:
NYC Burlesquefest 2003, 2004, 2005 & 2006
Miss Exotic World Pageant
26th Annual SciFi Marathon
NELA Fetish Ball
B&D Ball
Burlesque-a-pades
Garters & Lace Convention
Motherfucker NYC
LadyFest DC
. . . and with such acts as:
Jonathan Richman
The Dresden Dolls
Gogol Bordello
Beat Circus
Rev. Glasseye
Devotchka
HUMANWINE
Groovy Ghoulies
O'Debra Twins
BCB and its members have been featured in the ..
Specializing in, but not limited to horror, B-movie themed and generally offbeat acts, we have produced the now infamous burlesque horror spookshows at the Coolidge Corner Theater, Spooks A-Poppin' and the Spookalicious Horror Sideshow for the Annual 13 hour Horror Marathon. Along with DJ Vinny, we have also co-produced the sixties themed Zombies A Go-Go, Born to be Wild and the Russ Meyer Tribute nights at the Milky Way Boston. Our J. Cannibal runs his own bi-annual zombie fest, J.Cannibal's Feast of Flesh, and is also one of the masterminds behind the independent publishing and production company, Black Ocean.
Burlesque Lays the Smack Down:
In 2004, BCB gave birth to it's very own mutant love child, La Gata Negra League of Masked Lady Wrestlers. Inspired by Mexican Lucha Libre, Joshi Puroresu (Japanese Women's Wrestling), From Parts Unknown, Kaiju Big Batel and wrestling legends the world over, LGN's mayhem mamas are New England's Only all masked, all female wrestling superstars. Add them as a friend at http://profiles.myspace.com/users/6604037.
For Bookings and Information, please contact us at info@blackcatburlesque.com
..Our Touch of Infamy..
"..Black Cat Burlesque, a troupe that adds fresh, creepy camp to the art form..... also celebrate the burlesque revision of female beauty, which rejects the notion that women have to be thin, much to the delight of many women in the audience.."
The Boston Globe

"Black Cat Burlesque triggers pheromones with artful stripteases inspired by scream-worthy B-movies"
New York Magazine

" Terror and Titillation..."
The Weekly Dig

"it's daunting to consider the energy it takes to pull these fascinations together into..."
Chris Dahlen, Pitchfork Media

"We Featured Black Cat Burlesque this month and they obviously entertained you near to death."
Latex Lily Productions

"J. Cannibal, the "King of Horror Burlesque." "
The Weekly Dig

"[J.Cannibal] is the sort of guy people brag about knowing. After all, he sounds like an exotic, epic character: poet, undertaker, horror-burlesque king, small-press publisher, show promoter, fake-blood engineer."
The Boston Phoenix

"Too Wicked for Witch City"
Courtesy of the Salem town elders
"The Black Cat Burlesque is the Moulin Rouge of Hades. You will have one HELL of a good time."
Shawn Poirer, High Priest of the Salem Tradition of Witchcraft.
"That was some f*cked up shit!"
The amazing El Vez, the Mexican Elvis, after the BCB Frankenstein act at the Miss Exotic World Pageant 2006
Join the spooky fun at:
www.blackcatburlesque.com


Click to join blackcatburlesque
If you are a band, and would like to be friends, please message us and explain why. We perform with a lot of live acts, but the band requests on MySpace have just become out of control and please, no comment images over 400 pixels wide! ..
Who I'd like to meet:
Monsters-at-large, Gorehounds, Screamqueens, Glamour Ghouls, Evil Geniuses, Russ Meyer as a Kung Fu Zombie, Mad Scientists, Masked Wrestlers, Rowdy Robots, and all those that love them.
"I also have always liked the monster within idea. I like the zombies being us. Zombies are the blue-collar monsters. "
George A. Romero
Status:

Single

Zodiac Sign:

Scorpio

Occupation:

The Bad Seeds of Burlesque
Black Cat Burlesque

Boston and Providence, New England US

missfirecracker@blackcatburlesque.com

2003