Play

Play Next

Add to queue
Play

Play Next

Add to queue

2,870 plays

Play

Play Next

Add to queue

1,160 plays

Play

Play Next

Add to queue

857 plays
Location Allschwil, Basle-Country, CH

Profile Views: 78480

Last Login: 12/6/2010

Member Since 3/25/2008

Website www.bladeguitars.com

Type of Label Major

Bio

....Gary Levinson began repairing Guitars in 1964. Utilizing his multiple university degrees in applied and natural sciences. Levinson approaches guitar building from an analytical standpoint. Inherent resonant frequencies of woods, innovative electronics and the tonal effect of hardware designs are important factors in his concept development. Equally as important is the role of "metaphysics" - or magic. Exhaustive research goes into those exclusive components that make a great guitar feel and sound right to a player..... ....In 1977 he opened his workshop in Switzerland. Early in 1982 he set the groundwork for the Blade guitar line with a series of prototypes utilizing innovative pickup systems and the position-determined-profile neck. January 1987 the alliance was forged with manufacturing partners to launch the Blade programm on a worldwide scale. .... ....By 1990 Blade had become the best selling custom high-end guitar in Europe and received endorsements from many of the worlds finest players..... .. .. .. .. .. .. .. .. .. .. .. .. .. .. .. ..

Members

..........BLADE ARTISTS...... ..NEW BLADE SONGS:.... .. ..JOSE BARRACHINA with FAB TRANZER.. .. .. In today's world of hi speed internet communication, artists can work on musical projects while living in 2 different parts of the world! And this without using gaz nor postal services! One of the very good reasons to use the internet!.... We are lucky enough to be able to present you one these collaborations that happened between 2 of our Blade endorsers: JOSE BARRACHINA and FAB TRANZER. .. .. JOSE BARRACHINA is one leading musician in the very alive French Jazz community! A former student of the Perpignan Music Conservatory, José moves to LA's Musican's Institute in order to explore the Jazz Guitar and improvisation in depth. His return in France makes him immediately become a teacher in some of the country's best Music Schools like the MAI in Nancy. We may want to underline that we have always been amazed by the humility and great vibes that José carries along with his huge talent. Today José concentrates on his art, he writes a lot of music for his own solo career but also for pictures or film. We can recommend the album "between 2 worlds" which showcases José's ability to create sonic landscapes, avoiding all sorts of clichés. His live gigs are collaborations with various musicians from all over europe, it obviously shows that José's main artistic message reminds us that Music is a form of art in constant movement and evolution. .. .. Fab Tranzer has been of great help in the development of our vintage oriented BCS Blade Custom Shop guitars and we were lucky enough to receive a few taylor made Demos songs all featuring the Blade BCS Guitars which you could hear on our Myspace page... .. "Death Valley" features José on his Texas Vintage and Fab playing the BLADE BCS guitar. José insists on the fact that he crafted this song in order to praise the many years of friendship with Fab... .. At Blade, we can only say: thank you for this beautiful gift! .. ..http://www.josebarrachina.com/ .. ..http://www.myspace.com/fabtranzer .. .. .. .... .... ..CHRIS TAYLOR.. .. .. New York based Guitarist / Composer / Producer / mix engineer Chris Taylor has created a unique niche for himself as a professional musician for close to 30 years, with credits ranging from multi platinum Grammy award winning pop records to cutting edge electronic jazz . That include Celine Dion, Lionel Hampton, Randy Brecker, Grover Washigton Jr. Dave Weckl, , Billy Porter , Heather Headley to name a few, along with major motion pictures and TV soundtracks ... .. "I bought my Blade the day before leaving New York for Tokyo to record a record for Japanese pop star Ken Harai back in the mid 90's. I was looking for a strat type guitar to use overseas not wanting to travel with my beloved 67 fender stratocaster I must have played 20 guitars before I picked up the Blade and it was one of those rare connections with an instrument, where I instantaneously felt both at home and transformed by the guitar. I may have walked into that music store looking for a part time substitute for my old strat, but I walked out with it's replacement ! That Blade has found it's way on to just about every recording and gig I have done since purchasing it.".. .. Keep an eye out for Chris's first solo release this year. "I have waited a long time to release something under my own name and I think I have a real good record in the works, with tracks already recorded with well known players including Dave Weckl, George Whitty , Ric Fierabracci and some equally great lesser known musicians. I think it is going to be the record I have always wanted to make, one that reflects whom I am as a composer, guitarist, producer and human being, A record where the playing serves the music and the music tells a story and each song plays like a chapter from a book".. .. ........ .. ..http://www.myspace.com/christaylorsubd .. .. ..........BLADE WORKSHOP...... ...... ..

Influences

Sounds Like
Bio:
Gary Levinson began repairing Guitars in 1964. Utilizing his multiple university degrees in applied and natural sciences. Levinson approaches guitar building from an analytical standpoint. Inherent resonant frequencies of woods, innovative electronics and the tonal effect of hardware designs are important factors in his concept development. Equally as important is the role of "metaphysics" - or magic. Exhaustive research goes into those exclusive components that make a great guitar feel and sound right to a player.
In 1977 he opened his workshop in Switzerland. Early in 1982 he set the groundwork for the Blade guitar line with a series of prototypes utilizing innovative pickup systems and the position-determined-profile neck. January 1987 the alliance was forged with manufacturing partners to launch the Blade programm on a worldwide scale.
By 1990 Blade had become the best selling custom high-end guitar in Europe and received endorsements from many of the worlds finest players.
.. .. .. .. .. ..
Member Since:
March 25, 2008
Members:
....
BLADE ARTISTS
NEW BLADE SONGS:



JOSE BARRACHINA with FAB TRANZER

In today's world of hi speed internet communication, artists can work on musical projects while living in 2 different parts of the world! And this without using gaz nor postal services! One of the very good reasons to use the internet!

We are lucky enough to be able to present you one these collaborations that happened between 2 of our Blade endorsers: JOSE BARRACHINA and FAB TRANZER.

JOSE BARRACHINA is one leading musician in the very alive French Jazz community! A former student of the Perpignan Music Conservatory, José moves to LA's Musican's Institute in order to explore the Jazz Guitar and improvisation in depth. His return in France makes him immediately become a teacher in some of the country's best Music Schools like the MAI in Nancy. We may want to underline that we have always been amazed by the humility and great vibes that José carries along with his huge talent. Today José concentrates on his art, he writes a lot of music for his own solo career but also for pictures or film. We can recommend the album "between 2 worlds" which showcases José's ability to create sonic landscapes, avoiding all sorts of clichés. His live gigs are collaborations with various musicians from all over europe, it obviously shows that José's main artistic message reminds us that Music is a form of art in constant movement and evolution.

Fab Tranzer has been of great help in the development of our vintage oriented BCS Blade Custom Shop guitars and we were lucky enough to receive a few taylor made Demos songs all featuring the Blade BCS Guitars which you could hear on our Myspace page.

"Death Valley" features José on his Texas Vintage and Fab playing the BLADE BCS guitar. José insists on the fact that he crafted this song in order to praise the many years of friendship with Fab.

At Blade, we can only say: thank you for this beautiful gift!
http://www.josebarrachina.com/ http://www.myspace.com/fabtranzer

....

CHRIS TAYLOR

New York based Guitarist / Composer / Producer / mix engineer Chris Taylor has created a unique niche for himself as a professional musician for close to 30 years, with credits ranging from multi platinum Grammy award winning pop records to cutting edge electronic jazz . That include Celine Dion, Lionel Hampton, Randy Brecker, Grover Washigton Jr. Dave Weckl, , Billy Porter , Heather Headley to name a few, along with major motion pictures and TV soundtracks .

"I bought my Blade the day before leaving New York for Tokyo to record a record for Japanese pop star Ken Harai back in the mid 90's. I was looking for a strat type guitar to use overseas not wanting to travel with my beloved 67 fender stratocaster I must have played 20 guitars before I picked up the Blade and it was one of those rare connections with an instrument, where I instantaneously felt both at home and transformed by the guitar. I may have walked into that music store looking for a part time substitute for my old strat, but I walked out with it's replacement ! That Blade has found it's way on to just about every recording and gig I have done since purchasing it."

Keep an eye out for Chris's first solo release this year. "I have waited a long time to release something under my own name and I think I have a real good record in the works, with tracks already recorded with well known players including Dave Weckl, George Whitty , Ric Fierabracci and some equally great lesser known musicians. I think it is going to be the record I have always wanted to make, one that reflects whom I am as a composer, guitarist, producer and human being, A record where the playing serves the music and the music tells a story and each song plays like a chapter from a book"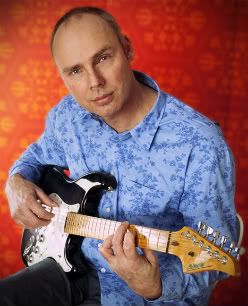 http://www.myspace.com/christaylorsubd
BLADE WORKSHOP