Play

Play Next

Add to queue
Play

Play Next

Add to queue

1,972 plays

Play

Play Next

Add to queue

1,087 plays

Play

Play Next

Add to queue

2,601 plays
Genre: Classical / Classical Opera and Vocal

Location London, London and South East, UK

Profile Views: 80605

Last Login: 5/27/2010

Member Since 8/15/2007

Type of Label Major

Bio

.. .. .. .. .. .. .. .. .. .. .. .. .. .. .. When four young male singers formed an informal group on social networking site Facebook in September 2007, little did they know how soon their lives were to change. It took a matter of days for Blake to be formed and to be signed to a major record label. Virtually overnight these four good-looking guys had taken their first steps on an incredible journey... .. Bridging the gap between pop and opera they took the music industry by storm, releasing their debut album ..Blake.. in November 2007 which went straight to Number One in the UK Classical Album Chart and hit the top 20 of the UK Pop Album Chart. The British public welcomed such a fresh, new sound in music and wholeheartedly embraced the alternative versions of timeless classics such as the Beach Boys' 'God Only Knows' and many others, all recorded with the Royal Philharmonic Orchestra. The support and appreciation of the public was soon apparent, within three weeks the album had attained Gold status in the UK and in May 2008 they found themselves at the Royal Albert Hall receiving the Album of the Year Award at the ..Classical BRITS... .. .. Following a media scrum of activity and excitement, their version of 'Swing Low' was chosen to be the Official Anthem of England Rugby for the Rugby World Cup. They have since performed at many sporting events Worldwide including the Melbourne Cup in Australia and in London at The Hurlingham Club Polo as well as the historic new roof opening at Wimbledon in May 2009... .. And So it Goes, the second and much anticipated album was released in September 2008 and instantly reached Number 12 in the UK album charts and Number 1 in the Australian Classical chart. This album has captured the hearts of a devoted and fast growing fan base across the globe. Featuring alternative versions from a wide variety of highly acclaimed modern artists such as Snow Patrol and Katie Melua and combining a mix of classical favorites, the album showcases the passion and virtuosity of four highly trained singers who quickly realised that together, they had something uniquely special to offer music lovers... .. Not only has the band achieved triumphant promotional tours of Australia and Japan working with worldwide brands such as Toyota and Cartier, at home, they have wowed audiences across the UK on their headline tour with Natasha Marsh and performed with Katherine Jenkins on her legendary tour of the UK. Blake now have their own celebrity following and can count Keira Knightley, Will Smith, and Kevin Spacey amongst their fans. Shirley Bassey even made a special request for Blake to perform at her 70th birthday party!.. .. As well as devoting themselves to their music, the band also spends time supporting several charities close to their hearts; Help For Heroes, The War Widows Association, and MIND... .. 2009 continues to be an exciting year for Blake who are about to embark on the release of their third album scheduled for October 2009. The album Together will be released through Blake Records, the first ever 'United Artists' concept in the classical musical world, made up with some of the industry's leading players. .. .... .. ..Stephen Bowman.. ..Bass Baritone from Bath.. ..• A combination of an opera singing mother and a German rock band playing father, Stephen started singing with locallndie, blues and Jazz bands before he discovered his classical voice at 17... ..• Following his studies in Singing and songwriting at the Guildhall School of Music and Drama, Stephen worked in Marketing to fund his songwriting passion. Has worked with some of the greats: Peter Gabriel, Denise Rich and Roland Orzabel... ..• Lived in Guatemala and Spain. Is a qualified ski instructor with a lifelong love of the mountains, deep snow and off-piste skiing!.. ..• Likes life in the fast lane and is a lover of sports cars, owns an original Delorean Gullwing Coupe which he drives when he is not traveling or performing with Blake... ..• Spent Spring 2007 in Guinea Bissau, West Africa working on community development projects in oneof the poorest parts of the world... .. "Whilst many bands have formed and broken up during our three years together, we've actually grown even closer; there's a real sense of a 'band of brothers' to how we get along. Starting our own record label and leaving the corporate music world behind, has made us stronger still. We've got a sense of British pride about doing things our way.".. .... .. ..Jules Knight.. ..Baritone from Sussex.. ..• A chorister from the age of 7 (where he met Ollie) and had traveled the world singing by the tender age of 13. Sang his way through school (same school as Eddie Izzard) and completed an MA in Art History at St Andrews University followed by a passion to study acting at Central school of Speech and Drama... ..• Played the part of a Munchkin with Tom Chaplin from Keane in a school production of Wizard of Oz... ..• Is happiest outdoors. One of 4 children, 3 of whom are named after characters in Enid Blyton's Famous Five!.. ..• Has a great sense of humor, grew up watching Fawlty Towers and Carry On films and has a soft spot for children, dogs, small things and beetroots... ..• Dislikes flying and is scared of heights! Likes art, film, exercise and finding money down the back of sofas!!.. ..Jules loves to socialise and meet new people and was given advice and encouragement by Mick Jagger just as Blake was start ing up. "Yeah, I had dinner with him. He was a bit of a dude. A charming guy, very intelligent. I followed his advice luckily!".. .... .. ..Humphrey Berney (Barney).. ..Tenor from Norfolk.. ..• A chorister from the age of 7 and studied theatre and film at University and trained to be an opera singer at the Royal Academy of Music in London. Barney enjoys live music ranging from Opera to heavy metal!.. ..• Active and sporty - loves cycling, running and being by the sea. Speed and adrenaline junkie sky-diving, bungy jumping and super bikes!.. ..• Enjoys travelling for work and pleasure, taught music and sport in Perth, Australia. Barney cycled through Tanzania for the charity Scope and has traveled extensively through South America and Africa... ..• Has a weakness for International women!!.. ..• Loves dancing, partying, meeting new people! Enjoys the company of his good friends and family and has a passion for food and drink, roast beef and is a hopeless romantic... .."Singing has always been my passion and I knew from a young age it was what I wanted to do. To be in Blake with the guys on this great journey is simply fantastic.".. .... .. ..Ollie Baines.. ..Tenor from Wiltshire.. ..• A chorister from the age of 7 (where he met Jules), Ollie toured the world with the National Youth Choir of Great Britain, studied singing at the Guildhall School of Music and Drama. Ollie was a Maths and English teacher before Blake... ..• Is a keen sailor, skier and horseman and has climbed Mount Kilimanjaro and rafted the Nile... ..• Has been held hostage in an armed bank robbery and has 5 dogs... ..• Loves whisky and has an overall appreciation of alcoholic drinks and enjoys life to the full... ..• Ollie is a great dancer and never needs an excuse to hit the dance floor! - except when he broke his leg!.. .."I am one of those lucky people who genuinely like being up there onstage, singing my heart out. For me that's what it's all about; entertaining. And it's essential to enjoy yourselves, because that way, the audience tends to enjoy your performance more.".. .. .. .. ..

Members

.. .. .. .. .. .......... .......................................... .. .......... ........ ...... ........ .... .. .. .. .. .. .. .. ..Add to Friends.. ..Leave a Comment.. ..Send a Message.. ..Forward to a Friend.. ..Add to Favorites.. ..Add to Group.. ..View Photos.. ..View Videos.. ...... .. .. .... .. .. .. .. .. .. .. .... .. .. .. .. .. .. .... .. .. .. .. .. .. .. .... .. .. .. .. .. .. .. .... .. .. .. .. .. .. .. ..Vist our ..Youtube Channel.. for more videos, updates, and intimate looks into the life of Blake... .. .. .. .... .. .. ...... .. .. .... ..Together.. ..Release date 12/06/2009.. ..Tracklisting.. ..01. With or Without You.. ..02. Bring Him Home.. ..03. Bridge Over Troubled Water.. ..04. Abide With Me.. ..05. La Califfa.. ..06. She (Ft. Julian Smith from Britain's Got Talent).. ..07. I Vow To Thee My Country.. ..09. Ave Maria.. ..10. Nessun Dorma.. .. ..11. Unsung Hero (Ft. Caroline Redman Lusher).. ..12. Titans.. ..13. When a Child Is Born (Christmas Bonus).. .. .. .. .. .. .... ..And So It Goes.. ..Release date 29/09/2008.. ..Tracklisting.. ..01. Look To The Mountains.. ..02. And So It Goes.. ..03. Chasing Cars.. ..04. Wild Mountain Thyme.. ..05. Because We Believe.. ..06. Up Where We Belong.. ..07. Steal Away.. ..08. Heavan Can Wait.. ..09. Closest Thing To Crazy.. ..00. Fantasia Prelude.. ..10. Nella Fantasia.. ..11. Time To Say Goodbye.. ..12. Sancta Maria.. .. .. .. .. .. .. .. .... ..Blake.. ..Release date 05/11/2007.. ..Tracklisting.. ..01. Yo Te Voy A Amar (I'll Make Love to You).. ..02. In Paradisium (From 'Gladiator').. ..03. Moon River.. ..04. 1492 - Conquest of Paradise.. ..05. God Only Knows.. ..06. I Knew I loved You.. ..07. Hallelujah.. ..08. Ashokan Farewell.. ..09. Celebration.. ..10. Vide Cor Meum.. ..11. Swing Low.. ..12. E sara cosi.. ..13. Jerusalem.. ..14. Toglimi il respiro.. ..15. In the Bleak Midwinter.. .. .. .. .... .. .. ...... .. .. .. ..Twitter.. ..Facebook.. ..YouTube.. ..Bebo.. ..iLike.. ..OfficialBLAKE.com.. ...... .. .. .... .. .. ...... .. .. .. ..Management : Production Team.. Contact: ..Nadia Raibin.... ..Booking Agent : Showbizworks.. Contact: ..Martin Blore.... ..Label(s) : MPP / Blake Records.. Contact: ..Alex Hopkirk.... .. .. .. .. .. ..

Influences

Sounds Like
03:41 | 509 plays | Aug 4 2009
Bio:
.. ..
When four young male singers formed an informal group on social networking site Facebook in September 2007, little did they know how soon their lives were to change. It took a matter of days for Blake to be formed and to be signed to a major record label. Virtually overnight these four good-looking guys had taken their first steps on an incredible journey.

Bridging the gap between pop and opera they took the music industry by storm, releasing their debut album Blake in November 2007 which went straight to Number One in the UK Classical Album Chart and hit the top 20 of the UK Pop Album Chart. The British public welcomed such a fresh, new sound in music and wholeheartedly embraced the alternative versions of timeless classics such as the Beach Boys' 'God Only Knows' and many others, all recorded with the Royal Philharmonic Orchestra. The support and appreciation of the public was soon apparent, within three weeks the album had attained Gold status in the UK and in May 2008 they found themselves at the Royal Albert Hall receiving the Album of the Year Award at the Classical BRITS.

Following a media scrum of activity and excitement, their version of 'Swing Low' was chosen to be the Official Anthem of England Rugby for the Rugby World Cup. They have since performed at many sporting events Worldwide including the Melbourne Cup in Australia and in London at The Hurlingham Club Polo as well as the historic new roof opening at Wimbledon in May 2009.

And So it Goes, the second and much anticipated album was released in September 2008 and instantly reached Number 12 in the UK album charts and Number 1 in the Australian Classical chart. This album has captured the hearts of a devoted and fast growing fan base across the globe. Featuring alternative versions from a wide variety of highly acclaimed modern artists such as Snow Patrol and Katie Melua and combining a mix of classical favorites, the album showcases the passion and virtuosity of four highly trained singers who quickly realised that together, they had something uniquely special to offer music lovers.

Not only has the band achieved triumphant promotional tours of Australia and Japan working with worldwide brands such as Toyota and Cartier, at home, they have wowed audiences across the UK on their headline tour with Natasha Marsh and performed with Katherine Jenkins on her legendary tour of the UK. Blake now have their own celebrity following and can count Keira Knightley, Will Smith, and Kevin Spacey amongst their fans. Shirley Bassey even made a special request for Blake to perform at her 70th birthday party!

As well as devoting themselves to their music, the band also spends time supporting several charities close to their hearts; Help For Heroes, The War Widows Association, and MIND.

2009 continues to be an exciting year for Blake who are about to embark on the release of their third album scheduled for October 2009. The album Together will be released through Blake Records, the first ever 'United Artists' concept in the classical musical world, made up with some of the industry's leading players.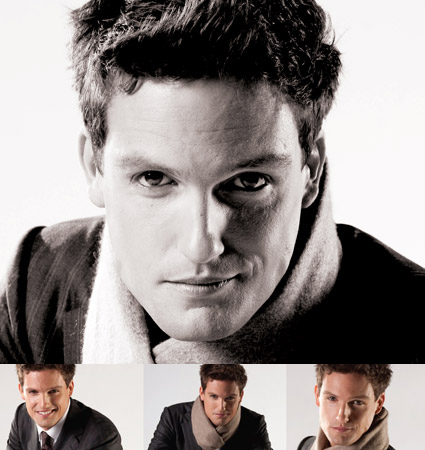 Stephen Bowman
Bass Baritone from Bath
• A combination of an opera singing mother and a German rock band playing father, Stephen started singing with locallndie, blues and Jazz bands before he discovered his classical voice at 17.
• Following his studies in Singing and songwriting at the Guildhall School of Music and Drama, Stephen worked in Marketing to fund his songwriting passion. Has worked with some of the greats: Peter Gabriel, Denise Rich and Roland Orzabel.
• Lived in Guatemala and Spain. Is a qualified ski instructor with a lifelong love of the mountains, deep snow and off-piste skiing!
• Likes life in the fast lane and is a lover of sports cars, owns an original Delorean Gullwing Coupe which he drives when he is not traveling or performing with Blake.
• Spent Spring 2007 in Guinea Bissau, West Africa working on community development projects in oneof the poorest parts of the world.
"Whilst many bands have formed and broken up during our three years together, we've actually grown even closer; there's a real sense of a 'band of brothers' to how we get along. Starting our own record label and leaving the corporate music world behind, has made us stronger still. We've got a sense of British pride about doing things our way."
Jules Knight
Baritone from Sussex
• A chorister from the age of 7 (where he met Ollie) and had traveled the world singing by the tender age of 13. Sang his way through school (same school as Eddie Izzard) and completed an MA in Art History at St Andrews University followed by a passion to study acting at Central school of Speech and Drama.
• Played the part of a Munchkin with Tom Chaplin from Keane in a school production of Wizard of Oz.
• Is happiest outdoors. One of 4 children, 3 of whom are named after characters in Enid Blyton's Famous Five!
• Has a great sense of humor, grew up watching Fawlty Towers and Carry On films and has a soft spot for children, dogs, small things and beetroots.
• Dislikes flying and is scared of heights! Likes art, film, exercise and finding money down the back of sofas!!
Jules loves to socialise and meet new people and was given advice and encouragement by Mick Jagger just as Blake was start ing up. "Yeah, I had dinner with him. He was a bit of a dude. A charming guy, very intelligent. I followed his advice luckily!"
Humphrey Berney (Barney)
Tenor from Norfolk
• A chorister from the age of 7 and studied theatre and film at University and trained to be an opera singer at the Royal Academy of Music in London. Barney enjoys live music ranging from Opera to heavy metal!
• Active and sporty - loves cycling, running and being by the sea. Speed and adrenaline junkie sky-diving, bungy jumping and super bikes!
• Enjoys travelling for work and pleasure, taught music and sport in Perth, Australia. Barney cycled through Tanzania for the charity Scope and has traveled extensively through South America and Africa.
• Has a weakness for International women!!
• Loves dancing, partying, meeting new people! Enjoys the company of his good friends and family and has a passion for food and drink, roast beef and is a hopeless romantic.
"Singing has always been my passion and I knew from a young age it was what I wanted to do. To be in Blake with the guys on this great journey is simply fantastic."
Ollie Baines
Tenor from Wiltshire
• A chorister from the age of 7 (where he met Jules), Ollie toured the world with the National Youth Choir of Great Britain, studied singing at the Guildhall School of Music and Drama. Ollie was a Maths and English teacher before Blake.
• Is a keen sailor, skier and horseman and has climbed Mount Kilimanjaro and rafted the Nile.
• Has been held hostage in an armed bank robbery and has 5 dogs.
• Loves whisky and has an overall appreciation of alcoholic drinks and enjoys life to the full.
• Ollie is a great dancer and never needs an excuse to hit the dance floor! - except when he broke his leg!
"I am one of those lucky people who genuinely like being up there onstage, singing my heart out. For me that's what it's all about; entertaining. And it's essential to enjoy yourselves, because that way, the audience tends to enjoy your performance more."
Member Since:
August 15, 2007
Members:
..
Vist our Youtube Channel for more videos, updates, and intimate looks into the life of Blake.

Together
Release date 12/06/2009
Tracklisting
01. With or Without You
02. Bring Him Home
03. Bridge Over Troubled Water
04. Abide With Me
05. La Califfa
06. She (Ft. Julian Smith from Britain's Got Talent)
07. I Vow To Thee My Country
09. Ave Maria
10. Nessun Dorma
11. Unsung Hero (Ft. Caroline Redman Lusher)
12. Titans
13. When a Child Is Born (Christmas Bonus)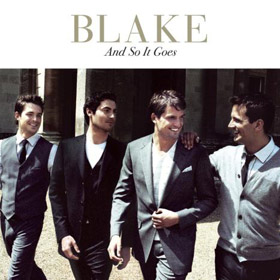 And So It Goes
Release date 29/09/2008
Tracklisting
01. Look To The Mountains
02. And So It Goes
03. Chasing Cars
04. Wild Mountain Thyme
05. Because We Believe
06. Up Where We Belong
07. Steal Away
08. Heavan Can Wait
09. Closest Thing To Crazy
00. Fantasia Prelude
10. Nella Fantasia
11. Time To Say Goodbye
12. Sancta Maria



.. ..
Blake
Release date 05/11/2007
Tracklisting
01. Yo Te Voy A Amar (I'll Make Love to You)
02. In Paradisium (From 'Gladiator')
03. Moon River
04. 1492 - Conquest of Paradise
05. God Only Knows
06. I Knew I loved You
07. Hallelujah
08. Ashokan Farewell
09. Celebration
10. Vide Cor Meum
11. Swing Low
12. E sara cosi
13. Jerusalem
14. Toglimi il respiro
15. In the Bleak Midwinter