Play

Play Next

Add to queue
Play

Play Next

Add to queue

20,401 plays

Play

Play Next

Add to queue

9,512 plays

Play

Play Next

Add to queue

6,206 plays

Play

Play Next

Add to queue

17,151 plays
Genre: Alternative / Metal / Rock

Location Venice, IT

Profile Views: 139548

Last Login: 7/9/2010

Member Since 2/7/2005

Website http://www.bleedinvain.com

Record Label UNICORN DIGITAL Inc. / VSR

Type of Label Indie

Bio

.. .. .... .......... .. ........ ..........UNICORN RECORDS.. ...... .. Code:........ .. CO-PRODUCED AND MIXED WITH FREDRIK NORDSTROM IN STUDIO FREDMAN (GOTHENBURG, SWEDEN)...... .. .... ..BLEED IN VAIN - THE THINGS YOU OWN, OWN YOU...... Directed by Daniele Marzano of PlanetMusicStudios, special guest Michele Servadio. Will appear as enanched content on "Say Everything Will Be Fine", Bleed In Vain's new album out on September 2006... .. .. .. .. .. .. ...... ...... MAKING OF THE VIDEO .. .. .. .. .. .. .. .. .... OFFICIAL BACKSTAGE .... .. .. .. .. .. .. .. .... @ STUDIO FREDMAN .. .. .. .. .. .. .. .. .... .. .... 2007: The album is available on various distributions and also on Apple ITUNES website. The band supports the album with a lot of gigs around the country. .... 2006: SAY EVERYTHING WILL BE FINE is out for UNICORN RECORDS / VSR (Canada) the 1st September 2006. The video of "THE THINGS YOU OWN, OWN YOU" is out on different channels. The album contains also Billy Idol's "Shock To The System" cover..... 2005: Bleed In Vain enter STUDIO FREDMAN (Gothenburg, Sweden) with .. producer Fredrik Nordstrom (In Flames, Soilwork, Opeth, Dark Tranquillity, Arch Enemy, The Crown, Opeth...) to record guitars and bass for the new album, the album will be mixed always in Studio Fredman and the mastering will take place at Goran Finnberg's the Mastering Room..... .. 2004: After the album release and several succesfully shows, the band spent the entire winter composing and pre-producing new material... .. 2004: Sign with Cartel Media Records (Germany) and release the first full lenght "One Day Left" distribuited worldwide by distros like Soulfood Music and Century Media Distro. .. .. 2003: .."International band of the month" on Swedish Metal dot net, the famous ..web portal owned by Fredrik Kreem... .. 2002: Excellent feedback with the demo "Of Promises Decayed" (This Illusion as monicker) .. .... ......WHAT DO YOU WANT FROM BLEED IN VAIN'S NEW MATERIAL?............ MORE ROCK!........ MORE CATCHY MELODIES!........ MORE BREAKOUTS!........ MORE BALLADS!........ MORE DEATH METAL!........ MORE ALTERNATIVE STUFF!........(View Results)........Create a Poll.......... .... ...... .... .. ...... .. ...... .. ...... ....

Members

..

Influences

Sounds Like
No recent updates in this category.
Why not...
00:32 | 1281 plays | Jan 17 2007
Bio:
.. ..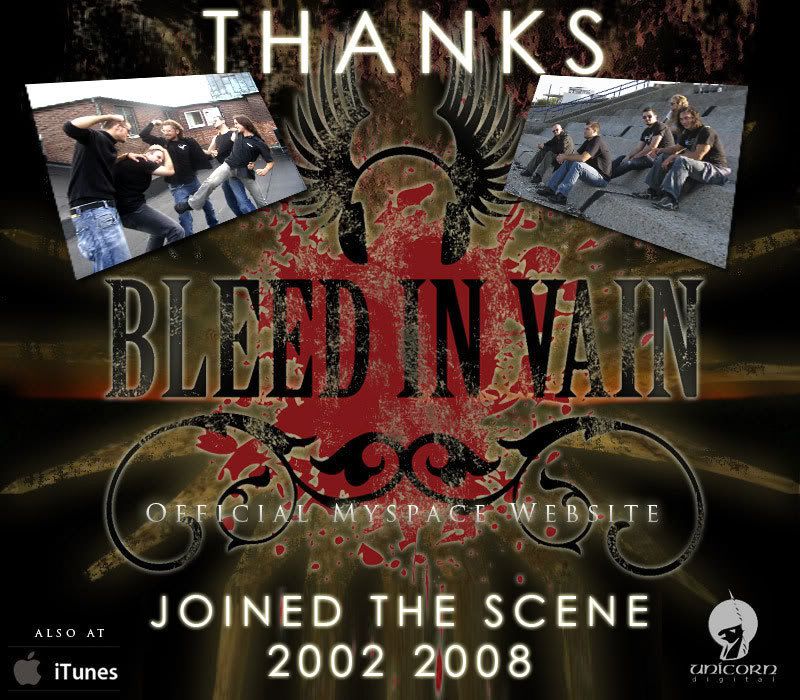 ..


UNICORN RECORDS

Code:
CO-PRODUCED AND MIXED WITH FREDRIK NORDSTROM IN STUDIO FREDMAN (GOTHENBURG, SWEDEN)..
---
BLEED IN VAIN - THE THINGS YOU OWN, OWN YOU
Directed by Daniele Marzano of PlanetMusicStudios, special guest Michele Servadio. Will appear as enanched content on "Say Everything Will Be Fine", Bleed In Vain's new album out on September 2006.
MAKING OF THE VIDEO
OFFICIAL BACKSTAGE
@ STUDIO FREDMAN

2007: The album is available on various distributions and also on Apple ITUNES website. The band supports the album with a lot of gigs around the country.
2006: SAY EVERYTHING WILL BE FINE is out for UNICORN RECORDS / VSR (Canada) the 1st September 2006. The video of "THE THINGS YOU OWN, OWN YOU" is out on different channels. The album contains also Billy Idol's "Shock To The System" cover.
2005: Bleed In Vain enter STUDIO FREDMAN (Gothenburg, Sweden) with
producer Fredrik Nordstrom (In Flames, Soilwork, Opeth, Dark Tranquillity, Arch Enemy, The Crown, Opeth...) to record guitars and bass for the new album, the album will be mixed always in Studio Fredman and the mastering will take place at Goran Finnberg's the Mastering Room...
2004: After the album release and several succesfully shows, the band spent the entire winter composing and pre-producing new material.
2004: Sign with Cartel Media Records (Germany) and release the first full lenght "One Day Left" distribuited worldwide by distros like Soulfood Music and Century Media Distro.
2003:
"International band of the month" on Swedish Metal dot net, the famous
web portal owned by Fredrik Kreem.
2002: Excellent feedback with the demo "Of Promises Decayed" (This Illusion as monicker)
WHAT DO YOU WANT FROM BLEED IN VAIN'S NEW MATERIAL?
MORE ROCK!
MORE CATCHY MELODIES!
MORE BREAKOUTS!
MORE BALLADS!
MORE DEATH METAL!
MORE ALTERNATIVE STUFF!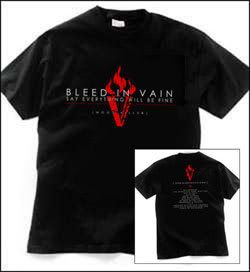 Member Since:
February 07, 2005
Members:
Record Label:
UNICORN DIGITAL Inc. / VSR
Label Type:
Indie
BLEED IN VAIN [ R.I.P.] has 9785 friends.