Role:

FilmmakerRoles(_FilmMakerRoleID = 1, _FilmMakerRole = Director) / FilmmakerRoles(_FilmMakerRoleID = 4, _FilmMakerRole = Screenwriter)

Website

blogsweatandbeers.com

Influences

---

OUTDOORSMEN ON NETFLIX! Click It yo!

---

Festivals

Tribeca Film Festival
Dead Center Film Festival
Rome International Film Festival
Austin Film Festival
Spokane Film Festival
About me:
..
---
OUTDOORSMEN MERCHANDISE

T-shirts, Mugs, Hats, check it out!

CHUG LIFE, SIPPING IS FOR GIRLS, CHUG YA LATER
GET IT RIGHT HERE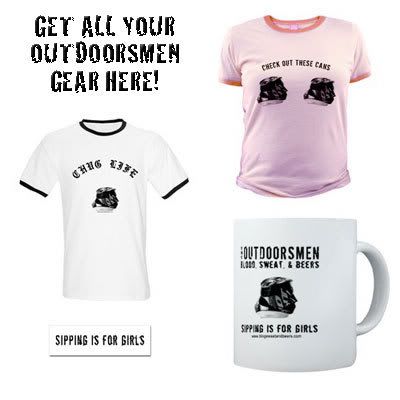 ---
SCHOOL'S IN!
It's time for OD 101... The Outdoorsmen 101. This is one of the many Extras on the DVD for the movie The Outdoorsmen: Blood, ... all » Sweat, & Beers. Each segment contains exclusive footage from the film.

IN THIS CLIP:
Meet Doctor Hopps, your guide through the Outdoorsmen events. He explains the Good Beer/Bad Beer theory and does a demo of a Bonus Beer.

OD 101 Introduction
---

IN THIS CLIP:
Doctor Hopps shows you the ins and outs of possibly the funniest event in the whole movie: Blin Man's Beer. Enjoy the exclusive footage form the film that features Cameron Johnson powering through TOO MANY BEERS.
OD 101 - Blind Man's Beer
---

IN THIS CLIP:
Another contender for funniest event. Dr. Hopps gives you a good visual of what the event is like. Also, get a good look at the nasty wipe out that the Libertarians take.
OD 101 - Dead Man's Carry
---
And remember, this is an independent film, so...please...
If you want to see the whole movie, you can:
RENT IT on NETFLIX

BUY IT on AMAZON
For more Outdoorsmen goodies, visit:



---


Join Scott Allen Perry, THESAP, as he journeys through the bowels of Hollywood and other sensory overloaded lands on his quest to clean up this dirty business known as SHOW..... business. Each SAPISODE features the finest selection of SAP blips and clips and the work of the hottest/coolest/badassestist selection of artists, musicians, and OTHER.



---
Nobody's gonna say... Hey, put down the hatchet...
---
..


Chapter 2
"Hey, put down the hatchet..."
We meet the Outdoorsmen, get a taste of Everett, WA.
See glimpses of their super secret competition.
See this video and more at
BLOG SWEAT AND BEERS
Chapter 15
"The Competition Begins"
First event, THE 4 BEER-BEER CHUG. 2 men, 4 beers, stopwatch.
5 Outdoorsmen teams compete for the fastest chugging time.
Tom "Ballgame" Waldal debuts his classic WOOKIE hurl.
See this video and more at
BLOG SWEAT AND BEERS
Chapter 30
"Conspiracies and Tires"
Dan White unveils the strategy of his "Who Killed FDR" t-shirt.
The beer takes its toll as the guys compete in the TIRE TOSS.
See this video and more at
BLOG SWEAT AND BEERS
---
..
Unrated Director's Cut
91 minutes of pure joy. See what they won't show you on TV.
Widescreen Presentation - Anamorphic 16:9
5.1 Surround Sound Mix
Audio Commentary - With Director Scott Allen Perry, Producer Josh Otten, Executive Producer Nicholas Kalikow, Composer Mike Daly, Composer Sherene Strausberg, Lead Singer/Composer of Rhino Bucket Georg Dolivo, Additional Cinematographer Jonathan Wenstrup, Sound Designer/Composer William Tabanou, and the fabulously funny Sirena Irwin.
Deleted and Extended Scenes - 16 additional scenes, including more interviews with the wives, full versions of the Log Carry and the Shuttle Run, in depth interviews and the original NEWBIE introduction.
"Blood, Sweat, & Beers" music video - Song by Rhino Bucket. Directed by Scott Allen Perry. Cinematography by Alexandre Naufel. See Georg and the gang rock out on a rooftop with a kiddie pool full of beer and babes.
OD 101 Featurette - School's in! Join Professor Hopps as he guides you through the in and outs of the Outdoorsmen events.
DVD ROM GAME - How could there NOT be a game. What movie isn't better with beer?
Super 8 Reel - 18 minutes of super 8 footage set to some of the best music from the movie.
Trailers - Three Outdoorsmen approved trailers for your viewing pleasure.
---
The MySpace Media player requires Flash 8--if you have trouble viewing either clip in the player, try downloading the latest Flash update at http://www.macromedia.com/go/getflashplayer.
You can also watch or download QuickTime clips directly from the links below:
Who I'd like to meet:
..
Directed by SCOTT ALLEN PERRY
Produced by JOSH OTTEN
Executive Producer NICHOLAS KALIKOW
Written by SCOTT ALLEN PERRY, DAN WHITE
Edited by SCOTT ALLEN PERRY, JOYCE BRAND
Cinematography by ALEXANDRE NAUFEL
Additional Photography by JONATHAN WENSTRUP
Original Score by MIKE DALY
Additional Score by SHERENE STRAUSBERG, SAP & WILLIAM TABANOU
Narrated by DAN WHITE
Associate Executive Producer J. ANDREW GREENBLATT
Co-Producer CAMERON MCHARC
Associate Producers MONIQUE LEVI, ERIN BROWN
Gaffer RALPH WALTERS
Music Supervisor STACEY PERRY
Watch THESAP take on
BIG FAT CORPORATE HOLLYWOOD
Available in the Myspace Media Player above.
Profile edited with
Thomas Myspace Editor V3.6
.
Status:

Swinger

Here for:

Networking, Friends

Hometown:

Everett, WA

Orientation:

Straight

Body type:

6' 2" / Body builder

Ethnicity:

Other

Zodiac Sign:

Cancer

Smoke / Drink:

Yes / Yes

Occupation:

Men at their manly best
General

Competition, Drinking mass quantities of beer!!

Music

Movies

WRITE YOUR OWN REVIEW!

IMDB, The Internet Movie Database





---

..Once a year

, an exclusive group of men travels to a top-secret location somewhere in the wooded mountains of Washington State to compete in an all-day event they call The Outdoorsmen. They battle their way through a series of events that combine physical challenges with high-speed beer chugging. For the past 4 years, this dedicated group has competed relentlessly to bask in the glory of winning the coveted title of Outdoorsmen Champion...

..As we examine the lives and friendships of the Veteran and Newbie Outdoorsmen, we discover a tradition of male bonding and whole-hearted dedication to a competition that pushes its players through events like DEATH RACE 3000,

THE HATCHET TOSS

,

and BLIND MANS BEER...
..Braving freezing waters

,

treacherous riverbeds

,

and the rapid consumption of over 32 cases of beer

, the Outdoorsmen revel in the rush of adrenaline they get out of this once a year break from the responsibilities of the 9 to 5 world. These men get to be responsible parents,

husbands

,

and co-workers for 362 days a year

, but for one weekend they reach back to recapture their youth and cherish the camaraderie of their fellow Outdoorsmen...

Television

Books

Heroes

THESAP and Cameron Johnson
DO ALASKA.

CLICK HERE
FOR ALL THE HIDEOUS DETAILS

..

..

..

..

.... ..

....

..