Play

Play Next

Add to queue
Genre: Experimental / Indie / Pop

Location ITHACA, Un

Profile Views: 16274

Last Login: 12/4/2011

Member Since 11/2/2009

Website blowexclamationpoint.com

Record Label Angry Mom Records

Type of Label Indie

Bio

Blow! is a band from Ithaca NY. Blow! is Bruce Hyde and Johnny Zachman Blow! is not that girl from K Records, but would be pretty excited to tour with her. It would be awesome and confusing. Blow! sounds like more than two people and sometimes is. Blow! met in a bar. All good bands should meet in bars. Blow! will happily take all the gigs left behind when LCD Soundsystem retires. Blow! doesn't mind if you dance at their shows. They would be flattered. Blow! sounds like MGMT asleep and dreaming on a synthesizer while listening to My Bloody Valentine Blow! has nothing against drummers per se. Blow! doesn't do irony, that shit is so 1994. They mean that exclamation point. Blow! doesn't mind if you cry while listening to their songs. Blow! sounds like if the 80s happened in the 60s. Blow! likes vinyl and cassette tapes. Blow! is more like a drug than a drug reference. Blow! sounds like pastel paints applied to black paper. Blow! would totally arm-wrestle Hall and/or Oates. Blow! used to be a professional gambler and wholesome boy from Indiana. Blow! is not that one Johnny Depp movie but wonders why it is not available streaming on Netflix. Blow! really can do that live. Blow! sounds like your computer ate your Dylan collection. Blow! will be at SXSW. They are hell of stoked.

Members

Bruce Hyde, Johnny Zachman.

Influences

The Velvet Underground, Suicide, Andrew Bird, Television, Sonic Youth, The National, Townes Van Zandt.

Sounds Like

www.blowexclamationpoint.com
No recent updates in this category.
Why not...
Bio:
"I cannot stress how powerful these guys are live. only two of them, and the bombastic sound they create is insane." - skipster; "A cross between andrew bird and the best of popular indie rock" - The Ithaca Times; BLOW! is an insane duo that creates layers of loops, live, on stage, to build complex soundscapes while maintaining a pop-dance sensibility. Hyde and Zachman met in a bar in October of 2009. Zachman had just moved to Ithaca to pursue his loop-centered song-writing. Hyde was fronting multiple blues and soul bands and playing around the region. The two began playing together and immediately started gigging extensively. They recorded their first EP, "Overrated," in Zachman's apartment and all over Cornell's campus while students were gone for winter break. The EP was then mixed by David Peters at the Belfry Studio in Syracuse and at the Malgamar Studio House in Los Angeles. Blow! released "Overrated," on February 6, 2010 at their Wildfire Lounge show with Asobi Seksu and almost immediately scored a publishing contract with BUG Music in Manhattan. In April 2010, Blow! went into a New York studio to record with the legendary Jimmy Bralower, a man whose name graces over 250 million albums. Blow! then signed to Angry Mom Records and released a vinyl 7" album on August 21, 2010 and is currently touring and recording a new EP.
Post a comment!
Add to friends
Official MySpace of the New York Indie-Rock Duo
..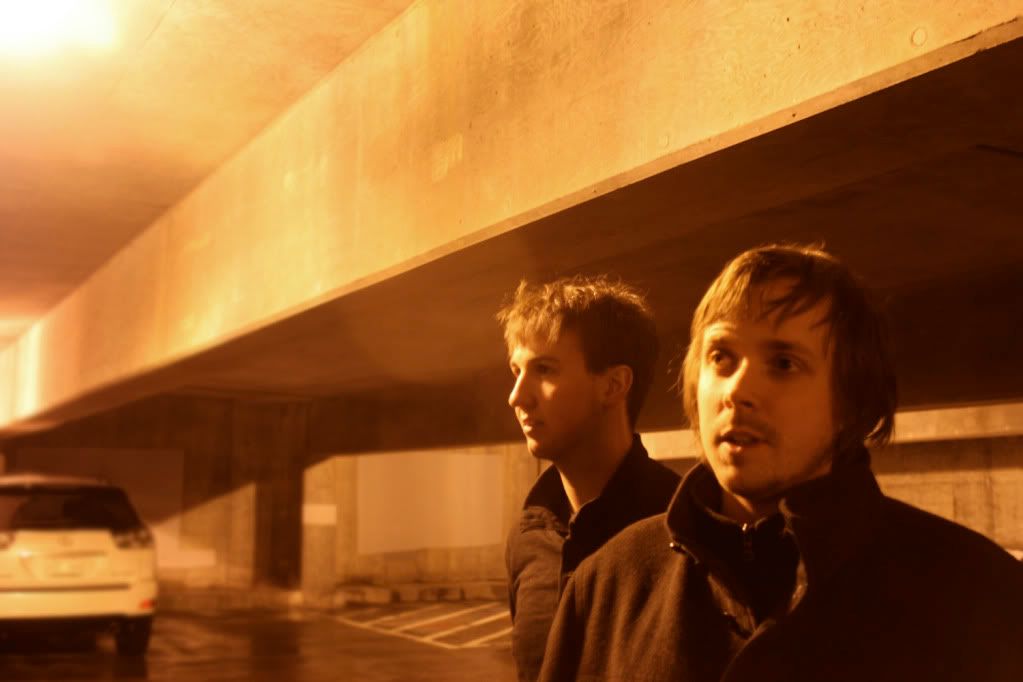 Thanks for visiting!
Drop us a line.
- Bruce and Johnny
BLOW! in an exciting duo who creates layers of loops live, on stage, to build complex soundscapes while still maintaining a pop-dance sensibility.
..
Overrated EP available now on iTunes.

..Link One
..Link Two
..Link Three
Please, do not remove this line.
.. ..
Member Since:
November 02, 2009
Members:
Bruce Hyde, Johnny Zachman.
Influences:
The Velvet Underground, Andrew Bird, LCD Soundsystem, Roy Buchanan, The Talking Heads, The National, Townes Van Zandt.
Record Label:
Angry Mom Records