No recent updates in this category.
Why not...
Heidi Calvert hasn't earned any badges yet... have you?
General

Art, Photography, Music, Parties, Nightlife, Art shows, Gallery hopping, Going to Museums, Make up, Dandyism, Fashion, Style

Music

Movies

Books

Educational books on spirituality, nutrition, herbal remedies, pyschology, and art books

Heroes

Andy Warhol, Nick Rhodes, Richard Avedon, Helmut Newton, Mapplethorpe, Diane Arbus

Nick Rhodes by Dean Karr

NEW YORK PARTIES!!

With Amber Ray at the Blondie RnR Hall of Fame Party

With friends at Marlborough Gallery NYC

Anton Perich and Roger Webster

Miss Amber Ray

BLUESPACE!!!

With James St. James at bluespace

Rikki Rockett and VK7 at bluespace

With Michael Pilmer and Mark Mothersbaugh at bluespace

Muffinhead, Amber Ray, and James St. James at bluespace

Bluespace Crew with Nina Hagen at the gallery
Play

Play Next

Add to queue

Play

Play Next

Add to queue
About me:
Heidi Calvert began her creative journey as a young painter in Tampa, Florida. But somewhere at the inception of the 90's she started to experiment with a guilty pleasure – photography. While often considered a less serious art, it was this medium that spoke to her burgeoning, rebellious nature. Her first forays into photography were in concert venues where she was able to mesh her love of music with her artistic sensibilities. It took a bit of time for her to consider her hobby a potential means of creative expression. But, eventually, it all clicked. She was determined do what she loved and make a life out of it.
In 1993, Heidi decided to pursue photography with a serious intensity. She began at community college in Tampa and ended up at the School of Visual Arts in the city that embodied all her wildest dreams – New York. There she won Chairman's Merit Scholarship for photography to help her on her way.
Life in NYC wasn't always easy. Like any artist trying to forge a unique path, there were dark times. But Heidi understood that her art could also be a source of salvation. It was during this period that she garnered her moniker 'bluegirl' after a photo shoot with infrared film produced a bluish effect, creating an image of a blue girl. She suddenly realized that the darkness was a source of inspiration. With this fueling her passion, she soon stumbled upon the concept of erotic fine art photography. In a fateful exchange wherein she was asked to shoot some intimate photos of a friend, she discovered an unexpected gift for approaching sexuality with art in mind. She also found out that through her art, she was able to tap into a part of her own sexuality she hadn't previously explored. Through a period of experimentation, she realized she had a knack for connecting with her models, often times by doing the makeup herself, which was key for getting the kind of performances necessary to create her images.
In 2000, Heidi founded bluegirl Productions and soon began her bi-coastal existence. In 2002, work opportunities brought her to Los Angeles. In August of 2004, she kicked off the first of a series of infamous art parties at the wonderland she created known as 'bluespace'. It was a gallery and artist space she owned and operated on Hollywood Blvd, having salvaged the 2000 sf space from a sordid past as a sweatshop. The sort of depravity that christened the space was the stuff of underground Hollywood legend. For two years, it was the home to dozens of monthly gallery events and sparked a flurry of similar, Warhol Factory inspired parties where a variety of media are presented, including live performance art.
Heidi has since gone on to throw those trademark events on both coasts and her creatively themed parties have a distinct following as well as plenty of regular press. She also curates The Hive's middle room for its annual erotic show – BEE-roctica. She's worked with Cannibal Flower, The Hive, Infusion Gallery regularly since her arrival in LA. In a stroke of creative intuition, Heidi brought to life a much beloved event know as "Erotic Art School", a tongue-in-cheek, one night art party that combines her love of the genre with a "lesson" in making people feel comfortable in the presence of creative sexuality.
What comes next for Heidi 'bluegirl' Calvert is unknown but it is sure to be innovative, unique, and artfully provocative.
-Victoria Lane 2010
VISIT MY OFFICIAL WEBSITE!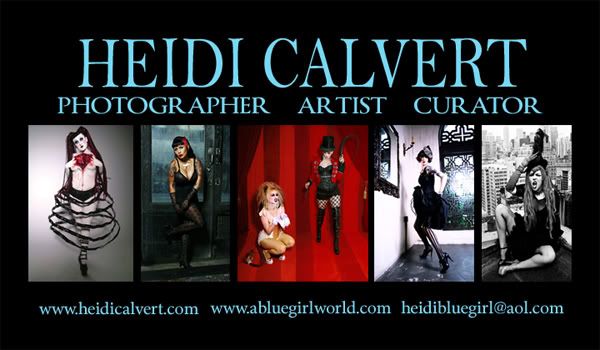 Have you been to one my events and want to share your experience, or make a comment? Please leave one here! Your feedback is appreciated!
Please note my offical website is down at the moment while I build a new one...thank you for your patience.
If you are interested in booking a shoot with me, please contact me. I do not do TFCD, but my rates are reasonable and I am willing to work with your budget if possible.
CREDITS:
Published in:
The LA Weekly 2006-07
Frontier's Magazine 2004
Tease Magazine 2003
Time Out NY Magazine 2002
Village Voice NYC newspaper 2002
Innocent Words Magazine, 2002
Lindfors: "Rational Animal" (Coffee Table book featuring the work of Finish Artist Stefan Lindfors), 2000 - available at Scandanavia House and The Museum of Modern Arts Bookstore (NYC), Barnes and Noble, and other locations.
Contributor to Night Magazine, NYC 1998-2005
Press:
Metromix 2009
LA Weekly 2009
LA Metblogs 2009
Trendhunter 2009
Deadline Hollywood 2007-2009
LA Weekly 2007
Palm Beach Society 2005
Hampton's View 2005
NY Social Diary 2005-2006
New Times, Phoenix June 2005
LA Weekly, May 2005,2007
LA Weekly 2005
LA Times 2004
LA City Beat 2004
Photography shown:
"Erotic Art School: XXXpelled" co-curated and produced with Apollo Staar, Hollywood, CA March 2010 "8th Deadly Sin" Congregation Gallery, West Hollywood, CA March 2010 "The Dirty Show" Detroit, Mi Feb 2010 "The Night Gallery" @ Ruin - curator 2010-present
"The Dirty Show" @ City Center Motel 2009
"Erotic Art School" @ Ultrastar Studio - co-curated and produced with Apollo Staar 2009
"FEVER!" @ Infusion Gallery - co-curated and produced with Art of Bleeding 2009
"PEEP!" @ Infusion Gallery - curator/producer 2009
"BOOTY!" @ Infusion Gallery - curator/producer 2009
"BEE-Rotica II" - "Erotica VS. Nudes" @ the Hive Gallery - co-curated with Nathan Cartwright 2009
"Desolation Holiday" @ Ultrastar Studio 2009
Infusion Gallery- 2008-2009
"BEE-Rotica the Hive Gallery - co-curated with Nathan Cartwright 2008
"Rust" - self-produced 2007
"Naked" - self-produced 2007
Cannibal Flower 2006-2007
The Hive -2007
Scream Queens- Hollywood 2006
All Tomorrow's Parties- NYC 2006
bluegirl's winter Art Party, Scenic, NYC 12/05
bluegirl's Winter Art Party, Bluespace, LA 12/05
Cannibal Flower- LA, 12/05
Antagonist Group Show- Niagara, NYC 11/05
Cannibal Flower, LA, 10/05
Retrospective at Perihelion Gallery, Phoenix, AZ 7/2005
Cannibal Flower, Hangar 1018, LA 6/05
"Good-bye Cruel World, Hello Blue World" Dark Arts Salon at Bluespace Gallery, LA, June 2005
Cannibal Flower Senior Prom: Infusion Gallery, LA, May 2005
Niagra, NYC, May 2005
The Hive, LA, April 2005
Bluespace Gallery 2004-2005
Cannibal Flower @ Infusion Gallery 2005
Cannibal Flower, various venues, 2003-present
Blue Valentine, Feb. 2005, Tower Gallery, Sacramento
The Max, Hangar 1018, 2004
Masquerade Nightclub, Fetishcon, Tampa, FL. 9/2004
Apocalipstick #3 May 2004 @ the CIA, N. Hollywood, CA
Madame S Jan-Feb 2004, San Francisco, CA
Neke Carson Presents @ The Gershwin Hotel Dec 2003 (slideshow presentation) NYC
The Decadence Art Show @ Niagra 2003, NYC
Cannibal Flower 2003 Los Angeles, CA
Cannibal Flower @the Gershwin Hollywood Hotel, Hollywood, CA
Apocalipstick #1 2003 @ the CIA, N. Hollywood, CA
Kinky Salon (slideshow presentation) Sept 2003, San Fransisco, CA
Mondo Porno 2003 San Francisco, CA
Industry @ Hollywood Athletic Club 2003, Hollywood
CA Pagan Vernal Equinox Celebration @ Kitsch Inn 2003, NYC
Arcadia! @ CB's Gallery 2003, NYC
"bluegirl: Bisexual & Bicoastal" 2002 @ GrooveJet, NYC
"A bluegirl World" 2002 @ Alphabet Lounge, NYC
"A bluegirl World" 2001 @ J. Curran gallery, Brooklyn, NY
Website launch party for
bluegirlproductions.com
, 2000
Gershwin Gallery's benefit show for Positive Health Project, NYC, 2000
The Fetish Ball at The Castle Nightclub, Tampa FL. 1998
"Beyond the Dark Alley" private showing at Joffrey's Coffee Co., Ybor City, FL. 1998
"The Picture Show" group showing at the Ybor Gallery and Artist Unlimited, Tampa, FL. 1998
Joffrey's Coffee and Tea Co., St. Armand's Circle, Sarasota, FL. 1997-98 The Refinery, Tampa, FL. 1997
Art for Life- voice and live auction/ benefit AIDS, 1997,98
The Masquerade Nightclub, Ybor City, FL. 1996
"The Way I See It" private showing at Joffery's Ybor City, FL., 1996
Pasco Food Bank Annual Charity Auction, 1996
Hillsborough Community College Juried Student Art Exhibit, 1996, 98
Who I'd like to meet:
Other Artists, Models, Art Collectors, and other interesting people!
Status:

Single

Zodiac Sign:

Capricorn

Children:

Undecided

Education:

Some college

Occupation:

Photographer/artist/Curator/Freelancer
School Of Visual Arts

New York,NY

Graduated:

N/A

Student status:

Alumni

Degree:

none

Major:

Photography

1998 to 1999

Hillsborough Community College

Tampa,FL

Graduated:

N/A

Student status:

Alumni

Major:

Fine Art

Minor:

Photography

1995 to 1998
bluegirl Productions

Los Angeles & New York, CA & NY US

Photographer,Producer, Artist