Play

Play Next

Add to queue

7,513 plays

Play

Play Next

Add to queue

1,160 plays

Play

Play Next

Add to queue

6,268 plays

Play

Play Next

Add to queue

5,760 plays

Play

Play Next

Add to queue

30 plays
Genre: Acoustic / Alternative / Visual

Location Winnisquam, New Hampshire, Un

Profile Views: 125731

Last Login: 3/7/2013

Member Since 7/8/2007

Website www.bobmccarthy.net

Record Label Wandra

Type of Label Indie

Bio

With dazzling virtuosity and resourceful and innovative stylings on guitar and mandolin, Bob McCarthy performs an eclectic blend of original and traditional music drawing on many styles, including gospel, bluegrass, jazz, Celtic, blues and traditional folk. Born north of Boston, he began his musical career in New York and Boston/Cambridge area coffeehouses and college concerts in the late 1960s. In addition to his solo career, he has shared the stage with Bonnie Raitt, Neil Young, Taj Mahal , Pentangle, Buddy Miles ,John Compton, Larry Coryell, Mary Travers, the Everly Brothers, John Prine, Dion, Tommy Makem , Tim Hardin, Buddy Miles, Leo Kottke, Chris Rhodes, Livingston Taylor, Steve Goodman, Jay Leno, Bill Staines, Paul Geremia, Delfeayo Marsalis, Jerry Jeff Walker and many others. His current CD release on the Wandra label, "Satisfied Mind", contains some of the traditional songs, that influenced him from the beginning of his career as well as original cuts and features McCarthy on acoustic guitar, legendary blues harp player, James Montgomery, and Todd McKinney on bass. His previous CD, all instrumental "Star of the Sea", includes the electric version of "Transfiguration" with the slide guitar of the late Rod Price, founding member of the rock group, Foghat. Both releases are available for purchase either through the Store tab on http://www.bobmccarthy.net/ or through http://cdbaby.com/cd/bobmccarthy. Quoting from the entertainment daily newspaper, Variety, of his performance at Gerde's Folk City in New York, ". . . His work on six-string acoustic guitar stands out. ...McCarthy does one tune in ragtime style and as with the jazz material, seems unhampered by delivering solo stylings usually associated with combos." ........Click Here For ....Myspace Layouts....!.. ............ .. ...... David Saltman and Bob McCarthy New Hampshire Public Television 1975

Members

"Where I live (NYC) I sometimes get pretty beat up making my rounds around town. When I get back home, I like to kick back, pour myself a glass of wine, and mellow out. And quite often that process is enhanced by the magical vibes of Bob McCarthy's "Where I Live." This album is aural therapy for the jingle-jangle hoo-hah of Type-A madness. The guy has found the groove that refreshes. Long may he reign." Jeffrey Haddow, playwright .......... Bob, Jerry Leake & Randy Roos..........

Influences

Sounds Like
04:45 | 63 plays | Jan 25 2010
Bio:
With dazzling virtuosity and resourceful and innovative stylings on guitar and mandolin, Bob McCarthy performs an eclectic blend of original and traditional music drawing on many styles, including gospel, bluegrass, jazz, Celtic, blues and traditional folk. Born north of Boston, he began his musical career in New York and Boston/Cambridge area coffeehouses and college concerts in the late 1960s. In addition to his solo career, he has shared the stage with Bonnie Raitt, Neil Young, Taj Mahal , Pentangle, Buddy Miles ,John Compton, Larry Coryell, Mary Travers, the Everly Brothers, John Prine, Dion, Tommy Makem , Tim Hardin, Buddy Miles, Leo Kottke, Chris Rhodes, Livingston Taylor, Steve Goodman, Jay Leno, Bill Staines, Paul Geremia, Delfeayo Marsalis, Jerry Jeff Walker and many others. His current CD release on the Wandra label, "Satisfied Mind", contains some of the traditional songs, that influenced him from the beginning of his career as well as original cuts and features McCarthy on acoustic guitar, legendary blues harp player, James Montgomery, and Todd McKinney on bass. His previous CD, all instrumental "Star of the Sea", includes the electric version of "Transfiguration" with the slide guitar of the late Rod Price, founding member of the rock group, Foghat. Both releases are available for purchase either through the Store tab on
http://www.bobmccarthy.net/
or through
http://cdbaby.com/cd/bobmccarthy
. Quoting from the entertainment daily newspaper, Variety, of his performance at Gerde's Folk City in New York, ". . . His work on six-string acoustic guitar stands out. ...McCarthy does one tune in ragtime style and as with the jazz material, seems unhampered by delivering solo stylings usually associated with combos."
..
Click Here For
Myspace Layouts
!
....
David Saltman and Bob McCarthy New Hampshire Public Television 1975
Member Since:
July 08, 2007
Members:
"Where I live (NYC) I sometimes get pretty beat up making my rounds around town. When I get back home, I like to kick back, pour myself a glass of wine, and mellow out. And quite often that process is enhanced by the magical vibes of Bob McCarthy's "Where I Live." This album is aural therapy for the jingle-jangle hoo-hah of Type-A madness. The guy has found the groove that refreshes. Long may he reign." Jeffrey Haddow, playwright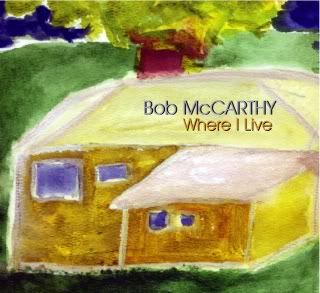 Bob, Jerry Leake & Randy Roos

Record Label:
Wandra