Play

Play Next

Add to queue
Genre: Pop

Location UK

Profile Views: 12506

Last Login: 9/28/2010

Member Since 3/9/2008

Website www.boomboomroom.co.uk

Record Label Unsigned

Bio

.. .. .. .. .. .. .. .. .... In late 1985, following a fun and fulfilling 4 years with the seminal glam folk band ..One the Juggler.., Lushi was looking for a new studio based vehicle to further his song writing aspirations. One day he bumped into an extraordinarily gothic looking character mooching up Sydenham High Street in a home made outfit and long blonde dreadlocks. His name was Andy Nakanza and was singing with local goth band Zero Le Creche. They soon realised that there was a common bond between them, and with a love of hooky, quirky pop music and they started to write. They also realised that their studio based material was in need of some technical wizardry, so Lushi contacted his old mate Skid Solo (ex of Blood Donor) to help out with arrangements and recording... Before they knew it, the trio (now named Boom Boom Room, after an obscure American comic strip) arranged a showcase which so impressed Martin Hooker (of heavy metal label Music For Nations) that he set a new pop label (Fun after All) in their honour to release their first single Here Comes the Man. .. With their original sound, and Andy's striking image, the pop magazines went bananas over the band, and the single soon became A listed on Radio 1. TV appearances followed, (their video currently showing on YouTube), and soon the major labels became interested. CBS signed the band, re-released the single, and airplay continued at such a rate, it seemed that chart success was assured. Major labels however are a fickle bunch, and after an A & R shake up they soon lost interest in the band. Follow up singles Take Your Time (featuring the legendary PP Arnold) and Love Your Face were released, but sunk without trace, as did their album Stretch. Andy and Lushi continued as ..Something Blue ..for a while after Skid left to pursue his film and TV work... Here Comes the Man however proved to be a huge hit in South Africa, and was covered by ..The Parlotones.. in 2005 getting to no2 in the charts... Lushi is still working with Skid on various musical projects. .. .. .. .. .. ..

Members

Andy.. ...... Lushi.. ...... Skid.. ....

Influences

Sounds Like
No recent updates in this category.
Why not...
Bio:
.. In late 1985, following a fun and fulfilling 4 years with the seminal glam folk band
One the Juggler
, Lushi was looking for a new studio based vehicle to further his song writing aspirations. One day he bumped into an extraordinarily gothic looking character mooching up Sydenham High Street in a home made outfit and long blonde dreadlocks. His name was Andy Nakanza and was singing with local goth band Zero Le Creche. They soon realised that there was a common bond between them, and with a love of hooky, quirky pop music and they started to write. They also realised that their studio based material was in need of some technical wizardry, so Lushi contacted his old mate Skid Solo (ex of Blood Donor) to help out with arrangements and recording... Before they knew it, the trio (now named Boom Boom Room, after an obscure American comic strip) arranged a showcase which so impressed Martin Hooker (of heavy metal label Music For Nations) that he set a new pop label (Fun after All) in their honour to release their first single Here Comes the Man. .. With their original sound, and Andy's striking image, the pop magazines went bananas over the band, and the single soon became A listed on Radio 1. TV appearances followed, (their video currently showing on YouTube), and soon the major labels became interested. CBS signed the band, re-released the single, and airplay continued at such a rate, it seemed that chart success was assured. Major labels however are a fickle bunch, and after an A & R shake up they soon lost interest in the band. Follow up singles Take Your Time (featuring the legendary PP Arnold) and Love Your Face were released, but sunk without trace, as did their album Stretch. Andy and Lushi continued as
Something Blue
for a while after Skid left to pursue his film and TV work.
Here Comes the Man however proved to be a huge hit in South Africa, and was covered by The Parlotones in 2005 getting to no2 in the charts.
Lushi is still working with Skid on various musical projects. ..
Member Since:
March 09, 2008
Members:
Andy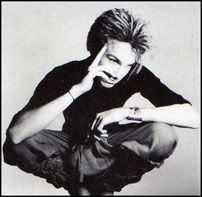 .... Lushi
.... Skid
..
Record Label:
Unsigned