Play

Play Next

Add to queue
Play

Play Next

Add to queue

2,756 plays

Play

Play Next

Add to queue

58,863 plays

Play

Play Next

Add to queue

13,380 plays

Play

Play Next

Add to queue

33,467 plays

Play

Play Next

Add to queue

840 plays
Genre: Hip Hop / Pop / Rap

Location HOUSTON, Texas, US

Profile Views: 386679

Last Login: 11/11/2010

Member Since 3/9/2005

Record Label Boss Baby Entertainment

Type of Label Indie

Bio

.. .. .. .. .. .. .. .. .. .. .. .. .. .. .. .. .. With all the hype surrounding southern rap, as well as the new female MC movement, it is without wander that the South presents its number one contender… Boss Baby. With a few exceptions, the history of the female rapper consists of frivolous beauties that are content with being seen and indifferent to being heard. Their credibility becomes lost in their inability to deliver self-written, self-lived lyrics. Music lovers want someone real, someone they can relate to, someone like Boss Baby. .. .. Born and raised in Bogalusa, a small, oppressed city in Southeast Louisiana, this lady is no stranger to struggle and definitely not "lame to the game". Fast forward past the absent father, street life, and motherhood, she is a consistent songwriter that paints flawless pictures from one end of the color spectrum to the other. Undeniably gifted and gorgeous, Boss Baby combines swag, sass, and sexy with content to monopolize the market. "I don't need a co-sign to shine", she says and effortlessly overcasts female emcees while raising the bar for her male counterparts. .. .. Formerly known to fans as Ms. Re', Boss Baby is reborn with a new look, new music, and new mountains to conquer. Heart, hustle, and high energy performances are the formula for breaching regional boundaries into global status. "Independent means 'by yourself'", she says, "you have to be prepared to do it alone". Taking full control of her creativity, she runs her own entertainment empire taking responsibility for her vision: music, marketing, modeling, and production of her own television show are only the beginning. Boss Baby: Mother. Artist. Model. Mogul. .. .. ...... .. .. .. .. .. .. .. .. .... .. .... .. .. .. .. .. .. .. .. .. .. .. .......... ...... .... .. .. .. .. .. ........Download Mixtape.. | Provided by ..DatPiff.com.... ..

Members

.... .... ...... .. ...... .. ...... .. ...... .. ...... .. .. .. .. .. .. .. .. .. .. .. .. .... .. .. .. .. .. .. .. .. .. .. .. .. .. .. .. .. .. .. .. .. .. .. .. .. .. .. .. .. .. .. ...... .. .. .. .. .. .. .. .. .................... .. .. .. .. .. .. .. .. .. .. DEMAND HERE .. ..

Influences

Sounds Like
No recent updates in this category.
Why not...
05:15 | 94 plays | Nov 22 2009
Bio:
With all the hype surrounding southern rap, as well as the new female MC movement, it is without wander that the South presents its number one contender… Boss Baby. With a few exceptions, the history of the female rapper consists of frivolous beauties that are content with being seen and indifferent to being heard. Their credibility becomes lost in their inability to deliver self-written, self-lived lyrics. Music lovers want someone real, someone they can relate to, someone like Boss Baby.
Born and raised in Bogalusa, a small, oppressed city in Southeast Louisiana, this lady is no stranger to struggle and definitely not "lame to the game". Fast forward past the absent father, street life, and motherhood, she is a consistent songwriter that paints flawless pictures from one end of the color spectrum to the other. Undeniably gifted and gorgeous, Boss Baby combines swag, sass, and sexy with content to monopolize the market. "I don't need a co-sign to shine", she says and effortlessly overcasts female emcees while raising the bar for her male counterparts.
Formerly known to fans as Ms. Re', Boss Baby is reborn with a new look, new music, and new mountains to conquer. Heart, hustle, and high energy performances are the formula for breaching regional boundaries into global status. "Independent means 'by yourself'", she says, "you have to be prepared to do it alone". Taking full control of her creativity, she runs her own entertainment empire taking responsibility for her vision: music, marketing, modeling, and production of her own television show are only the beginning. Boss Baby: Mother. Artist. Model. Mogul. .. .. ..


..
Member Since:
March 09, 2005
Members: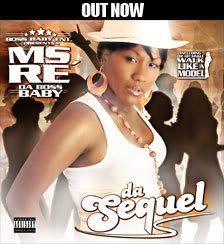 .. .. .. ..

Record Label:
Boss Baby Entertainment
They Call Me "Boss Baby" has 32428 friends.