Play

Play Next

Add to queue
Play

Play Next

Add to queue

146 plays

Play

Play Next

Add to queue

176 plays

Play

Play Next

Add to queue

33 plays

Play

Play Next

Add to queue

26 plays

Play

Play Next

Add to queue

42 plays
LATEST VIDEOS FROM SONIC SWINGS TV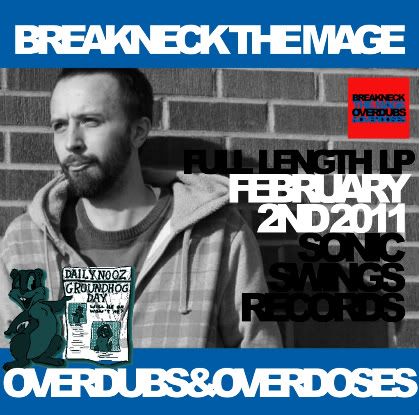 Hi. My Name is Breakneck the Mage. I am a musician and an entrepreneur. I have many endeavors that I am a part of, and I would love to share them with you.
I began making music in 2005. Over the course of that five years I have performed tirelessly all over the midwest, primarily through Wisconsin and Minnesota. Performing at these shows has allowed me to achieve a comfortable level of success and has helped me build many friendships and meet many interesting people.
In 2008, I released a solo album(Breakneck the Mage Goes to Hollywood) and followed it up in 2009(Breakneck the Mage Is Dead) to moderate regional success. To follow up in style, Sonic Swings Records has recently announced that February 2nd 2011 will be the release date for both the upcoming Misadventures of Breakneck the Mage (produced by LC Slak and feat. the Tablesetters live band), and a second album titled Overdubs & Overdoses (produced by Passion Hi-Fi, SickAssMick, and Ryan Jobe)
2008 and 2009 were very important years for both my personal life and my music career. I had a huge network, lived back and forth from Eau Claire(WI) to Minneapolis(MN), played shows everywhere and all the time, even reaching places like Kansas City(MO) and Chicago(IL). These strong genre-bending performances included sharing bills with some of the best acts in the midwest and beyond like hip hop acts Eyedea & Abilities, Tech N9ne, Mac Lethal, Heiruspecs, Awol One, Ecid, and Golden. Other appearances on bills with rock bands God Johnson, Stealin Strings, Represent!, Dred I Dred, Arms Aloft, Heatbox, .357 String Band, and Down Lo helped cement my place in the regional music scene and allowed me to expand my market all over the midwest. During this time I went through an amazing relationship that ended (perhaps) too abrupltly, moved back home and started to put together my personal pieces as I approached the quarter-century mark.
In early 2010, I began jamming with two really talented musicians, and eventually asked them to join my live show and push the music in a different direction with the implementation of guitar and keyboard. We eventually became Breakneck the Mage & The Tablesetters, and started performing anywhere and anytime that we could. The Tablesetters album is on the way soon.
As for the rest of the resume...started a record label/management/design company(Sonic Swings & Stylings), hosted a radio show(Hip Hop House Party), released a bunch of mixtapes, collaborated on songs/projects with countless artists, founded a non-profit group(Eau Claire Hip Hop & B-Boy/B-girl Assoc.), DJed and MCed countless events, was voted "Best Hip Hop Artist in the Chippewa Valley"(Volume One) in 2008, have been featured in many press items(newspapers, culture mags, blogs,etc.), and probably much more.
I'm busier than ever. There is much more you can find out about me(try facebook, google, reverbnation,etc) if you want to do some snooping. Stay tuned for more on Sonic Swings, Breakneck the Mage, the Tablesetters, and Hats on Backwards.
-Breakneck the Mage
Leave a comment, or sign up for the mailing list to stay connected and up-to-date. Thanks for stopping by
Breakneck the Mage has 9895 friends.
Genre: Experimental / Hip Hop / Indie

Location Eau Claire/Chippewa Falls, Wisconsin, Un

Profile Views: 47145

Last Login: 4/10/2012

Member Since 8/8/2006

Website breakneckthemage.com

Record Label Sonic Swings Records

Type of Label Indie

Bio

See below for more information.

Members

Breakneck the Mage, Maxwell (Electric Guitar, Acoustic Guitar), Mike D (Keyboards), Ed Palmer (Acoustic Guitar), LC Slak (Beat Production)

Influences

Led Zeppelin, Pink Floyd, Wu Tang Clan, Creedence Clearwater, Nas, Notorious BIG, The Fugees, RA The Rugged Man, Heiroglyphics, Murs, Aesop Rock, Qwel, Ecid, Carnage, Capaciti, The Rolling Stones, The Mars Volta, Saves The Day, Alice In Chains, Tom Petty and the Heart Breakers, Sublime, Eyedea & Abilities, Atmosphere, St Paul Slim, Musab, Pigeon John, Kristoff Krane, Nightmare of You, Heiruspecs, Kanser

Sounds Like