No recent updates in this category.
Why not...
Brotherhood of Street Racers hasn't earned any badges yet... have you?
General

Music

Movies

Two Lane Blacktop. First scene has Brotherhood Members representing in the movie. The Hemi Daytona is Big Willie, and the motor was built by the legendary Keith Black. ..

Television

Books

Heroes

The Boss of the Universe REOPEN T.I.- I could still happen, but it takes people to make it happen, strength in Numbers- The chances of reopening T.I (Terminal Island) are not good, but that never stopped Big Willie. NHRA and others could not do it but Big Willie open and closed 11 times since 1978 and there was less of a chance opening it in 1978 than today. Today we can use the example of how it worked in the past to get reopen but it takes people getting involed and writing letters to the Mayor and showing up for protest like the one below "GIVE US A PLACE TO RACE OR WE WILL BRING THE RACES TO YOU" Big Willie said when he brought a NITRO FUNNYCAR to City Hall. It did a few burnouts just about to make a pass when it was shut down.
About me:
We are a group formed by the LAPD (Los Angeles Police Department) in the late 60's to use street racers to curb street racing- fight fire with fire. It worked. We had a track in Los Angeles Harbor area that was strictly a street racers track. The head of one of our biggest gangs, the "Crips" hung out there with some of the heads of GM. Nowhere else would that occur. (Tookie was executed a few years ago for his crimes.) Big Willie is the head of our organization. The Los Angeles Sheriffs Department is now spearheading the Brotherhood movement to get our track open once again. This is who we are, we would love to hold street race back on our track someday soon. Check us out in this months Car Craft Mag Aug 2009 pg 6 We got a little ink on the 2008 Xmas street race and the need for Brotherhood Raceway to return to Los Angeles-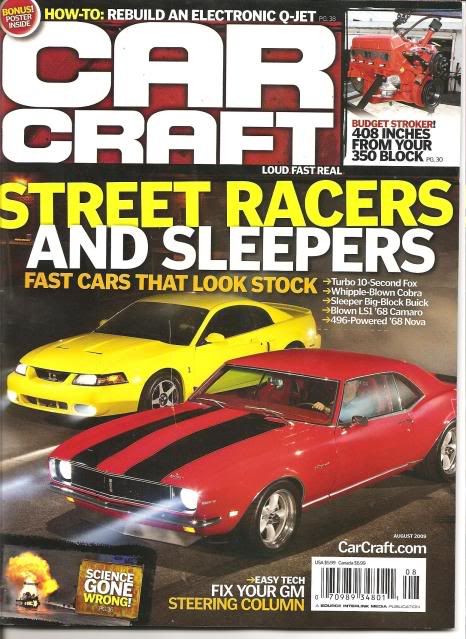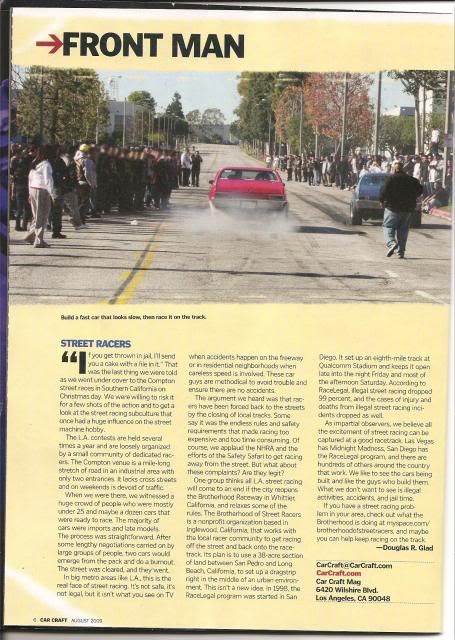 Who I'd like to meet:
Supporters and Members How do I become a member? To be a member you don't sign up, you don't pay dues, you either are a brotherhood of street racer or your not. Its that simple. Brotherhood members try to find a better way to race, weather blocking off a street completely. Getting tracks to do street racer events. Even trying to getting cities to open a track just for street racers. The Los Angeles Police Department created us to use street racers to solve the street racing problem. It worked. Stiffer laws failed. Strick enforcement failed. Fed Grants failed also. Tomiko's Memorial Book .. 'BIG' WILLIE ROBINSON AND THE "BROTHERHOOD OF STREET RACERS" As the Sixties drew to a close, the social upheaval seen in other spheres of society influenced drag racing as well. In the wake of the 1965 Watts riots, legendary street racer Big Willie Robinson figured out a way to use drag racing to change society. An imposing, muscular 6'6" Vietnam vet with a badass Hemi Daytona Charger and trademark bowler hat, Big Willie was the undisputed king of the late '60s- '70s East L.A. street racing scene. In response to the growing influence of drugs and street gangs, Big Willie and his wife Tomiko organized the 'Brotherhood of Street Racers' as a way to channel the energy of South 805 youth away from crime and violence -- "peace through racing," as he put it. Working with local officials and police, Big Willie was the driving force behind the building of Brotherhood Raceway Park on L.A. harbor's Terminal Island. Before it closed in 1995, BRP was a popular destination for young South Cental racers and is widely regarded as the birthplace of import drag racing -- the 'Fast and Furious' scene. Efforts are now underway to reopen BRP, hopefully extending Big Willie's legacy to another generation of L.A. gearheads of every ethnicity.
Status:

Single

Here for:

Networking

Hometown:

Termial Island

Zodiac Sign:

Capricorn

Occupation:

Acitvist