Play

Play Next

Add to queue
Play

Play Next

Add to queue

478 plays

Play

Play Next

Add to queue

233 plays

Play

Play Next

Add to queue

3,748 plays

Play

Play Next

Add to queue

1,536 plays

Play

Play Next

Add to queue

66 plays
Genre: Alternative / Metal / Rock

Location Oulu, Pohjois-Pohjanmaa, Fi

Profile Views: 37535

Last Login: 2/22/2011

Member Since 3/30/2006

Website www.brusselkaupallinen.com

Record Label Stop the Building

Type of Label Indie

Bio

....LATEST NEWS....Read latest news from our website ..www.brusselkaupallinen.com.. ....Join our Facebook community for more news and instant messages ..Brüssel Kaupallinen at Facebook.. .... BIO:.... Formed late eighties in Oulu Finland. Heres a classic band that already back in 1996 made a lasting impact on Finnish alternative rock with its ep Aika ('Time'). The ep was a way ahead of its time, but time is still on Brussel Kaupallinen's side, and finally year 2005 sees the release of their debut album Aika kultaa muistot. Ten years' suspension has made the band even more bizarre and less compromising than what they used to be. Now that you can, do go and see this legendary band live! And by the way, if you see any funny t-shirts in the audience: they do not refer to British Ketroleum, they refer to this band..... Discography:.. Kadet ristissa rinnan paalla / Kivinen Kosteus, single 1994 Bad Vugum.. Pyorat / Loistava kylpy, From coll. Surprising Encounters 1995 Bad Vugum.. Aika, cdep 1996 Bad Vugum.. Jatkumo / Varkaiden puutarha, single 2005 Uho Production LTD.. Aika kultaa muistot, album 2005 UHO Production LTD.. Valheiden kirja, album 2007 UHO Production LTD.. Musta polku, album 2009 Korpinkynsi (produced by Hiili Hiilesmaa).... .... .. .. .. .. .. .. .. .. .. ..

Members

.. .......... .. .. Janne Helttunen - Vocals.. Antti Leiviskä - Guitars.. Petteri Korkala - Bass.. JP Aunola - Drums..

Influences

Bird and Sars

Sounds Like

Alternative rock
No recent updates in this category.
Why not...
04:02 | 172 plays | Apr 20 2006
Bio:
LATEST NEWS
Read latest news from our website
www.brusselkaupallinen.com
Join our Facebook community for more news and instant messages
Brüssel Kaupallinen at Facebook
BIO:
Formed late eighties in Oulu Finland. Heres a classic band that already back in 1996 made a lasting impact on Finnish alternative rock with its ep Aika ('Time'). The ep was a way ahead of its time, but time is still on Brussel Kaupallinen's side, and finally year 2005 sees the release of their debut album Aika kultaa muistot. Ten years' suspension has made the band even more bizarre and less compromising than what they used to be. Now that you can, do go and see this legendary band live! And by the way, if you see any funny t-shirts in the audience: they do not refer to British Ketroleum, they refer to this band.
Discography:
Kadet ristissa rinnan paalla / Kivinen Kosteus, single 1994 Bad Vugum
Pyorat / Loistava kylpy, From coll. Surprising Encounters 1995 Bad Vugum
Aika, cdep 1996 Bad Vugum
Jatkumo / Varkaiden puutarha, single 2005 Uho Production LTD
Aika kultaa muistot, album 2005 UHO Production LTD
Valheiden kirja, album 2007 UHO Production LTD
Musta polku, album 2009 Korpinkynsi (produced by Hiili Hiilesmaa)
.. .. .. .. .. ..
Member Since:
March 30, 2006
Members:
..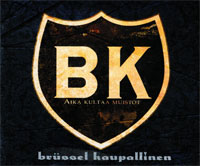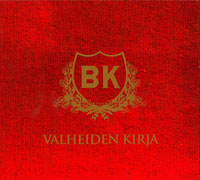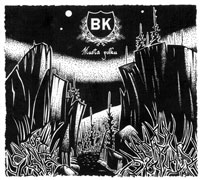 ..
Janne Helttunen - Vocals
Antti Leiviskä - Guitars
Petteri Korkala - Bass
JP Aunola - Drums
Influences:
Bird and Sars
Sounds Like:
Alternative rock
Record Label:
Korpinkynsi