Play

Play Next

Add to queue
Play

Play Next

Add to queue

4,212 plays

Play

Play Next

Add to queue

3,074 plays

Play

Play Next

Add to queue

1,091 plays

Play

Play Next

Add to queue

228,696 plays

Play

Play Next

Add to queue

16,488 plays
Genre: Alternative / Pop Punk / Punk

Location LEVITTOWN long island, New York, US

Profile Views: 649746

Last Login: 3/23/2012

Member Since 5/5/2005

Website betterthantoast.bigcartel.com

Record Label Unsigned

Type of Label Unsigned

Bio

.. .......... .. .... .... .. ..DOWNLOAD US AT THESE LINKS!!! :) ...... ...... ...... ...... ...... ...... ...... .... ...... ........ ......MERCH...... ...... .. Not allowed to buy things online? Message us and ask us how to mail away for Merch!.... .. .... FREQUENTLY ASKED QUESTIONS:.... ..Q-Are you really BETTER than toast?! .... .. A-Hell yes we are. See for your self!...... ..Q-How did you come up with the name Better Than Toast?! .... .. A- Years ago we found a sticker on the floor that said "Better Than Toast" on it. Dan put it on his guitar and ended up naming the band after it. Sticker was most likely from a box on English muffins! Haha ...... ..Q- Is your CD out?!.... .. A- YES!!! You can Download it off itunes, or buy it from our online store! www.betterthantoast.bigcartel.com...... ..Q-When are you coming to my town?! .... .. A- NEVER! haha jk, All our confirmed show dates are posted in our "shows" above. It is very hard for us to travel far being that we aren't signed...... ..Q-How can I support you guys?.... .. A-Help us out by Buying our Merch, and telling all your friends about BTT!.... .... .. Better Than Toast is a pop punk band formed in 2005. After writing and recording EP's and their full length album "Get Down", Better than toast has been making noise all around the world. With their catchy melodies and hooks, every person can relate to the music that sticks with them for days. "Do you cringe or smile at the thought of me are you gonna be mine don't worry I can wait", is a line that's an anthem to anyone confused about the person they have that secret crush on. .. ..The fans like to call themselves "TOASTIES" and are truly dedicated to helping the band out on their journey to success. Countless times they are encouraged to vote for contests and every time they come through and show their dedication and support. Their fans show up to shows and have pretty close relationships with the band on personal levels, which gets them more involved. Dan-Lead vocals explains, "We like to talk to our fans cause its cool to hear what they have to say about us and our music. Some say our music helps them get through the tough days, and some just listen because it makes them happy. It inspires us to keep writing and performing". Better Than Toast has grown and matured, ready to take it to the next level and make this their career and lives. .. .. .. ..........CLICK HERE TO SEE THE REVIEW OF BTT'S ALBUM "GET DOWN" IN MELODIC MAGAZINE!!!.......... ........CLICK HERE TO CHECK OUT DAN'S INTERVIEW IN MELODIC MAGAZINE!!!.............. ........You have been marked on my profile map! Click to zoom-in....... ......SPREAD THE WORD OF BTT!!!........................Copy and paste this on your myspace page to help spread the word about BTT!!!........

Members

....CLICK ON OUR PICTURE TO VIEW OUR PERSONAL MYSPACES...... ........Dan..Lead Vocals/Guitar..AIM S/N: PunkMasterToast..Email: ...... ........Steve..Lead Guitar/Backup Vocals..AIM S/N: blinksimple182........ ........Mike..Bass Guitar..AIM S/N: PunkMasterM........ ........Jimmy Cakes!..Drums/Cymbals..AIM S/N: N0nFction.......... ....BOOKING INQUIRES:........ Message us here, or email us at ............betterthantoastmail@yahoo.com............ .. .... .. .. .. .. .. .. .. ............................Local Events.... by Eventful..

Influences

..Green Day..Relient K..Motion City Soundtrack....Blink 182..Alkaline Trio..Just Surrender..New Found Glory..Matchbook Romance..MxPx..Mest.. and a lot more......

Sounds Like

your new favorite band ;o)
No recent updates in this category.
Why not...
03:13 | 207 plays | Mar 3 2008
Bio:
..
....
DOWNLOAD US AT THESE LINKS!!! :)





MERCH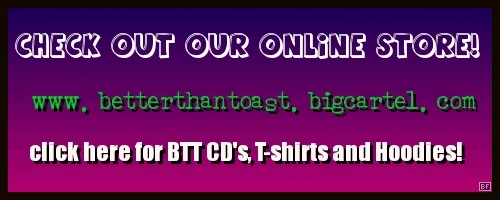 Not allowed to buy things online? Message us and ask us how to mail away for Merch!
FREQUENTLY ASKED QUESTIONS:
Q-Are you really BETTER than toast?!
A-Hell yes we are. See for your self!
Q-How did you come up with the name Better Than Toast?!
A- Years ago we found a sticker on the floor that said "Better Than Toast" on it. Dan put it on his guitar and ended up naming the band after it. Sticker was most likely from a box on English muffins! Haha
Q- Is your CD out?!
A- YES!!! You can Download it off itunes, or buy it from our online store! www.betterthantoast.bigcartel.com
Q-When are you coming to my town?!
A- NEVER! haha jk, All our confirmed show dates are posted in our "shows" above. It is very hard for us to travel far being that we aren't signed
Q-How can I support you guys?
A-Help us out by Buying our Merch, and telling all your friends about BTT!
Better Than Toast is a pop punk band formed in 2005. After writing and recording EP's and their full length album "Get Down", Better than toast has been making noise all around the world. With their catchy melodies and hooks, every person can relate to the music that sticks with them for days. "Do you cringe or smile at the thought of me are you gonna be mine don't worry I can wait", is a line that's an anthem to anyone confused about the person they have that secret crush on.
..The fans like to call themselves "TOASTIES" and are truly dedicated to helping the band out on their journey to success. Countless times they are encouraged to vote for contests and every time they come through and show their dedication and support. Their fans show up to shows and have pretty close relationships with the band on personal levels, which gets them more involved. Dan-Lead vocals explains, "We like to talk to our fans cause its cool to hear what they have to say about us and our music. Some say our music helps them get through the tough days, and some just listen because it makes them happy. It inspires us to keep writing and performing". Better Than Toast has grown and matured, ready to take it to the next level and make this their career and lives.
..
Members:
CLICK ON OUR PICTURE TO VIEW OUR PERSONAL MYSPACES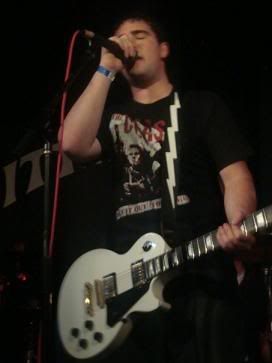 Dan
Lead Vocals/Guitar
AIM S/N: PunkMasterToast
Email: ....
Steve
Lead Guitar/Backup Vocals
AIM S/N: blinksimple182
....
Mike
Bass Guitar
AIM S/N: PunkMasterM
....
Jimmy Cakes!
Drums/Cymbals
AIM S/N: N0nFction
....
BOOKING INQUIRES:
Message us here, or email us at
betterthantoastmail@yahoo.com
Local Events

by Eventful
Influences:
Green Day
Relient K
Motion City Soundtrack..
Blink 182
Alkaline Trio
Just Surrender
New Found Glory
Matchbook Romance
MxPx
Mest
and a lot more
Better Than Toast has 76249 friends.