No recent updates in this category.
Why not...
Bubblegum Slut fanzine - 2000-2011 hasn't earned any badges yet... have you?
General

Glam, cock rock, bar-room blues, Americana, Sleaze, punk rock, goth rock, deathrock, rockabilly, psychobilly, horror punk, the odd bit of alt-country and folk punk, and above all glamourous, original and genre-defying rock'n'roll ;)

FILM

- Each issue featured a dedicated Horror section, while other movies tying in with the genral rock'n'roll theme of the zine occasionally featured.

FASHION

- Regular pages were dedicated to alternative fashion news, events and features and interviews with new designers.

ART

- Focusing on, but by no means limited to, lowbrow / poster art. Bubblegum Slut also featured artists inspired by music and best known for their record sleeves, photographers, tattooists, and art-meets-music exhibitions and events.

BOOKS

- Focusing on, though again not exclusively, band biography reviews and author interviews.

FILTH!

- Issues included interviews with Suicide Girls, burlesque troupes, the founder of the London School of Striptease, a dominatrix, reviews of pornos and cocktails alongside the records, and an insight from the editor into working in a sex shop for 6 months.

PLUS

clubs, fanzines, travel, caberet, competitions & more!
Bubblegum Slut fanzine - 2000-2011 has 10807 friends.
Play

Play Next

Add to queue
About me:
BUBBLEGUM SLUT' ZINE IS NOW ON INDEFINITE HIATUS - ONE DAY WE MIGHT RETURN BUT FOR NOW THERE ARE NO PLANS TO PUBLISH FURTHER ISSUES. THANKS TO EVERYONE WHO HAS SUPPORTED THE ZINE OVER ALMOST 11 YEARS IN PRINT!
BUBBLEGUM SLUT'S FAREWELL GIG - 10/06/11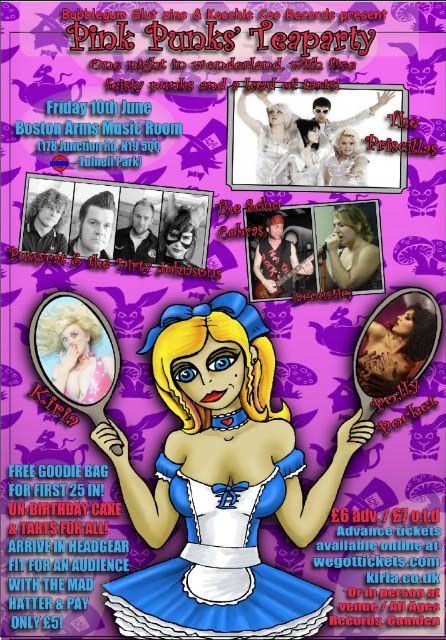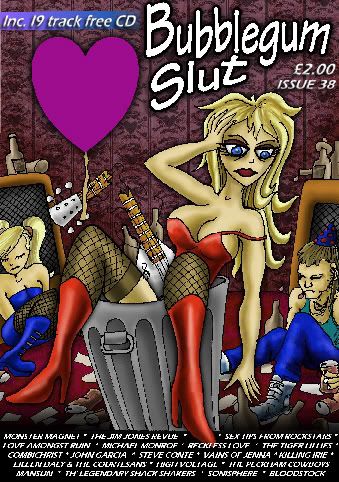 ISSUE 38 - FINAL EDITION (FOR NOW) The 'We Partied Too Hard' Issue : Michael Monroe / The Jim Jones Revue / The Tiger Lillies / Monster Magnet / Reckless Love / John Garcia (Kyuss Lives) / The Legendary Shack Shakers / CombiChrist / Vains of Jenna / Steve Conte (New York Dolls / Crazy Truth) / Love Amongst Ruin (Steve Hewitt - ex-Placebo) / Paul Miles - author of 'Sex Tips From Rock Stars' / Mansun - in Iss 38's Songs from a Wasted Youth / Eileen Daly & The Courtesans / Dismantled / The Peckham Cowboys (Guy Bailey - ex-Quireboys) / Killing Irie (feat. Mad Sin's Matt Vudu) / Cut-out 'Rock Club Bingo' / Festivals - Sonisphere, High Voltage, Bloodstock, Firefest, Dark Mills, Bulldog Bash / Shaneshit / ZZ Top / Twisted Sister / Semi Precious Weapons / Review of 2010
ON ISSUE 38'S SAMPLER CD : Evil Beaver / The Saints and Sinners / Punky Rebel Media / Lord Byron / The Barbarellatones / The Red Zoid / Mommy Sez No / The Eruptors / BareBones and Cabaret / CalatrilloZ / Viki Vortex and The Cumshots / The Outbursts / Hollywood Doll / Lesbian Bed Death / Mourning For Autumn / The Destructors / Suckerstarz / Aesthesia / Killing Irie

PayPal Storefront Widget
THE HISTORY:
Bubblegum Slut was the UK's only fake-fur covered fanzine. Dealing in Glam, Sleaze, Punk, Goth, Deathrock, Rockabilly and other big-haired and pre-1990 musical phenomenons other publications won't touch for fear of getting their barge pole all sticky with hairspray B.S brought a little sleazy make-up caked trash into the lives of those who found it forced upon them at gigs, indie shops and bars all over London, Essex and beyond.
Usually sold with the promise 'Well even if you don't read it, you can stroke the fluffy cover' 'Slut proved for one reason or another enduringly popular and in 2010 celebrated a decade in print! Whatever the public think, some of the big press seem to have enjoyed actually reading 'Slut with the likes of Bizarre, Kerrang!, Metal Hammer, Big Cheese, Dodgem Logic, Kaleidoscope and Mick Mercer blessing it with favourable reviews, while Rock Sound magazine branded it "diverse, informed & well-written... a shining example to fanzines everywhere! - 9/10".
In 2004 the Emap publishing group named Bubblegum Slut as one of just 5 shortlisted entries in the music catagory of its first annual Fanzine Awards and invited the editors to the awards bash in London's trendy Old Street. They were rewarded with attempts to drink the free bar dry, steal chunks of the venue and the kind of behaviour that caused an Emap employee to be slapped by his girlfriend. More shockingly, they invited Bubblegum Slut back again in 2005, making it one of only two zines to be nominated two consecutive years. This time awards presenter and indie ponce Steve Lamacq was persauded to pay good money for a copy of our fluffy mag.
Other members of the small press have even conducted interviews with the destructive editorial forces behind Bubblegum Slut. You can read interviews with Miss Alison B in
Long Gone Loser Magazine
,
Manilla Mag
,
Noisy Fanzine
,
Spider's Web zine
and at
Pure Rawk
,
The 'Slut also released 3 budget-priced compilations of bands as dirty as itself, including the 4K Kerrang! rated 'An Hour With Bubblegum Slut', and as of Issue 27, includes a free sampler CD with each edition.
I edited my profile with Thomas Myspace Editor V4.4 (
www.strikefile.com/myspace
)

To put any of these banners on your page simply copy and paste in the code in the box below it.

Who I'd like to meet:
Status:

In a Relationship

Here for:

Networking

Height:

0' 1"

Zodiac Sign:

Gemini