Play

Play Next

Add to queue
Play

Play Next

Add to queue

5 plays

Play

Play Next

Add to queue

3 plays

Play

Play Next

Add to queue

2 plays

Play

Play Next

Add to queue

14 plays

Play

Play Next

Add to queue

5 plays
Genre: Experimental / Psychedelic / Southern Rock

Location Fort Wayne, Indiana, US

Profile Views: 2645

Last Login: 12/14/2010

Member Since 12/21/2005

Website http://www.cabmusic.net

Record Label Sweet & Sick Records

Type of Label Indie

Bio

....FEATURE REMIXES FROM CAB.... ..I did my first remix in 2004. I approach the task much the same as I do my own song writing, and most of my remixes are really more of a rewrite. I really enjoy taking songs and transforming them into something the same but different. I hadn't remixed anything for a year or so, and then I found a site called www.indaba.com where they hold contests for remixing and it costs nothing to enter. You can win prizes and royalties. So, I decided to take up the trade again... .. My name is Christopher Allen Breidinger. My stage name is CAB. I like to consider myself a multi-talented artist, as I am a man of many talents. I'm a jack of many trades, and I am constantly working to master at least one of them. I was born in Missouri, lived in Texas, Arkansas, and Wisconsin, but have resided most of my life in Indiana. I have been married for 15 years, and have 3 children. My family is my world... ..My greatest passion is music. I am a singer/songwriter. I began writing poems when I was 8, and was published in several amatuer anthologies in my early teens. At 15, I got my first electric guitar, and I taught myself how to play it. The transition from poet to songwriter was a natural step for me after that. I have had the pleasure of playing my original music at the World Famous Captain Carl's Buck Lake Ranch, Piere's Entertainment Center, and the Indianapolis 500 Festival Marathon. I have recorded my original music at Sweetwater Studios in Fort Wayne,IN. and at OmniSound Studios in Nashville, TN. I am a member of ASCAP. I have had 2 of my original songs placed in an Indie film called "Behind Bars" by Chris Bales. I have a home studio called Tangled Chord Studios, and I also record and produce, mostly just my own stuff. I run a record label called Sweet & Sick Records as my own vanity label... ..Currently, I am attending Full Sail University Online, getting a Bachelors of Science degree in Entertainment Business. I just received Full Sail University's Ace Award for Best Rock Song, which is my first award ever. I front a band called Big Dick and the Penetrators, and play original and cover music live as much as possible. Even with all the struggles of the times, I can't help but hold onto my hope and strive towards my personal fulfillment. My goals are many, and for now I plan to continue working on my skills, and hone my crafts until I find the opportunity that I KNOW is out there for me. Eventually, I would like to plan on opening my own business in the entertainment industry...

Members

CAB ......

Influences

All Music

Sounds Like

CAB
No recent updates in this category.
Why not...
Bio:
FEATURE REMIXES FROM CAB

I did my first remix in 2004. I approach the task much the same as I do my own song writing, and most of my remixes are really more of a rewrite. I really enjoy taking songs and transforming them into something the same but different. I hadn't remixed anything for a year or so, and then I found a site called
www.indaba.com
where they hold contests for remixing and it costs nothing to enter. You can win prizes and royalties. So, I decided to take up the trade again.
My name is Christopher Allen Breidinger. My stage name is CAB. I like to consider myself a multi-talented artist, as I am a man of many talents. I'm a jack of many trades, and I am constantly working to master at least one of them. I was born in Missouri, lived in Texas, Arkansas, and Wisconsin, but have resided most of my life in Indiana. I have been married for 15 years, and have 3 children. My family is my world.
My greatest passion is music. I am a singer/songwriter. I began writing poems when I was 8, and was published in several amatuer anthologies in my early teens. At 15, I got my first electric guitar, and I taught myself how to play it. The transition from poet to songwriter was a natural step for me after that. I have had the pleasure of playing my original music at the World Famous Captain Carl's Buck Lake Ranch, Piere's Entertainment Center, and the Indianapolis 500 Festival Marathon. I have recorded my original music at Sweetwater Studios in Fort Wayne,IN. and at OmniSound Studios in Nashville, TN. I am a member of ASCAP. I have had 2 of my original songs placed in an Indie film called "Behind Bars" by Chris Bales. I have a home studio called Tangled Chord Studios, and I also record and produce, mostly just my own stuff. I run a record label called Sweet & Sick Records as my own vanity label.
Currently, I am attending Full Sail University Online, getting a Bachelors of Science degree in Entertainment Business. I just received Full Sail University's Ace Award for Best Rock Song, which is my first award ever. I front a band called Big Dick and the Penetrators, and play original and cover music live as much as possible. Even with all the struggles of the times, I can't help but hold onto my hope and strive towards my personal fulfillment. My goals are many, and for now I plan to continue working on my skills, and hone my crafts until I find the opportunity that I KNOW is out there for me. Eventually, I would like to plan on opening my own business in the entertainment industry.
Member Since:
December 21, 2005
Members:
CAB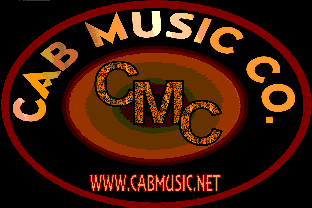 Influences:
All Music
Sounds Like:
CAB
Record Label:
Sweet & Sick Records