Play

Play Next

Add to queue
Location L.A, California, US

Profile Views: 2927164

Last Login: 7/16/2008

Member Since 3/27/2008

Website disneychannel.com/camprock

Record Label Walt Disney Records

Type of Label Major

Bio

.. .... .... .. Camp Rock tells the rock n' roll Cinderella story of Mitchie Torres (Demi Lovato), a teen with an extraordinary voice and a driving ambition to be a pop singer who wants to spend her summer at a prestigious rock camp. Unfortunately, an expensive music camp is a bit out of reach for her family, but her mother gets a job as Camp Rock's cook so that Mitchie can attend as long as she helps out in the kitchen between classes. Befriended by fellow camp member Caitlyn (Alyson Stoner) but intimidated by the immensely talented Tess Tyler (Meaghan Jette Martin) and her friends Peggy (Jasmine Richards) and Ella (Anna Maria Perez de Tagle), Mitchie lives a double life hiding that she is the cook's daughter and posing as a well-to-do camper in order to become part of the hottest clique at camp. When she's overheard singing, but not seen, by teen pop star and celebrity camp instructor, plus lead singer of Connect Three, Shane Gray (Joe Jonas), he is completely taken and sets out to find the girl behind the beautiful voice. Meanwhile, Mitchie will have to learn how to confront her fears, step out of the kitchen and into the spotlight as her true self. ........ Videos:.. .. DCOM EXTRA!(Behing the Scenes) .. .. .. .. .. .. Trailer .. .. .. .. .. .. .. Camp Rock Girls' PHOTOSHOOT with POPSTAR!.. .. .. .. .. .. .. ..MUSIC VIDEOS:.. .. We Rock! .. .. .. .. .. .. .. Play My Music! .. .. .. .. .. .. .. Demi & Alyson Doing "Nick J Dance" .. .. .. .. .. .. .. Teen Magazine: Meet the Girls of Camp Rock! .. .. .. .. .. .. .. Start the Party Video.. .. .. .. .. .. .. Jonas Brothers on the set of Camp Rock .. .. .. .. .. .. .. Camp Rock Premiere! Before & After .. .. .. .. .. .. .. What's The Buzz?Jonas Brothers Interview .. .. .. .. .. .. .. .. .. .. .. .. .. .. .. .. .. .. .. ..

Members

.. Joe Jonas as Shane Gray .. Demi Lovato as Mitchie Torres.. Nick Jonas as Nate .. Kevin Jonas as Jason .. Alyson Stoner as Caitlyn .. Meaghan Jette Martin as Tess Tyler .. Anna Maria Perez de Tagle as Ella .. Jasmine Richards as Peggy .. Maria Canals as Connie Torres .. Aaryn Doyle as Lola .. .... .. .... .. .... .. .... .. .... .. .... .. .... .. .... .. ....

Influences

.. .... .. .. .. ..We Rock- Around The World .. .. .. .. .. .. .. Camp Rock-"Rock On" Speacial Part 1 .. .. .. .. .. .. .. Camp Rock-"Rock On" Speacial Part 2 .. .. .. .. .. .. .. Camp Rock-"Rock On" Speacial Part 3 .. .. .. .. .. .. ..Camp Rock-"Rock On" Speacial Part 4 .. .. .. .. .. ..

Sounds Like
No recent updates in this category.
Why not...
Bio:
..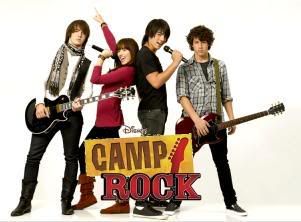 ..
Camp Rock tells the rock n' roll Cinderella story of Mitchie Torres (Demi Lovato), a teen with an extraordinary voice and a driving ambition to be a pop singer who wants to spend her summer at a prestigious rock camp. Unfortunately, an expensive music camp is a bit out of reach for her family, but her mother gets a job as Camp Rock's cook so that Mitchie can attend as long as she helps out in the kitchen between classes. Befriended by fellow camp member Caitlyn (Alyson Stoner) but intimidated by the immensely talented Tess Tyler (Meaghan Jette Martin) and her friends Peggy (Jasmine Richards) and Ella (Anna Maria Perez de Tagle), Mitchie lives a double life hiding that she is the cook's daughter and posing as a well-to-do camper in order to become part of the hottest clique at camp. When she's overheard singing, but not seen, by teen pop star and celebrity camp instructor, plus lead singer of Connect Three, Shane Gray (Joe Jonas), he is completely taken and sets out to find the girl behind the beautiful voice. Meanwhile, Mitchie will have to learn how to confront her fears, step out of the kitchen and into the spotlight as her true self.
Videos:


DCOM EXTRA!(Behing the Scenes)
Trailer

Camp Rock Girls' PHOTOSHOOT with POPSTAR!

MUSIC VIDEOS:
We Rock!

Play My Music!

Demi & Alyson Doing "Nick J Dance"

Teen Magazine: Meet the Girls of Camp Rock!

Start the Party Video

Jonas Brothers on the set of Camp Rock

Camp Rock Premiere! Before & After

What's The Buzz?Jonas Brothers Interview


Member Since:
March 27, 2008
Members:
Joe Jonas as Shane Gray
Demi Lovato as Mitchie Torres
Nick Jonas as Nate
Kevin Jonas as Jason
Alyson Stoner as Caitlyn
Meaghan Jette Martin as Tess Tyler
Anna Maria Perez de Tagle as Ella
Jasmine Richards as Peggy
Maria Canals as Connie Torres
Aaryn Doyle as Lola
..
..
..
..
..
..
..
..
..
Influences:
..
..
We Rock- Around The World

Camp Rock-"Rock On" Speacial Part 1

Camp Rock-"Rock On" Speacial Part 2

Camp Rock-"Rock On" Speacial Part 3

Camp Rock-"Rock On" Speacial Part 4

Record Label:
Walt Disney Records
Camp Rock has 66018 friends.