No recent updates in this category.
Why not...
Cat Aclysmic hasn't earned any badges yet... have you?
General

Picture by Stuart Crawford

..

My interests include tattoos: a mix of Art Nouveau and Old School styles the most recent were done by Kev of Tribe 2 in Kelvinbridge and Rog of From Beyond in Cessnock, Fetish culture and working with new and interesting photographers like Hamish Scott-Brown and Artpunk, Fashion in all its wonderful and ridiculous forms, Aubrey Beardsley, Erte, Low Brow Art, Varga Girls, Sailor Jerry, psychobilly, punk, graphic novels, Burlesque and Vaudeville, professional pyromaniacy, dancing till my feet fall off then dancing on the bloody stumps


Music

the Clash

,

Richard Hell

,

Iggy Pop

,

X

,

Velvet Underground

,

Johnny Thunders

,

Dead Boys

,

Television

,

the Sonics

,

Horror Pops

,

Wanda Jackson

,

Dick Dale

,

Link Wray

,

the Cramps

,

the Meteors

,

Siouxsie Sioux

,

Bauhaus

,

the Faint

,

45 Grave

,

Elvis Costello

,

Nico

,

Lovage

,

Elliot Smith

,

the Causey Way

,

Weezer

,

the Queers

,

Operation Ivy

,

the Red Aunts

,

the Pretenders

,

Badly Drawn Boy

,

the Rezillos

,

Sleater-Kenny

,

the Vibrators

,

the Epoxies

,

the Dresden Dolls

,

Regina Spektor

,

Fiona Apple

,

Scissor Sisters

,

Ani Difranco

,

the Smiths

,

Poison

,

Motley Crue

,

Black Sabbath

,

the Dexateens

,

Model Citizen

,

Peggy Lee

,

Billie Holiday

,

Rufus Wainright


Movies

Books

Milan Kundera, Jane Austen, the Bronte sisters, Neil Gaiman, Clive Barker, Dion Fortune, Terry Pratchett, Jhonen Vasquez, Alan Moore
With poetry it's Jack Gilbert, Larry Levis, Norman MacCaig, Carolyn Forche, TS Eliot, and Jim Carroll.
I also like Calvin and Hobbes.

Heroes
Play

Play Next

Add to queue
About me:
..

Myspace Layouts - Myspace Editor - Hot Comments - Image Hosting
..
Cat Aclysmic is the ultimate Southern Belle gone bad. This tattooed terror from the depths of Dixie blends British wit and American burlesque with fire and dance to create larger than life characters and sex-charged satire. Unforgettable, original, and deeply entertaining Cat Aclysmic is truly the hottest thing from the North to come out of the South. Check out www.cataclysmic.me.uk for more information.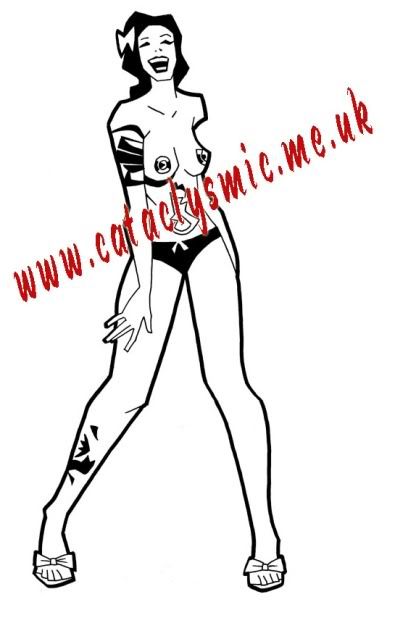 "Cat Aclysmic – Hot stuff in more ways than one" BBC Leeds

"The captivating Cat Aclysmic can compress complex concepts into five minute bursts of romanticism or fire-fanning mayhem." The Skinny

"Burlesque delight… a tease of mind and body" The List

---
Cat Aclysmic's acts range from bump and grind striptease to her own hilarious take on nouveau burlesque. For booking information and a list of Cat Aclysmic's current acts and showreel go to www.cataclysmic.me.uk


---
---
As well as burlesque, Cat Aclysmic offers a full range of bespoke fire acts: fire fans, fire breathing, fire eating, and body burning to suit any event. Contact her at www.cataclysmic.me.uk for more information.
---
---
Who I'd like to meet:
Though born with a severe allergy to small talk, Cat Aclysmic makes the effort to meet people whenever presented with a drink, a smile, or a designer gown (preferably Dior or McQueen, but she's not too choosy). Bad habits include a tendency to refer to herself in the third person and the ability to make truly atrocious knitwear. Most of all she prides herself on her friends, her writing, and her need to do something different and do it well - passion and talent are the two most important qualities you can have, followed closely by nice tits.
..
Status:

Single

Here for:

Networking, Friends

Hometown:

Someplace you've never heard of, Alabama

Body type:

5' 9" / Slim / Slender

Ethnicity:

White / Caucasian

Zodiac Sign:

Virgo

Children:

I don't want kids

Occupation:

burlesque and fire performer