Play

Play Next

Add to queue
Play

Play Next

Add to queue

197 plays

Play

Play Next

Add to queue

90 plays

Play

Play Next

Add to queue

105 plays

Play

Play Next

Add to queue

104 plays

Play

Play Next

Add to queue

59 plays
Genre: Folk Rock / Rock

Location New York City, New York, US

Profile Views: 55104

Last Login: 9/25/2012

Member Since 1/14/2009

Website www.catcaughtlark.com

Type of Label Unsigned

Bio

In the rainy and cold autumn of year 2008 Johann Kolstrup entered a low-ceilinged and dim illuminated little club. At the stage Camilla Bang was playing. There was no doubt that this beautiful young guitarist and singer was going to be his girlfriend and not least his musical partner. These thoughts should prove to be in vain since miss Bang lived happily with her boyfriend. However the starting signal of CAT CAUGHT LARK wasn't given before a friend reminded Johann that one doesn't necessarily have to be together with a girl to be able to play music with her! BACKGROUND Previously Johann has worked together with Søren Balsner and (Carpark North), Asger Tarpgaard (Superheroes and Private). Further Johann has been a live member of the Danish Electropop band SMALL. Camilla Bang let her hair down at the Calibre 8 theatre and has been singing and playing in different musical relations. Camilla had never before played her own songs in front of an audience and thus in CAT CAUGHT LARK it is the first time that they leave home. Together with producer Jens Søndergaard (Powersolo) The Duo recorded a live- recording session in November 2009. Further CAT CAUGHT LARK was asked to join Singer Songwriter Mads Langer's autumn tour 2009. The last show on the tour was played in Skive on November 28th. CAT CAUGHT LARK played three shows in Berlin in December 2010 with great success. As a result the Berliner magazine Trash Kulture brings an interview in the April magazine. CAT CAUGHT LARK will record their debut album in July and August this year in the SUN studio in Copenhagen where the Danish band Kashmir rehearsed and recorded until 2006. CAT CAUGHT LARK was in May 2010 picked out as winners of YoungBeats given them the honour and a concert at the biggest venue in Copenhagen (Pumpehuset). REVIEWS "Together with Camilla Bang, Johann Kolstrup has crafted a number of blues-folk songs without a spare ounce of fat that have barely left the bedroom until now presented live" [POLITIKEN] The first CAT CAUGHT LARK concert was played at RUST on the 18th of December 2008 when the duo received the title "Soundvenue Selected". For that occasion Adam Thorsmark from the SOUNDVENUE magazine wrote the following: "CAT CAUGHT LARK is a new musical twosomeness that can put hearts on fire. Armed with a guitar and two highly enthusiastic and light wafting vocals, that compliment each other in a brilliant way, Kolstrup and Bang are moving toward a dreaming ground; where the cowboy is staring at the sunset with his guitar in one hand and his muse in the other. Where one – as their song title "Lean Back" hints – leans back in the soft armchair on the porch in the wild west. In other words CAT CAUGHT LARK snug and intimate people warm well and truly in Decembers stingy hours of sun." The following was said about CAT CAUGHT LARK after their concert on February 13, 2009 at Musikcafeen in Aarhus (Denmark): "…an evocative and sublime musical performance that moved toward a melancholic country-inspired singer-songwriter universe. Camilla Bang encircled the audience with her intense, soft, warm voice. Helped by a melancholic and crunchy vocal, including a solid falsetto, Johann Kolstrup […] directed our thoughts toward a lonely cowboy on the prairie. Moreover, the timbre of their voices was divine and beautiful. In combination with a fabulous, solid guitar accompaniment, the result was an urging and moving musical experience." [Maja Egebo Schriver, Kultu Naut] ::: 2008 ::: October CAT CAUGHT LARK is formed on Vesterbrogade 38 in Copenhagen where the duo rehearses in Johann' little room. ::: 2009 ::: The Studio The studio recordings were recorded in Febuary 2009 and was produced by Laust Faerch. The dogma was to record all songs live and with only three tries (takes) for each song, picking the best take in the end. With no drums or clicks to guide, Camilla and Johann were facing each other in order to get a mutual focus. All songs were recorded on a big old fashion tape recorder giving the sound a special atmosphere. Camilla plays a Western while Johann plays the electric hollow body, like at the top banner picture. Autumn Tour August, CAT CAUGHT LARK was asked if they wanted to join MADS LANGER on his Autumn tour. December CAT CAUGHT LARK play their first gigs outside Denmark in Berlin. What was suppose to be only one gig ended up being three. ::: 2010 ::: May CAT CAUGHT LARK wins the danish band-video competition YoungBeats in Pumpehuset, Copenhagen. June and July CAT CAUGHT LARK are back from a fantastic trip to New York City. They stayed for a month and played more than 10 gigs. Finally the duo made two music videos with the American film producer Jimmy Allen. "Boy vs. Girl" was shot on Washington Square in front of the fountain with The Arch of Triumph in the back ground. "As I Wake You Up" was shot in a very old creepy abandon building in Lower East Side around Ridge St. The last pictures was recorded by the Brooklyn riverbank underneath the Manhattan Bridge with a beautiful view overlooking the Brooklyn Bridge and lower Manhattan. July and August, Sun Studios Copenhagen CAT CAUGHT LARK have been recording more that 10 songs in SUN Studios in Copenhagen. These are however still being worked on as these lines are put down. Creating music coming from the heart takes time! ::: 2011 ::: February, Johann Moves to New York Johann moves to New York City to work on his thesis in Cell Biology and of course THE MUSIC! According to the plan either Camilla comes to The States or Johann to Europe on what the duo refers to as "hot spots" meaning that she'll or he'll be joining up to different events like tours, recording, photo shoots and so on and so forth. The first "hot spot" was in March 2011. March Camilla arrives at New York City on March 7th to join up with Johann and reignite the CAT CAUGHT LARK magic in The American Capital of Art. This time it was as if the duo had reached a whole new level of live performance. Something had directed the CAT CAUGHT LARK ship into performing with a mutual live expression that the duo had not ever experienced before. Especially this is shown on the five live recorded songs from a performance at Pianos in New York City. These are available at the CAT CAUGHT LARK myspace profile. Early on March 15th CAT CAUGHT LARK flies out to Austin in Texas to play at the annual South by South West festival in Austin. The well-respected Radio host John Aielli from KUT radio wrote the following: "really enjoyed [red. the CAT CAUGHT LARK] set at the Cherrywood Coffeehouse…Nice voices, nice harmonies, good songs, good guitars. Plus [red. the duo] really sing in tune which is critical for a group [like CAT CAUGHT LARK]". Not only did Mr. Aielli like CAT CAUGHT LARK live but indeed he played the first ever CAT CAUGHT LARK song on the radio on Wednesday March 23rd 2011. GIGOGRAPHY 18.12.08 – RUST, (Cph), DK 09.01.09 – Studenterhuset, (Cph), DK 16.01.09 – Café Zusammen, (Cph), DK 22.01.09 – Lades Kaelder, (Cph), DK 13.02.09 – Musikcafeen, (Aarhus), DK 11.04.09 – Toldkammeret, (Helsingør), DK 14.05.09 – RUST, (Cph), DK 10.09.09 – Jolene, (Cph), DK 18.09.09 – Studenterhuset, (Cph), DK 22.10.09 – RUST, (Cph), DK 30.10.09 – Huset, (Nakskov), DK w/Mads Langer 31.10.09 – Stars, (Vordingborg), DK w/Mads Langer 06.11.09 – Godset, (Kolding), DK w/Mads Langer 07.11.09 – Vershuset, (Næstved), DK w/Mads Langer 14.11.09 – Klauzdal, (Herlev), DK w/Mads Langer) 21.11.09 – Elværket, (Holbæk), DK w/Mads Langer 28.11.09 – Skive Theater, (Skive), DK w/Mads Langer 26.12.09 – Intersoup, (Berlin), DE 28.12.09 – Révé Génerale, (Berlin), DE 30.12.09 – Révé Génerale, (Berlin), DE 11.01.10 – Bad Coffee Studio, (Cph), DK 22.01.10 – Studenterhuset, (Cph), DK 06.03.10 – Toldkammeret, (Helsingør), DK 24.03.10 – The Blue Pharmacy (Blaa Gaards Apotek), (Cph), DK 29.04.10 – Studenterhuset, (Aarhus), DK 21.05.10 – Krudttønden, (Cph), DK 10.06.10 – Pumpehuset, (Cph), DK 12.06.10 – Gronjordskollegiet, (Cph), DK 20.06.10 – Arlene's Grocery, (New York City), US 22.06.10 – Pete's Candy Store, (New York City), US 29.06.10 – The Living Room, (New York City), US 30.06.10 – Goodbye Blue Monday (New York City), US 08.07.10 – The National (New York City), US 08.07.10 – Lucky Jack's (New York City), US 09.07.10 – Side Walk Café (New York City), US 11.07.10 – Café Vivaldi (New York City), US 06.08.10 – New Note Festival (Hillerød), DK 16.09.10 – Rust (Copenhagen), DK 20.12.10 – Café Musiksmag (Copenhagen), DK 18.01.11 – Café Den Røde Hund (Copenhagen), DK 08.03.11 – Pianos, Showroom (New York City), US 09.03.11 – National Underground (New York City), US 12.03.11 – The Livingroom (New York City), US 16.03.11 – Cherrywood Coffeehouse (Austin, TX), SXSW, US 17.03.11 – Dirty Bill's (Austin, TX), SXSW, US 18.03.11 – Cherrywood Coffeehouse (Austin, TX), SXSW, US 19.03.11 – Genuine Joe's (Austin, TX), SXSW, US

Members

CONTACT/BOOKING: .. ..+45 60847349 or .. ..JKOLSTRUP@CATCAUGHTLARK.COM.. .. ........ CAMILLA BANG.. (Rythm 'n' Melody Guitar, Harmonica and Vocals).......... ...... .. JOHANN KOLSTRUP.. (Rythm 'n' Solo Guitar, Keys and Vocals).. ...... .. .. .. .. .. ..

Influences

J.J. Cale.. Gillian Welch.. Rolling Stones.. Bob Dylan.. Tom Waits.. M. Ward.. Johnny Cash.. Ryan Adams.. Neil Young.. The Smiths.. .. .. ..

Sounds Like

CAT CAUGHT LARK .. .. .... .. .. .. .. .. .... .. .. .. .. .. .. .. .. ...... .. .. .. .. .. .. .. .. .. .. .. .. .. .. .. ..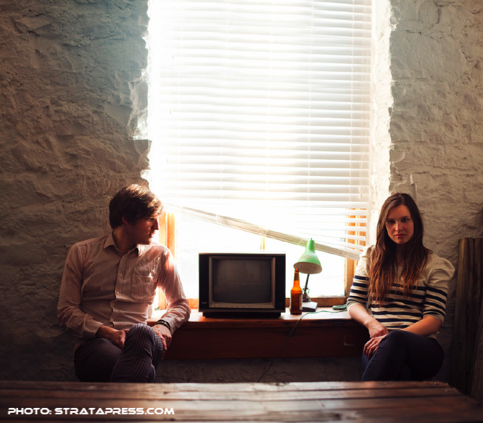 IN the rainy and cold autumn of year 2008 Johann Kolstrup entered a low-ceilinged and dim illuminated little club. At the stage Camilla Bang was playing. There was no doubt that this beautiful young guitarist and singer was going to be his girlfriend and not least his musical partner. These thoughts should prove to be in vain since miss Bang lived happily with her boyfriend. However the starting signal of CAT CAUGHT LARK wasn't given before a friend reminded Johann that one doesn't necessarily have to be together with a girl to be able to play music with her!

BACKGROUND
Previously Johann has worked together with Søren Balsner and (Carpark North), Asger Tarpgaard (Superheroes and Private). Further Johann has been a live member of the Danish Electropop band SMALL. Camilla Bang let her hair down at the Calibre 8 theatre and has been singing and playing in different musical relations. Camilla had never before played her own songs in front of an audience and thus in CAT CAUGHT LARK it is the first time that they leave home. Together with producer Jens Søndergaard (Powersolo) The Duo recorded a live- recording session in November 2009. Further CAT CAUGHT LARK was asked to join Singer Songwriter Mads Langer's autumn tour 2009. The last show on the tour was played in Skive on November 28..th… CAT CAUGHT LARK played three shows in Berlin in December 2010 with great success. CAT CAUGHT LARK finished the recordings of their debut album in July 2011. The work was already initiated during a twelve day session in July and August 2010. However due to Johann's research in the field of Cell Biology Research and Camilla's theater it was postponed.

The 2010 sessions in Copenhagen was carried out in STC Studios (previously named SUN Studios) in Copenhagen where among others the Danish band Kashmir rehearsed and recorded until 2006 and the major Danish solo artist Tim Christensen just finished his 4th studio album.
The CAT CAUGHT LARK album was finally finished in a fourteen day session with technician Serge Espitia in his brand new studio Tiny Thunder Audio in Brooklyn. Serge had just quit working at Stratosphere Studios on Manhattan.


REVIEWS

Danish Music Magazine GAFFA, November 11th 2011
Danish Music Magazine, GAFFA Review: (...) An album that from beginning to end is a pleasant and often melancholic sounding size spun around Bang and Kolstrups voices that stand strong together and as a rule of thumb fosters really fine vocal harmonies, as can be heard on for instance Black Page (...). Occasionally however the pace as well as the intensity is turned up which, is something, that suits the duo who thus on tracks like the gentle swishing Marie, the BRMC anno Howl-associational Boy Girl and the dirty case Come On Girl appears the finest (...) the duo's potential can not be denied.

The New York City Arts and Culture Guide Unveiled Arts, June 27th 2011:
"Cat Caught Lark is the moniker donned by Danish singer-songwriters (and recent NYC arrivals) Johann Kolstrup and Camilla Bang. This duo's bluesy/folksy numbers combine Camilla's quietly strummed acoustic guitar, Johann's keen electric lines and the pair's siren-like vocals. As far as boy-girl duos go, these guys walk the tightrope between the quiet calm of Swell Season and the rawness (though slightly more subdued, i.e. sans drummer) of the late White Stripes. But what makes them distinctive is the Kolstrup's guitar, poking through the gauzy layers and creating repetitive harmonies that dance with the vocals. They claim to have taken "Bob Dylan's attitude, M. Ward's country tones, and Johnny Cash's heart" and fused it into a sound that's both comforting and at times surprising. You might want to trust them on that." [Elie Lichtschein]

KUT Radio Austin Texas, March 23rd 2011: "I really enjoyed [red. the CAT CAUGHT LARK] set at the Cherrywood Coffeehouse[...] Nice voices, nice harmonies, good songs, good guitars. Plus [red. the duo] really sing in tune which is critical for a group [like CAT CAUGHT LARK]".

Danish News Paper POLITIKEN, March 20th 2009:
"Together with Camilla Bang, Johann Kolstrup has crafted a number of blues-folk songs without a spare ounce of fat that have barely left the bedroom until now presented live"

Danish Music Magazine SOUNDVENUE, December 18th 2008:
"CAT CAUGHT LARK is a new musical twosomeness that can put hearts on fire. Armed with a guitar and two highly enthusiastic and light wafting vocals, that compliment each other in a brilliant way, Kolstrup and Bang are moving toward a dreaming ground; where the cowboy is staring at the sunset with his guitar in one hand and his muse in the other. Where one – as their song title "Lean Back" hints – leans back in the soft armchair on the porch in the wild west. In other words CAT CAUGHT LARK snug and intimate people warm well and truly in Decembers stingy hours of sun." [Adam Thorsmark]

KULTU NAUT, February 13, 2009:
"…an evocative and sublime musical performance that moved toward a melancholic country-inspired singer-songwriter universe. Camilla Bang encircled the audience with her intense, soft, warm voice. Helped by a melancholic and crunchy vocal, including a solid falsetto, Johann Kolstrup […] directed our thoughts toward a lonely cowboy on the prairie. Moreover, the timbre of their voices was divine and beautiful. In combination with a fabulous, solid guitar accompaniment, the result was an urging and moving musical experience." [Maja Egebo Schriver]


TIMELINE
CAT CAUGHT LARK

::: 2008 :::

October
CAT CAUGHT LARK is formed on Vesterbrogade 38 in Copenhagen where the duo rehearses in Johann' little room.

::: 2009 :::

February
The first studio recordings were produced by Laust Faerch. The dogma was to record all songs live and with only three tries (takes) for each song, picking the best take in the end. With no drums or clicks to guide, Camilla and Johann were facing each other in order to get a mutual focus. All songs were recorded on a big old fashion tape recorder giving the sound a special atmosphere. Camilla plays a Western while Johann plays the electric hollow body, like at the top banner picture.

Autumn Tour
In August CAT CAUGHT LARK was asked if they wanted to join MADS LANGER on his Autumn tour which they did.

December
CAT CAUGHT LARK play their first gigs outside Denmark in Berlin. What was suppose to be only one gig ended up being three because of the succes at the first performance.

::: 2010 :::

May
CAT CAUGHT LARK wins the danish band-video competition YoungBeats in Pumpehuset, Copenhagen.

June - July
CAT CAUGHT LARK are back from a fantastic trip to New York City. They stayed for a month and played more than 10 gigs. Finally the duo made two music videos with the American film producer Jimmy Allen.
"Boy vs. Girl" was shot on Washington Square in front of the fountain with The Arch of Triumph in the back ground.
"As I Wake You Up" was shot in a very old creepy abandon building in Lower East Side around Ridge St. The last pictures was recorded by the Brooklyn riverbank underneath the Manhattan Bridge with a beautiful view overlooking the Brooklyn Bridge and lower Manhattan.

July - August
STC Studios
CAT CAUGHT LARK have been recording more that 10 songs in SUN Studios in Copenhagen. These are however still being worked on as these lines are put down duo to a sudden cancellation of the CAT CAUGHT LARK recording sessions by SUN Studios.

::: 2011 :::

February
Johann moves to New York City to work on his thesis in Cell Biology and of course the music! According to the plan either Camilla comes to The States or Johann to Europe on what the duo refers to as "hot spots" meaning that she'll or he'll be joining up to different events like tours, recording, photo shoots and so on and so forth. The first "hot spot" was in March 2011.

March
Camilla arrives at New York City on March 7th to join up with Johann and reignite the CAT CAUGHT LARK magic in The American Capital of Art. This time it was as if the duo had reached a whole new level of live performance. Something had directed the CAT CAUGHT LARK ship into performing with a mutual live expression that the duo had not ever experienced before. Especially this is shown on the live recorded songs from a performance at Pianos in New York City. These are available at the CAT CAUGHT LARK myspace profile. Early on March 15th CAT CAUGHT LARK flies out to Texas to play at the annual South by South West festival in the Texan capital Austin. The well-respected Radio host John Aielli from KUT radio wrote the positive words about the duo as can be seen in the Reviews. Not only did Mr. Aielli like CAT CAUGHT LARK live but indeed he, as the first radio host ever, played the first CAT CAUGHT LARK song on air on Wednesday March 23rd 2011.

July - August
CAT CAUGHT LARK records and mixes their debut album over a fourteen day session in the Brooklyn based Tiny Thunder Audio, with technician Serge Espitia behind the mixer. On the side of recording the duo played several concerts at well respected venues in the Lower East Side and Brooklyn.

September
The duo is preparing the debut release.

Oktober - November
The debut album is released

GIGOGRAPHY
18.12.08 – RUST, (Cph), DK
09.01.09 – Studenterhuset, (Cph), DK
16.01.09 – Café Zusammen, (Cph), DK
22.01.09 – Lades Kaelder, (Cph), DK
13.02.09 – Musikcafeen, (Aarhus), DK
11.04.09 – Toldkammeret, (Helsingør), DK
14.05.09 – RUST, (Cph), DK
10.09.09 – Jolene, (Cph), DK
18.09.09 – Studenterhuset, (Cph), DK
22.10.09 – RUST, (Cph), DK

:: TOURING WITH MADS LANGER ::
30.10.09 – Huset, (Nakskov), DK
31.10.09 – Stars, (Vordingborg), DK
06.11.09 – Godset, (Kolding), DK
07.11.09 – Vershuset, (Næstved), DK
14.11.09 – Klauzdal, (Herlev), DK
21.11.09 – Elværket, (Holbæk), DK
28.11.09 – Skive Theater, (Skive), DK

:: BERLIN ::
26.12.09 - Intersoup, (Berlin), DE
28.12.09 – Révé Génerale, (Berlin), DE
30.12.09 – Révé Génerale, (Berlin), DE

11.01.10 – Bad Coffee Studio, (Cph), DK
22.01.10 – Studenterhuset, (Cph), DK
06.03.10 – Toldkammeret, (Helsingør), DK
24.03.10 – Blaa Gaards Apotek, (Cph), DK
29.04.10 – Studenterhuset, (Aarhus), DK
21.05.10 – Krudttønden, (Cph), DK
10.06.10 – Pumpehuset, (Cph), DK
12.06.10 – Gronjordskollegiet, (Cph), DK

:: US SUMMER TOUR 2010 ::
20.06.10 – Arlene's Grocery, (New York City), US
22.06.10 – Pete's Candy Store, (Brooklyn, NY), US
29.06.10 – The Living Room, Downstairs (New York City), US
30.06.10 – Goodbye Blue Monday (Brooklyn, NY), US
08.07.10 – The National (New York City), US
08.07.10 – Lucky Jack's (New York City), US
09.07.10 - Side Walk Café (New York City), US
11.07.10 – Café Vivaldi (New York City), US

06.08.10 - New Note Festival (Hillerød), DK
16.09.10 - Rust (Copenhagen), DK
20.12.10 – Café Musiksmag (Copenhagen), DK
18.01.11 – Café Den Røde Hund (Copenhagen), DK

:: US TOUR MARCH 2011 ::
08.03.11 - Pianos, Showroom (New York City), US
09.03.11 - National Underground (New York City), US
12.03.11 - The Livingroom (New York City), US
16.03.11 - Cherrywood Coffeehouse (Austin, TX), SXSW, US
17.03.11 - Dirty Bill's (Austin, TX), SXSW, US
18.03.11 - Cherrywood Coffeehouse (Austin, TX), SXSW, US
19.03.11 - Genuine Joe's (Austin, TX), SXSW, US

02.07.11 - Pianos, Lounge (New York City), US
03.07.11 - The Living Room Downstairs (New York City), US
08.07.11 - Pete's Candy Store (Brooklyn, NY), US

10.15.11 - The Living Room (New York City), US
10.16.11 - Pianos, Lounge (New York City), US
10.20.11 - Release Party, Southpaw (Brooklyn, NY),

:: Copenhagen December 2011 ::
19.12.11 – Rust (Copenhagen), DK
20.12.11 – Drone (Copenhagen), DK
21.12.11 – Release Party Denmark (Copenhagen), DK

:: USA March 2012 ::
15.03.12 – KUT Radio (Austin, TX), US
16.03.12 – Flipnotics (Austin, TX), SXSW, US

29.06.12 – Private Event (Copenhagen), DK