No recent updates in this category.
Why not...
Catherine De Medicis hasn't earned any badges yet... have you?
General

I am a most accomplished politician. In addition to this, I am quite dedicated to the study of History, Poetry, Astrology, Sciences, Architecture, Portraiture and the Occult. In my youth, I was a very athletic young lady, always horse back riding and hunting. Here you can see a rather lovely Goblet with my emblem on:

Detail of the decoration of my fireplace at Ecouen, one of my many Castles that have been turned into a Renaissance Museum:

I used this artifact during my many hunts:

Was this bottle of mine intended for perfume or poison? You decide. It bears the Medicis Coat of Arms in the middle:

Music

Movies

Television

This skull actually served me as a watch:

Below you can see one of my famous talismans. It has ancient Babylonian spells written on it. They were meant to protect my husband Henri II and I from bad energies often found at the French Court:

I built this Astrology Tower at the Soissons Hotel in Paris so I could predict the future:

Books

My library was one of the largest in Europe during the Renaissance. I enjoyed works by contemporary authors such as: Rabelais, Ronsard, Joachim du Bellay, Brantome, Machiavelli, Montaigne. And of course my famous book of Hours :

Here is a portrait of me within the book:

Jean H. Mariejol is the author of the first serious biography ever written about my life. Well documented and balanced, it breaks away from religious stereotypes and the lies invented by Alexandre Dumas. It has served as model for many of my modern biographers, such as Heritier, Cloulas, Garrisson, and Frieda:
About me:
.. .. ..
The Mirror, Feathers and Scythe, my personal emblem as Queen Mother.
Note: Catherine de Medicis added an "s" to the name "Medici" to make it sound more French, so we will respect her desired spelling.

***A CRADDLE BETWEEN TWO COFFINS***

The King of France Francois I and my uncle Pope Leo X had negotiated the marriage of my parents. My mother was Madeleine de La Tour Auvergne, cousin of Francois I and member of one of the oldest noble French families. My father, Laurent de Medicis, was Duke of Urbino and heir to the powerful and fabulously wealthy ruling family of Florence. I was born Catherine Marie Romole de Medicis de La Tour Auvergne in Florence on April 13 1519. My parents died soon after my birth turning me into an orphan and only child. They said by birth brought bad luck and that it was the cause of their death. My uncle Leo X had died too and my other uncle Clement VII became Pope. I was soon taken under the loving care of my grandmother Alfonsina Orsini. After her death my care and education were entrusted to my aunt Clarissa Strozzi. In 1527, Charles V invaded and sacked Rome to punish Clement VII for his French alliances: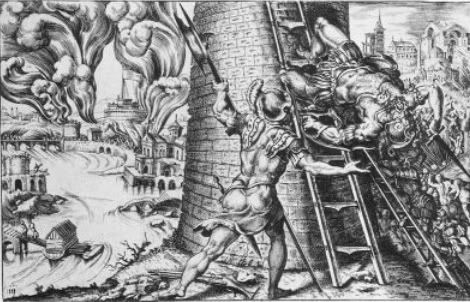 Inflamed by Savonarola's teachings and encouraged by Clement's situation, the Medicis enemies in Florence took over the government of the city holding me, the legitimate heiress to the throne of Florence hostage. They wanted to have a Republic again. I was moved to a couple of convents where I became immediately loved and spoiled by the nuns. As the siege of the city progressed, a group of enemy soldiers came to the convent wanting to rape me or send me work at a whorehouse. I was only 7 years old. My natural pragmatism and power of deceit were in evidence when I cut my thick fair hair, put on a nun costume and confronted my enemies saying all I wanted was to become a nun so they didn't need to worry about me continuing the Medicis dynasty in Florence. Of course it was a lie but they believed me. The plague was already ravaging Florence so by 1530 the siege ended and the Medicis power was restored.

***THE WEALTHIEST BRIDE IN EUROPE***

Clement VII wanted his bastard son Alexandre to become Grand Duke of Florence instead of me so he rapidly began my marriage negotiations. I had a short fling with my bastard cousin Hipollyte, but Clement quickly forced him to become a cardinal. Soon many suitors appeared, from the Dukes of Ferrare to James V of Scotland. But it was already my uncle, the Duke of Albany in France -my aunt Anne's husband- whom negotiated the nicest offer: Francois I's second son Henri, Duke of Orleans. My dowry included an enormous amount of money and jewels in addition to Italian territories which appealed the most to Francois I's ambition. Also, the extensive, rich and strategically important lands I inherited in Central France would become part of the French Crown, titles included!

So the marriage contract was settled. From my mother's side I was my husband's cousin, cousin of the Guise and Bourbon families, and cousin in second degree of the woman I'd hate the most in my life: Diane de Poitiers. I had by then become a very gracious young lady: alabaster skin, delicate hands, beautiful legs and neck. I inherited my mother's fair hair, but the big dark bulging Medicis eyes. I married Henri of Orleans in Marseille on October 29th 1533. My uncle Clement VII performed the ceremony. My good friend painter Georgio Vasari immortalized that fateful day on this beautiful fresco: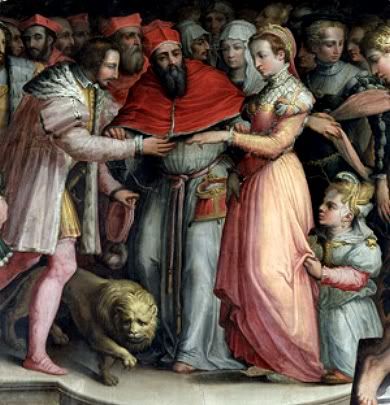 The most extravagant festivities took place for days. My new husband was also 14 like me, but very shy and awkward. I personally became very fond of my father in law. Francois I was also very fond me, as well as the rest of the Royal family. My natural grace and erudition quickly got me into the exclusive group of beautiful ladies who accompanied the King during his hunts. I could ride as fast as him, and he always enjoyed our conversations. I was knowledgeable in Astronomy, Geography, Sciences, History, Architecture and specially the Occult. I had brought many magicians and astrologers with me.

I always had the ability to seduce and charm people but that didn't seem work with my husband Henri whose relationship with his father Francois I was terrible. In 1536, the Dauphin -Crown Prince- Francois died. Some people accused me of poisoning him since his death made me Dauphine. Yet, Francois I was as nice to me as ever, always supporting me against ambitious people who wanted to ruin me. The French Court kept traveling and staying at many Castles such as Chenonceau, Chambord, Amboise, Blois, and Fontainebleau. Court life was ruled by Francois I's mistress, Anne d'Etampes, whom quickly became a close friend and ally of mine. The official Queen, Eleonore of Austria, remained pretty much in the shadows and concentrated in her acts of devotion.

By 1540 my cousin Diane de Poitiers became Henri's official whore. She was 20 years older than him! Nevertheless, Henri remained very diligent in my bedroom if you know what I mean. Anne d'Etampes hated Diane so she was on my side along with Francois I. I pretended nothing happened, wearing a masque to hide my hatred and humiliation. I wasn't the first Princess of France to be cheated by her husband. My situation, however, worsened for I couldn't conceive a child. Indeed, my mission was to give my husband a male heir. Childless, I was pretty much useless. Divorce rumors began to spread at Court. The Duke of Guise even offered his daughter Anne as a replacement wife for Henri. In my desperation, I took every possible magic potion and asked my magicians to cast countless fertility spells on me. Luckily, after 10 years of sterility, a doctor found that Henri had a deformity in his penis and that procreation could only be achieved with certain sexual positions. Hence, I gave birth to 10 children over the years out of whom 7 survived: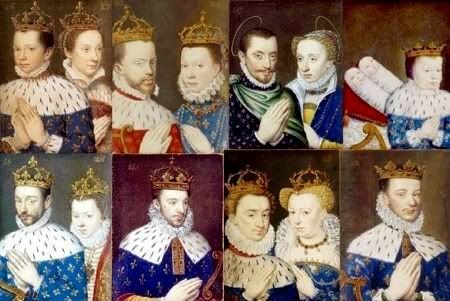 My position as Dauphine was no longer in danger for I had given France a male heir and three other sons just in case. Francois I was a bowl of joy but his health was declining and he died In 1547. I had lost one of my strongest allies and supporters.

***QUEEN OF FRANCE, WAITING FOR MY TIME***

With Francois I's death, my husband became King Henri II and I became Queen of all France. Everything changed at Court. Henri banished my friend Anne d'Etampes giving countless titles and benefits to his favorites: the Constable de Montmorency and Diane de Poitiers. Diane became very powerful and influential leaving me in the background. Like many Queens before me, I couldn't do anything about my husband having a mistress so I decided to face the situation with dignity. This drawing represents my coronation day: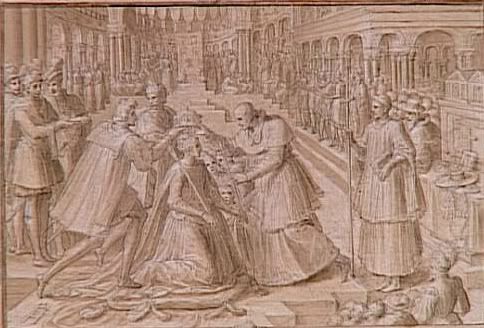 Henri had managed to recover Boulogne from the English in 1550. As a response to this and to our alliance with Marie de Guise in Scotland, Mary Tudor married her nephew Philip II of Spain, my husband's worst enemy and the most powerful King in the world in 1554. War became imminent and with the help of Pope Paul IV, I encouraged my husband to fight against Philip II in Italy. When Spanish troops retaliated threatening Paris, I dressed myself in black and convinced the Parisian bourgeois to give me money to finance France's defense. I was more popular than ever. Thanks to my financing, Francois de Guise managed to recover Calais from the English. In 1557, the incompetent Constable de Montmorency lost the battle of Saint-Quintin where he was captured by the Spanish. To set his favorite free, Henri II decided to sign the shameful treaty of Cateau Cambresis with Philip II giving up half of his Italian conquests. We did manage to keep our conquests of Metz, Cambrai, Calais Toul and Verdun in the North East. Still, most people at Court, including myself, considered this treaty to be only in the advantage of Spain.

Romantics believe that my husband and Diane de Poitiers lived a great love story. In reality, Henri cheated on Diane many times including with one of the ladies in waiting of our daughter in law Mary Stuart, lady Fleming with whom he had a bastard son. He also had an Italian lover, Philipa Ducci whom gave him a bastard daughter, ironically named Diane. During that time, Mary Tudor had died and Philip II of Spain was a widower in need of a new wife. To consolidate our new alliance, we married him to our eldest daughter Elizabeth in 1559. Celebrations included a joust in which Henri desired to participate. Nostradamus had personally warned me that Henri could die and I had a horrible premonition about his death in a dream the night before. I begged Henri not to participate in the joust be he refused. As a result he got his eye hurt and died from an infection a few days later:
I immediately banished Diane de Poitiers from Court and confiscated all the properties and jewels my husband had given her. I'd dress in black silk for the rest of my life. I was very sad but at the same time I saw this tragedy as a chance to take power since my son, the new King Francois II, was a minor. Helas! His wife Mary Stuart's uncles Francois de Guise and Charles de Lorraine were declared regents with me by Parliament. Many nobles however thought power should be given to Antoine de Bourbon, male heir to the throne after my sons and first Prince of the Blood. Antoine's supporters planned kidnapping the Royal family at Amboise, in addition to removing Guise and I from power. The plot was discovered and I ordered the rebels to be executed in front of the entire Court. That was meant to teach a lesson to anyone who dared threaten the integrity of my family.

Needles to say, I imprisoned Antoine de Bourbon whom remained a threat to my position, even if there was no proof of his direct participation in the Amboise Conjuration. The situation dramatically changed when my poor son Francois II died from an ear infection on December 5 1560. To get rid of the Guises's influence and maintain the balance of power between them and the Bourbons, I quickly sent their niece Mary back to Scotland so she could finally rule her country of birth. My second son, also a minor, became King under the name of Charles IX and I made him declare me, with the approval of Parliament and the States General, the sole Regent with all the powers. I let Antoine de Bourbon free only before forcing him to sign a document in which he recognized me as sole Regent of France. I got rid of my first political enemy.

***ONE OF THE MOST POWERFUL MONARCHS IN EUROPE***

This tapestry represents Charles IX and I: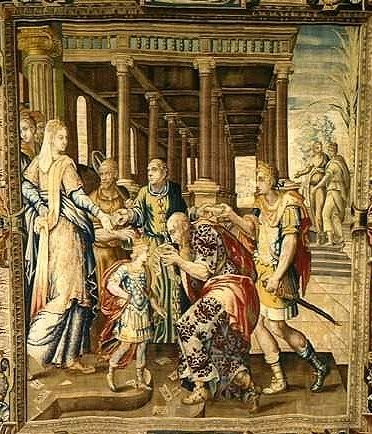 By then, Protestantism had become very popular among nobles, specially the Bourbon clan. The Guise family became the heads of the Catholic Party. Soon religious confrontations took place in the country side so I tried to pacify the Kingdom with many peace edicts but the massacre of Wassy on March 1 1562, in which Francois de Guise encouraged the killing of dozens of Protestants, gave birth to the first religion war. The illegitimate Queen Elizabeth I of England financed Antoine de Bourbon's brother, the prince of Conde, so he could take arms against me. In order too give courage to the Royal French Army, I personally went to the battle field at the siege of Rouen where my courage was praised by everyone. We crushed the English and Protestant troops who fled back to England. Antoine de Bourbon got killed in battle and Francois de Guise got murdered by the Protestant Poltrot de Meret. My enemies vanished in front of me.

Some people accused me of being a two faced deceiver during that time. In truth, I was a firm believer in religious reconciliation. Supported by my Chancellor Michel de L'Hopital, I had organized the Colloquy of Poissy before the war in 1561. There and under my gaze, many debates were held by famous scholars and religious personalities to see if the Catholic and Protestant visions of the Bible could coexist in peace. It failed miserably because the conflict was actually about politics and ambitious people who wanted to steal my Crown. The wars that erupted after Poissy were vivid proof of that. You can't accuse me of religious intolerance! I was above all a woman of reason. This engraving shows Poissy: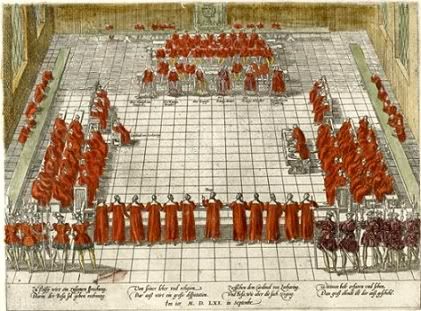 So I signed the peace Treaty of Amboise in 1563 and made a Tour of France to reaffirm my power as Queen. The Tour lasted 2 years. I also created the infamous "Flying Squadron" which was a group of the most beautiful Court ladies whom served as my personal spies. Peace lasted until 1567 when Spanish troops asked for permission to march through French territory in order to go to the Netherlands and control the rebellion against Philip II that was taking place there. Stupid Protestants thought they were going to attack them so Conde and Coligny planned to kidnap the Royal Family at Meaux. We had to flee to Paris... After all my efforts to make peace, those bastard Protestants ruined everything. I decided to destroy my enemies and a new war started. This time my beloved soon Henri of Anjou won two decisive battles at Jarnac and Montcontour where he killed the prince of Conde. I was running out of money and the siege of la Rochelle, Protestant refuge, was taking too long. So I decided to sign the peace treaty of Saint Germain on August 8 1570.

***BLACK WIDOW QUEEN***

Yet, I couldn't forget the humiliation of Meaux. I fired my Chancellor Michel de L'Hopital. This marked a new era of my political life in which I was less tolerant of rebels. Moreover, I was greatly alarmed with news of Coligny trying to convince my son Charles IX to send military support to William of Orange's rebellion against Philip II in the Low Countries: War against the most powerful King in the world was out of the question. So I negotiated a marriage contract between my daughter Marguerite and her cousin; the late Antoine de Bourbon's son Henri. Henri's mother and Queen of Navarre, Jeanne d'Albret, was very hard to convince for she was a borderline Protestant fanatic and didn't approve of my family's "decadent Catholic ways". I persuaded her to sign the marriage contract before she died, supposedly poisoned by a pair of gloves I gave her. There is no proof I tried to poison her!

Henri and Marguerite married in Notre Dame in Paris, during a very hot summer day. Thousands of Protestants had come to Paris for the wedding which enraged ultra-catholic Parisians. To take advantage of Coligny's presence in Paris, the new Duke Henri de Guise and I hired professional killer Maurevel to shoot the Protestant leader. Helas! he missed! the Protestants demanded justice and threatened to hurt members of the Royal Family. During Council, we decided to kill 60 of the most influential Protestant leaders to avoid a bigger tragedy. I locked myself at the Louvre Palace waiting for news. The 60 traitors were successfully killed along with Coligny, but ultra Catholic Parisians decided to massacre over 15 000 Protestants: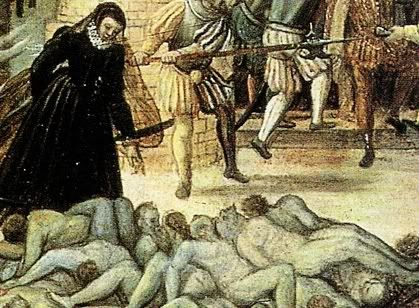 The massacre traumatized Europe. Even Ivan the Terrible of Russia was appalled. Philip II and Pope Gregory XIII congratulated me for I pretended to have also planned the killing of all Protestants even though I never wanted innocent civilians to die. To Protestant countries, I was merely behind the killing of the traitors to the French Crown. Always careful, I ordered the house arrest of my new Protestant son in law King Henri of Navarre. With that precious hostage, Protestants wouldn't dare retaliate against me.

***THE DECADENCE OF A DYNASTY***

I loved my daughter Claude and my son Henri above the rest of my children. Indeed, my love for Henri was my ultimate weakness. I managed for him to get elected King of Poland but at the death of Charles IX due to tuberculosis in 1574, Henri came back to France and was crowned as Henri III. I was quite sad to have a second son dead before the age of 25, but at the same time I have to admit I was very thrilled to see my favorite son holding the French Crown on his lovely head. He confirmed me as his main adviser and he entrusted me with the most important place in the Royal Council. He had other things in mind other than Politics as he established the most decadent and extravagant Court in Europe. Everyday glamorous banquets and dances too place. I personally used them to keep my enemies close: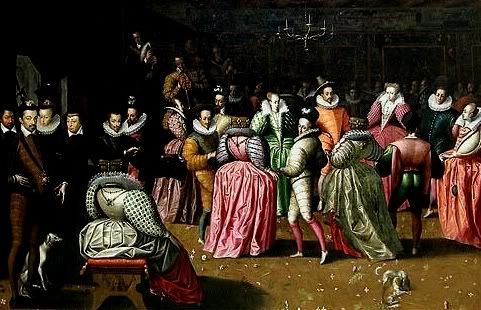 Very soon he gave titles, lands and money to a group of flamboyant young men -"The Mignons"- whom liked to pick fights with respectful aristocrats, including Henri of Navarre, my youngest son the Duke of Alencon and my daughter Marguerite. Suddenly, Court intrigues were happening on daily basis. "The Mignons" became Henri III's biggest influence leaving me on a second plain. Many nobles lead by my children Marguerite and Alencon expressed their opposition to the new state of affairs. Henri of Navarre managed to escape from Court in 1575 with the help of Marguerite which enraged Henri III and I. This rupture inside my family would be the cause of the next Civil Wars since, with Henri de Navarre free, Protestants had a new leader. I was able to pacify the rebellions lead by Protestants in the South in 1577 with my famous duplicity and persuasion skills. Indeed, I became a diplomatic asset for Henri III for I negotiated many peace treaties for him notably with Alencon in 1576, and with Montmorency-Damville in Languedoc in 1578.

Sadly, I was getting old and Henri did little to change his extravagant ways. The extremely popular Duke Henri de Guise formed a Catholic League suported by Spain and aimed to steal the French Crown. Henri III seemed to be sterile which made the Protestant King of Navarre heir to the throne of France. Hence, not wanting a protestant as King of France, my daughter Marguerite -who became Navarre's enemy due to marital conflicts- and Guise declared war against Henri III in 1584 -Alencon died of tuberculosis that same year. Henri gave military command to his "Mignons" Epernon and Joyeuse who ended up losing the war against the Catholic League. Yet, Marguerite was caught and imprisoned at the fortress of Usson, where she would wait in vain for Guise to come to her rescue. Powerless and defeated, I managed to negotiate the treaty of Nemours in 1585 which granted all the Catholic League demands. That was the end of my political life.

Guise forced Henri III to escape Paris during "La Journee des Barricades" on May 12 1588. I managed to appease the rebels to some degree but my health was indeed at its worst. Tired of all the humiliations, my darling son decided to assassinate Henri of Guise at Blois in 1589. I was inclined to consuming Brazilian tobacco so it was no surprise that my lungs were in a terrible state. Pneumonia was killing me when I heard the news of Guise's murder. I had mixed feelings about this murder. Either way, I passed away on January 9 1589. My dear Henri III would be stabbed by a monk called Jacques Clement that same year and his cousin Henri de Navarre would become the first Bourbon King under the name of Henri IV. I was demonized by both catholic and protestant propaganda in the centuries that followed, though now modern historians agree that I was one of the greatest rulers in History. Here is my grave at Saint Denis:
Who I'd like to meet:
My husband Henri II, my children Henri III, Francois II Charles IX, Hercule, Marguerite, Claude and Elizabeth. Also people like Michel de L'Hopital, Francois and Charles de Guise, and Gaspard de Coligny.
Status:

Married

Here for:

Networking, Friends

Hometown:

Paris

Orientation:

Straight

Body type:

5' 4" / Some extra baggage

Ethnicity:

White / Caucasian

Religion:

Atheist

Zodiac Sign:

Aries

Children:

Proud parent

Smoke / Drink:

Yes / Yes

Occupation:

Queen of France.

Income:

$250,000 and Higher