Play

Play Next

Add to queue
Genre: Indie / Powerpop / Punk

Location NEW YORK, New York, US

Profile Views: 22699

Last Login: 5/29/2011

Member Since 1/3/2006

Type of Label Major

Bio

...... ...... ........The new 11 song LP ....DEMENTIA ....is available for $8.00 postpaid. Message us here to order....... .. .. ............. ...... ........Every show they put on is as rock and fucking roll as can be- pounding back beats and melodic bass lines laid down by an explosive rhythm section with Todd Robertson on the drums and Matt Pilger on bass along with razor sharp guitar breaks, and throat shredding vocals by Gordon Smethurst. .... Cementhead has shared members from Built To Spill, The Negatones, The Moths, The Hangdogs, Jerkwater, Kings County Queens, Jr. And Sons, and Skycam. Even people who have quit his band in a rage believe he is an unbelievable talent. And they are right- who else could steal lyrics from Steve Miller and Smokey Robinson in the same stanza and make them completely his own? Cementhead's songs are either whiskey-soaked misanthropy wrapped in heartbreak or heartbreak wrapped around misanthropy. It's hard to get the proportions right sometimes. .... He is, in my opinion, hands down the best songwriter in New York City. It's not the sad, self-indulgent folk singer bullshit singing- his stream of consciousness lyrics are unbelievably evocative. The words are clever without trying to be- which makes them all the more resonant. .... Someone once told me that music should be something you should be able to fuck to, fight to, or drink yourself stupid too. Cementhead is something to listen to on headphones, walking across the Williamburg Bridge at 4:30am with a pint of shitty bourbon half on your shirt and half in your stomach and in need of catharsis..... .. ..****REVIEWS****.... Fader Magazine review of rock n roll rollerskate show in bushwick- "Cementhead kicks out power pop jams from inside a cage-a few hundred post collegiate types stumble around in circles,fall on their asses ,crach into walls, on rollerskates to a speed metal cover of 'Walk Like an Egyptian" .... lucidculture.wordpress.com review of 2008 cd Dementia - "frustartion boiling over into exasperation- lyrics are fragmentary-energy level consistently high,with biting cynicism,high harmony lines,80s post new wave melody-fast and slashing with eerie harmonies,nobody but Exene Cervanka writes higher harmonies,"all fucked up on vodka tonics" they snarl like vintage 90's bands like Versus but the tunefulness of 60's rock,garage rock reverberating-straight out of a Wire classic or Social Distortion .. .. Mike Wolf from Time Out New York: "A fierce guitarist with punkish beats." .. Shredding Paper: "Intricate harmony vocals,heavy guitar sound, the same feel as the Psychedelic Furs." .... Jersey Beat: "like Bob Mould's Sugar with big production".better than most NYC bands." .... KillWhat 'zine: "Rich songwriting like the genius of Husker Du, an appetite for insatiable melodies' Thank god we're here to tell you about this new Brooklyn trio." .... WickedLand: "Poppy melodic rock...each one a cool pop song like the spring outside my window." .... Splendid Ezine: "Indie rock power pop...solid full of sing along choruses .hints of early REM buried under the buzz of guitars,Superchunk riff wise,dissonant guitars... on the cusp of being really great...something really special." .... Decapolis: "More of a punk edge than a pop edge...sounding like Farside or Japan's Husking Bee...this band has a lot of talent." .... Lost At Sea: "Inspirations of superchunk and Dinosaur Jr... their power pop flair places them squarely at home among the acts of International Pop Overthrow sideling up to Frisbie for crowd favor, Guided by Voices,natural energy visiting "Seaside City"' in a speeding automobile, the band recalls a more buoyant era where refrains about summer, girls and deuce coups made for a more attractive day- seven high spirited sugary tracks." .... Trifecta Records and Showcase: "Fierce Williamsburg power pop trio, Buzzcocks meet post REM jangle and clang. .... Blurb in Fader issue 26 on Rock 'N Rollerskate show in Bushwick .... ............ .... .. .. .. .... ...... ......*This page is maintained by Matt & Gordon.

Members

...... .... ..............Gordon Smethurst ......(guitar, vocals) .... ............J. Matthew Pilger ......(bass, vocals).... .... ......

Influences

...... .. Social Distortion, Bad Religion, Anti-Flag, Face To Face, XTC, Pixies, Gang of four, Sugar, Jawbreaker, Elliot Smith, Fugazi, The Who, The Clash, Talking Heads

Sounds Like

Indie Rock/Power Pop/Punk
No recent updates in this category.
Why not...
Bio:
The new 11 song LP DEMENTIA

is available for $8.00 postpaid. Message us here to order.
..Every show they put on is as rock and fucking roll as can be- pounding back beats and melodic bass lines laid down by an explosive rhythm section with Todd Robertson on the drums and Matt Pilger on bass along with razor sharp guitar breaks, and throat shredding vocals by Gordon Smethurst.

Cementhead has shared members from Built To Spill, The Negatones, The Moths, The Hangdogs, Jerkwater, Kings County Queens, Jr. And Sons, and Skycam. Even people who have quit his band in a rage believe he is an unbelievable talent. And they are right- who else could steal lyrics from Steve Miller and Smokey Robinson in the same stanza and make them completely his own? Cementhead's songs are either whiskey-soaked misanthropy wrapped in heartbreak or heartbreak wrapped around misanthropy. It's hard to get the proportions right sometimes.

He is, in my opinion, hands down the best songwriter in New York City. It's not the sad, self-indulgent folk singer bullshit singing- his stream of consciousness lyrics are unbelievably evocative. The words are clever without trying to be- which makes them all the more resonant.

Someone once told me that music should be something you should be able to fuck to, fight to, or drink yourself stupid too. Cementhead is something to listen to on headphones, walking across the Williamburg Bridge at 4:30am with a pint of shitty bourbon half on your shirt and half in your stomach and in need of catharsis.




****REVIEWS****

Fader Magazine review of rock n roll rollerskate show in bushwick- "Cementhead kicks out power pop jams from inside a cage-a few hundred post collegiate types stumble around in circles,fall on their asses ,crach into walls, on rollerskates to a speed metal cover of 'Walk Like an Egyptian"

lucidculture.wordpress.com

review of 2008 cd Dementia - "frustartion boiling over into exasperation- lyrics are fragmentary-energy level consistently high,with biting cynicism,high harmony lines,80s post new wave melody-fast and slashing with eerie harmonies,nobody but Exene Cervanka writes higher harmonies,"all fucked up on vodka tonics" they snarl like vintage 90's bands like Versus but the tunefulness of 60's rock,garage rock reverberating-straight out of a Wire classic or Social Distortion

Mike Wolf from Time Out New York: "A fierce guitarist with punkish beats."

Shredding Paper: "Intricate harmony vocals,heavy guitar sound, the same feel as the Psychedelic Furs."

Jersey Beat: "like Bob Mould's Sugar with big production".better than most NYC bands."

KillWhat 'zine: "Rich songwriting like the genius of Husker Du, an appetite for insatiable melodies' Thank god we're here to tell you about this new Brooklyn trio."

WickedLand: "Poppy melodic rock...each one a cool pop song like the spring outside my window."

Splendid Ezine: "Indie rock power pop...solid full of sing along choruses .hints of early REM buried under the buzz of guitars,Superchunk riff wise,dissonant guitars... on the cusp of being really great...something really special."

Decapolis: "More of a punk edge than a pop edge...sounding like Farside or Japan's Husking Bee...this band has a lot of talent."

Lost At Sea: "Inspirations of superchunk and Dinosaur Jr... their power pop flair places them squarely at home among the acts of International Pop Overthrow sideling up to Frisbie for crowd favor, Guided by Voices,natural energy visiting "Seaside City"' in a speeding automobile, the band recalls a more buoyant era where refrains about summer, girls and deuce coups made for a more attractive day- seven high spirited sugary tracks."

Trifecta Records and Showcase: "Fierce Williamsburg power pop trio, Buzzcocks meet post REM jangle and clang.

Blurb in Fader issue 26 on Rock 'N Rollerskate show in Bushwick
..
Member Since:
January 03, 2006
Influences: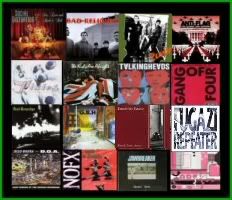 Social Distortion, Bad Religion, Anti-Flag, Face To Face, XTC, Pixies, Gang of four, Sugar, Jawbreaker, Elliot Smith, Fugazi, The Who, The Clash, Talking Heads
Sounds Like:
Indie Rock/Power Pop/Punk