Play

Play Next

Add to queue
Play

Play Next

Add to queue

10,352 plays

Play

Play Next

Add to queue

28,696 plays

Play

Play Next

Add to queue

66,536 plays

Play

Play Next

Add to queue

5,954 plays

Play

Play Next

Add to queue

6,796 plays
Genre: Hardcore / Metal / Progressive

Location New South Wales, AU

Profile Views: 433092

Last Login: 11/6/2010

Member Since 6/26/2006

Type of Label Unsigned

Bio

.. .... .. Just over a year since they formed in mid 2008 Chelsea Smile has wasted no time carving their mark upon the local music scene of Australia. Sitting within the metal and hardcore scene Chelsea Smile unleash the perfect blend of metalcore that gets audience's heads banging and their feet moving..... With memorable and hook laden songs such as "Walking On Thin Ice" grabbing people's attention a tour was on the agenda. A successful fifteen date tour saw Chelsea Smile leaving positive impressions in audience's minds from Sydney, Melbourne, Brisbane, Perth and Adelaide. Never refusing to rest and always opting to get their name out there to those who aren't immersed in the local scene is no easy task but Chelsea Smile continues to build a reputation worthy of their dedication to their music, which paid off when they landed a support slot for UK based metal band Architects. .... Their much anticipated debut ep, "An Awakening To The Misguided", is drawing closer and closer to release, which is sure to be the first of many releases. .... ......< .. .. .. .. .. .. .. .. .. .. .. .. .. .... .. .. .. .. .. .. .. .. .. .. .... .. .. .. .. .. .. .. .. .. .. .. .. .. .. .... .. .. .. .. .. .. .. ...... ........ .. .. .. .. .. .... .. .. .. .. .. .. .. ...... ........ .. .. .. .. .. .... .. .. .. .. .. .. .. ...... ........ .. .. .. .. .. .... .. .. .. .. .. .. .. ...... ........ .. .. .. .. .. .... .. .. .. .. .. .. .. ...... ........ .. .. .................................................................................................................................................................................... .. .. .................................................................................................................................................................................... .. .. .. .. .. .. .... .... .... ...... ....AN AWAKENING TO THE MISGUIDED - EP - 2009...... ..COMING SOON!...... .... .... .... ...... .......... ...... ...... ...... ...... ...... .. .. .. ....HOMETOWN.... ....Sydney, Australia.... .. .. ....MYSPACE URL.... ......www.myspace.com/chelseasmileau...... .. .. ....MERCH.... ......www.chelseasmile.bigcartel.com...... .. .. ....FACEBOOK.... ......www.facebook.com/chelseasmileband...... .. .. ....YOUTUBE.... ......www.youtube.com/chelseasmileau...... .. .. ....TWITTER.... ......www.twitter.com/chelseasmileau...... .. .. ....BAND EMAIL.... ....chelseasmile@live.com.... .. .. ....BOOKINGS.... ....hundreddd@gmail.com.... .. .. ....LAYOUT.... ......Zac McMillan........ .. ........ .......... .. .. .. .. .. .. .. ..

Members

Influences

Sounds Like
No recent updates in this category.
Why not...
06:17 | 2979 plays | Sep 6 2009
Bio:
Just over a year since they formed in mid 2008 Chelsea Smile has wasted no time carving their mark upon the local music scene of Australia. Sitting within the metal and hardcore scene Chelsea Smile unleash the perfect blend of metalcore that gets audience's heads banging and their feet moving.
With memorable and hook laden songs such as "Walking On Thin Ice" grabbing people's attention a tour was on the agenda. A successful fifteen date tour saw Chelsea Smile leaving positive impressions in audience's minds from Sydney, Melbourne, Brisbane, Perth and Adelaide. Never refusing to rest and always opting to get their name out there to those who aren't immersed in the local scene is no easy task but Chelsea Smile continues to build a reputation worthy of their dedication to their music, which paid off when they landed a support slot for UK based metal band Architects.
Their much anticipated debut ep, "An Awakening To The Misguided", is drawing closer and closer to release, which is sure to be the first of many releases.

<

.. .. .. ..

..

.. .. .. .. .. .. .. .. .. .. ..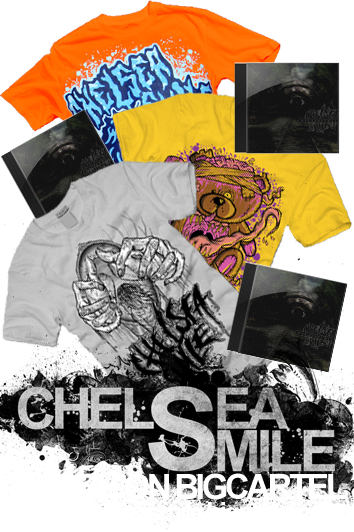 HOMETOWN

Sydney, Australia

MYSPACE URL
MERCH
FACEBOOK
YOUTUBE
TWITTER
BAND EMAIL

chelseasmile@live.com

BOOKINGS

hundreddd@gmail.com

LAYOUT

..
Member Since:
June 26, 2006
CHELSEA SMILE [SEEKING VOX - READ BLOG] has 6717 friends.