Play

Play Next

Add to queue
Play

Play Next

Add to queue

83 plays

Play

Play Next

Add to queue

624 plays

Play

Play Next

Add to queue

1,205 plays

Play

Play Next

Add to queue

2,624 plays

Play

Play Next

Add to queue

2,661 plays
Genre: Other

Location Fr

Profile Views: 34804

Last Login: 4/17/2013

Member Since 1/31/2009

Website www.sites.google.com/site/chroniquenocturne/

Type of Label Unsigned

Bio

La nuit, .. La nuit est féconde mais son temps est compté… Son silence passager repose les âmes que le jour n'a su consoler… .. … Moment d'introspection… Des regards se croisent… Des pensées se réveillent… .. La nuit est féconde, Lieu de rencontre du réel amer et de l'imaginaire surréel, Lieu où les pires réalités aiment fréquenter les abysses de l'inconscient, Lieu où les terreurs enfantines sont convoquées, Lieu où l'antihéros flirte avec son destin et devient lumière dans la mort. .. Les mots et la musique se côtoient pour ne pas oublier qu'en chacun réside un être, une sensibilité… .. Chronique Nocturne, ce projet est le fruit de deux individualités portées par une sensibilité singulière et unique que la nuit a rapprochées.

Members

Emma Wyrd : vocals & lyrics .. Le Hibou : guitare classique/électrique, basse, piano, M.A.O. & musique .. .. ..

Influences

la Nuit, les Ombres, l'Eau, la Terre, l'Air, le Feu, le Temps, le romantisme noir, l'Etrangeté des regards, la plongée dans l'Imaginaire et la Lutte pour sa Survie, l'Humanitude, l'Individu, le Cosmos, le Fantastique, le Cru, le Doux, la Violence sucrée de la Sensibilité, l'Amertume du Bas monde, les Utopies, les Fantasmagories, les Terreurs Infantiles ... le Vin

Sounds Like
The first album by
CHRONIQUE NOCTURNE
is now available
"Les visages de marbre"
(A limited edition of 100 copies)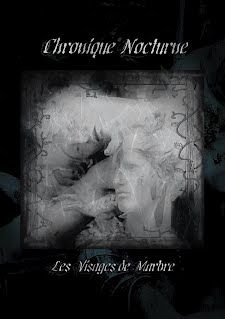 1 - Le Réverbère
2 - Regarde ce Corps
3 - Monsieur Epouvantail
4 - Les Visages de Marbre
5 - Chronique Nocturne
6 - Les Oiseaux dans la Pénombre (instr.)
7 - Hyaena
8 - Paysage de Glace
9 - Douce Obsession
10 - Le Dernier Jour
11 - Marche Solennelle
12 - Un Autre Monde
If you are interested please contact us at this address:
http://www.facebook.com/chroniquenocturne
~~~~~~~~~~~~~~~~~~~~~~
Le Nécrophile on the compilation "Beyond The Mirror Of Time"
On the 1st of August, 2011, Shelley Schellack has released the neoclassical / dark folk / dark ambient compilation "Beyond The Mirror Of Time".
Many international artists agreed to contribute one of their beautiful songs to take you on a unique travel through enchanted literary and musical dimensions.
This complilation is all about the magic of books: Books which touched us, which opened new worlds for us or which took us on a journey.
:Golgatha:, Aeterna, Afterlife Forgotten, Arkane, ART ABSCONs, Chronique Nocturne, Eldar, Friends of Alice Ivy, Geodesic, Nihil Novi Sub Sole, Opus Nigrum, Schattenspiel, The Victim's Ball, Verney 1826.
~~~~~~~~~~~~~~~~~~~~~~~~~~~~~~
La Caverne du Dragon
V/A - "Tribute To The Dead Soldiers Vol.I" (réf. LCDDFDL001) :
http://fr.myspace.com/lacarvernedudragon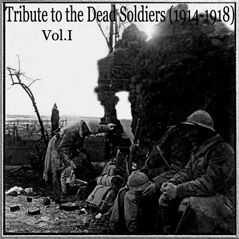 PART I
01-Chronique Nocturne-Des Sols Trempés de Larmes
02-Art Abscon(s)-Roses of Picardy (Glory and Sacrifice)
03-Sinweldi-Mémoires d'un Poilu
04-Albireon-Ballata delle Rovine 2009 remix
05-Storm Of Capricorn-No Turning Back Nor Goodbye
06-The Pride of Wolves-Western Front (Night Attack)
07-Barbarossa Umtrunk-Orages d'Acier
08-Naudhiz-...as the Last Light Extinct
09-Winter Gardens - Ivs Gentivm
10-Front Sonore-British Sector
PART II
01-Eldar-Elias
02-J Orphic-And the Troups Incoming
03-Nihil Novi Sub Sole-Tannenberg 1914
04-Verney 1826-Les Ombres, Marinette !
05-Tumor Necrosis Factor-Immortel
06-Jörvallr-L'Enfer
07-Gabe Unruh-Singt Eisern !
08-L'Horrible Passion-The League of Nations
09-Zr19.84-Elegance And Brutality (Death Of A Man)
10-Tsidmz-The Power Of The Wolves