Clara Bow hasn't earned any badges yet... have you?
General

..

Personal Quotes:

"Even now I can't trust life. It did too many awful things t'me as a kid."

"The more I see of men, the more I like dogs."

"A sex symbol is a heavy load to carry when one is tired, hurt and bewildered."

"We had individuality. We did as we pleased. We stayed up late. We dressed the way we wanted. I used to whiz down Sunset Boulevard in my open Kissel, with several red Chow dogs to match my hair. Today, they're sensible and end up with better health. But we had more fun."

Music

Movies

..

WHICH STAR THE LUCKIEST? Clara Bow cut a king and the right to have her name first in the billing of "Children of Divorce", Frank Lloyd's next production for Paramount. Esther Ralston, soon to be a star in her own right, was a most cheerful and graceful loser. Director Lloyd supervised the gamble.

CLARA BOW & VICTOR FLEMING ~ LOS ANGELES ~ Clara Bow,

screen star

,

is shown here with Victor Fleming

,

movie director

,

to whom she is engaged to be married. Fleming is directing her in a picture near San Antonio

,

Texas. September 21

, 1926.

PLANNING A PARTY~Two little ladies off for a big time are Clara Bow and Dorothy Arzner,

the girl-director

,

now at work filming the all-talking picture "The Wild Party"

,

at the Paramount studios in Hollywood. Miss Arzner is giving Clara the low-down on the next scene

, they just having viewed the previous day's work through the portable projection machine that Miss Arzner uses on all of her sets. To see the last day's work just at the start of the new,

is a sure way to make a smooth picture

,

Miss Arzner believes. March 21

, 1929

During his visit to Hollywood, the German boxer Max Schmeling is accompanied by Clara Bow and director Ernst Lubitsch.

Television

Heroes
About me:
Clara Bow information from Wikipedia, the free encyclopedia:

Clara Gordon Bow was an American actress and sex symbol who rose to fame in the silent film era of the 1920s. Bow was renowned for her sexual magnetism and became known around the world as the It girl, where "It" was commonly understood to mean sex appeal. She was regarded as a quintessential flapper.
Bow was born in a tenement in Brooklyn, New York, the only surviving child of a dysfunctional family afflicted with mental illness, poverty, and physical and emotional abuse. She was the third child born to her parents; the first two children, also daughters, were stillborn. Bow's mother, hoping that her third child would also die at birth, didn't bother with a birth certificate.

As a child, she was a tomboy and played games in the streets with the boys. Her clothes were ragged and dirty; other girls wouldn't play with her. Clara's friend Johnny was severely burned and died in her arms when she was ten years old. Years later, she could make herself cry at will on a movie set by singing the lullaby "Rock-a-bye Baby". She said it reminded her of Johnny.

Bow's mother, Sarah Gordon, was an occasional prostitute who suffered from mental illness and epilepsy. She was noted for her frequent public affairs with local firemen. Bow's father, Robert Bow, was rarely present and may have had a mental impairment. Whenever he returned home, he was verbally and physically abusive to both wife and daughter. Bow's father reportedly raped her when she was between 15 and 16 years old.
..

Always an avid movie fan, Bow entered and won the Motion Picture Magazine's Fame and Fortune contest in 1921, the grand prize being a part in a film. According to the articles in February, March, and April 1928 in Motion Picture Classic, in which she told her life story, she talked her father into giving her one dollar to have some pictures made that she could give to the contest's judges. Although she hated the pictures of her wearing a red tam and her only dress, the contest judges were impressed. After numerous screen tests, Bow was selected the winner. She won a part in Beyond the Rainbow (1922), but to her humiliation and disappointment, her scenes were cut from the final print and were not seen until the film was restored years later.

Bow also had to deal with her mother, Sarah Gordon, who told Bow that acting was for prostitutes. Gordon had also taken to sneaking up behind Bow and threatening to kill her because she felt her daughter would be better off dead. One night, she awoke to find her mother holding a butcher knife to her throat. Clara ran and locked herself in a closet until her grandmother came home. Bow suffered insomnia for the rest of her life.

..
Bow's screen introduction wasn't until her next film, Down to the Sea in Ships. This was a silent film, as were all of Bow's early films until the advent of sound in the late 1920s. She began to appear in numerous small movie roles. All the while, she suffered guilty feelings over her mother's disapproval. In 1923, Bow was on the set when she learned that her mother had died. She was devastated, feeling that her acting was somehow responsible for her mother's death.

With her earliest films being all East Coast productions, Bow got her big break when an officer of Preferred Pictures approached her on the set. He offered her free train fare to make a screen test in Hollywood, and Bow agreed to make the trip. The first time Preferred Pictures head B.P. Schulberg saw disheveled Clara Bow in her one ragged dress, he was dismayed. He was reluctant even to give her a screen test, but when he finally did, the results astounded him. Bow was already adept at pantomime, and she could cry on command.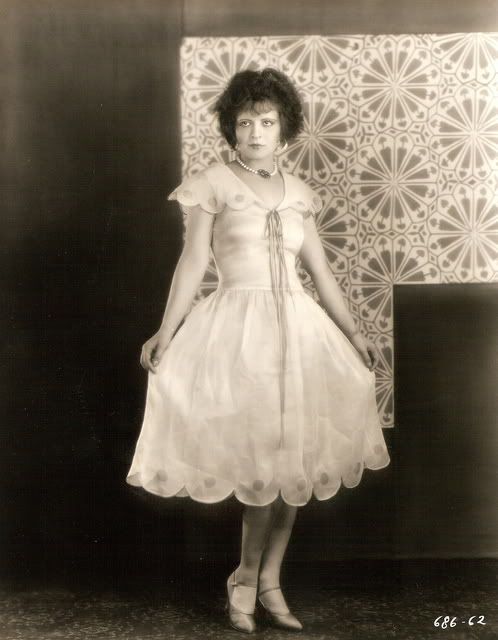 Starting with Maytime (1923), Schulberg cast Bow in a series of small roles. She nearly always stole her scenes. However, instead of creating projects for her, he loaned her out to other studios for easy money. Nevertheless, Bow started to make a name for herself through these many small roles and was selected as one of the WAMPAS Baby Stars in 1924.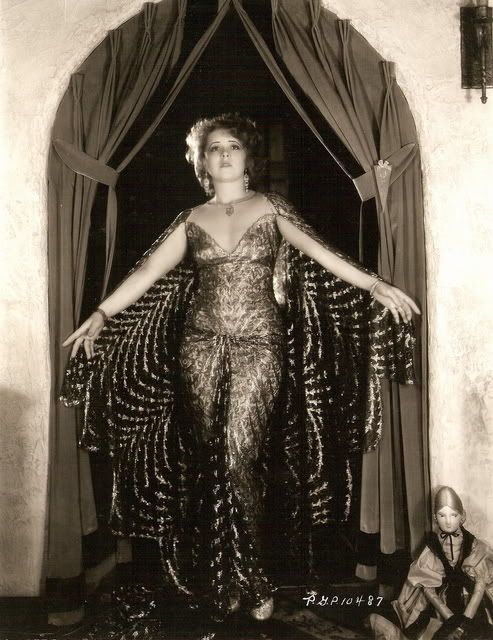 As soon as Bow started to make money, she brought her father to live with her in Hollywood. For the next few years, she funded numerous business ventures for him, including a restaurant and a dry cleaners, all of which failed. He soon became a drunken nuisance on her sets, where he would try to pick up young girls by telling them his daughter was Clara Bow. Despite the behavior of her unwanted relative, Bow was adored during this time of her career. Crew members always seemed to fall in love with her. She was friendly, generous, and so grateful for her success that she always remained humble.

In 1925, Schulberg cast Bow in The Plastic Age. The movie was a huge hit, and Bow was suddenly the studio's most popular star. She also began to date her co-star Gilbert Roland, who would become the first of many engagements for her. Bow followed her first big success with Mantrap (1926), directed by Victor Fleming. Though he was twice her age, Bow quickly fell in love with her director. She began seeing both Roland and Fleming at the same time.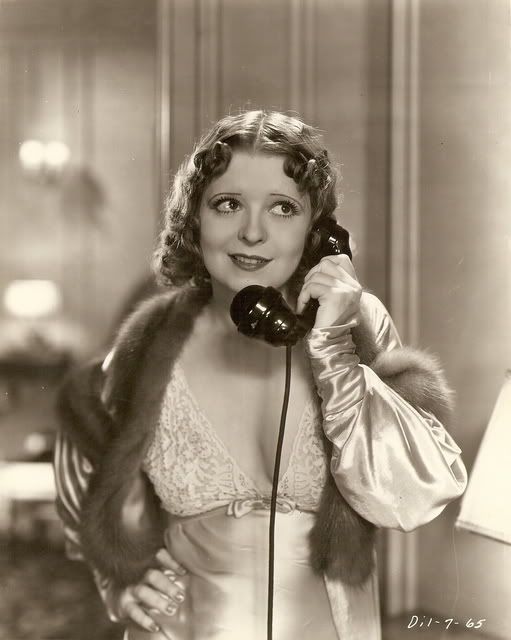 ..

In 1927, Bow reached the heights of her popularity with the film It; the film was based on a story written by Elinor Glyn, and upon the film's release and popularity, Clara Bow became known as the "It Girl". In Glynn's story, a character explains what "It" really is: "It...that strange magnetism which attracts both sexes...entirely unself-conscious...full of self-confidence...indifferent to the effect...she is producing and uninfluenced by others." More commonly, "It" was taken to mean sex appeal. "It, hell," quipped Dorothy Parker, "She had those."

This image was enhanced by various off-screen love affairs publicized by the tabloid press. However, some Hollywood insiders considered her socially undesirable, especially in light of rumored sexual escapades with many famous men of the time. Bela Lugosi, Gary Cooper, Gilbert Roland, John Wayne, director Victor Fleming, and John Gilbert were reputed to have been among her many lovers.

..
Bow's alleged alcoholism, gambling and mental illness were also becoming problems for the studios. Budd Schulberg, the producer's son, wrote in his memoir Moving Pictures, "There was one subject on which the staid old Hollywood establishment would agree: Clara Bow, no matter how great her popularity, was a low life and a disgrace to the community."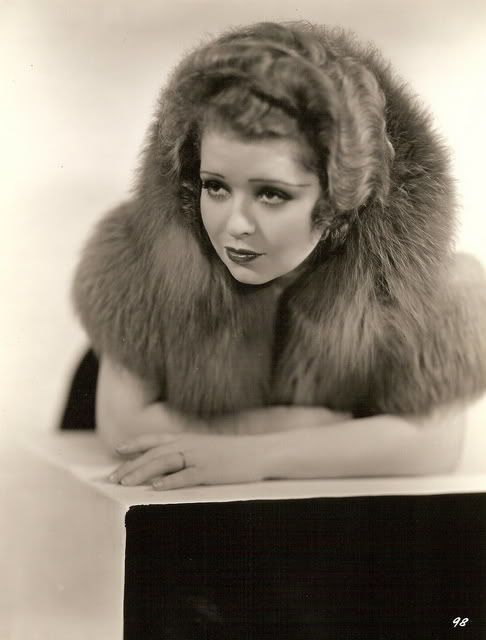 Documentation indicates that as Bow developed a reputation as "Crisis-a-Day Clara" Paramount went out of its way to humiliate the increasingly emotionally frail actress by canceling her films, docking her pay, charging her for unreturned costumes, and insisting that she pay for her publicity photographs. Her contract also included a morality clause offering her a bonus of $500,000 for behaving like a lady and staying out of the newspapers. Bow preferred playing poker with her cook, maid, and chauffeur over attending her movie premieres.
In 1927, Bow starred in Wings, a war picture largely rewritten to accommodate her, as she was Paramount's biggest star at the time. The film went on to win the first Academy Award for Best Picture. Afterwards, Bow's career continued with limited success into the early sound film era. She worried that her strong Brooklyn accent would destroy much of her mystique. Bow began experiencing microphone fright on the sets of her sound films. A visibly nervous Bow had to do a number of retakes in The Wild Party, her first talkie, because her eyes kept wandering up to the microphone overhead.
In 1928, Bow wrote the foreword for a novelization of her film The Fleet's In.

The 1930 U.S. Census lists Bow's residence as 512 North Bedford Drive in Beverly Hills, California. Her home's value was listed as $25,000, higher than most others on her block at the time.

Bow and cowboy actor Rex Bell (actually George F. Beldon), later a Lieutenant Governor of Nevada, married in 1932 and had two sons, Tony Beldon (born 1934, changed name to Rex Anthony Bell, Jr.) and George Beldon, Jr. (born 1938). Bow retired from acting in 1933. Her last public exposure, albeit fleeting, was a guest appearance on the radio show Truth or Consequences in 1947; Clara provided the voice of "Mrs. Hush".

In 1944 while her husband was running for the U.S. House of Representatives Bow tried to commit suicide. After being diagnosed with schizophrenia in 1949, Bow entered a treatment regimen that included shock treatments. Later, her husband sent her to one of the top mental institutions in the nation. Doctors found out that Bow had been raped by her father at a young age.

Bow spent her last years living in a modest house, living off an estate worth about $500,000 at the time of her death. She died on September 27, 1965 of a heart attack and was interred in the Forest Lawn Memorial Park Cemetery in Glendale, California.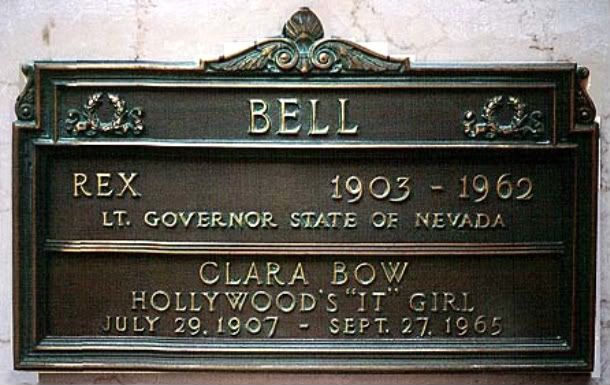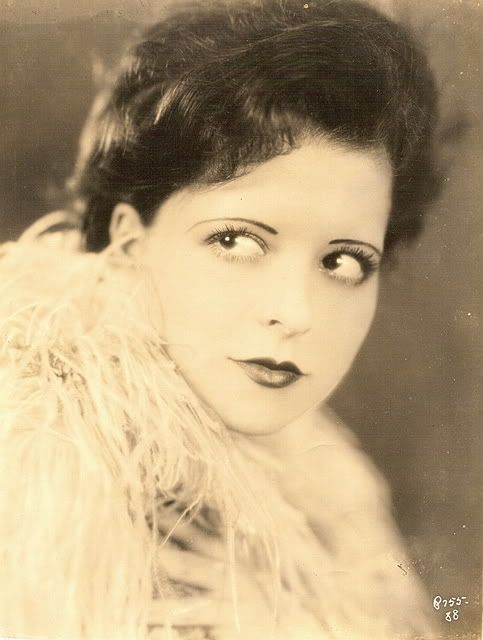 (reply to a fan letter, August 1960)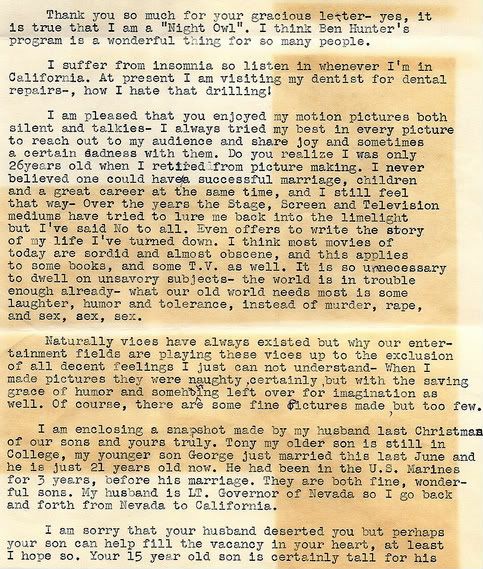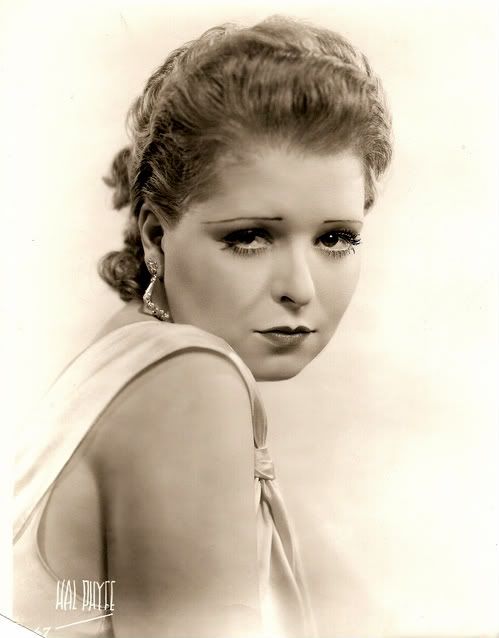 .. ..
MySpace Layouts.... ..
Status:

Married

Hometown:

Brooklyn, New York

Zodiac Sign:

Leo

Children:

Proud parent