Play

Play Next

Add to queue
Play

Play Next

Add to queue

8 plays

Play

Play Next

Add to queue

8 plays
Bio: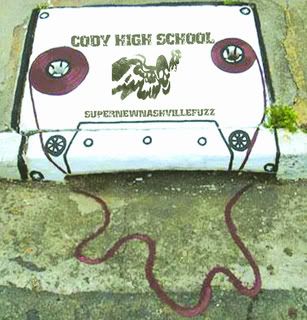 Cody High School formed in the summer, 2007. ..
CODY stands for Come On Die Young.
We wrote some songs. We like em. We hope you do too.
They're about all sorts of things, real things. Drugs, Love, War, Death, all the good and bad shit...
Our new album is called "SuperNewNashvilleFuzz". You can hear some tracks from the album right here. If you wanna hear more then check out our first album "Baddest Fastest" which was made available by the wonderful people at DAYDREAM GENERATION www.daydreamgeneration.com. GO AND DOWNLOAD IT NOW FOR FREE
We're gonna keep writing more, there's nothing else to do!
.. For those who believe in God, most of the big questions are answered. But for those of us who can't readily accept the God formula, the big answers don't remain stone-written. We adjust to new conditions and discoveries. We are pliable. Love need not be a command or faith a dictum. I am my own God. We are here to unlearn the teachings of the church, state, and our educational system. We are here to drink beer. We are here to kill war. We are here to laugh at the odds and live our lives so well that Death will tremble to take us...
Here's what Losing Today had to say about us www.losingtoday.com check it out.
And just before we round off this my space part of this particular missive two absolute gem like treats with which to leave you with, first featuring one of the best bands we've had the pleasure of hearing in a fair old while….
http://www.myspace.com/codyhighschool
it all started with an email and a link to an MP3, a simple message 'check this out I think you'll love it' or at least words to that effect. Several plays of said MP3 later and quick visit to their my space site and we were banging on to them how we needed to hear more, in fact so impressed we even pinged 'holy wholly' (for that was indeed the track that gave us our introduction to Cody High School) immediately on the losing today top 5 chart which as observers familiar with these things will testify is a rare thing given they are unsigned and relatively untested...
With an album at the mastering stage tentatively titled 'last days of the suicide kids' which the band are looking to self release, Cody (Come on Die Young - to give them their expanded name) High School are a secretive quartet who having only been together for a few months may well be tinkering about with what could be one of the early album highlights of next year if these three cuts are anything to judge by. Breezy 70's styled drifting pop is the name of the game all delicately offset with sheens of tenderised pastel hues of west coast exquisiteness and the kind of soft lingering hazy laziness that was one time much the realm of Buffalo Springfield. Perfect to a fault these after glowing gems nibble ever so slightly at the more laid back catalogue of Teenage Fanclub while simultaneously investing elements of 'durable dream' era Moviola, early career Summer Hymns and the odd dash of mid 70's era Neil Young, 'you get so alone' is ready made for long summer evenings idly wiling the days end away beneath the shade of a tree while the slinky easy thrill of 'it's about time' is so melodically astute in all things early 70's styled super chilled soul pop it leaves you swooning with its slyly carved side winding buzz sawing codas. All said and done if 'holy wholly' had of come pre-packed adorned with New York City plates or tattoos then certain elements of the music press would be drooling and pissing themselves with excitement over this, with its lip smacking pop thrilled deep set snaking honeycombed fuzz buzzing groove - all at once sassy, slinky and sexily demurring this uber cool babe is a shade wearing sizzler that craftily imports the warming gulf streams of the west coast and sumptuously blends them in a deliciously addictive hybrid of glam and 50's bubblegum wraps. We await that album with fevered anticipation.
Member Since:
November 13, 2007
Members:
..
Influences:
Music, Books, Films, Art, Sex, Drugs .. Jack Black "You Cant Win", everything by John and Dan Fante, everything by Charles Bukowski, Mark Safranco, James Frey "Million Little Pieces", "My Friend Leonard" and "Bright Shiny Morning", Noam Chomsky, Roddy Doyle, Rimbaud, Iceberg Slim, Hunter S Thompson, JAckie Gilroy, Bill Hicks, MC5, The Stooges, The Cramps, The Velvets, Beach Boys, Arthur Lee & Love, Syd Barrett, West Coast Pop Art Experimental Band, Electric Prunes, 13th Floor Elevators, The Seeds, Chocolate Watch Band, The Stones, Motown, Marvin Gaye, Curtis Mayfield, Sun Ra, Magic Magic, Miniature Tigers, Ray Gun & The Adgitators, High Priests, Primal Scream, JAMC, Pebbles, Suicide, Big Stick, Sonic Youth, Jonathan Richman & The Modern Lovers, Big Star, Neil Young, The Clash, Pistols, Teenage Fanclub, Creation, Spacemen 3, Spiritualized, Can, My LIfe As A Dog, Buffalo 66, City Of God, La Haine, United States Of Leland, Apocalypse Now (Redux), Slingblade, Baddest Fastest, Thugs and Thieves, Marijuana, Ecstasy, Ribera Del Duerro, Pesquera, Condada De HAza
Sounds Like:
DAYDREAM GENERATION REVIEW
Cody High School: Baddest Fastest
So it turns out that the drugged up guitar pop of the Madchester era was not dead after all. It's just been far too wasted to switch on the recording equipment for well over a decade.
Rewind. The early 90s and the word on the High Street was "Indie" – think Ian Brown in a prayer pose pout, think iconic James and Inspiral Carpets t-shirts, think Screamadelica, think Sean Ryder and Bez running amok in a technicolour sweet shop with pick-a-mix E's. It was the attitude of punk but with better drugs, beautiful grooves, and a lot more love. Seemingly that daze had vanished in a vapour trail with the Oasis vs. Blur mass-media circus show, the pretentious ephemeral art of the Britpop movement, and The Stone Roses spectacularly mediocre second coming.
,P>Fast forward. 2007 and the boulder has been rolled back from the mouth of the cave allowing just enough room for Cody High School to escape and roam around your town armed with songs and machine guns and a swagger uncannily reminiscent of that heady swirling hopeful time. But to paint their first full length offering as simply some kind of nostalgic throwback to the incomplete sounds of yesteryear would be to not quite paint the whole holy picture. "Baddest Fastest" might tread the same tightrope of anarchic hedonism, and drawl with the same dope-infused grin, but this is a record set in a thoroughly cynical modern context. Instead of calling the cops, you get the feeling that the classmates of Cody High would be much more at home in some psychedelic camper van loaded up with guitars and ammunition and very bad acid on some high speed police chase through neon urban dreamscapes, before hiding out in the mountains of your imagination until the heat dies down...
Like all the very best drugs going, this is a record that for the first couple of hits sounds dirty and ragged and awkward, but you find yourself involuntarily singing the songs beneath your breath in the cold light of morning, or walking numbly down the supermarket aisles, and slowly but surely the melodies even creep inside your dreams. Take the Primal Scream-like prowl of the title track; the jangling Stones-pop of the opening "It's About Time"; the sun-blistered trance-inducing "First Confession" – this album has got more hooks than a barbed wire fence, and insists like every good music junky that you keep coming back for more.
Just like the police sirens blazing, you can try, but you can't pin this fucker down. With one open hand they deal you the outstanding melodic alternative dance-floor shuffle of "Holy Wholly", while safely tucked up the other sleeve is an all guts and gory cover version of Alright Light's "I'm On Fire", snarling and rattling the bars of the cage. Fuck it. I mean, I might as well just cut to the chase and list you every single song on this record. For example, I could easily double the length of this entire review dissecting the disturbing and (hopefully) post-modern irony of the anthem that is "Cody High School Massacre". I've come this far and I've not even mentioned two of my favourite tracks – the lazily amazing tale of life in the gutter on "Baby Sugar Brown", and the glorious closing "No-one Remembers Your Name". The truth is that whatever combination of words and sentences I write here urging you to go and download "Baddest Fastest", ultimately you'll have to enrol for this class yourself to find out what it's all about. I've got a feeling that for everything I hear in it, that there will equally be a dozen alternative takes and reasons to believe.
The Cody High School code of behaviour is simple: start with enough brilliant tunes to fill up a record, add some fuzzy harmonic guitar and kicking drumbeats, drawl some intelligent autobiographical lyrics on the inside covers of your text books, light up behind the science block, get an equally wasted girl (or guy) on your arm, and get out of there alive if you can. "Baddest Fastest" doesn't graduate with flying colours, it says "fuck graduating", and stands up on a table with a two fingered salute to the universe. With kids like this leading the way and provided they don't really die young, the future of the world looks like it could be a very interesting place indeed.
Record Label:
Unsigned