Play

Play Next

Add to queue
Play

Play Next

Add to queue

6,723 plays

Play

Play Next

Add to queue

14,017 plays

Play

Play Next

Add to queue

6,796 plays

Play

Play Next

Add to queue

35,773 plays

Play

Play Next

Add to queue

2,001 plays
Genre: Hip Hop

Location BAY AREA, California, US

Profile Views: 126753

Last Login: 1/16/2013

Member Since 3/15/2005

Record Label STAR QUALITY

Bio

.. .... .. .. .. .. .. .. .... .... .... .. .. .............. .. .. .... ....PRODUCTIONS:.... .. ..BUN B. TRILL 2 (Angel In The Sky)PIMP C TRIBUTE..2008 ..JODY BREEZE..UNTITLED (What Gangsta''s Do) ..CHOPPER CITY BOYZ.. UNTITLED..(This Aint A Rap Song feat. BLOODRAW) ..JIM JONES. BYRDGANG ALBUM(We Want In. feat Max.B) 2008.. ..EIGHTBALL. DO IT BIG(Music, Real Quick)2008.. ..MJG. PIMP TIGHT(4 Songs) 2008.. ..J.BO of THE YOUNGBLOODZ. ATL'S FINEST(4 Songs) 2008.. ..YUKMOUTH. MILLION DOLLAR MOUTHPIECE (Cant Sell Dope Forever) 2008.. ..C.BO AND YUKMOUTH. THUG LORDS (3 Songs) 2008.. ..DEM HOODSTARZ. UNTITLED (No Panties On) 2008.. ..SAN QUINN. FROM A BOY TO A MAN (3-4 Songs Untitled)2008.. ..SKY BALLA. TYCOON STATUS (Mobbin All Day feat. E40 and San Quinn, I Go, Lets Talk Money, Creep With You feat Tynesha Keli, Im About Mine feat Mike Marshall )2008.. ..HELL RELL. EAT WITH ME OR EAT A BOX OF BULLETS(The Streets Keep Callin Me) 2007.. ..B.G. BUILT TO LAST( Same Ol 2 Step Feat Gar) 2007.. ..YOUNG NOBLE AND FATAL HUSSEIN. THUG IN THUG OUT( Hella Bars, Where Will I Go feat Matt Blaque) 2007.. ..SCARFACE. MADE (The Suicide Note) 2007.. ..SAN QUINN. THE ROCK (Look What Ive Done For Them) Do That For Me, Gangsta Like Me) 2006.. ..MESSY MARV. SCRAPERS STUNNAS AND WHITE T'S.(Dope Deala, What The Homie Provide feat Kurrupt, That Girl, Warrior, Ova And Ova, Click Clack Gang)2006.. ..MESSY MARV. BANDANNAS TATOOS AND TOUNGE RINGS.(I Just Wanna Be Yours)2006.. ..PLANET ASIA. THE SICKNESS( Act Like You Know)2006.. ..DROOP E AND B SLIM. THE FEDI FETCHER AND THE MONEY STRETCHER (THE STORY OF MY LIFE)2006.. ..HELL RELL. THE TITLE STAYS IN HARLEM (THE REALEST)2006.. ..FRECK BILLIONAIRE (6O Bars)2006.. ..PAUL CAIN. THE WRATH OF CAIN (3000 Bars)2006.. ..SKY BALLA. THE MOBB REPORT ( Real Talk feat Juelz Santana, Aint Nothing Changed, The Big Payback feat Keak Da Sneak, If Ya Lucky feat. Notorious B.I.G, I Got The Feelin feat The Game, Flashy Niggaz feat Stack Bundles, Off Top)2005.. ..YA BOY. ROOKIE OF THE YEAR (Bust Back)2005.. ..J DIGGS. BOTH SIDES OF THE GATE( The Way Of The Street feat Dubee and Tha Smuggla) 2005.. ..SAN QUINN. I GIVE YOU MY WORD..(NORTHERN CALIFORNIA)2004.. ........ ....FEATURES:.... .. 1.JT THA BIGGA FIGGA. SOMETHING CRUCIAL (The Thug In Me) 1st real feature. .. .. 2.KILLA TAY. SNAKE EYES. (Thug Livin, Coast Trippin, Snake Eyes, The Last Dayz, Hard Hittaz.) this album put me on in a real way. .. .. 3.KILLA TAY. HARD BALL. (Ready Made) .. .. 4.KEAK DA SNEAK. THE UNDADOGS. (Keep It Gangsta) .. .. 5.COZMO. COZ PACINO (Solo Album) .. .. 6.B.A. BlOCK REPORT (Same Thing feat Jayo Felony) .. .. 7.BULLYS WITH FULLYS 2 (Thug Life) .. ..8.JT AND DAZ. FILLMOE TO LONG BEACH.(3 Songs).. .. 9. JT AND DAZ. GAME FOR SALE ( 2 Songs) .. .. 10.JT AND NOBLE. STREET WARS (Street Wars) .. .. 11.JT AND JUVENILE. GOTTA GET IT(2 songs) .. .. 12.FULLY LOADED. RELOADED (Song w Tay) .. .. 13.HEATED SPEECHES COMPILATION..(song wit mob figaz) .. .. 14.FILLMOE TO THA MISSION..(The Daily Grind) .. .. 15.151 CODE OF THE STREET. (Thug Entreprenuers) .. .. 16. 21 GUN SALUTE COMP..(The Fast Lane) .. .. 17. JT AND THE GAMBLAZ.KNOW ABOUT IT (The 415, 1 Of A Kind) .. .. 18.BAY AREA BOSSES COMP. (Hold It Down) .. .. 19. ..4.5.7. .. IS THE CODE (Will I Ever Change) .. .. 20.C.BO.WEST COAST MAFIA (You Know The Rules) .. .. 21.DON LO. SHININ TIMELESS (Street Shit) .. .. 22.GENNESSEE.THE YEARS OF MY LIFE. (Forever, The Illest That You Ever Seen, Still Here) .. .. 23. JT THA BIGGA FIGGA. HUSTLE RELENTLESS. (On the Run, Conspiracy Theory) .. .. 24 .KILLA TAY. FLOOD THE MARKET.(Game Don't Wait, Killa Named Tay) .. .. 25. THE THUG LORDS. TRILOGY. (Money Aint A Thang) .. .. 26. GLOBAL. GLOBAL WARNING (Anytime, Life's Gettin Harder) .. .. 27.DOBAD THE ASAILANT. (Cold Blooded) .. .. 28.KOS AND DOBAD. TO LIVE AND DIE IN THE BAY (One Shot) .. .. 29.SIC WID IT UMBRELLA (The Deal) .. .. 30.COZMO WEST COAST TAKEOVER (Solo Mixtape) .. .. 31.COSTEL UNSIGNED LEGEND ( Black Out) .. .. 32.TOO HARD FOR THE RADIO COMPILATION. (Bossed Up) .. .. 33. THE CAMP MIXTAPE MAFIA (Hold U Down) .. .. 34.Dj RAH 2K. HOME INVASION. (Freestyle) .. .. 35.MATT BLAQUE. SELF TITLED (It Gotta Be Me) .. .. 36.COZMO. THE STREETS ARE MINE (SOLO ALBUM) .. .. 37. SAN QUINN. FROM A BOY 2 A MAN ( WE MUST MAKE IT feat P.S.D.).. .. 38. COZMO/ALFAMEGA MIXTAPE. AGAINST ALL ODDS.( HALF THE ALBUM) .............. .. .... .... .......... ...... .......... .... .. .. ....ALBUM.. : PRICE.... .. Choose how many, and click .. Orders sent by ..CD Baby... You can also call 1-800-BUY-MY-CD to order by phone... .. COZMO: COZ PACINO.. ..$12.97.... .. ..0.. ..1.. ..2.. ..3.. ..4.. ..5.. ..6.. ..7.. ..8.. ..9.. .. .. .... .. ..COZMO (COZ PACINO):West Coast Takeover.. ..$10.00 .. ..0.. ..1.. ..2.. ..3.. ..4.. ..5.. ..6.. ..7.. ..8.. ..9.. .. .. COZMO: The Streets Are Mine ....$12.97.... .. ..0.. ..1.. ..2.. ..3.. ..4.. ..5.. ..6.. ..7.. ..8.. ..9.. .. ...... COZMO: Against All Odds.. ..$10.00.... .. ..0.. ..1.. ..2.. ..3.. ..4.. ..5.. ..6.. ..7.. ..8.. ..9.. .. .. .. .. .. .. ........ ....

Members

BUN B 2 TRILL 1 HIP HOP/R@B ALBUM IN THE COUNTRY... .. .. .. .. .. ..

Influences

Sounds Like

MY DAMN SELF
No recent updates in this category.
Why not...
Bio:
.. ..
PRODUCTIONS:
BUN B. TRILL 2 (Angel In The Sky)PIMP C TRIBUTE..2008
JODY BREEZE..UNTITLED (What Gangsta''s Do)
CHOPPER CITY BOYZ.. UNTITLED..(This Aint A Rap Song feat. BLOODRAW)
JIM JONES. BYRDGANG ALBUM(We Want In. feat Max.B) 2008
EIGHTBALL. DO IT BIG(Music, Real Quick)2008
MJG. PIMP TIGHT(4 Songs) 2008
J.BO of THE YOUNGBLOODZ. ATL'S FINEST(4 Songs) 2008
YUKMOUTH. MILLION DOLLAR MOUTHPIECE (Cant Sell Dope Forever) 2008
C.BO AND YUKMOUTH. THUG LORDS (3 Songs) 2008
DEM HOODSTARZ. UNTITLED (No Panties On) 2008
SAN QUINN. FROM A BOY TO A MAN (3-4 Songs Untitled)2008
SKY BALLA. TYCOON STATUS (Mobbin All Day feat. E40 and San Quinn, I Go, Lets Talk Money, Creep With You feat Tynesha Keli, Im About Mine feat Mike Marshall )2008
HELL RELL. EAT WITH ME OR EAT A BOX OF BULLETS(The Streets Keep Callin Me) 2007
B.G. BUILT TO LAST( Same Ol 2 Step Feat Gar) 2007
YOUNG NOBLE AND FATAL HUSSEIN. THUG IN THUG OUT( Hella Bars, Where Will I Go feat Matt Blaque) 2007
SCARFACE. MADE (The Suicide Note) 2007
SAN QUINN. THE ROCK (Look What Ive Done For Them) Do That For Me, Gangsta Like Me) 2006
MESSY MARV. SCRAPERS STUNNAS AND WHITE T'S.(Dope Deala, What The Homie Provide feat Kurrupt, That Girl, Warrior, Ova And Ova, Click Clack Gang)2006
MESSY MARV. BANDANNAS TATOOS AND TOUNGE RINGS.(I Just Wanna Be Yours)2006
PLANET ASIA. THE SICKNESS( Act Like You Know)2006
DROOP E AND B SLIM. THE FEDI FETCHER AND THE MONEY STRETCHER (THE STORY OF MY LIFE)2006
HELL RELL. THE TITLE STAYS IN HARLEM (THE REALEST)2006
FRECK BILLIONAIRE (6O Bars)2006
PAUL CAIN. THE WRATH OF CAIN (3000 Bars)2006
SKY BALLA. THE MOBB REPORT ( Real Talk feat Juelz Santana, Aint Nothing Changed, The Big Payback feat Keak Da Sneak, If Ya Lucky feat. Notorious B.I.G, I Got The Feelin feat The Game, Flashy Niggaz feat Stack Bundles, Off Top)2005
YA BOY. ROOKIE OF THE YEAR (Bust Back)2005
J DIGGS. BOTH SIDES OF THE GATE( The Way Of The Street feat Dubee and Tha Smuggla) 2005
SAN QUINN. I GIVE YOU MY WORD..(NORTHERN CALIFORNIA)2004
FEATURES:
1.JT
THA BIGGA FIGGA. SOMETHING CRUCIAL (The Thug In Me) 1st real feature.
2.KILLA TAY. SNAKE EYES. (Thug Livin, Coast Trippin, Snake Eyes, The Last Dayz, Hard Hittaz.)  this album put me on in a real way.
3.KILLA TAY. HARD BALL. (Ready Made)
4.KEAK DA SNEAK. THE UNDADOGS. (Keep It Gangsta)
5.COZMO. COZ PACINO (Solo Album)
6.B.A. BlOCK REPORT (Same Thing feat Jayo Felony)
7.BULLYS WITH FULLYS 2 (Thug Life)
8.JT
AND DAZ. FILLMOE TO LONG BEACH.(3 Songs)
9. JT AND DAZ. GAME FOR SALE ( 2 Songs)
10.JT
AND NOBLE. STREET WARS (Street Wars)
11.JT
AND JUVENILE. GOTTA GET IT(2 songs)
12.FULLY LOADED. RELOADED (Song w Tay)
13.HEATED SPEECHES COMPILATION..(song wit mob figaz)
14.FILLMOE TO THA MISSION..(The Daily Grind)
15.151 CODE OF THE STREET. (Thug Entreprenuers)
16. 21 GUN SALUTE COMP..(The Fast Lane)
17. JT AND THE GAMBLAZ.KNOW ABOUT IT (The 415, 1 Of A Kind)
18.BAY AREA BOSSES COMP. (Hold It Down)
19.
4.5.7.
IS THE CODE (Will I Ever Change)
20.C.BO.WEST COAST MAFIA (You Know The Rules)
21.DON LO. SHININ TIMELESS (Street Shit)
22.GENNESSEE.THE YEARS OF MY LIFE. (Forever, The Illest That You Ever Seen, Still Here)
23. JT THA BIGGA FIGGA. HUSTLE RELENTLESS. (On the Run, Conspiracy Theory)
24 .KILLA TAY. FLOOD THE MARKET.(Game Don't Wait, Killa Named Tay)
25. THE THUG LORDS. TRILOGY. (Money Aint A Thang)
26. GLOBAL. GLOBAL WARNING (Anytime, Life's Gettin Harder)
27.DOBAD THE ASAILANT. (Cold Blooded)
28.KOS AND DOBAD. TO LIVE AND DIE IN THE BAY (One Shot)
29.SIC WID IT UMBRELLA (The Deal)
30.COZMO WEST COAST TAKEOVER (Solo Mixtape)
31.COSTEL UNSIGNED LEGEND ( Black Out)
32.TOO HARD FOR THE RADIO COMPILATION. (Bossed Up)
33. THE CAMP MIXTAPE MAFIA (Hold U Down)
34.Dj
RAH 2K. HOME INVASION. (Freestyle)
35.MATT BLAQUE. SELF TITLED (It Gotta Be Me)
36.COZMO. THE STREETS ARE MINE (SOLO ALBUM)
37. SAN QUINN. FROM A BOY 2 A MAN ( WE MUST MAKE IT feat P.S.D.)
38. COZMO/ALFAMEGA MIXTAPE. AGAINST ALL ODDS.( HALF THE ALBUM)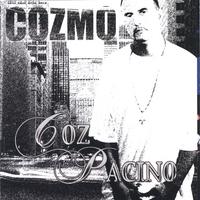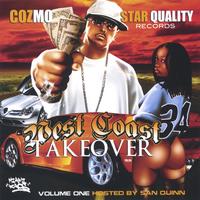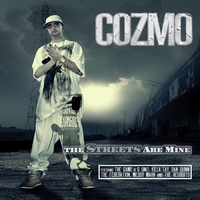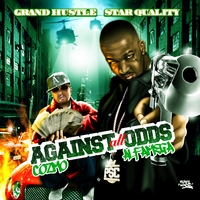 ..
ALBUM
: PRICE


Choose how many, and click .. Orders sent by CD Baby. You can also call 1-800-BUY-MY-CD to order by phone.

COZMO: COZ PACINO
$12.97
COZMO (COZ PACINO):West Coast Takeover
$10.00
COZMO: The Streets Are Mine
$12.97

COZMO: Against All Odds
$10.00
..
Member Since:
March 15, 2005
Members:
BUN B 2 TRILL 1 HIP HOP/R@B ALBUM IN THE COUNTRY.
Sounds Like:
MY DAMN SELF
Record Label:
STAR QUALITY
COZMO ( twitter.com/cozmbeats) has 11118 friends.