Play

Play Next

Add to queue
Play

Play Next

Add to queue

9,712 plays

Play

Play Next

Add to queue

8,178 plays

Play

Play Next

Add to queue

7,019 plays
Genre: Hardcore

Location Paris - NYC, FR

Profile Views: 150787

Last Login: 10/13/2009

Member Since 3/22/2006

Website www.crackandspeed.biz

Record Label crack&speed

Type of Label Major

Bio

.. .. .. I met Jef K the first time at the Winter Music Conference two years ago (2000). I knew after being almost arrested twice in the same night for misbehaving in clubs and hotel rooms that we were on the same wavelength so to speak... .. Almost a year later me and my friends had the opportunity to invite him to New York to play for the N'ICE party. It turned out be one of the craziest weekends I have had here in NYC and it was then the idea for "Crack&Speed" was born. Myself, Jef and Jack (DiY) were enjoying our breakfast on a beautiful Sunday morning, afternoon, after a festive night at Open Air and Rui's infamous whorehouse loft space right below Canal Street. We were having a great conversation about trance music and Mr. Paul Oakenfold when we started discussing a fictious record label called "Crack & Speed". It ended up being another highly intelligent conversation (one of many) where lots of important ideas came up and were discussed, debated and laughed at. After Jef finally got back to Paris the idea starting brewing. A little later I received an email from Jef where he proposed that we make "Crack & Speed" a reality. A Paris - New York record label... Immediately we started shooting ideas back and forth and we were both thinking in the in the same direction. A mission statement was formed... .. Here goes: We are not glorifying crack or speed. The Crack & Speed label is formed to take a piss at the establishment. We want to put some attitude into house music. We also want to tell those who don't like it or understand that we don't give a fuck. If you don't understand or smile a little when you see a Crack & Speed record on a shelf in a record store you are the ones we are taking a piss at. .. Our mission is to release quality, unorthodox, out of this world house music. Music that you can play on friday nights or at the tuesday morning after party. .. ..Like Simon D.K said so well:.. "Fuck your country, fuck your culture, long live acid house!".. ..H.Filipsson,.. March 8, 2002.. Brooklyn, New York.. .... ....HIGH@CRACKANDSPEED.BIZ.... ..WWW.CRACKANDSPEED.BIZ.. .. ..CRACK & SPEED.. PARIS .. NEW YORK .. ...... .. .. .. .. .. .. .. .. </

Members

.. .. ..Welcome on C&S space .. .. .. .. ..Freestyle Man, Chloé,.. Abe Duque, Chris Carrier, Jerome Pacman,.. Mr Negative, Instant Noodles, Silver Haze, Catwash, Bad Ced, Formule Express, Guillaume La Tortue, Freaks, DJ Wild, Volga Select, Krikor, Terry, Quizz, Phil Weeks, Scott Pace, Spettro, John Howard, Allonymous, Stefan Goldman, Milton Jackson, Droido, Tekel, Lullabies, Jay Haze, DJ Naughty, Sasse, Franklin De Costa, Senzart, Tim Paris, Holmar Filipsson, JefK ... .. .. ........ .. .. ...... .. .. Please also check our two other labels Silver Network and Marketing www.silvernetwork.fr and www.marketingmusic.fr .. .. All of our labels are distributed worlwide by Word And Sound www.wordandsound.net .. .. All graphics by Senzart .. ..

Influences

bad...

Sounds Like

tuesday morning
No recent updates in this category.
Why not...
Bio:
..
I met Jef K the first time at the Winter Music Conference two years ago (2000). I knew after being almost arrested twice in the same night for misbehaving in clubs and hotel rooms that we were on the same wavelength so to speak.
Almost a year later me and my friends had the opportunity to invite him to New York to play for the N'ICE party. It turned out be one of the craziest weekends I have had here in NYC and it was then the idea for "Crack&Speed" was born. Myself, Jef and Jack (DiY) were enjoying our breakfast on a beautiful Sunday morning, afternoon, after a festive night at Open Air and Rui's infamous whorehouse loft space right below Canal Street. We were having a great conversation about trance music and Mr. Paul Oakenfold when we started discussing a fictious record label called "Crack & Speed". It ended up being another highly intelligent conversation (one of many) where lots of important ideas came up and were discussed, debated and laughed at. After Jef finally got back to Paris the idea starting brewing. A little later I received an email from Jef where he proposed that we make "Crack & Speed" a reality. A Paris - New York record label.
Immediately we started shooting ideas back and forth and we were both thinking in the in the same direction. A mission statement was formed.

Here goes: We are not glorifying crack or speed. The Crack & Speed label is formed to take a piss at the establishment. We want to put some attitude into house music. We also want to tell those who don't like it or understand that we don't give a fuck. If you don't understand or smile a little when you see a Crack & Speed record on a shelf in a record store you are the ones we are taking a piss at.
Our mission is to release quality, unorthodox, out of this world house music. Music that you can play on friday nights or at the tuesday morning after party.
Like Simon D.K said so well:
"Fuck your country, fuck your culture, long live acid house!"
H.Filipsson,
March 8, 2002
Brooklyn, New York
HIGH@CRACKANDSPEED.BIZ
WWW.CRACKANDSPEED.BIZ
CRACK & SPEED
PARIS .. NEW YORK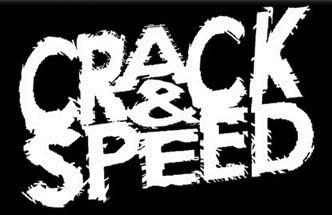 ..
Member Since:
March 22, 2006
Members:
.. .. ..Welcome on C&S space .. .. .. .. ..Freestyle Man, Chloé,
Abe Duque, Chris Carrier, Jerome Pacman,
Mr Negative, Instant Noodles, Silver Haze, Catwash, Bad Ced, Formule Express, Guillaume La Tortue, Freaks, DJ Wild, Volga Select, Krikor, Terry, Quizz, Phil Weeks, Scott Pace, Spettro, John Howard, Allonymous, Stefan Goldman, Milton Jackson, Droido, Tekel, Lullabies, Jay Haze, DJ Naughty, Sasse, Franklin De Costa, Senzart, Tim Paris, Holmar Filipsson, JefK ...
.. ..
.. .. Please also check our two other labels Silver Network and Marketing
www.silvernetwork.fr
and
www.marketingmusic.fr
All of our labels are distributed worlwide by Word And Sound
www.wordandsound.net
All graphics by Senzart
Influences:
bad...
Sounds Like:
tuesday morning
Record Label:
crack&speed
crack&speed has 5419 friends.