About me:
Hello! I don't use myspace much! Please find me on facebook. :) Thx
FACEBOOK
MODEL MAYHEM
ARTIST PROFILE
TWITTER
The following describes what I do.



• Art & photography ( Cristiana Cole Fine Art )

• Drumming (traditional, double bass & percussion) studio and live
and not so traditional ;)

• Modeling - Mayhem #759023 ( fine art, high fashion, & catalog) http://www.modelmayhem.com/cristianacole

• Design (all types of graphic and logo design)

• Graphic art

• Art direction for film, tv, photo shoots and performance.

• Acting

• Dance

• Performance art

• Fashion design

• Interior design

• faux finishing see www.fauxarts.biz (exclusive Faux finishing and murals) See Montelucia.com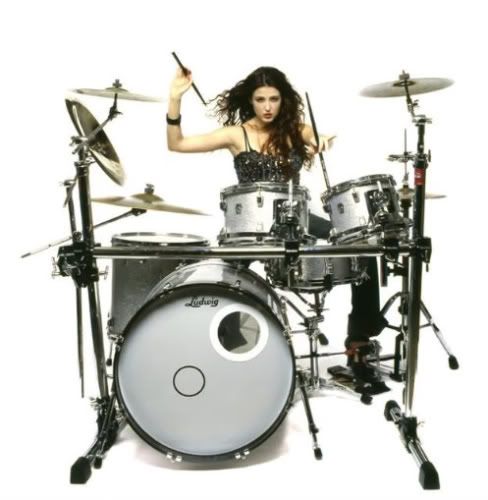 The Art of Cristiana Cole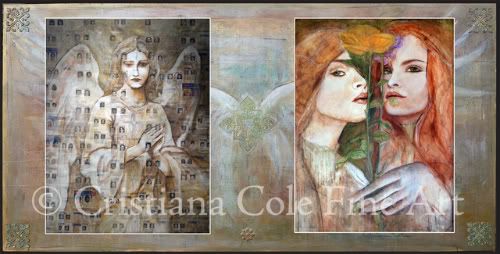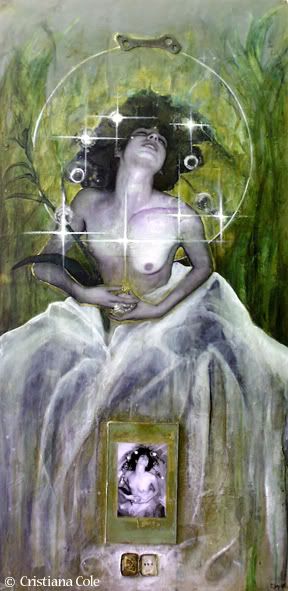 In a time when "anything goes," it is refreshing to discover an artist with a sharp sensitivity to people and issues, with a mystical inspiration served by a strong education and technique in her craft. Cristiana Cole is a "global" artist whose diversity of expression, born from a multicultural background, takes various forms: painting and drawing, sculpture, writing, photography, music, performance arts, dance, fashion design and even interior design. Her subjects are portraits, nudes, decorative abstracts, florals, mythological compositions, spiritual or literary themes, an occasional landscape and still-life — created in oil, acrylic, Venetian plaster, graphite and ink or other experimental processes. Cristiana's textured, emotional and poetic paintings also incorporate crystallized collage fragments, graceful lines and delicate style that provoke the viewer's own thoughts, feelings, memories and imagination. Her palettes emerge directly from her intimate observations of life's minute details. Cristiana often uses metallics and earth tones in groups of three to give depth to her work. She breaks the rules of traditional painting. For instance she enjoys mixing oil with water, and watching how water based paint repels her graphite sketches to settle in originally unplaced areas. Painting for Cristiana is an alchemical process as well as an experiment in capturing the spirit of nature. She enjoys the serendipitous qualities of compounds that develop with time. Cristiana's beautiful treatment of the human figure draws from the spiritual, mythological and secular visions of the past and the timeless emotional energy of her subjects in the now. Her work is intriguing and seductive, never trivial. Her representation of the human form, her aptitude to capture and express feelings, her sense of line, texture and color are astonishing from such a young artist. Whereas others choose a path of defiance and provocation, Cristiana challenges our sensitivity with the very language of timeless art, which is grace and inspirational beauty.

Cristiana Cole was born in Mexico City to a large, prestigious and artistic family. There, she experienced a magical childhood. Her grandmother Martha Joy Gottfried is a respected landscape artist who had close ties to Frida Kahlo and Diego Rivera. Cristiana grew up in Miami and relocated to Phoenix Arizona, and upon traveling to Los Angeles she met (renowned composer and producer) Gardner Cole. Her work has been shown in the Phoenix Art Museum, West Valley Art Museum, San Francisco Museum of Modern Art, and the Phoenix International Airport Art Gallery. Cristiana wwas the Guest Artist at the Herberger Art Museum in Phoenix for "EMPATHY" March - May 2010. Cristiana has been featured in the books "Voices of Arizona", "The Naked and The Lens" and "Dream Child" Vol.'s I, II and III.

Cristiana is an artist who expresses herself in a variety of ways. "I have been blessed to have strong role models in my life, teaching me the courage to follow my dreams and the freedom to discover them. To them I am extremely grateful."

Visit artwork album for art by Cristiana Cole or visit http://www.myspace.com/cristianacolefineart


....
Who I'd like to meet:
Well it was Tom Waits but I met him last year!!!,... so now I'm happy with that. I love meeting new people.

General

Rock and roll, music, art

Fashion,

other things that interest me:

Light, love, healing, acceptance, gratitude, peace, respect, angels, aromatherapy, intimacy, freedom, the knowing, intuition, growth, using more then 10% of the mind, true friends, unconditional love, inspiration, nature, rusty stuff, junk yards, money, energy, mysticism,

the 72 names of god

, architecture, photography, painting, collaborating, creating, innocence, candles, fire, trees, family, exploring, digging for buried treasure, laughing, traveling, Japan, Mexico, ancestors, relics, awakening, music, flotation tanks, my lover, the angel of water, secret societies, dreaming, dancing, manifesting, magic, God, The Holly Spirit, Christian mysticism, drowsing, the nothing, the end of time, living life to it's fullest, forgiveness, & THE ALL.





One of my dreams is to replant forests!!!! I hope to build a home on a cliff between the ocean and a forest. A fairytale house incorporating stone, wood, copper, stain glass, artists art, organic, futuristic sustainable and energy efficient technology, true artistry and fine craftsmanship. :)

Music

Bands I was In:
W.O.M.B. Warriors Of Make Believe.

BlessedBeThyName.
The Madcaps
Lovers Of Guts
among others

I am currently working with Phenomenal musicians and other bands TBA soon.
Manifesting the dream!! 2012

also check out my brother, The Wiley One! He's doing something wonderful! The Wiley One!.

Some of my favorite Drummers are: Stewart Copeland,

Danny Carey

,

Nick Mason

,

Dave Grohl

,

Roger Taylor

,

Tommy Lee

,

Chris Vrenna

,

Phil Collins

,

Sheila E. and many others!!!


This is some of the music I like

,

love or did:
ABBA

,

Ani Difranco

,

A Perfect Circle

,

Arcade Fire

,

Audioslave

,

Bach

,

Bauhaus

,

Beethoven

,

Ben Harper

,

Billie Holiday

,

Bjork

,

Black Sabbath,

Blonde Redhead,

Cabaret (Soundtrack from the Motion Picture)

,

Cat Stevens

,

Chumbawamba

,

cirquedusoleil

,

Cocteau Twins

,

Concrete Blonde

,

David Bowie,

Dead Can Dance,

Dimmu Borgir

,

Dresden Dolls, Ella Fitzgerald,

Elliot Smith,

Erykah Badu Faun Fables

,

Fiona Apple

,

Foo Fighters

,

Frank Sinatra

,

Frida (Soundtrack from the Motion Picture)

,

Fugazi

,

, Gardner Cole

,

Gogol Bordello

,

Green Day

,

Guns N' Roses

,

Imogen Heap Janes Addiction

,

Joan Baez

,

Johnny Cash

,

Joseph Arthur,

Joy Division,

Julee Cruise,

Kate Bush,

Laurie Anderson

,

Leonard Cohen

,

Liz Phair

,

Marilyn Manson

,

Massive Attack

,

Mazzy Star

,

Melanie

,

Michael Jackson

,

Modest Mouse

,

Morgan Grace

,

Motley Crue

,

Moulin Rouge (Soundtrack from the Motion Picture)

,

Muse

,

New Model Army

,

Nina Hagen

,

Nina Simone

,

Nine Inch Nails

,

Nirvana

,

Outcast

,

Operation Ivy

,

Ours

,

P.J. Harvey

,

Peggy Lee

,

Peter Gabriel

,

Pink Floyd

,

Portishead

,

Primus

,

Prince

,

Queen

,

Radiohead

,

Rasputina

,

Red Hot Chili Peppers

,

Robert Johnson

,

Sade

,

Sarah McLachlan

,

Shirley Horn

,

Sinad O'Connor

,

Siouxie and the Banshees

,

Sisters Of Mercy

,

Skinny Puppy

,

Sleepy Time Gorilla Museum

,

Smashing Pumpkins

,

Sting

,

Suzanne Vega

,

The Arcade Fire

,

The Cure

,

The Damned

,

The Darkness

,

The Doors

,

The Genitorturers

,

The Killers

,

The Nightmare Before Christmas (Soundtrack from the Motion Picture)

,

The Pixies

,

The Police

,

The Smiths

,

Tom Waits

,

Tool

,

Tori Amos

,

Tracy Chapman

,

Tricky

,

Vas

,

TsuShiMaMiRe Vic Chesnutt

,

Violent Femmes

,


I also like chants

,

relaxing meditation music

, & the sounds of our natural world.

Support Gardner Cole Music

http://www.myspace.com/gardnercolemusic

Movies

Some King Of Wonderful,

The Breakfast Club

,

Say Anything

,

Pride and Prejudice

,

Lady in the Water

,

V For Vendetta

,

West Side Story

,

The Gonnies

,

Harold and Maude

,

Moulin Rouge

,

The Dark Crystal

,

Legend

,

Labrenth

,

Willow

,

Lord Of The Rings

,

The Chronicles of Narina

,

Like Water For Chocolate

,

Dangerous Liaisons

,

Original Sin

,

Chocolate

,

Queen Margot

,

Braveheart

,

Nightmare Before Christmas

,

Pink Floyd The Wall

,

Pretty In Pink

,

City Of The Lost Children

,

The Devils Advocate

,

9-11

,

Waking Ned Devine

,

Being There

,

Blue Lagoon

,

Spirited Away

,

The Gods Must Be Crazy

,

Baraka

,

Frida

,

Somethings Gotta Give

,

Flash Dance

,

Legally Blond

,

Pretty Woman

,

the Devil wears Prada

,

Avatar

, and many many more...

Television

Books

The Biology of Belief by Bruce H. Lipton, The Science of Mind by Ernest Holmes, The Unpanishads, The Secret Doctrine, I CHING, The Sedona Method, to name a few...

Heroes

My Heroes include my Grandmother Martha Joy Gottfried, My parents, My beloved

Gardner Cole

& many dear friends.

People are often unreasonable, illogical, and self-centered; Forgive them anyway. If you are kind, people may accuse you of selfish, ulterior motives; Be kind anyway. If you are successful you will win some false friends and true enemies; Succeed anyway. If you are honest and frank, people may cheat you; Be honest and frank anyway. What you spend years building, someone could destroy overnight; Build anyway. If you find serenity and happiness, they may be jealous; Be happy anyway. The good you do today, people will often forget tomorrow; Do good anyway. Give the world the best you have, and it may never be enough; Give the world the best you've got anyway. You see, in the end, it is between you and God; It was never between you and them anyway." -Mother Theresa

THANKS FOR VISITING!
Cristiana Cole has 5317 friends.
Play

Play Next

Add to queue

Play

Play Next

Add to queue

Play

Play Next

Add to queue
Status:

In a Relationship

Here for:

Networking, Friends

Hometown:

Mexico City, Miami Florida, Tucson & Phoenix Arizo

Orientation:

Straight

Body type:

Slim / Slender

Religion:

Other

Zodiac Sign:

Cancer

Smoke:

No

Occupation:

The Arts