Play

Play Next

Add to queue
Play

Play Next

Add to queue

120 plays

Play

Play Next

Add to queue

38 plays

Play

Play Next

Add to queue

1,969 plays

Play

Play Next

Add to queue

3,138 plays

Play

Play Next

Add to queue

3,682 plays
CLICK FOR PURCHASE
"Fragmentary Moments" 2012 Diffusion Records

"Make Things Right" 2011 Diffusion Records

"Lost In Static" 2009 Diffusion Records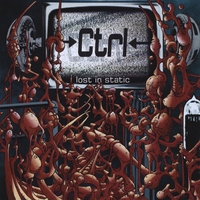 "Lost In Static-Single" 2008 Diffusion Records

"Loaded Weapons and Darkened Days" 2006 Diffusion Records

"Lose the Image" 2004 Diffusion Records

"Is Burning...." 2001 Analog Aether/Bypass Records

"Secure the Shadow" 1998 Analog Aether




..
Brad MacAllister
vox, programming, synth
Jason Fenimore
guitar, synth, bass
Gabriel Barrientes
synth
Damon Shelton
synth, vox
Frank Suchomel
guitar
Bio:
Ctrl debuted in 1998 with
Secure The Shadow
. Over the next 13 years, the band released five more acclaimed albums, and appeared on various compilations. Ctrl released their seventh album,
Fragmentary Moments
, in 2012. It's comprised of ten songs that allow the unique blend of pop-tinged electro, driving beats and signature guitar to remain the staples of their sound. The band continues to grow with each new incarnation, while carefully tipping a hat to the founders of the style. Since inception, CTRL has performed with such notable acts as: Nitzer Ebb, Covenant, VNV Nation, Funker Vogt, Assemblage 23, Icon Of Coil, Combichrist, Chemlab, Information Society, and many others, as well as the Black Sun II and Convergence 19 festivals.
Discography:
Secure The Shadow
1998 Analog Aether
The Unquiet Grave Volume 1 (
Lioc
) 1999 Cleopatra
Version 10
1999 Analog Aether
Is Burning…
2001 Analog Aether
Lose The Image – promo
2003 Diffusion Records
Lose The Image
2004 Diffusion Records
Connected Vol. 1 (
Truth
) 2004 Connexion Bizarre
Haven – Saturday Nights (
Truth
) 2005 Elysium
V 3.0 (
We Hope
) 2005 IndustrialNation
Compilation No. 1 (
We Hope
) 2005 Livid Looking Glass
4x4 Multi-Single Vol 2 [
Could've Had It All (CTRL Remix)
] 2005 Section 44
Loaded Weapons And Darkened Days
2006 Diffusion Records
Hunter's Moon (
Grand Experiment
) 2006 WMNF / Dark Horizons
Ideal Warfare [
P.O.C.W. (Gunshop Mix By CTRL)
] 2006 Section 44
Lost In Static-Single
2008 Diffusion Records
Lost In Static
2009 Diffusion Records
WTII Sunday Showcases - 4 Year Anniversary Sampler [
My Guest (2010 Edit)
] 2010 WTII Records
Make Things Right
2010 Diffusion Records
Fascination the Mixes - Part Two [
Fascination (CTRL Remix)
] 2011 SSSE
Nosophobia [
Imperfect (CTRL)
] 2011 Unitcode:Machine
Invidious [
Invidious (CTRL Remix)
] 2011 Void Prototype
Never Early Always Fate Freeemix [
Call it, for real (Ctrl remix)
] 2012 Bali Yaaah
Fragmentary Moments
2012 Diffusion Records
Influences:
Cabaret Voltaire, Chameleons, Coil, New Order, Skinny Puppy, Wire, Brian Eno, Meat Beat Manifesto, Renegade Soundwave, OMD, Orbital, Bing Crosby, Killing Joke...
Sounds Like:
Electro-Death-Pop?
Record Label:
Diffusion Records
Label Type:
Indie
Member Since:
July 16, 2004