No recent updates in this category.
Why not...
Marty Wade hasn't earned any badges yet... have you?
General

PRODUCTS & SERVICES

Profile Design & Graphics

I can create a customized MySpace profile that represents your personal style. I will make graphics, background pics, or organize the entire page for you. This is a great way to distinguish yourself from the other billions of people on MySpace and start getting more friends!

Custom Canvas

We will create a personalized painting just for you! Tell us the style, color, and subject matter and we will custom create it. This feature service allows art buyers to communicate with an artist in creating a customized painting for their home or office environment. The paintings are available in any size from 8x10" to 60x44" (or 44x60")inches.

Photo-2-Canvas

Do you have a great photograph that you wish could be blown up and turned into a painting? Now you can turn your photographs into stunning high quality canvas pieces that are water resistant and stand the test of time. This option preserves your memories through water, dust, and time damage.

Canvas Framing - Gallery Wrap

Customers will receive the artwork framed in the gallery wrap style. We stretched each canvas on wood frame and ship to you.

Canvas Prints

Choose from our existing gallery of paintings to create a canvas Giclee print in any size you desire. This option will save you money on the custom canvas option. A limited number of canvas prints are available for each image.

Customized Artwork

You can hire your own personal artists for a commissioned work. We will work with you on the style, color and size that you want.

Music

I am always looking for new band friends because I LOVE music! I do album cover artwork as well as banners and email blast designs for musicians and other artists.

Other Links

Watch the videos the Marty Wade has produced on YouTube.

Follow CCArt on Twitter

Facebook Friend Me

Follow the Blog

www.customcanvasart.blogspot.com

Visit Website

Heroes

These peolpe have inspired me to create conscious artwork and to give myself to others.

Barack Obama

People who have fought in the struggle for freedom

Rosa Parks

Great Leaders in History

Artist Wilfredo Lam

Pablo Picasso

Jack Kerouac, writer

My Heroes are people with so much talent, so much heart and compelling inspiration that it hurts to watch and listen to them perform their craft.
About me:
Welcome to the art gallery of Martha 'Marty' Wade and Eugene 'Edaw' Wade, the father and daughter artist team who have created a unique gallery for art lovers. We can create a customized painting just for you in the color, style and size you want! I paint on canvas with acrylics and I also paint on my computer using a drawing tablet and painter software. I love the versatility of using both mediums of creation!
Custom Canvas Art Mission
The mission of Custom Canvas Art is "to bring artists and art lovers together to creating unique pieces of artwork for their own personal or professional aesthetic." We create customized paintings, canvas prints, and photograph art that is personalized for each customer.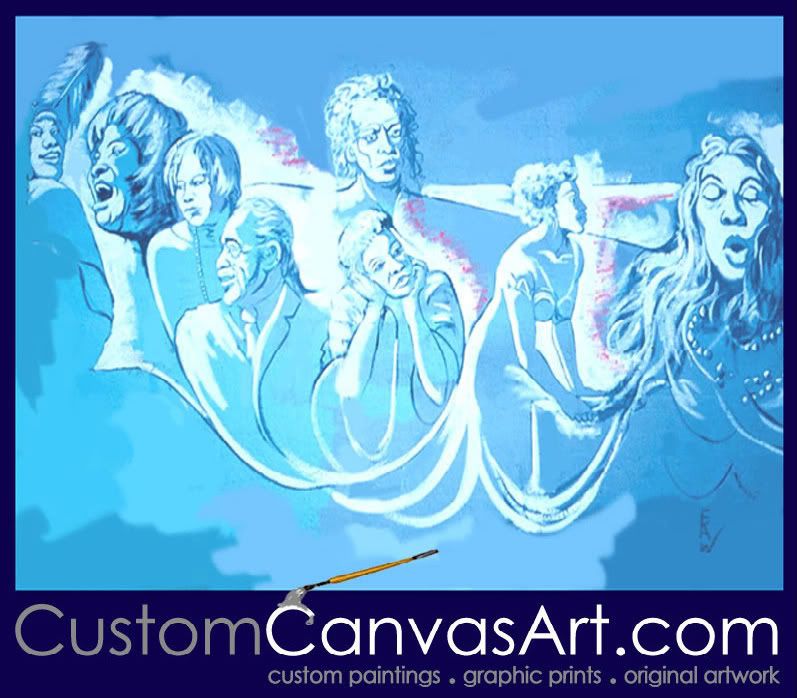 The Artists
Custom Canvas Art member artists create customized art at the size you want, and a price you can afford. Custom Canvas Art is owned and operated by Martha Wade, an arts manager who specializes in web and visual art creation. Armed with a background in financial consulting, Martha is an entrepreneur with a passion for helping artists get their work exposed. The principle CCA artist is Eugene "Edaw" Wade, a painter, and digital artist with over 60 years of fine arts experience. His murals have been showcased on the streets of Chicago since the 1970's, and include depictions of historic leaders and those involved in the human struggle.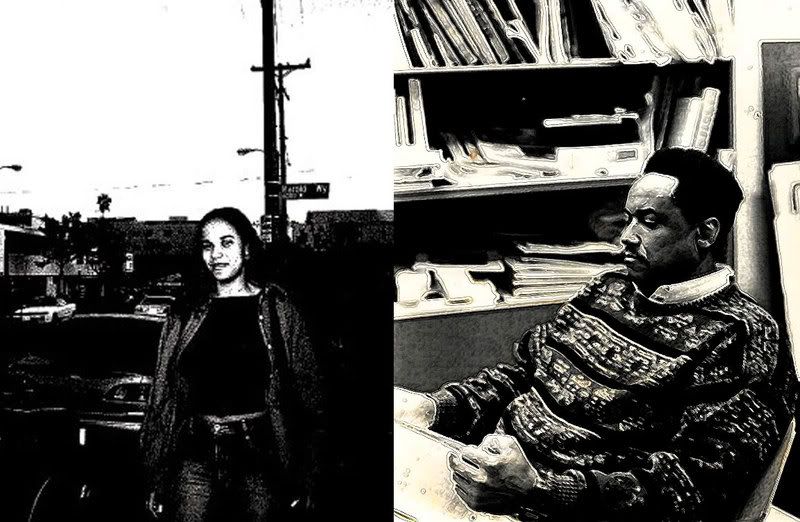 Full Website Coming Soon!
CustomCanvasArt.com is still partly under construction because I am personally creating it from scratch. I enjoy web design and create, and I need to take my time and make it good. Please check the website for the official BLOG, GALLERIES, PURCHASING and CONTACT INFORMATION.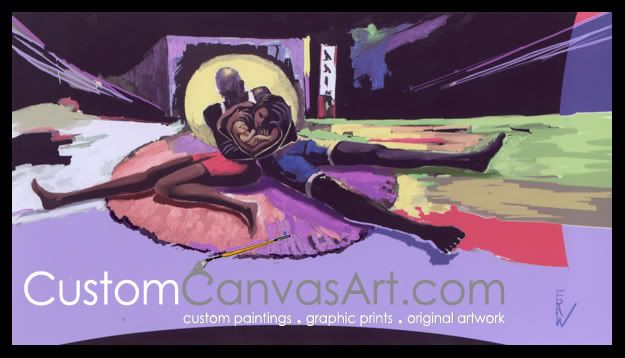 (Family Love, digital art, by Edaw Wade)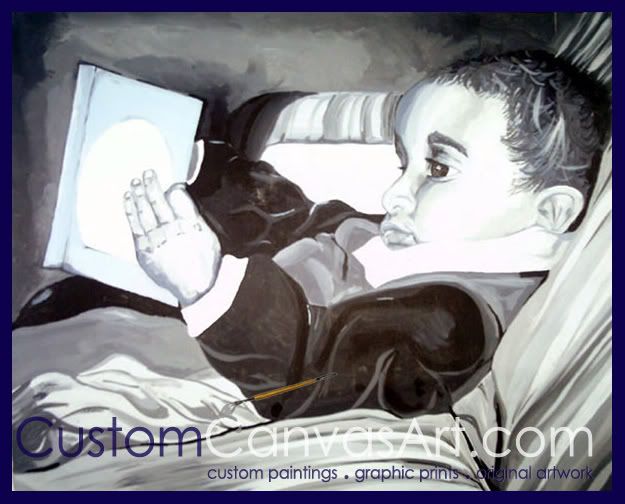 (Little Genius, acrylic on canvas, by Marty Wade)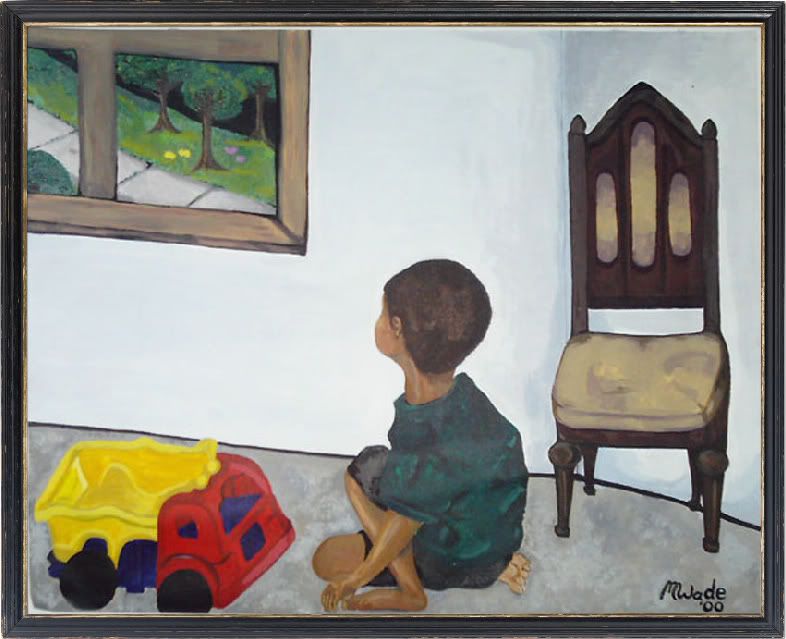 (Can I Go Outside? acrylic on canvas, by Marty Wade)
Small Business Services
In this time of uncertainty, you need something to distinguish your business from competitors. CCA can help small businesses add a unique aesthetic to their atmosphere that will keep their customers coming back for more.
Small business owners and managers can choose from our existing collection to create canvas prints in the size of their choice. If you have a look and theme in mind for your new store, we will help you bring those paintings to life and help you frame, hang, and display the art in your business!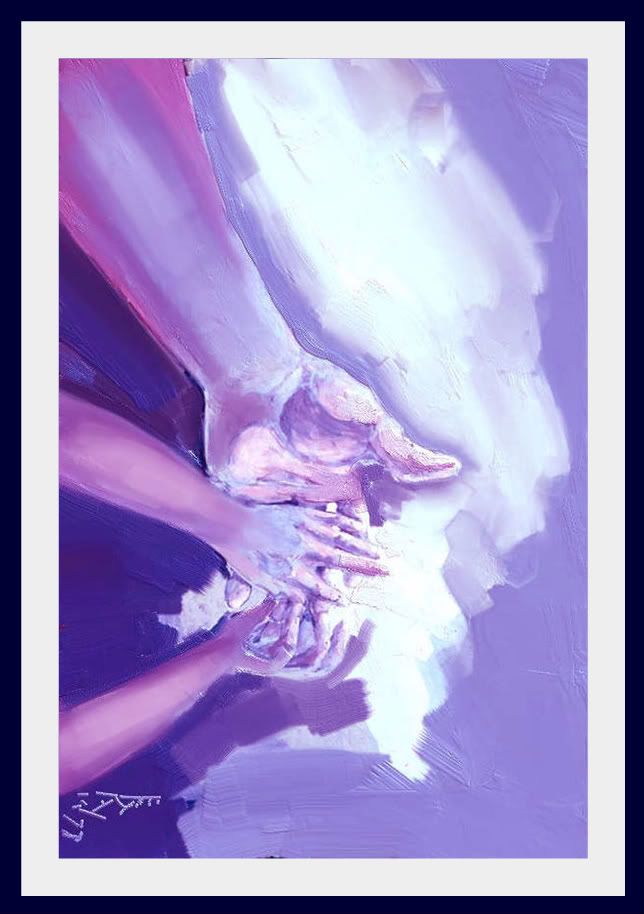 (Father and Son Hands, oil on canvas, by Edaw Wade)
Who I'd like to meet:
I WANT TO MEET ARTISTS!
I would love to meet ART LOVERS who want a great work of art, but can't afford the high gallery prices! We also want to meet SMALL BUSINESS OWNERS looking to distinguish themselves from their competition. We can help you create a unique aesthetic for your place of businesses that can entertain your customers and keep them coming back!
WHO DO I WANT TO MEET ON MYSPACE?
People from Around the World in every country
Artists who have something to say, and great work to display
Musicians with a unique style and sound
People who are so positive they inspire happiness in others
Interesting people who have been through something in life and come out better!
Potential clients and art lovers looking for artwork and graphic services
Small business owners who want to distinguish themselves
People who don't take themselves SO seriously they can smile at their own mistakes
Artists looking for help getting their work online
Chicago art gallery owners and managers looking for new artists
People who will give honest and constructive criticism of my art
Art collectors
I want to meet everyone who is trying to live life to the fullest, despite the hard times, bumps in the road, haters, competition, and everyone out there trying to pull you down! If you never give up on your dream, you can't fail! Always make NEW mistakes!
"ART WASHES AWAY FROM THE SOUL THE DUST OF EVERYDAY LIFE"
-- Picasso

Status:

Single

Here for:

Networking, Friends

Hometown:

CHICAGO

Zodiac Sign:

Pisces

Education:

Grad / professional school

Occupation:

Artist, Designer, Teacher, Producer
Columbia College Chicago

Chicago,IL

Graduated:

2008

Student status:

Alumni

Degree:

Master's Degree

Major:

Art Management

Minor:

Media Management

2006 to 2008

University Of Michigan-Ann Arbor

Ann Arbor,MI

Graduated:

2004

Student status:

Alumni

Degree:

Bachelor's Degree

Major:

Business Administration

Minor:

Fine Arts

Clubs:

NABA, Black Vibes

2000 to 2004

Howard University

Washington,DC

Graduated:

1971

Student status:

Alumni

Degree:

Master's Degree

Major:

Fine Arts

Minor:

Drawing

1968 to 1971
Wade Create

Chicago, IL US

Artistic Director

Present

Custom Canvas Art

Chicago, Illinois US

Creative Director

NOW

Tribune Company

Chicago, IL US

Traffic & Web Producer

June 2008 - Present

Frequency Television

Chicago, IL US

Web Producer

May 2007 - June 2008
Photography
Portraiture
Photographer

Marketing
Marketing
Online Marketing

Technology
Internet
Web Designer

Graphic Designer, Web Designer and Digital Artist